A fragrantly spicy Balinese tempeh and potato curry, with a made from scratch curry paste (or traditional base gede).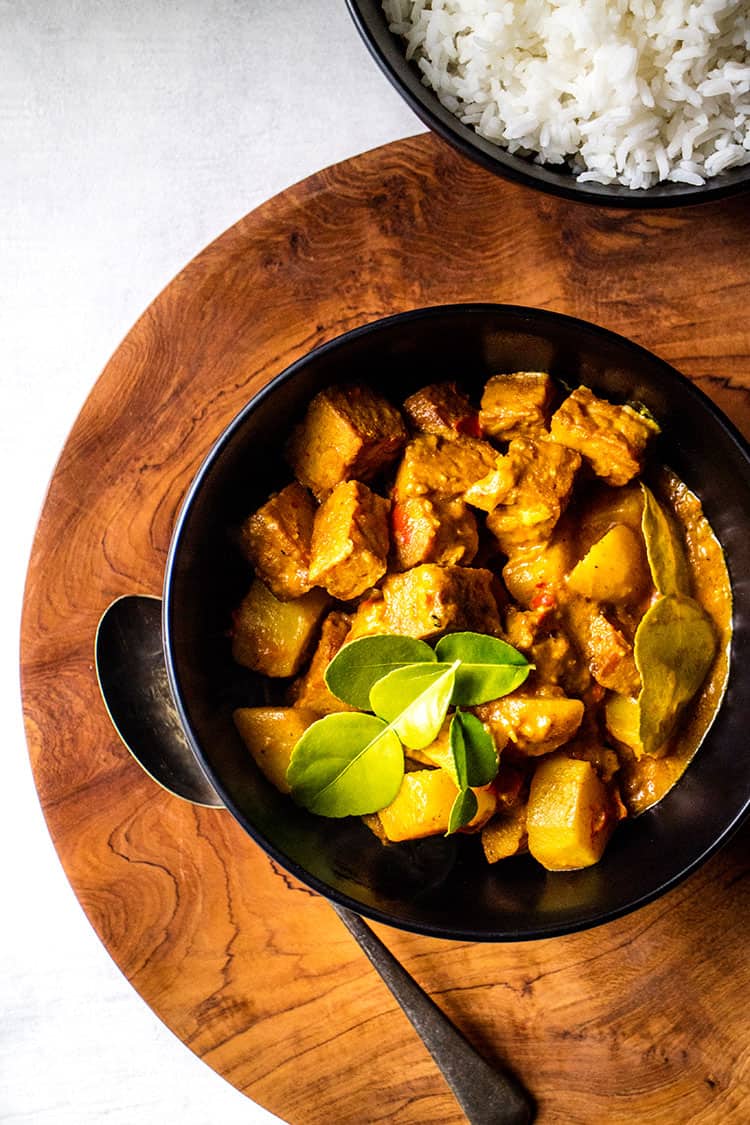 Those of you who have been following along know I've just had a blissful break in Bali, where I did a deep-dive into traditional Balinese cooking with a local family.
I learned to make a full Balinese meal - six dishes, a rice and potato accompaniment, and a level five chilli and torch ginger sambal (sambal matah) that blew my mind and made my host Putu laugh with delight that my mere Western tastebuds could hack the heat. I loved it.
Balinese families typically cook once for the day, making a range of dishes in the morning for the main meal of the day - lunch - with leftovers kept for dinner. It's a good reason to eat at warungs (traditional restaurants) earlier in the day, when the food is freshest and at its best too.
Balinese curry is often one of the dishes available. I adore the balance of Balinese curries, which are almost somewhere between a Thai and Indian curry in flavour, and I've wanted to learn how to make a good Balinese curry for a long time. I'm delighted to have figured out a version I can replicate at home.
Balinese curry paste (base gede)
As with most curries, a Balinese curry starts with a fresh curry paste, or base gede. Some of the ingredients are harder to find outside of Indonesia, but there are easy substitutions that can be made. I think this curry is a little darker in colour than those I ate in Bali, but the flavour is close to spot on.
The curry paste ingredients are traditionally ground together using an ulekan, or traditional wide, flat bottomed mortar and pestle. At home in New Zealand I used a typical round mortar and pestle to do the job, and you could also use a small food processor to grind the paste ingredients together - though the paste won't be quite as smooth or full flavoured.
The key ingredients and possible substitutions are as follows.
Shallots: In Bali these are small, round, red shallots, not much bigger than a marble. Where 2-3 might ordinarily be used, I use one thumb sized New Zealand shallot instead. A small red onion would also work.
Garlic: No problems with that one.
Fresh ginger: Easily found in any supermarket.
Fresh galangal: In New Zealand this pops up fresh in greengrocers and Asian supermarkets from time to time. Fresh is best, but dried ground galangal (as I used in this recipe) is a good substitute. If you can't find either, just leave it out and increase the quantity of fresh ginger you use.
Fresh turmeric: This is pretty easy to find in New Zealand, from greengrocers and Asian supermarkets. If you can't find it, use dried ground turmeric (which I used here for convenience).
Fresh chillies: Long, milder red chillis are used as part of the standard base, with small, hot red chillis added to adjust the heat. I used long chilli only in this recipe.
Candlenuts: These add to the texture of the finished curry, and are possible to find at Asian supermarkets. Substitute with macadamia nuts if unavailable.
Coriander seeds: Easily found in any supermarket.
White peppercorns: Easily found in any supermarket.
I didn't use any in this recipe, but lemongrass and nutmeg are also common additions to a Balinese curry paste.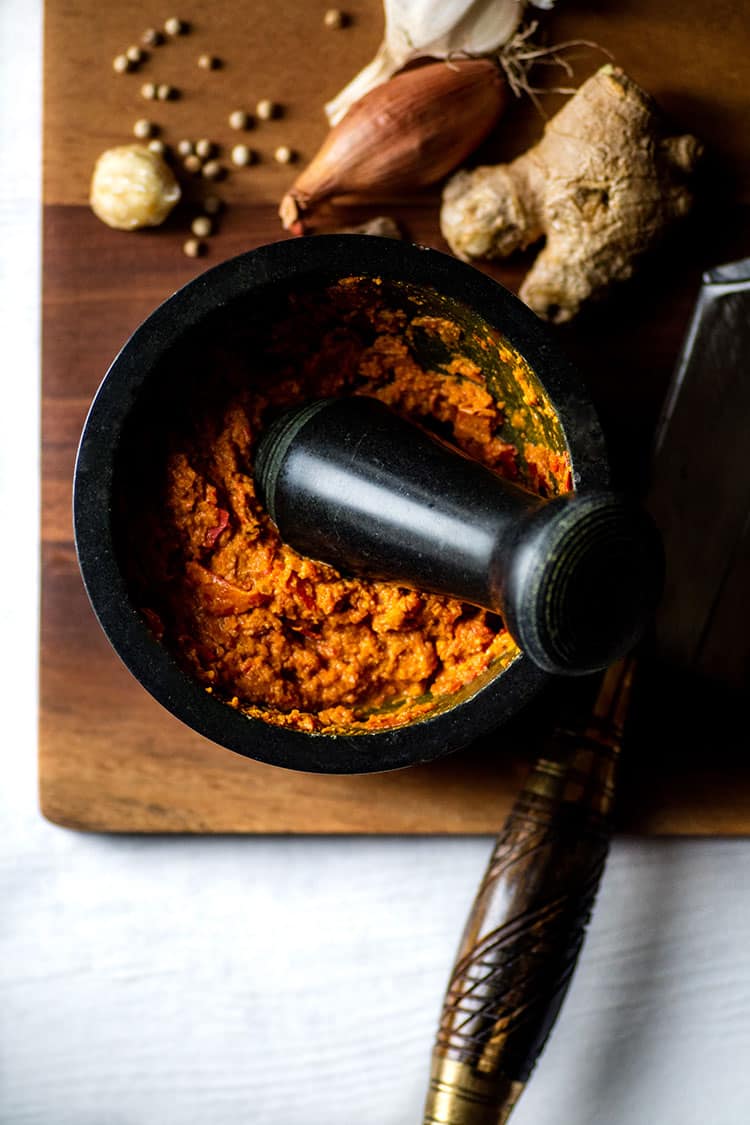 Tempeh and potato curry
Tempeh, while widely loved around the world these days, is a traditional Indonesian food that makes an everyday appearance throughout Bali. At warungs, it might be served fried in large wedges with a dollop of sate sauce, cut small and fried with chilli and kecap manis (tempeh manis) or tossed with tomato sambal and lots of lemon basil (known as kemangi in Bali).
Tempeh is also a standard offering in a Balinese curry, sometimes by itself, sometimes with tofu, and sometimes with a wide range of vegetables.
For this recipe I used fried tempeh cubes and potato, which together make for a comforting, satisfying meal. Really, you can use almost any protein or vegetable you like here.
Once the curry paste is made, finishing the tempeh curry is straight forward. The curry paste is fried in coconut oil, then it's simply a matter of adding fried tempeh, cubed potato, kaffir lime leaves and some canned coconut cream and simmering until the potato is tender.
In Bali we made coconut milk from scratch, which is surprisingly easy, but canned coconut cream does a fine job and wins from a convenience perspective every time.
Serve it as part of a meal
Urab sayur, or grated coconut and blanched vegetable salad, is a common side dish served alongside curry and other Balinese dishes. Chilli-spiked but fresh with lime, it's a fantastic accompaniment that lessens the 'heavy meal' feeling of curry and rice served alone.
Check out my urab sayur recipe to serve alongside your Balinese curry.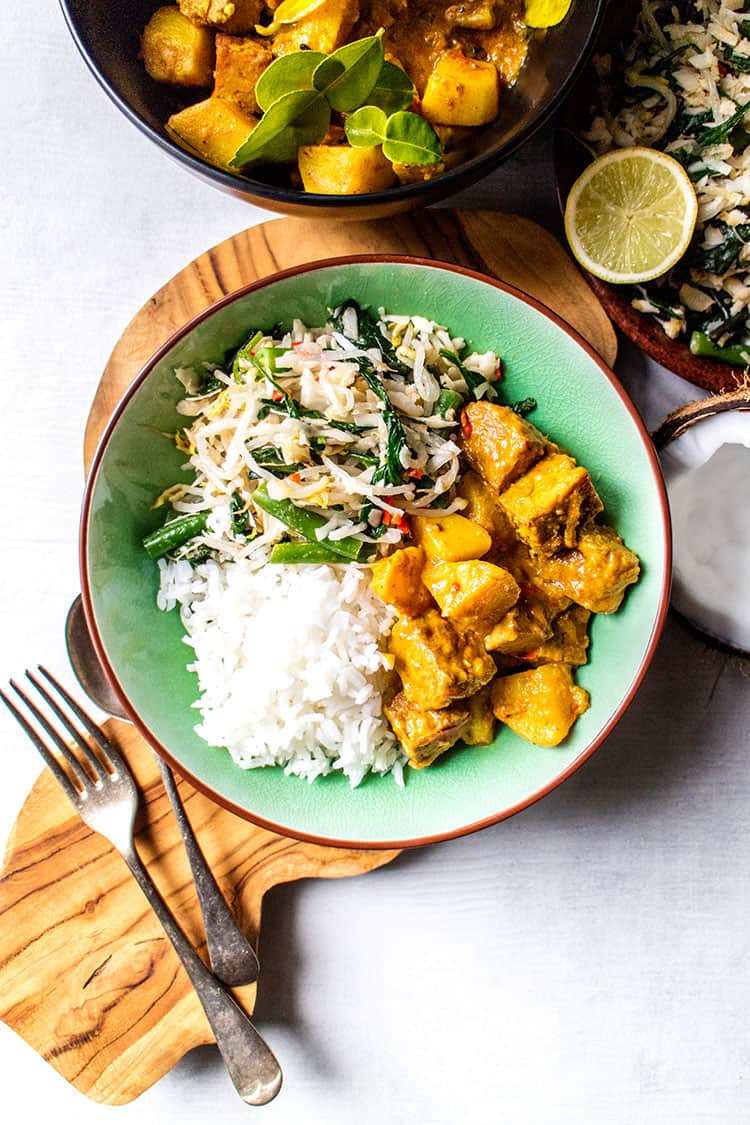 Get the recipe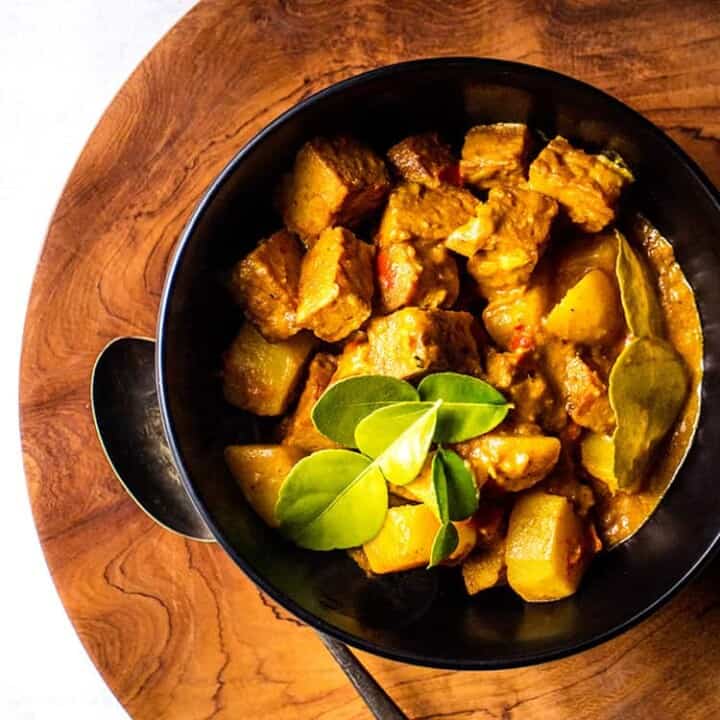 INGREDIENTS
For the curry paste:
3

cloves

garlic

peeled and sliced

2

shallots

peeled and sliced (see recipe notes)

2

long red chillis

trimmed and sliced (see recipe notes)

1

teaspoon

ground turmeric

or a 2cm piece of fresh turmeric root

2

cm

piece of fresh ginger

½

teaspoon

ground galangal

or a ½ cm piece of fresh galangal root

2

candlenuts

or 4 macadamias

½

teaspoon

coriander seeds

½

teaspoon

white peppercorns
Other ingredients:
4

tablespoon

coconut oil

divided

250

g

tempeh

cubed

2

potatoes

peeled and cubed

1

can

light coconut cream

2-3

kaffir lime leaves

or a squeeze of lime juice

Salt

to season
INSTRUCTIONS
Begin by grinding the paste ingredients together until it comes together in a reasonably smooth paste. This can be done using a mortar and pestle, or a small food processor.

Heat 2 tablespoon of coconut oil in a frypan (skillet) and fry the cubed tempeh until golden on all sides. Remove from the pan and set aside.

Heat the remaining 2 tablespoon of coconut oil in the same frypan, then fry the curry paste for 2-3 minutes until fragrant. Add the tempeh back into the pan, along with the potato, kaffir lime leaves and about ¾ of a can of coconut cream (or the full can if needed, you want the curry to be saucy but not too saucy).

Season with a little salt and simmer for 10-15 minutes, stirring from time to time, until the potato is tender.

Once cooked, taste and adjust seasoning with more salt as required.

Serve with steamed rice, and urab sayur or steamed greens such as beans, broccoli or spinach, for a complete meal. 
RECIPE NOTES
If you prefer a milder curry, remove seeds from the chillis before grinding with the chilli paste. If you prefer a hotter curry, add 1-3 small, hot chillis additional to the recipe and grind with the other paste ingredients. 
I used two thumb-sized New Zealand shallots. A small red onion would also work. 
If you can't find fresh or dried galangal, leave it out and add extra fresh ginger root in its place. 
Nutrition information is estimated and does not include rice or urab sayur to serve. 
NUTRITION INFORMATION
Calories:
328
kcal
|
Carbohydrates:
25
g
|
Protein:
15
g
|
Fat:
20
g
|
Saturated Fat:
13
g
|
Cholesterol:
0
mg
|
Sodium:
602
mg
|
Potassium:
834
mg
|
Fiber:
3
g
|
Sugar:
2
g
|
Vitamin A:
215
IU
|
Vitamin C:
46.2
mg
|
Calcium:
113
mg
|
Iron:
5.8
mg
Nutrition Facts
Balinese tempeh and potato curry
Amount Per Serving
Calories 328
Calories from Fat 180
% Daily Value*
Fat 20g31%
Cholesterol 0mg0%
Sodium 602mg26%
Potassium 834mg24%
Carbohydrates 25g8%
Protein 15g30%
Vitamin A 215IU4%
Vitamin C 46.2mg56%
Calcium 113mg11%
Iron 5.8mg32%
* Percent Daily Values are based on a 2000 calorie diet.