Rustic oat crumble bars with blackberries, apple and a subtle hint of fresh sage and lemon.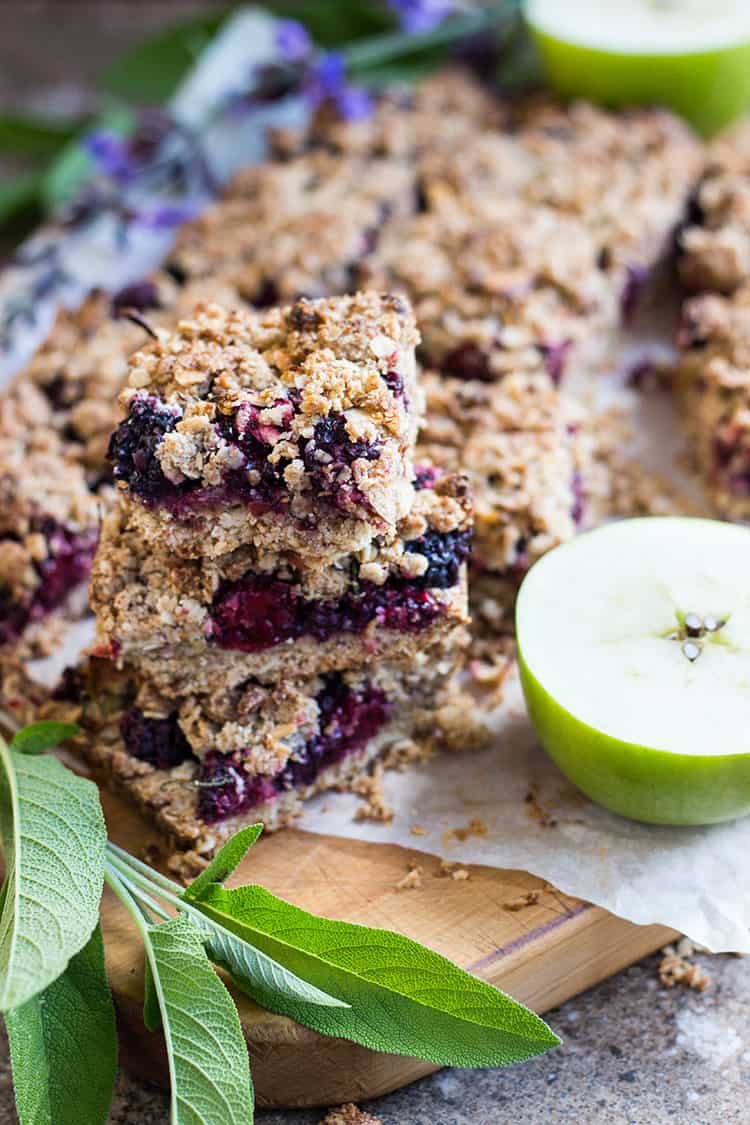 Last week I was treated to an ice cream from Hamilton East's Duck Island Ice Cream, a boutique little ice cream shop that specialises in small batch runs of extra special flavours. I had to try the blackberry, sage and honey flavour and it was utterly delicious. It also served to educate me in how well the flavours of blackberry and sage play together. I've been thinking about it ever since, and decided these rustic oat crumble bars would provide a perfect opportunity to try the flavour combo out for myself.
Sage is one of my favourite herbs and something I always have growing in the garden. Right now the sage is particularly lush, the leaves are new, tender and large, and it's also in flower. So pretty, so delicious, and such a powerful burst of savoury flavour in all kinds of cooking.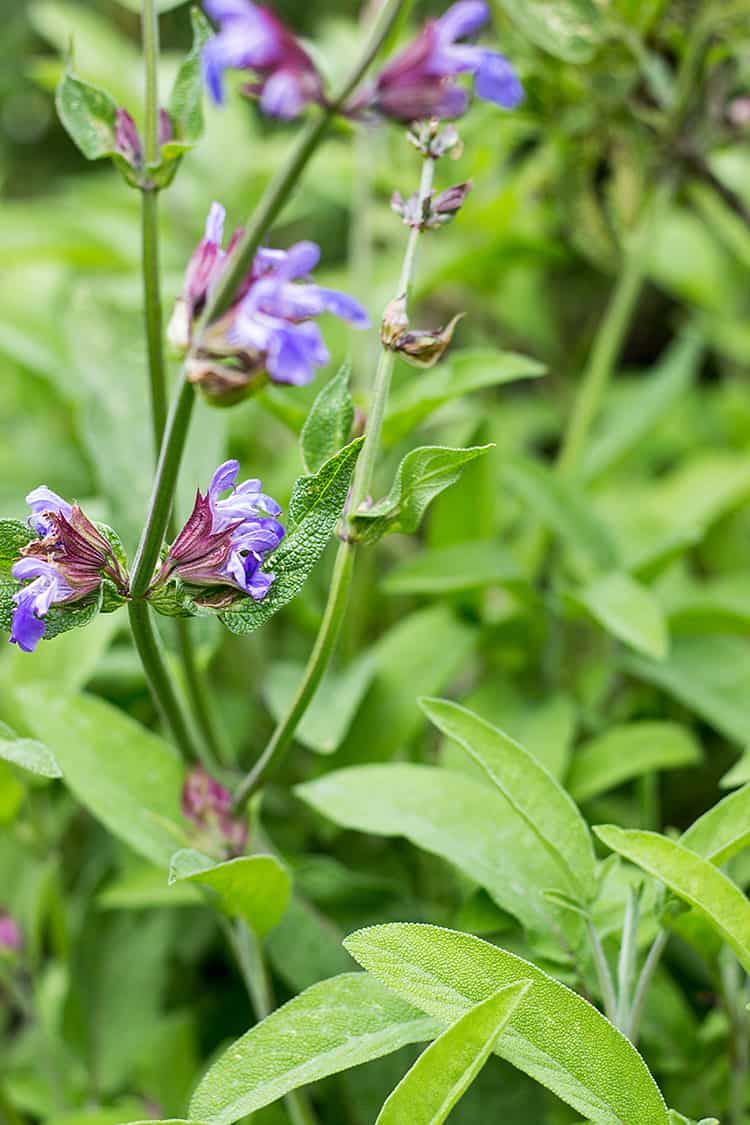 The blackberry and sage flavour combo
Does it work? Yes, yes it does. The ice cream I tried actually had a very strong undercurrent of sage and I'm guessing they may have infused the ice cream base to achieve it. The sweet, tart flavour of the blackberries cut right through the savoury notes and the overall effect was complex, a bit floral and intriguingly delicious.
In this recipe I used about four large sage leaves, rolled up together and sliced as finely as possible into hair-like green threads. Measured, it was roughly a tablespoon's worth. This quantity imparts a subtle hint of sage which works well with the blackberry and apple, but could probably easily be doubled for a stronger flavour without being overwhelming.
A simple gluten free oat crumble mixture
I made a simple crumble of oat flour (made in my blender), whole rolled oats, sliced almonds and dessicated coconut, sweetened with coconut sugar, flavoured with lemon and vanilla, and with enough melted coconut oil to bring it together into a wet crumbly mixture.
About two-thirds of the mixture is pressed into a slice tin, before being topped with blackberries tossed in a little cornflour, some grated apple and the finely sliced sage. The remaining crumble mixture is loosely pressed onto the top before baking until golden brown.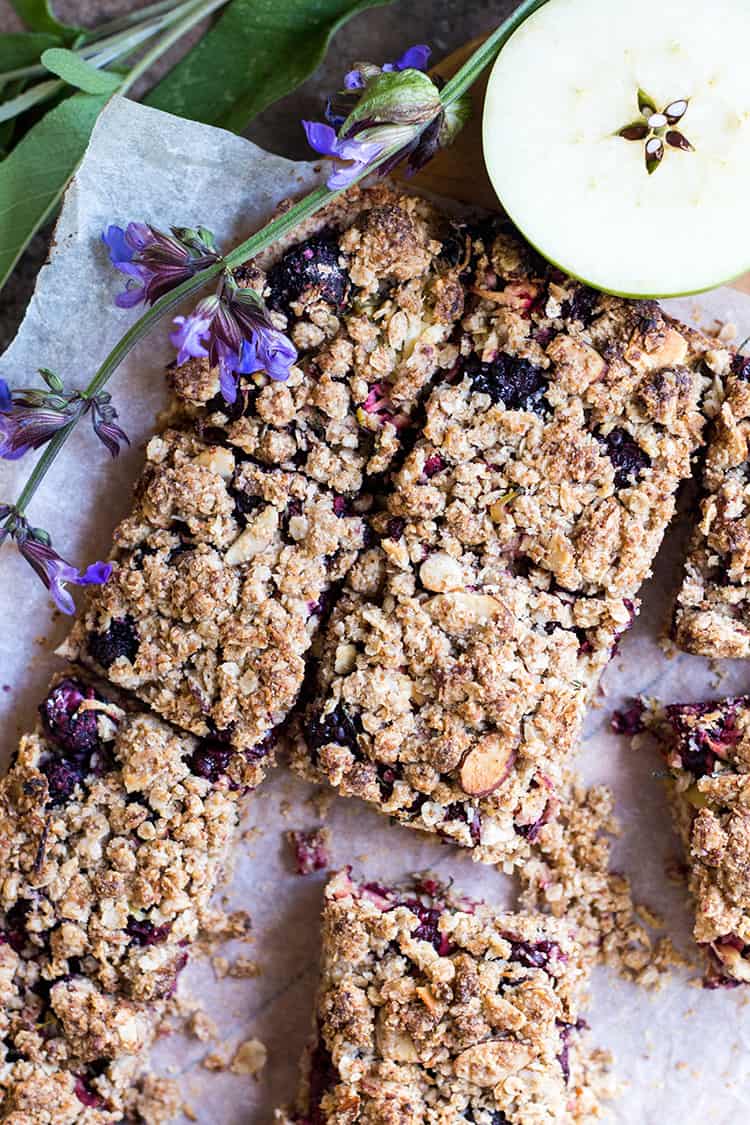 Breakfast, snack or dessert...?
This recipe can go in any direction. These oat crumble bars aren't too sweet to enjoy alongside coffee for breakfast, as I discovered today (and they are made with oats, which make porridge, so that's a legit choice, right?). It wasn't the first time I've enjoyed dessert for breakfast.
They're also a healthy snack or part of a packed lunch, and warmed with a bit of yoghurt, custard or ice cream they're a lush dessert.
You can safely substitute whatever berries are in season where you are, or what you have hiding in the freezer. I'd love to try a variation of these with strawberries and basil, which I'm sure would be equally delicious.
Enjoy xx
Get the recipe
INGREDIENTS
For the crumble:
2

cups

oat flour

(gluten free if required)

1

cup

rolled oats

(gluten free if required)

¾

cup

coconut oil

melted

½

cup

dessicated coconut

½

cup

sliced almonds

½

cup

coconut sugar

1

tablespoon

lemon zest

1

teaspoon

baking powder

(gluten free if required)

1

teaspoon

natural vanilla extract

½

teaspoon

salt
For the filling:
2 ½

cups

blackberries

fresh or frozen (I used frozen)

1

apple

grated (I used Granny Smith)

2

tablespoon

corn flour

(corn starch)

1

tablespoon

sage

very finely sliced
INSTRUCTIONS
Preheat oven to 200C (390F) fanbake, and line a slice tin with baking paper. I used an 18x27cm pan (approximately 7x10.5 inches).

If you're using frozen blackberries, measure them into a bowl then set aside to thaw a bit while you're making the crumble.

Mix all crumble ingredients, except for the coconut oil, in a large bowl.

Pour the melted coconut oil over the crumble ingredients, bit by bit, mixing well, until the mixture is wet and clumps together easily when squeezed. You may not need the whole quantity of coconut oil.

Measure a heaped cup of crumble mixture and set aside for the topping.

Press remaining crumble mixture into the slice tin, using the back of a spoon or a drinking glass to get it nice and even.

Sprinkle the corn flour over the blackberries and toss together. Tip the blackberries onto the crumble base and spread out evenly.

Evenly distribute the grated apple and sliced sage over the blackberries.

Use the reserved crumble mixture as a topping for the fruit, spreading out evenly but keeping it in rustic clumps. You're not aiming for perfection here. Pay attention to any gaps, and make sure everything is evenly distributed.

Bake for 30 minutes, or until a deep golden brown.

Remove from oven and allow to cool and set for 1-2 hours in the pan. Use the baking paper to gently lift the uncut bars onto a chopping board, before slicing into even portions. I sliced mine into 12 generous serves.
NUTRITION INFORMATION
Calories:
316
kcal
|
Carbohydrates:
33.4
g
|
Protein:
5.5
g
|
Fat:
19.3
g
|
Saturated Fat:
13.4
g
|
Cholesterol:
0
mg
|
Sodium:
136.8
mg
|
Fiber:
4.9
g
|
Sugar:
11.7
g
|
Vitamin A:
0
IU
|
Vitamin C:
14
mg
|
Calcium:
70
mg
|
Iron:
1.6
mg
Nutrition Facts
Blackberry, sage and apple oat crumble bars
Amount Per Serving
Calories 316
Calories from Fat 174
% Daily Value*
Fat 19.3g30%
Cholesterol 0mg0%
Sodium 136.8mg6%
Carbohydrates 33.4g11%
Protein 5.5g11%
Vitamin A 0IU0%
Vitamin C 14mg17%
Calcium 70mg7%
Iron 1.6mg9%
* Percent Daily Values are based on a 2000 calorie diet.