Healthy and moreish home made five seed crackers are a tasty snack by themselves or with your favourite dip.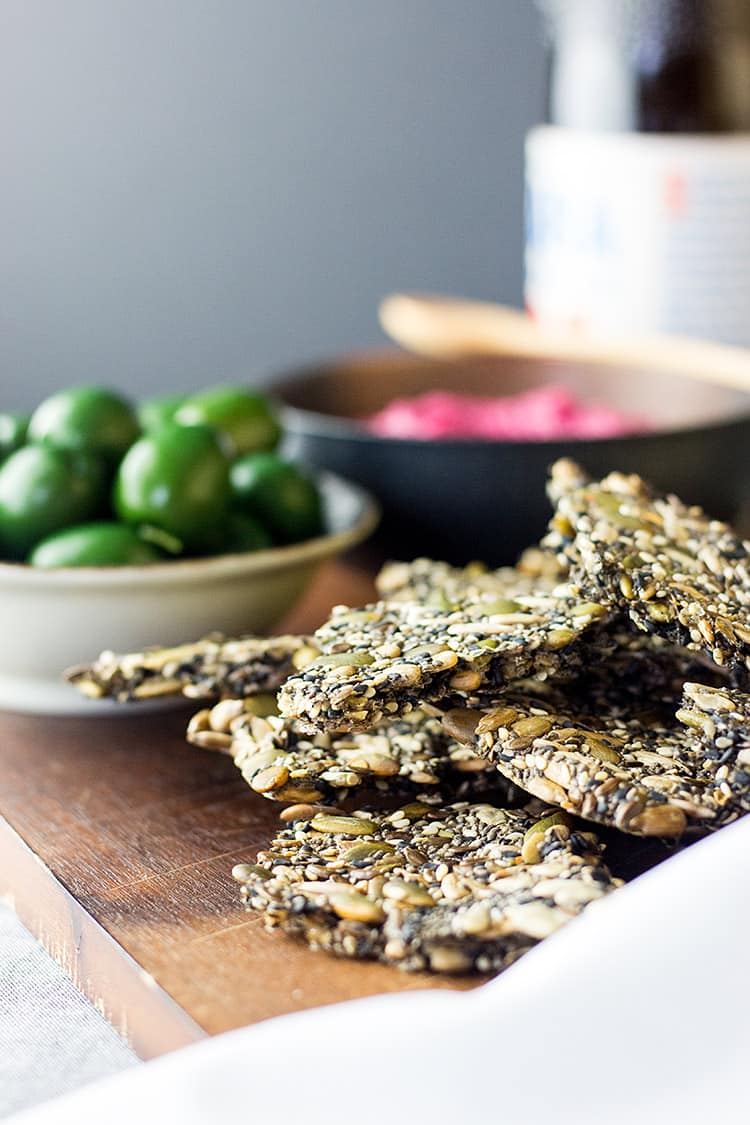 I don't know about you, but every year at this time of the year I start to go into free fall. It feels like time speeds up, there's so much to do and not enough time to do it. Meanwhile my calendar gets more and more booked with end of year and Christmas events, clients want work finished yesterday and the holiday part of the silly season feels like a long, long way away.
I'm breathing deep and have my eye on the ball - those glorious post-Christmas days with no commitments that allow for sleep ins, long brunches, trips to the beach, reading, and of course plenty of time to cook and eat great meals. Love it.
Until then, I'll be super efficient robo-woman and find my way through!
While I might not love the busy-ness of this time of the year, I do love that we're busy because we're making time to spend with people we love. We're stepping out of the treadmill of daily life to share food, drink and conversation, which is a beautiful thing. I'm starting to think about pre-Christmas drinks and nice nibbly food to serve, which is where these five seed crackers come in.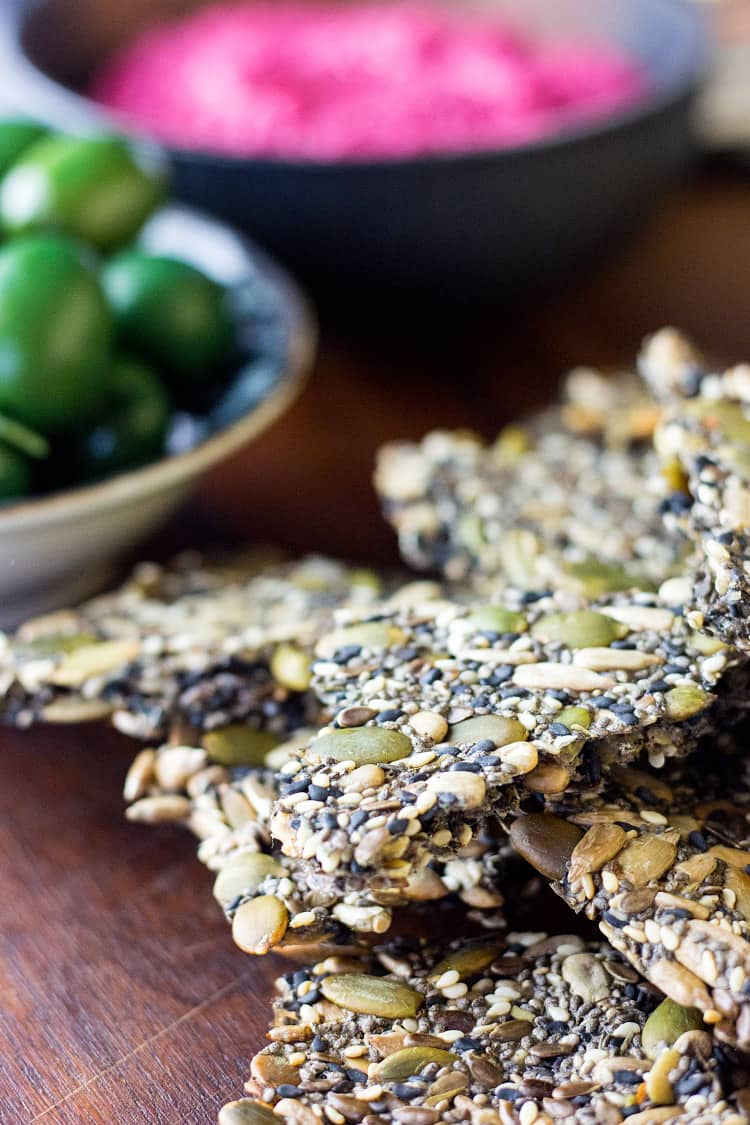 Five seed crackers
The name says it all really. These crackers are made from sunflower seeds, pumpkin seeds, chia seeds, flaxseed (linseed) and sesame seeds.
To make these, you simply mix the seeds together in a bowl with salt and a few seasonings, stir through some water and let the chia seeds do their thing. The water all gets absorbed, turning the chia seeds jelly-ish, which is what binds the cracker mixture together.
The cracker mixture then gets spread thinly on a baking sheet and baked until crisp.
You don't need to get out your ruler, but do make an effort to spread the mixture thinly and evenly for the best results. About 3-4mm thick is perfect. Too thin and the crackers will be very fragile, too thick and they'll come out more like cookies.
Once the cracker mixture has cooled, I just snap them into irregular pieces. I like the organic look, but if you're more of a straight lines kind of person then you can remove them from the oven halfway through baking, slice into squares or rectangles, then return to the oven to finish crisping up.
The resulting crackers are moreish, nutty tasting, and really rather delicious. These five seed crackers are great with your favourite hummus or dip and also a great nibbly little snack all by themselves.
I added dried thyme and chilli flakes for a little extra flavour. You could substitute with any dried herb of your choice, and the chilli flakes are of course optional.
I adore the simplicity of this recipe, and that the crackers are 100% good for you while still being really yum.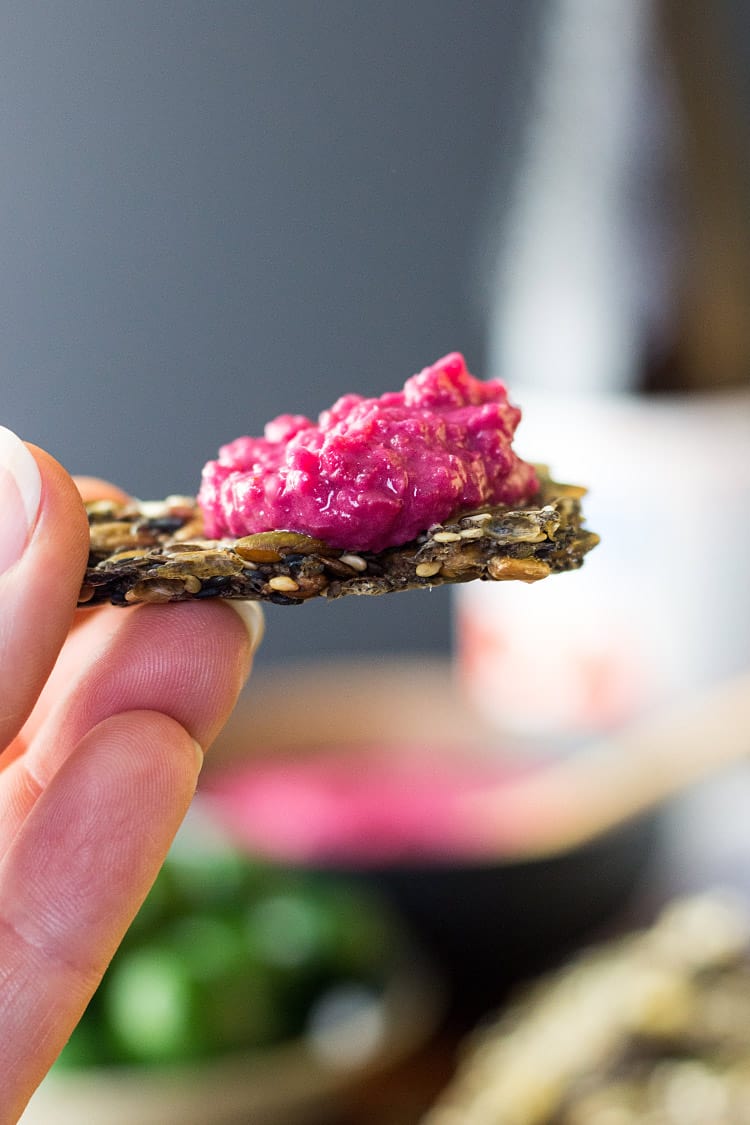 Perfect for school lunch boxes too
I make these crackers on repeat, not just because they're yummy, but because they have the seal of approval from both of my little people too.
Being nut-free, these crackers are also perfect for school lunchboxes and give the kiddos a decent serve of fibre, healthy fats and protein.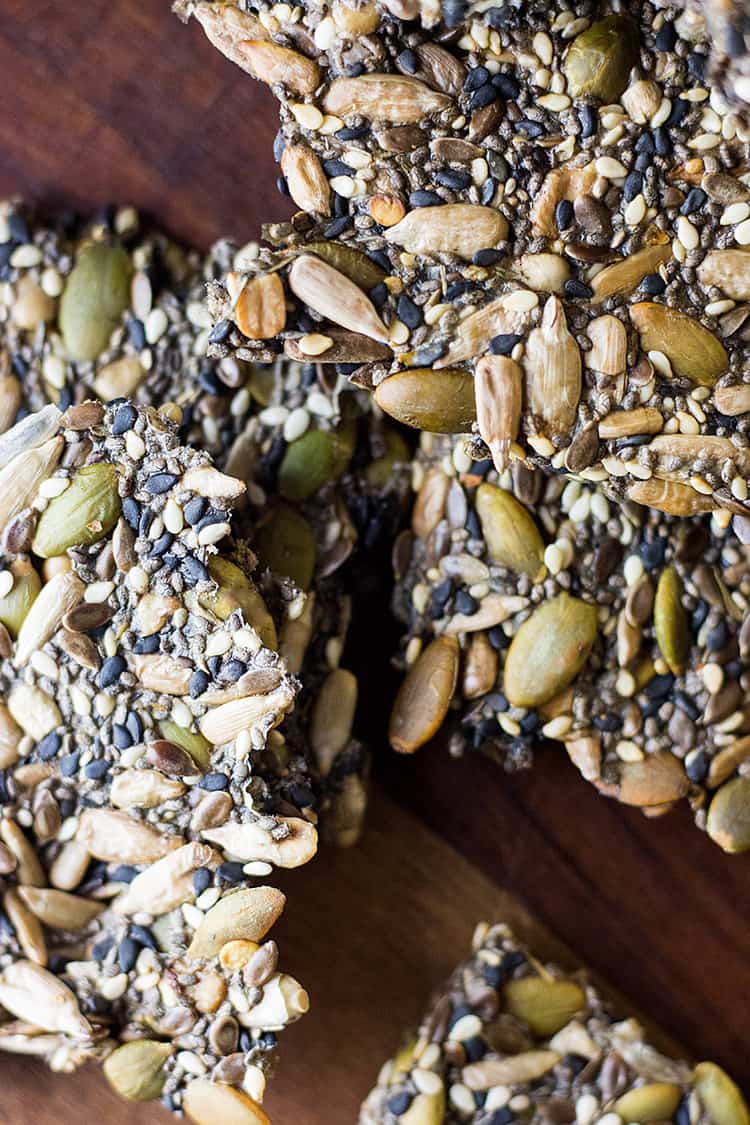 Watch the video
Get the recipe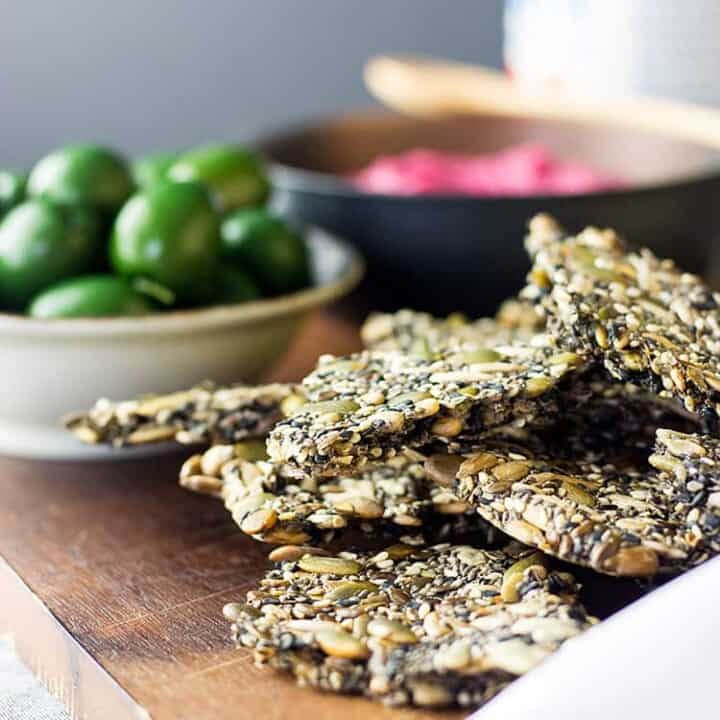 INGREDIENTS
1

cup

sunflower seeds

¾

cup

pumpkin seeds

½

cup

chia seeds

½

cup

sesame seeds

(I used a mix of black and white sesame seeds)

¼

cup

flaxseed

(linseed)

1

teaspoon

salt

1 ½

cups

water

1

tablespoon

dried herbs of your choice

(I used thyme)

1

teaspoon

chilli flakes

(optional)
INSTRUCTIONS
Preheat oven to 170C (340F) fanbake.

Mix all ingredients together and leave for 10-15 minutes for the seeds to soak up the water.

Give everything a good stir, then split the mixture over two lined baking trays and spread thinly. The ideal thickness is about 3-4mm. Too thin and the crackers will be very fragile, too thick and they'll be more like a seed cookie than a cracker.

Bake for one hour (switching the trays around halfway through), or until golden brown and crisp. If they don't feel crisp after an hour, return to the oven for another 5-10 minutes.

Remove from the oven, allow to cool, then break into irregular shards. Store in an airtight container.
NUTRITION INFORMATION
Calories:
192
kcal
|
Carbohydrates:
9.1
g
|
Protein:
7.5
g
|
Fat:
15.4
g
|
Saturated Fat:
2
g
|
Cholesterol:
0
mg
|
Sodium:
238.8
mg
|
Fiber:
6.4
g
|
Vitamin C:
0.8
mg
|
Calcium:
160
mg
|
Iron:
3.4
mg