Crispy fried broad bean falafel with lots of hidden greens are packed with flavour and all things good for you. Serve them with tahini sauce, salad and pita pockets for a complete meal.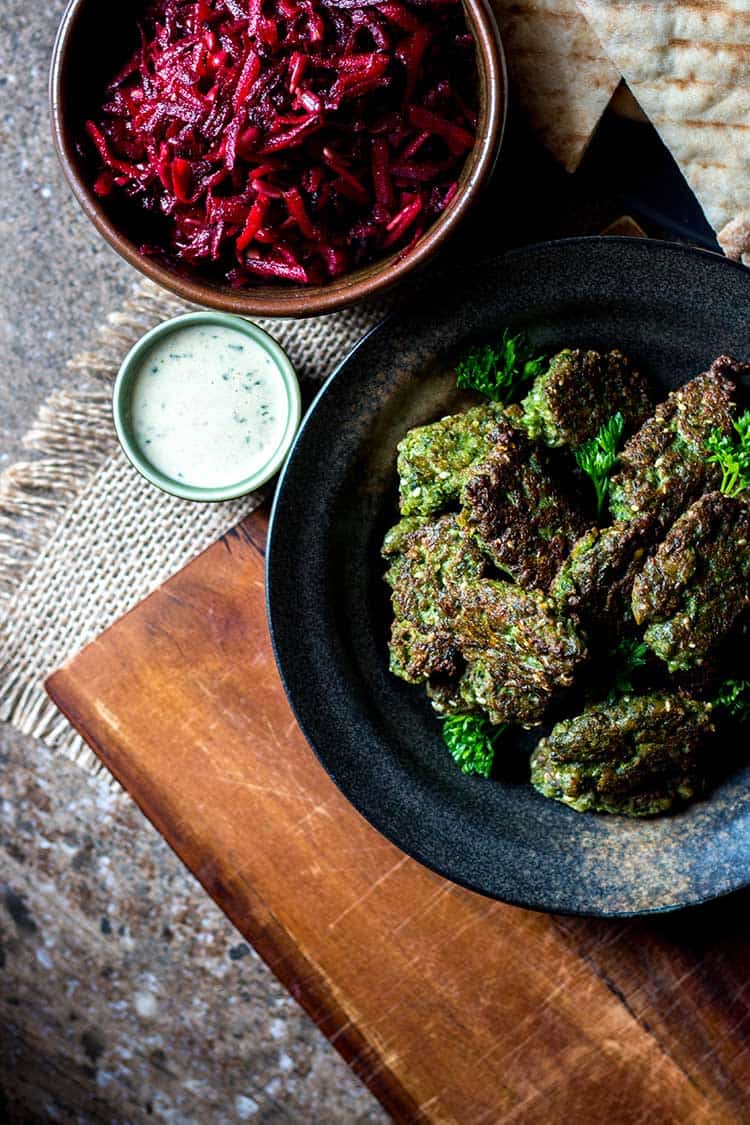 The only thing better than a prolifically productive vegetable garden, is friends and family with prolifically productive vegetable gardens.
I grow lots of stuff, but don't actually have room for broad beans so I'm always delighted when people gift me a bag of them to play with.
Fresh broad beans, also known as fava beans, have an abundant but short-lived season each spring. They're a labour of love, needing to first be removed from their pods, then squeezed from their leathery little skins after a quick blanch in boiling water. I don't bother doing this with young, small, tender broad beans - it's really not necessary - but it's essential for older or pre-frozen broad beans.
If you can't get fresh broad beans, frozen broad beans are inexpensive and easy to find. They're an excellent plant source of protein, fibre, iron and folate, so I make an effort to include them in our diet throughout the year. I love them in salads, and they also make a great bruschetta topping. Over the weekend I did a bit of experimenting and came up with a recipe for broad bean falafel. It's a keeper, with my big girl declaring it "The best thing you've ever made!".
I think she has a short memory, but they are very good indeed.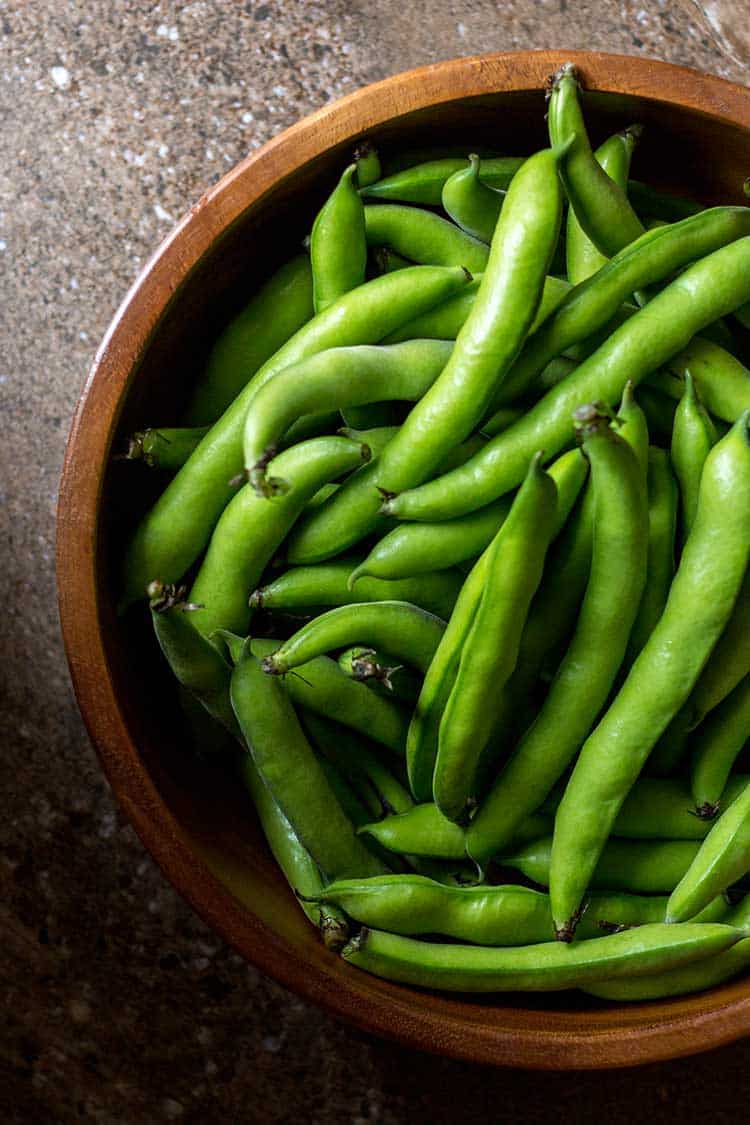 It takes time, but there's a strange satisfaction in splitting open the pods and removing the beans from their velvety resting place. Nature is rather clever sometimes, if a bit wasteful in this particular instance.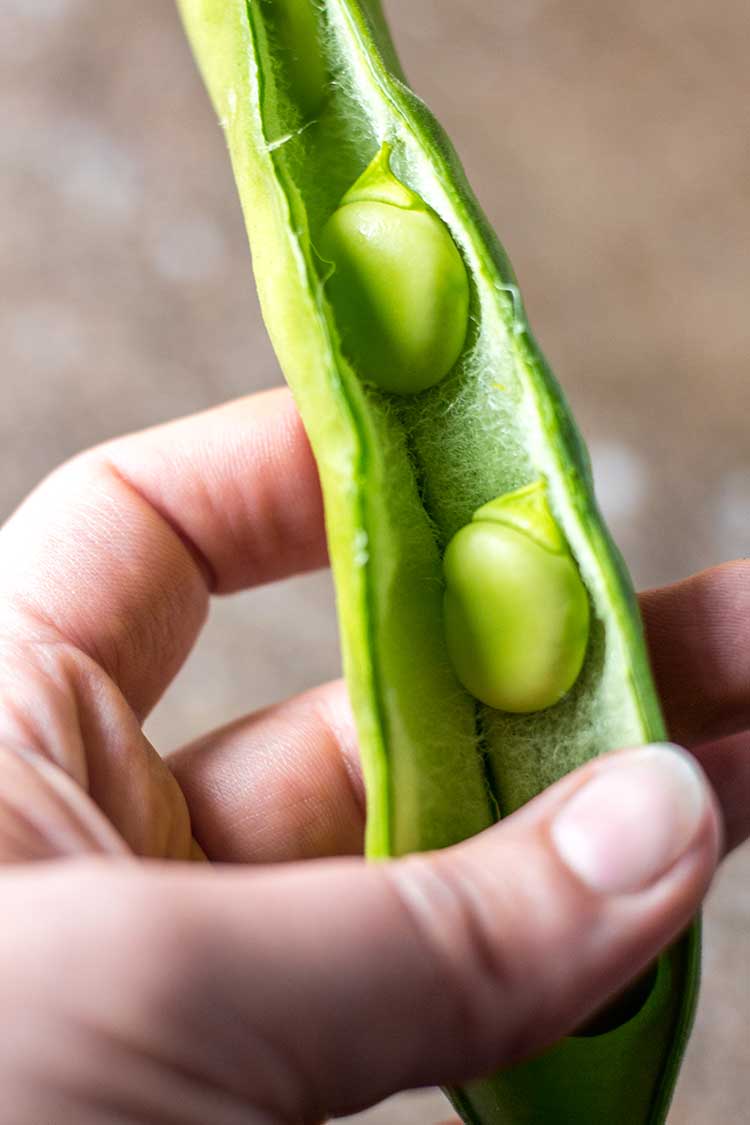 Figuring out how many you need can be a bit confusing. If you have fresh broad beans available, 1kg (2.2lb) of whole pods will yield around 300g (10.5oz) or two cups of beans once podded. If they need their skins removed, you'll end up with less once their skins have been discarded. If you're using frozen beans, you'll definitely need to remove the skins, so start by blanching about 3 cups for this recipe (instead of 2).
Broad bean falafel
Falafel are commonly made with chickpeas, but broad beans are also a traditional ingredient - particularly in Egypt. I think they're usually made with soaked, dried broad beans, but I found this recipe which uses fresh broad beans and chickpea flour to work extremely well.
I started by lightly cooking onion and garlic to soften and remove their raw flavour. I wanted to pack in as much green as possible, so threw half a bag of baby spinach into the pan to wilt down and cook off any excess moisture. The onion and spinach mixture went into the food processor, along with blanched broad beans, lots of parsley, lemon, ground cumin and sesame seeds. It's a simple job of pulsing until the mixture forms a chunky paste, then adding chickpea flour (besan, or gram flour) to bind it.
The resulting falafel mixture is a wet one - you can't roll this in your hands, but small spoonfuls dropped into hot oil fry up beautifully.
The texture of the mixture will be a bit variable depending on the size and age of your broad beans, and how much spinach you use. I suggest test frying a spoonful to make sure it's the right consistency. If your test falafel is too soft or doesn't stay together in the frypan, add another 1-2 tablespoon of chickpea flour to your mixture then continue cooking.
These broad bean falafel are full of flavour, tender on the inside with a crispy fried exterior. Delicious.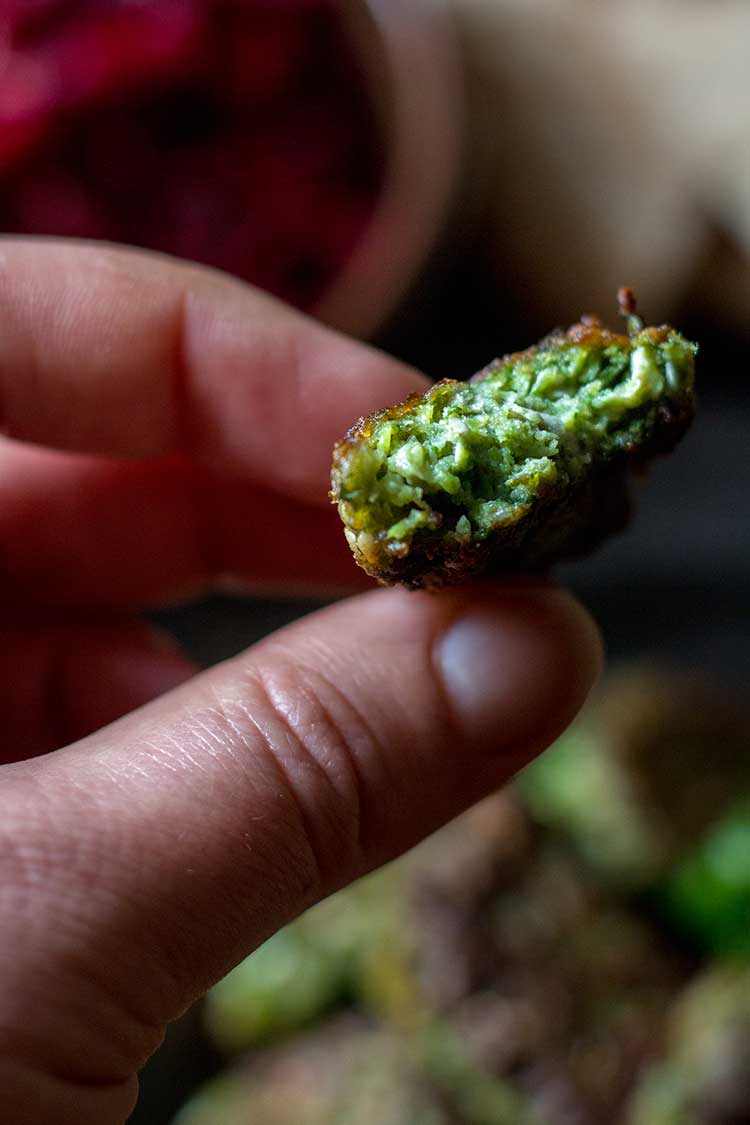 Quick tahini sauce
I served these broad bean falafel with a quick tahini sauce, pita pockets and leftover beet and carrot slaw from dinner the night before. It's a colourful meal that's full of flavour and ticks lots of boxes from a nutrition point of view. Love it.
To make the tahini sauce, I used a stick blender to combine tahini, water, lemon juice, parsley and salt. Easy as that.
If you like the idea of serving these with the beet slaw too, it was made from roughly equal parts of grated raw carrot and beetroot, dressed with the juice of half a lemon and a wee dribble of sesame oil. I also threw in a few toasted seeds and nuts for crunch.
Get the recipe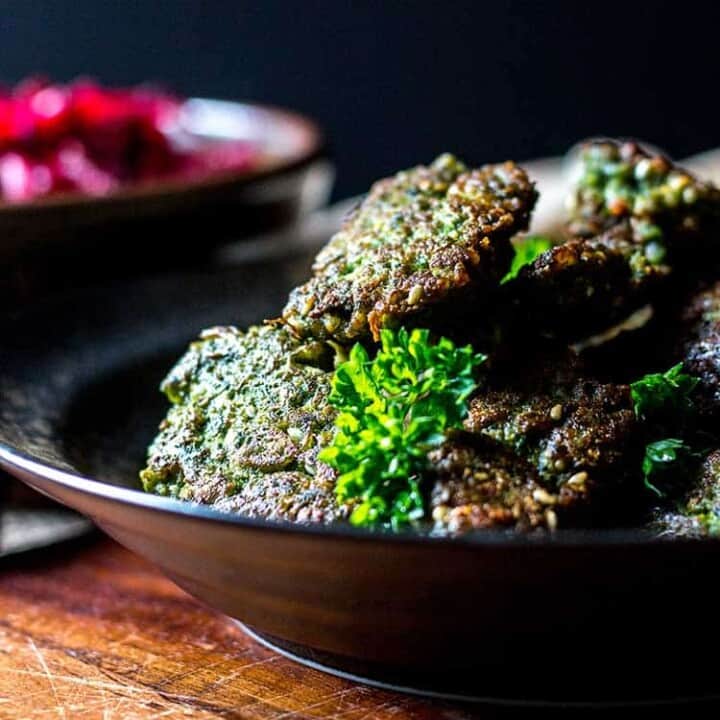 INGREDIENTS
For the broad bean falafel:
1

tsp

olive oil

½

onion

finely chopped

2

cloves

garlic

grated or finely chopped

2

cups

baby spinach

(about 60g/2oz)

2

cups

podded broad beans

(3 cups if using frozen)

¼

cup

finely chopped parsley

1

tablespoon

lemon juice

1

tablespoon

sesame seeds

1 ½

teaspoon

ground cumin

½

teaspoon

salt

Ground black pepper

½

cup

chickpea flour

(besan or gram flour)

Oil for frying

(I used grapeseed oil)
Tahini sauce:
2

tablespoon

tahini

3

tablespoon

water

1

tablespoon

lemon juice

2

teaspoon

finely chopped parsley

¼

teaspoon

salt
INSTRUCTIONS
Heat olive oil in a frypan (skillet) and cook onion and garlic for a few minutes to soften. Add the baby spinach. Cook until wilted and any excess moisture has cooked off. Set aside to cool.

Blanch broad beans in boiling water for 1 minute. Drain and run under cold water to refresh. If using frozen beans, slip the beans from their skins and discard the skins. You should end up with about 2 cups of beans (in their skins if small and tender, or skinned if not).

Put spinach mixture, broad beans, parsley, lemon juice, sesame seeds, cumin, salt and pepper into a food processor. Pulse until a chunky paste has formed (stopping to scrape down the sides if needed).

Add chickpea flour and pulse to combine.

Heat oil for frying in a frypan (skillet) over medium heat. Drop in a heaped teaspoonful to test fry and check the consistency. After 3-4 minutes on each side, the falafel should hold together well, staying tender on the inside, while becoming crispy and golden on the outside. If the mixture is too soft, add another 1-2 tablespoon of chickpea flour to the mixture then continue to fry the falafel in batches of about 10 at a time. Drain on paper towels and keep warm in a low oven while you cook the remaining falafel.

To make the tahini sauce, use a stick blender to blend all ingredients.

Serve hot, with pita bread or flat bread, salad and tahini sauce.
RECIPE NOTES
This recipe makes approximately 30 small falafel, which is enough to serve 4 people as part of a meal, or more if part of a bigger spread. 
Preparation time is based on using fresh broad beans. The recipe will be a lot quicker to make if you use frozen broad beans. 
Nutrition information is calculated for the falafel and tahini sauce (not including pita bread or beetroot salad).
Nutrition information does not include oil for frying, you decide how much you'd like to use. 
You can make the falafel mixture earlier in the day and keep it in the fridge until you're ready to fry them. 
NUTRITION INFORMATION
Calories:
202
kcal
|
Carbohydrates:
24
g
|
Protein:
10
g
|
Fat:
7
g
|
Saturated Fat:
1
g
|
Sodium:
850
mg
|
Potassium:
515
mg
|
Fiber:
6
g
|
Sugar:
2
g
|
Vitamin A:
1720
IU
|
Vitamin C:
15.4
mg
|
Calcium:
94
mg
|
Iron:
3.4
mg