A seriously savoury and warming vegan pie with a hearty mushroom, onion and lentil filling flavoured with herbs and balsamic vinegar.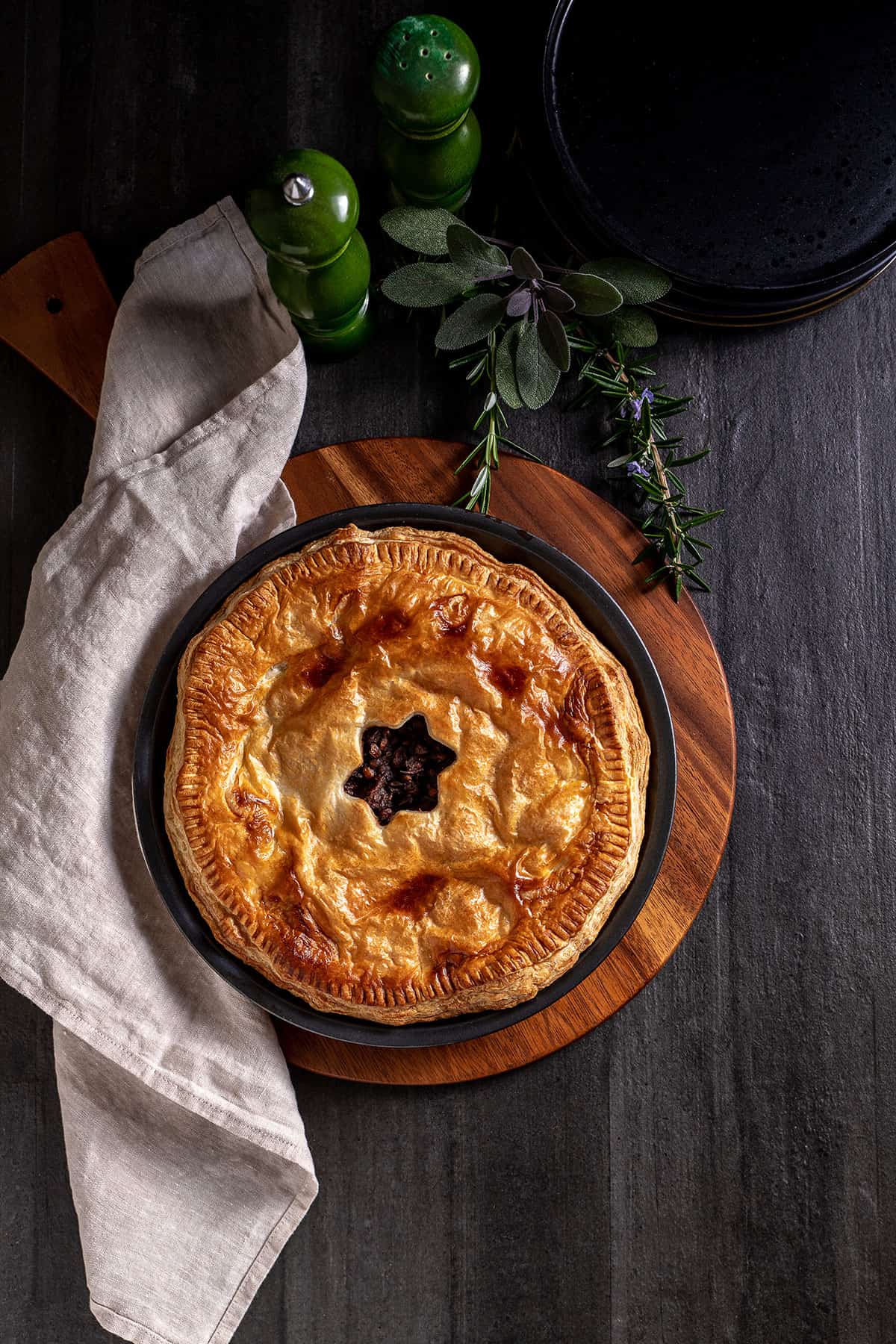 And that's a wrap. We've just come to the end of what felt like a very, very long first half of 2020 (was it six months, or six years...?). My girls have just finished mid-winter school holidays, I've completed a few huge work projects and we enjoyed a well earned break together.
With international travel off the cards for the foreseeable future, our travel-loving plans for this year have had to change a bit. Fortunately domestic travel is now safe here, so we hit the road for a stint at being tourists in our own country last week. It's mid-winter here so it was cold (really cold), but that didn't stop us from enjoying museums, vineyards, mountains and some well chosen eating spots. After spending so much time at home this year, it was quite a treat.
A warming winter pie
The shortest day of the year has passed and we've had some very frosty starts lately. We are absolutely in winter comfort food mode, and sometimes that calls for a pie.
I'm vaguely aware that our concept of pies is somewhat unique to New Zealand, Australia and maybe England. Here, a traditional pie is made with flaky pastry and some kind of meaty mince or steak filling. Pies are ubiquitous, available everywhere and the late night food of choice for folks on their way home from a night of drinking.
This vegan pie is an umami bomb of seriously savoury flavours - hearty, warming and the closest I've come to a traditional meat pie in 20-something years. Since then the fillings have become much more creative and it's not too hard to find a worthy vegan or vegetarian option - even from a petrol station.
But today, we're doing it for ourselves. I developed this recipe for the Winter 2020 issue of Nourish Magazine, while I was at home with my family during our country's lockdown.
This vegan pie recipe uses mainly store cupboard or freezer ingredients, and nothing too unusual. The filling is a hearty mixture of mushrooms, onions and brown lentils, in a glossy, thick gravy flavoured with herbs and balsamic vinegar. Marmite gives it a little extra punch, but don't worry if you don't have it - you could use miso paste instead, or just leave it out entirely.
I used a locally available vegan puff pastry, but you can use the pastry you prefer, or make your own regular or gluten free pie crust.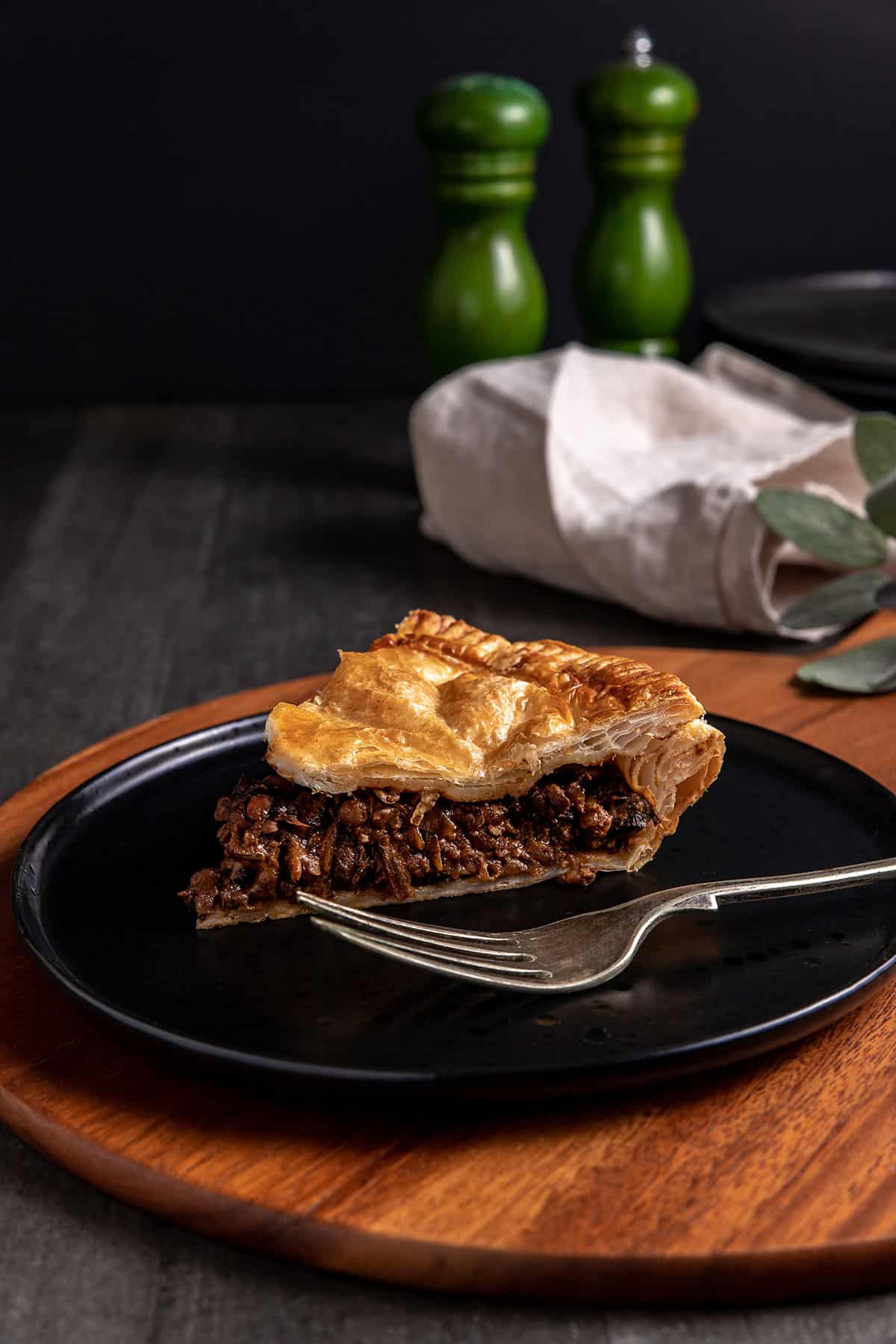 You might also like to try these mushroom recipes:
Get the recipe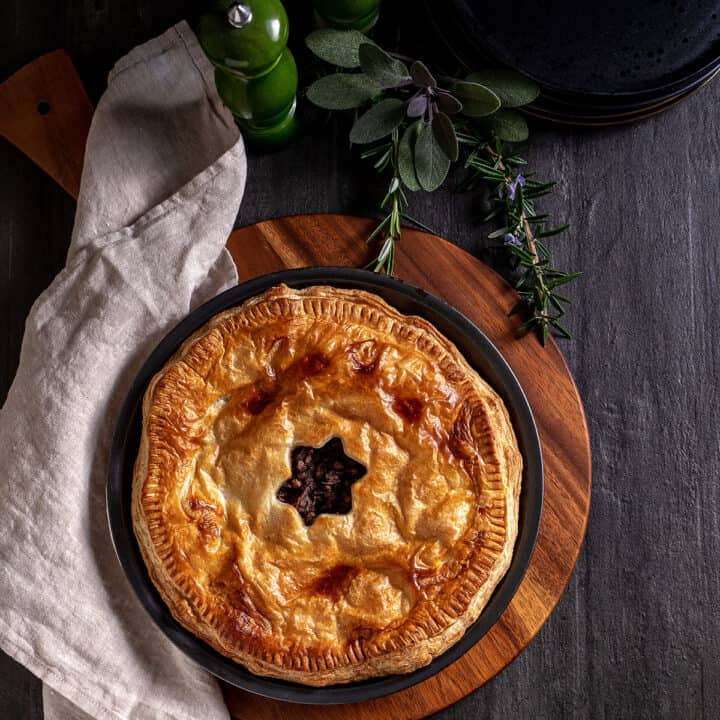 INGREDIENTS
2

tablespoon

olive oil

oil

2

brown onions

finely sliced

200

g

button mushrooms

sliced

1

clove

garlic

finely chopped

1

tablespoon

fresh rosemary

finely chopped (or 1 teaspoon dried)

1

tablespoon

fresh sage

finely chopped (or 1 teaspoon dried)

Pinch

cayenne pepper

(optional)

2

tablespoon

balsamic vinegar

(or red wine vinegar, or ¼ cup red wine)

1

can

brown lentils

drained (400g/14oz can)

1

tablespoon

tomato paste

1

teaspoon

marmite

(or miso paste)

1

tablespoon

flour

1

cup

soy milk

+ extra (or milk of your choice)

Salt and pepper

2-3

sheets

flaky puff pastry
INSTRUCTIONS
Heat olive oil in a large frypan (skillet) over medium heat. Cook onions, stirring often, until deep golden brown (about 15 minutes). Push onions to one side of the pan, then add mushrooms. Once mushrooms have started to brown, season with a pinch or two of salt, then stir to combine with the onions. Add garlic, rosemary, sage, cayenne pepper and a good grind of black pepper, and cook for another few minutes until fragrant.

Add balsamic vinegar to the pan and stir until the liquid has mostly evaporated. Add lentils, tomato paste and marmite, and stir to combine. Sprinkle 1 tablespoon of flour over the pan contents, and stir to combine. Cook for a few minutes, stirring often.

Add 1 cup of soy milk to the pan and stir to combine. Cook for another few minutes, stirring, until the mixture is dark, glossy and thick. The final consistency should be fluid but not runny – like a thick gravy. If the mixture is too thick, add a splash of milk to thin it a little. 

Preheat oven to 200°C (390°F) fanbake. Line a pie tin with pastry and trim the edges. If using pre-rolled pastry sheets and a large pie tin, you may need to patchwork more than one sheet together. Pour the pie filling into the pastry case, lightly moisten the edges of the pastry base, then top with another round of pastry. Use a fork to crimp the edges together. Cut a small hole in the middle of the pastry lid, to let out steam. You can also do this with a cookie cutter before you put the top on, as I did. Brush the pastry with soy milk, then bake for 20-25 minutes, until pastry is deep golden brown. 
RECIPE NOTES
I used a 24cm family sized pie tin. You could also use small pie tins or muffin tins to make individual pies, or put the filling directly into a casserole and cover just the top with pastry to make a pot pie.

I use New Way Flaky Puff Pastry, which is vegan and available from most supermarkets in New Zealand. You can use the pastry you prefer, or make your own regular or gluten free pie crust.

First published in the Winter 2020 issue of Nourish Magazine. 
NUTRITION INFORMATION
Calories:
785
kcal
|
Carbohydrates:
76
g
|
Protein:
19
g
|
Fat:
46
g
|
Saturated Fat:
11
g
|
Sodium:
625
mg
|
Potassium:
750
mg
|
Fiber:
11
g
|
Sugar:
8
g
|
Vitamin A:
91
IU
|
Vitamin C:
8
mg
|
Calcium:
50
mg
|
Iron:
7
mg