This comforting vegan mushroom and kale risotto is richly flavoured with fragrant saffron and miso, and topped with fried sage leaves, mushrooms and walnuts.
Oh how I love risotto. I remember my delight the first time I followed a traditional risotto recipe, where stock is slowly stirred with the rice as it cooks. Making such a comforting dish from what are really pretty basic ingredients felt all at once homely, exotic and accomplished. I was 21 if memory serves me right.
Many years and many risottos later, there was some heartbreak when I began to remove dairy from my diet. Could a vegan risotto without parmesan or butter be worth eating? I was highly sceptical and it took me a while to get around to trying it.
As it turns out, with just a little thought dairy free risotto can absolutely be as delicious as its more traditional creamy counterpart.
Dairy free mushroom risotto
My first choice for a dairy free risotto is mushrooms and today I'm sharing my favourite mushroom risotto recipe with you. This recipe departs from tradition and might make an Italian cry, but it's a firm family favourite, and even my girls who officially 'don't like mushrooms' enjoy this risotto a lot.
I was lucky enough to find fresh shiitake mushrooms at the supermarket, along with some lovely fresh white button and brown mushrooms, so I decided to use a combination of all three for maximum savoury-umami flavour. You can just use button mushrooms if that's what you have available.
Around half of the mushrooms are finely chopped and cooked with onion and garlic as the base of the risotto. I thickly slice and fry the other half of the mushrooms to scatter over the risotto at serving time.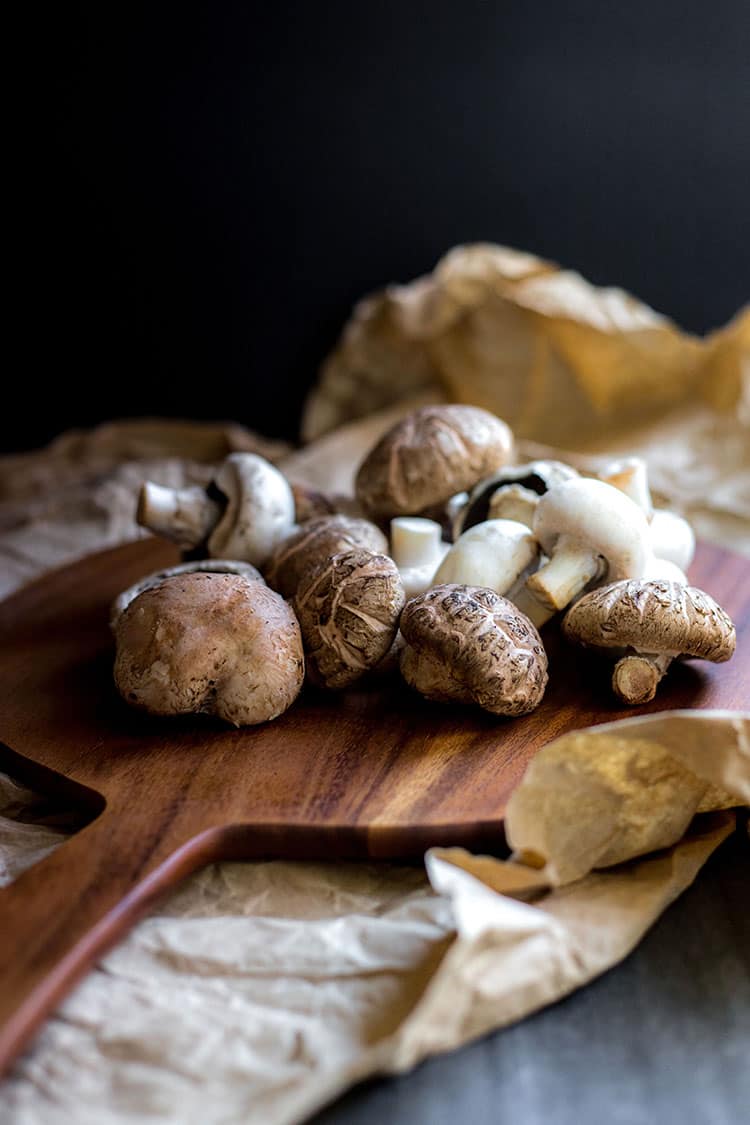 A flavour packed stock
A richly flavoured stock or broth is of utmost importance for any risotto, and I think that's especially true when there is no dairy in the mix. The flavour of the stock will be front and centre, and the success of the dish really lives and dies on it.
If you make your own vegetable stock, my hat is off to you. 10 points. It's something I always mean to do and rarely actually do. Sorry. If that's you too, use your favourite store bought vegetable stock. I recommend using liquid stock or a good quality stock powder made from natural ingredients (no msg or flavour enhancers).
For this recipe I amp up the flavour of the stock with a generous pinch of saffron, which lends it a musky flavour and beautiful golden colour. A little white miso paste deepens the base notes.
Using miso paste does also increase the saltiness of the stock, so be mindful about adding any additional salt to the recipe (it probably won't need it) and consider using a salt reduced stock if you're watching your sodium intake.
A few special extras
I reserve about half of the mushrooms to fry until golden and scatter over the risotto at serving time. It's nice to enjoy some bigger, juicy chunks and be reminded visually about the flavour of the risotto.
Depending on what I'm serving the risotto with, I also like to top it with freshly toasted walnuts. The earthy flavours of walnuts and mushrooms work together so well.
And finally, there is no risotto that is not elevated by a few fried sage leaves. I quickly fry them in hot olive oil until they crisp up, then drain them on paper towels before using them to garnish the risotto.
If you're feeling decadent you can use the remaining hot, sage infused oil to drizzle over the risotto too. Oh my it's good.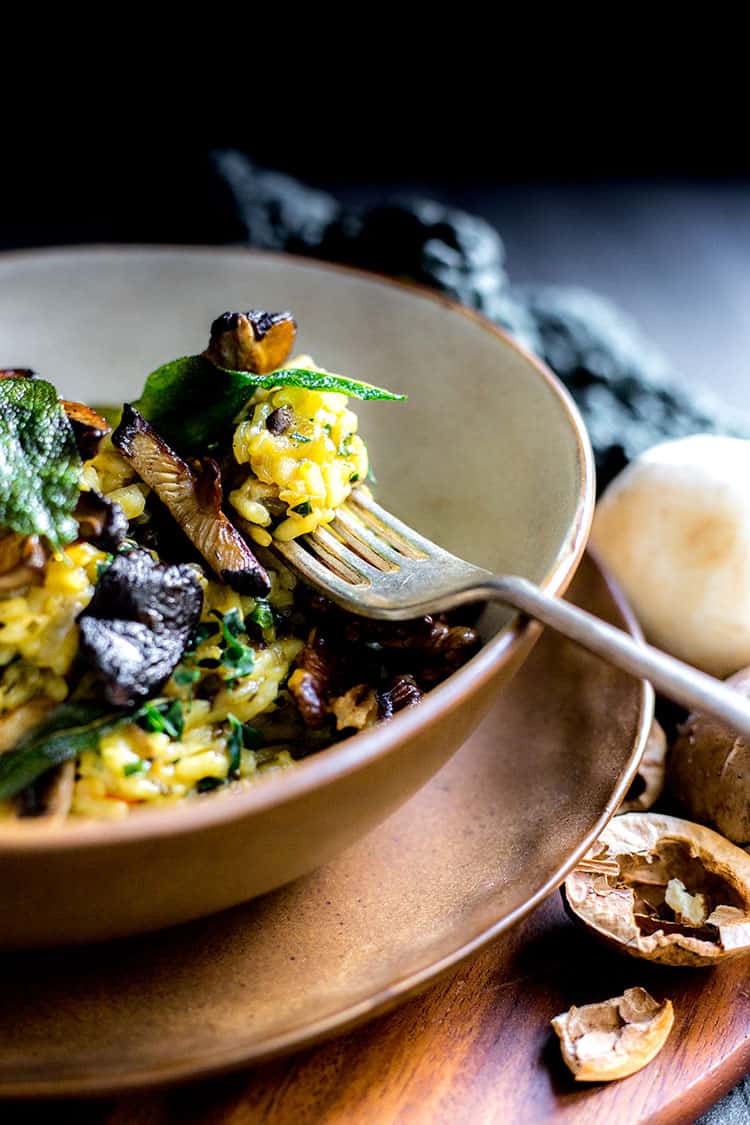 Get the recipe
INGREDIENTS
For the stock:
6

cups

vegetable stock

1

tablespoon

white miso paste

1

pinch

saffron threads
For the risotto:
2

tablespoon

olive oil

1

onion

finely chopped

2

cloves

garlic

grated or finely chopped

1

stick

celery

finely chopped

150

g

mushrooms

(about 5oz), finely chopped, see recipe notes

1

tablespoon

finely chopped fresh sage

(or 1 teaspoon dried sage)

1

tablespoon

finely chopped fresh rosemary

(or 1 teaspoon dried rosemary)

1 ½

cups

arborio rice

Freshly ground black pepper

1

cup

finely chopped kale

(about 4 large leaves)
For the topping:
Olive oil

for frying

150

g

mushrooms

(about 5oz), thickly sliced, see recipe notes

½

cup

walnuts

20

sage leaves
INSTRUCTIONS
For the stock:
Combine vegetable stock, miso paste and saffron threads in a saucepan. Heat stock until simmering, then turn down the heat just to keep it hot.
For the risotto:
Heat olive oil in a deep frypan (skillet) or large saucepan over medium heat. Add onion, garlic and celery and cook, stirring, for about 5 minutes or until soft and fragrant. Add mushrooms, sage, rosemary and a grind of black pepper and cook for another 5 minutes.

Add arborio rice to the pan and stir to combine with the onion mixture. Cook, stirring, for 1-2 minutes to heat the rice.

Add 1-2 ladles of hot vegetable stock to the rice and stir. Keep stirring, and add another scoop of stock when all the liquid has been absorbed. Repeat the process until all of the stock has been added, which will take about 20 minutes. A few minutes before the end, stir through chopped kale and continue cooking the risotto.

After this time the rice should be tender and the risotto should be soft but not too liquid. If the rice is not tender, or the risotto is too thick, and you've run out of stock, add a little bit of boiling water at a time to continue cooking the rice and/or loosen the risotto a bit.

Taste and season with salt and pepper if needed.
To serve:
When the risotto is about halfway done, you can prepare the toppings so that everything is ready at the same time.

Toast walnuts in a frypan (skillet) over medium heat with a little oil until golden, then remove from the pan. Add a little more oil to the pan and fry the sliced mushrooms until golden on both sides, then remove from the pan. Finally add a little more oil to the pan again, turn the heat up to medium-high and fry the sage leaves for 30 seconds to a minute, until crisp. Remove sage leaves from the pan and drain on paper towels.

Serve risotto topped with the walnuts, mushrooms and crispy sage leaves. Drizzle the hot sage infused olive oil over the risotto, if you like.
RECIPE NOTES
I used a combination of fresh shiitake, white button and brown mushrooms, in roughly equal proportions. You can use all white button mushrooms if you prefer. 
Nutrition information is estimate and does not include oil used for preparing the toppings - you decide how generous you would like to be with it here. 
NUTRITION INFORMATION
Calories:
486
kcal
|
Carbohydrates:
73
g
|
Protein:
10
g
|
Fat:
17
g
|
Saturated Fat:
2
g
|
Cholesterol:
0
mg
|
Sodium:
1584
mg
|
Potassium:
460
mg
|
Fiber:
4
g
|
Sugar:
6
g
|
Vitamin A:
1320
IU
|
Vitamin C:
10.7
mg
|
Calcium:
35
mg
|
Iron:
4.2
mg