Turkish-style walnut tarator is a creamy, sharp dip made with walnuts, garlic, herbs and day-old bread.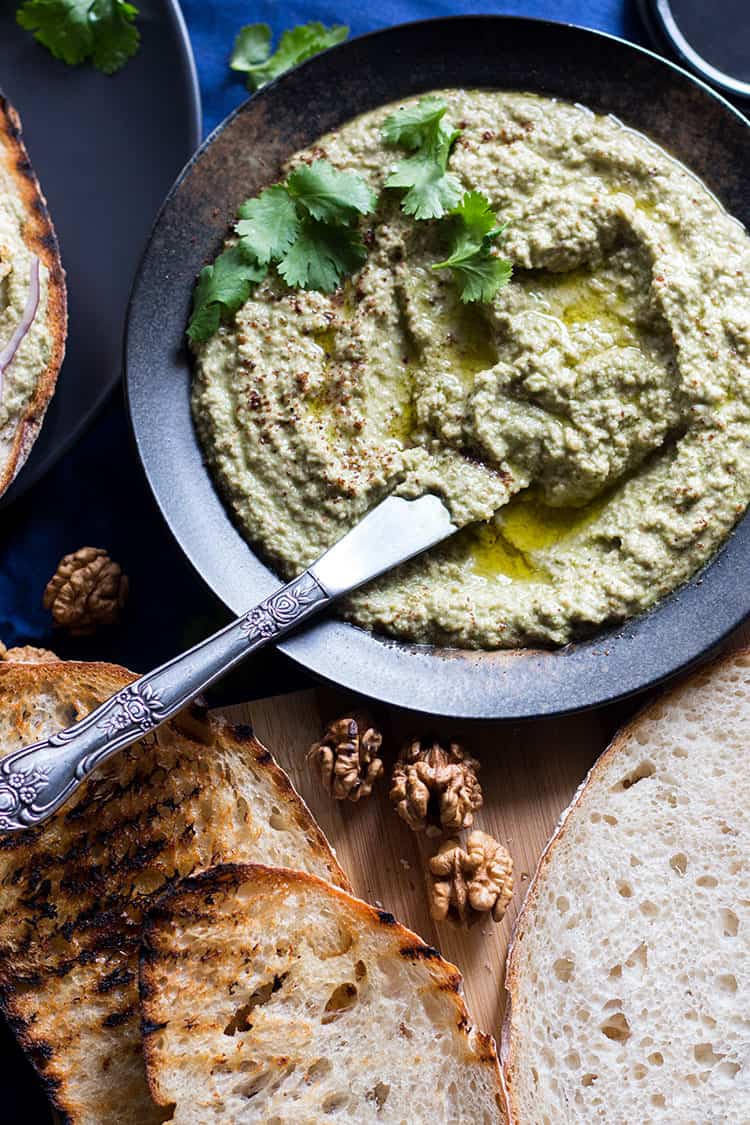 My father-in-law is a meticulous man who likes things done just so. It's a personality trait I can't complain about come walnut season, when jars of immaculately shelled whole walnuts magically appear on my door step, gathered from beneath the walnut tree on his rural property. This year he's had a bit of extra time on his hands, and our supply of creamy, fresh walnuts is going strong.
Left to my own devices with a bag of unshelled nuts, my preferred method is to whack them with the heavy end of a garlic crusher, which takes a bit less precision than using an actual nut cracker and lets me shell the nuts as fast as possible. My way results in lots of broken bits, and I'm certain he wouldn't approve.
We're eating walnuts as an everyday snack right now. I love them in this cauliflower-based soup, and we've often been caramelising them in a little sugar or maple syrup as a quick and delicious dessert treat. Yum, but I've also been thinking about how to use them more creatively.
Turkish-style tarator dip
Made throughout Eastern Europe and the Middle East, tarator can be a soup, appetiser or sauce, variously including walnuts, garlic, yogurt or tahini, sometimes bread, and often cucumber, herbs, vinegar or lemon juice, depending on the country. When made as a dip or sauce, it's often served with fried vegetables or seafood. It's also great with crudites or served as a dip or spread with toasted bread or crackers.
In this recipe, a few slices of day-old bread are soaked in water, squeezed out then put in a blender or food processor with walnuts, garlic, coriander (cilantro), white wine vinegar and olive oil. Blended until smooth, this sharp and creamy dip has a similar texture to hummus but a much richer and more complex flavour.
I served this walnut tarator with grilled sourdough bread, roasted cauliflower and thinly sliced red onion for a delicious weekend lunch.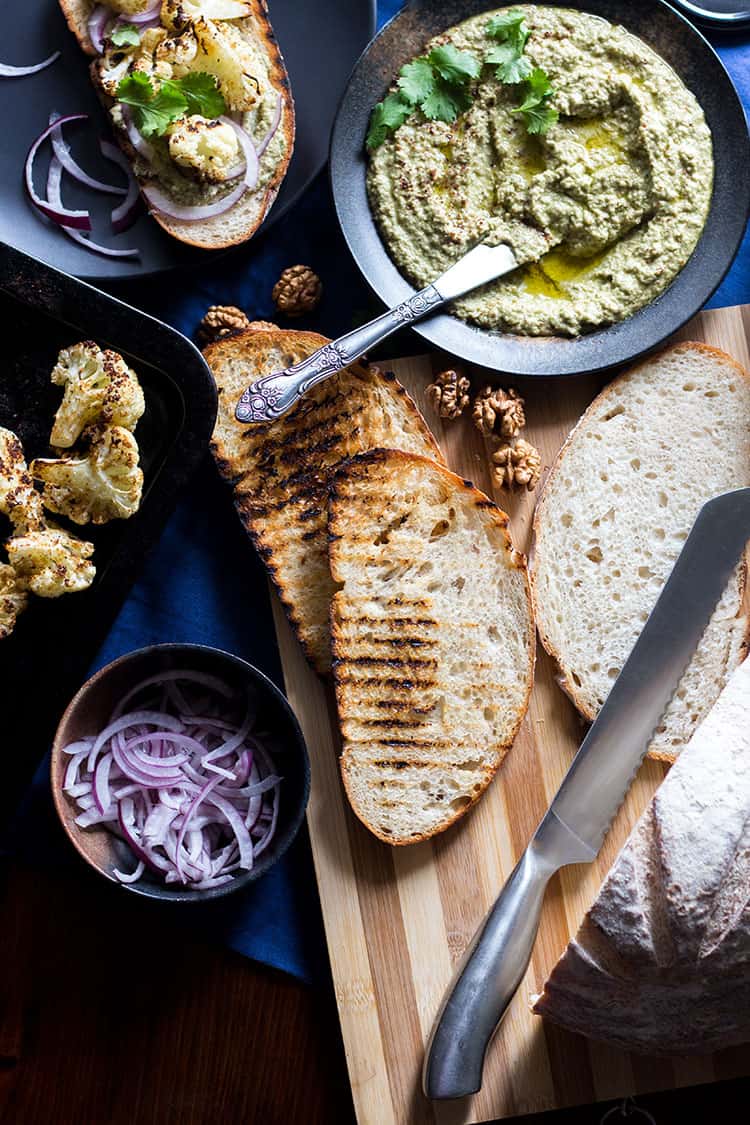 Health benefits of walnuts
Walnuts not only look like brains, turns out they're good for your brain too. Rich in omega-3 fats and higher amounts of antioxidants than most other foods, walnuts may improve brain health while also helping to prevent heart disease and cancer. Walnuts also have high levels of copper, folic acid, phosphorus, vitamin B6, manganese and vitamin E. Source: Authority nutrition.
Personally, I'm conscious that walnuts are nutrient dense and energy rich (in other words, they're good for us but they're very high in fat and calories). Me and my girls think they're the perfect food for growing brains, and I enjoy them often but a little more mindfully than they do.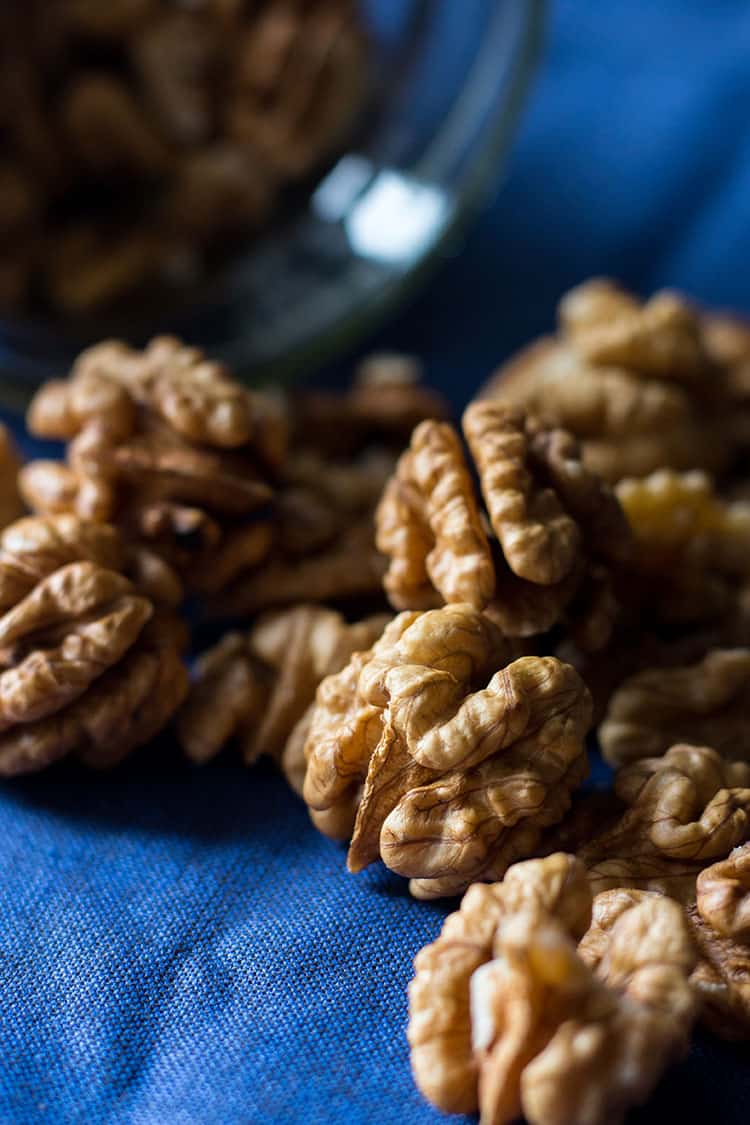 Get the recipe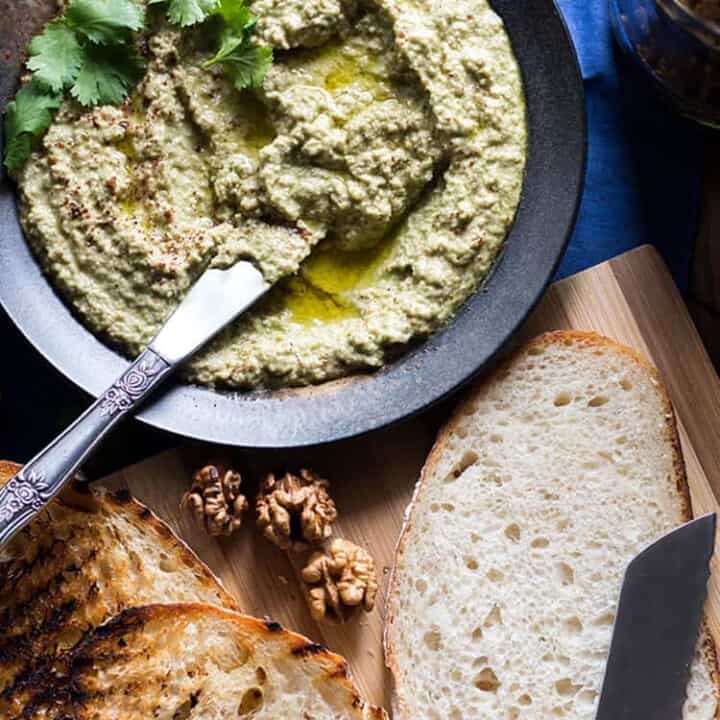 INGREDIENTS
2

slices

day-old bread

(crusts trimmed, I used sourdough, about 100g/3.5oz)

1

cup

walnuts

1-2

cloves

garlic

2

tablespoon

white wine vinegar

(or lemon juice)

1

cup

coriander (cilantro) leaves and stalks

(approximate)

½

teaspoon

salt

½

cup

extra virgin olive oil

¼-1/2

cup

water
To serve:
Extra olive oil to drizzle

(optional)

Ground sumac or paprika to sprinkle

(optional)
INSTRUCTIONS
Soak bread in water then squeeze out. I soaked my bread by running it under the kitchen tap, then squeezing the excess water out into the kitchen sink.

Add bread and all remaining ingredients, except olive oil and water, into blender or food processor. Blend until combined, then pour in olive oil while blending. Continue blending, while slowly adding water until the dip has reached a thick but smooth consistency that is to your liking. I used just over ¼ cup of water.
RECIPE NOTES
Adjust the amount of garlic to suit your taste. I love strong flavours and used two cloves. 
NUTRITION INFORMATION
Calories:
253
kcal
|
Carbohydrates:
9
g
|
Protein:
3
g
|
Fat:
23
g
|
Saturated Fat:
2
g
|
Sodium:
211
mg
|
Potassium:
90
mg
|
Fiber:
1
g
|
Vitamin A:
135
IU
|
Vitamin C:
1
mg
|
Calcium:
23
mg
|
Iron:
1
mg
Nutrition Facts
Turkish-style coriander and walnut tarator
Amount Per Serving
Calories 253
Calories from Fat 207
% Daily Value*
Fat 23g35%
Sodium 211mg9%
Potassium 90mg3%
Carbohydrates 9g3%
Protein 3g6%
Vitamin A 135IU3%
Vitamin C 1mg1%
Calcium 23mg2%
Iron 1mg6%
* Percent Daily Values are based on a 2000 calorie diet.