Urab sayur is a traditional Balinese salad made with blanched vegetables, grated coconut and a chilli-spiked dressing.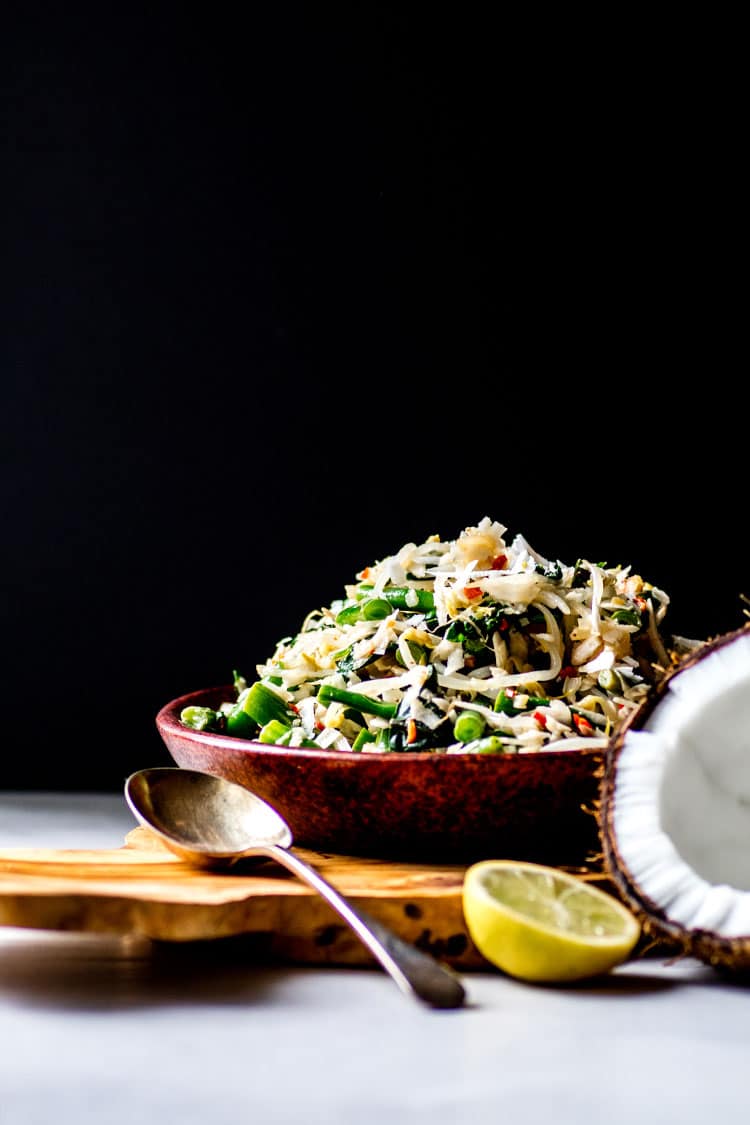 I'm back from a blissful solo escape to Bali, where I spent most of my time in Ubud and Pemuteran. I took the opportunity to do a few things that I really wanted to do when we visited last year, that just didn't fit in with our family plans. One of those things was a photography workshop/tour (some of you will have seen a few pictures on Instagram) which was an incredible day, and another was to learn more about cooking Balinese food.
When I was planning this trip I was so happy to come across Traveling Spoon, a fantastic company that connects you with local cooks around the world. It's easy to find a cooking class in Bali - but not so easy to find a really personal, authentic experience that's off the usual tourist circuit - which is exactly what I got.
On the day I was picked up by Putu, a mum and a cook, and one of the kindest people I've met. We started early at the Ubud market to pick up supplies, then headed to her village where she lives with her extended family in a traditional Balinese compound with orchard and animals. Working with simple tools, a fire and a gas burner, she taught me how to cook an authentic Balinese meal. We had a great day and shared lots of laughs, and of course an excellent meal to top it off.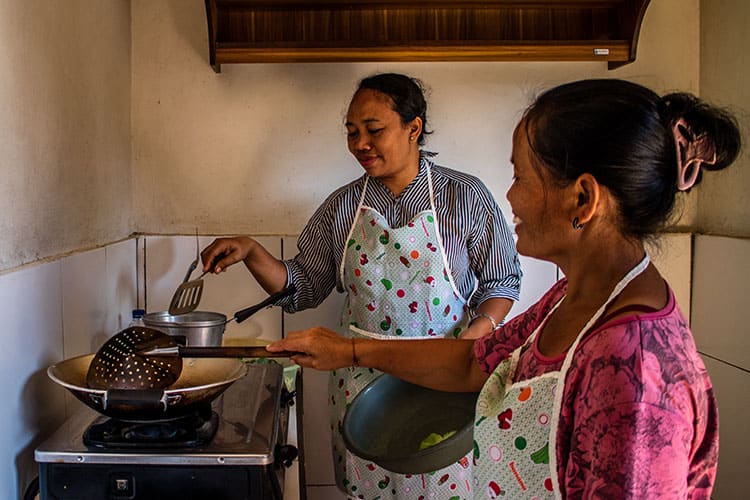 I love Balinese food. It's fresh, fragrant and spicy, vegetable-heavy and very well suited to vegetarian or vegan diets. I'll be sharing a few of my favourite recipes with you, starting with today's recipe for urab sayur, a traditional Balinese salad.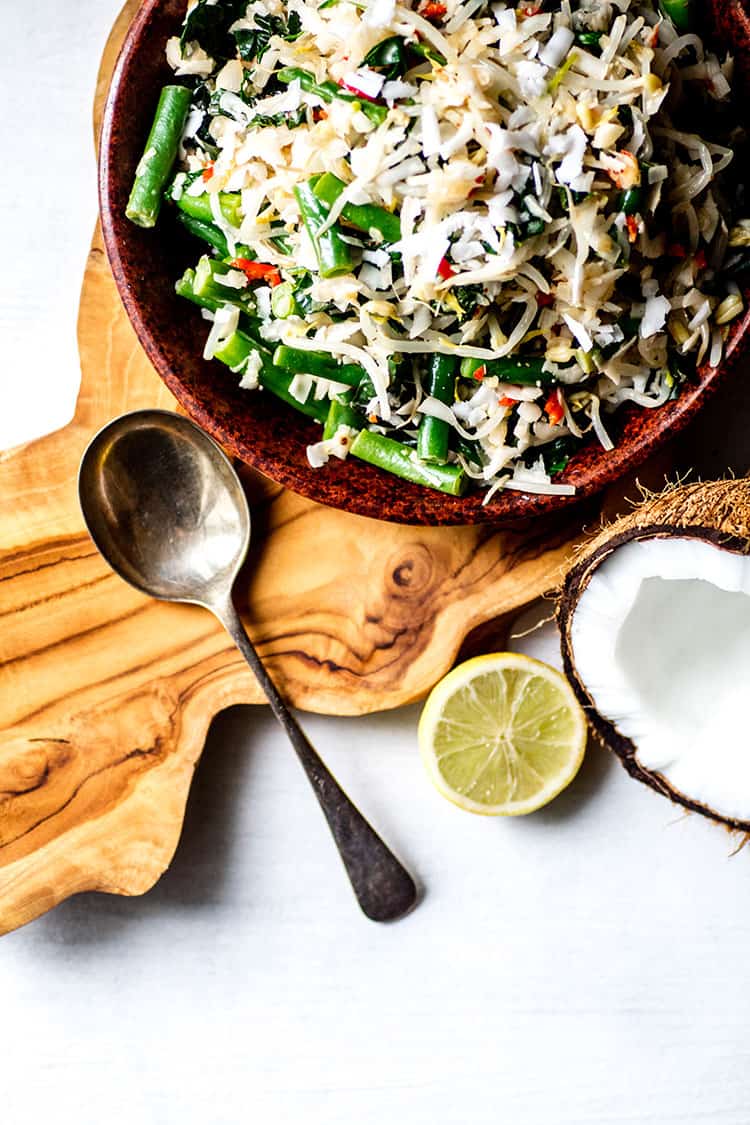 Balinese urab sayur - coconut and vegetable salad
Urab sayur (also known as sayur urab, or urap sayur) is one of the traditional side dishes served with nasi campur - an assortment of dishes served with rice. I clocked this tasty Balinese salad the first time I tried it, trying to decipher its ingredients and noting it down to learn more about.
The basic ingredients are usually blanched snake beans (long green beans), bean sprouts (mung or lentil) and spinach or cabbage. The blanched vegetables are tossed with grated coconut, and a cooked sambal dressing of chilli, shallot, garlic and lime. It's light and delicious, and perfect alongside curry.
Another thing I like about urab sayur is that it's cooked. I operate on a sliding scale of care about food hygiene when I'm travelling, sometimes I'll closely follow the old traveller's adage of 'cook it, wash it, peel it or forget it', and other times I'll use my judgment to decide when it's appropriate to risk a crisp fresh salad (the thing I always miss the most when I'm travelling). Happily, this salad is cooked so I could enjoy it any time I felt like it.
With no unusual ingredients, this is also one dish that's easy to replicate at home without having to make too many substitutions. You can be flexible with how much to use of each vegetable, and use snake beans if you can get them (otherwise use any thin green beans). This salad is best with fresh grated coconut, but you can substitute dried thread coconut instead (much easier).
I bought a fresh brown coconut for this recipe and regretted it, I don't know what I'm doing and it was a lot of work to crack the coconut, pry out segments of flesh and grate it. Do what you feel like.
Here's a picture of the urab sayur I made with Putu, as part of our incredible vegan feast.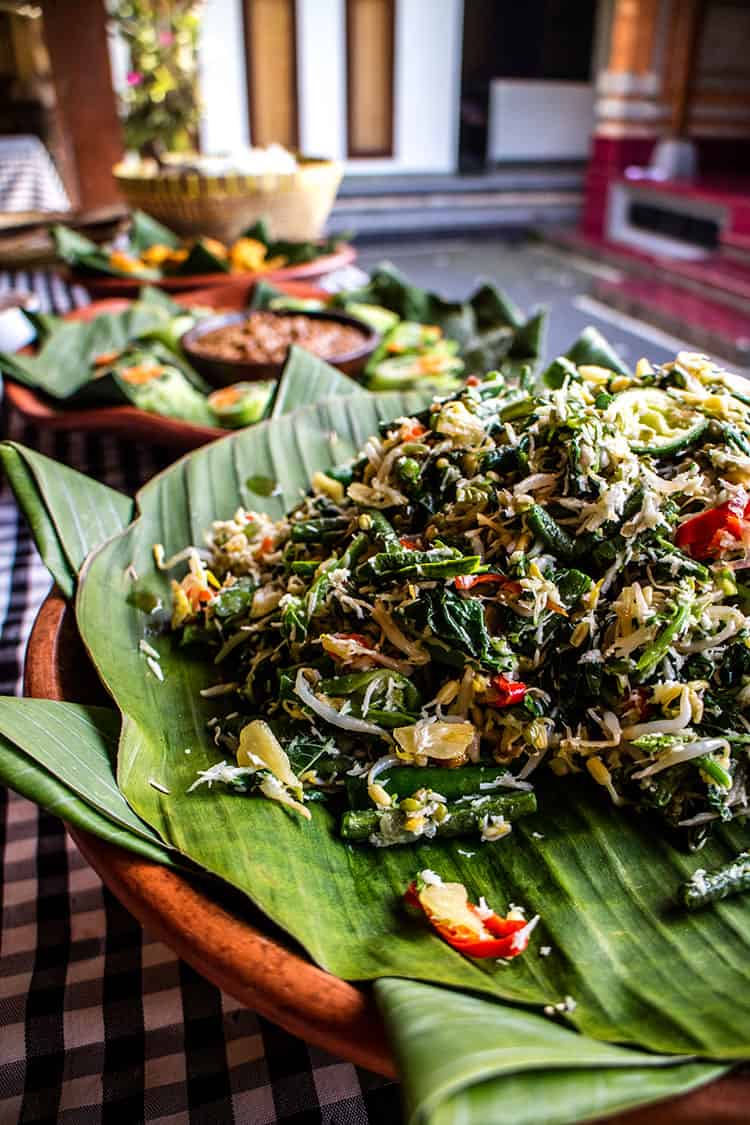 Book your own Balinese cooking lesson
If you want to get off the tourist trail on your next trip to Bali, I highly recommend booking with Traveling Spoon for an authentic experience.
NOTE: This post is not sponsored. My day with Putu was one of the best travel experiences I've ever had. I want you to know about it so you can file the idea away for your next trip and have an awesome experience too.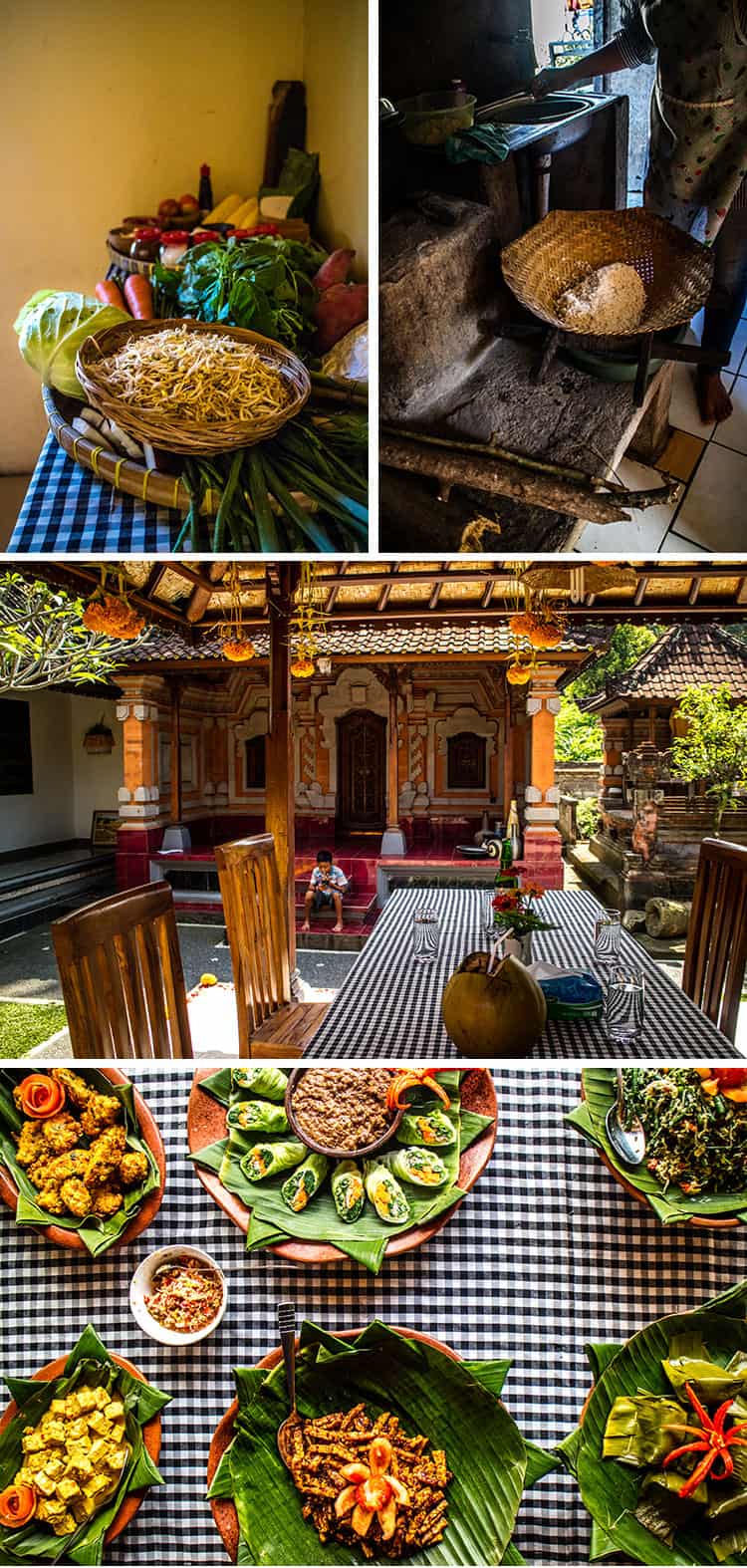 Get the recipe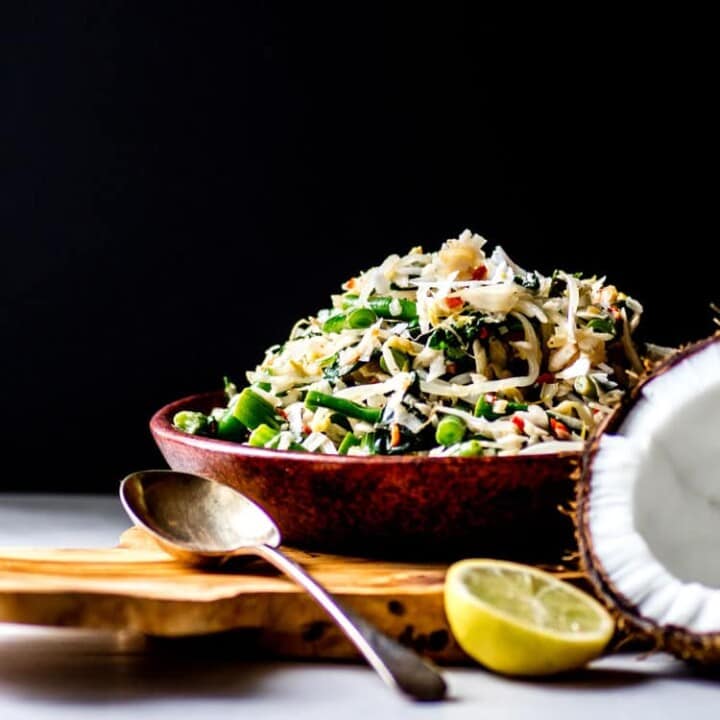 INGREDIENTS
1

cup

green beans

cut into short lengths (about 150g)

2

cups

mung bean sprouts

(about 150g), or lentil sprouts

3-4

cups

spinach

roughly chopped (about 90-120g)

1

tablespoon

coconut oil

2

cloves

garlic

finely sliced

1

shallot

finely sliced

1

long red chilli

finely sliced

1-2

small hot red chillis

finely sliced (optional - see recipe notes)

1

cup

grated fresh coconut

(or substitute with ½ cup dried thread coconut)

1

lime

for squeezing

Salt and pepper to season

(preferably white pepper)
INSTRUCTIONS
Start by blanching your vegetables. Bring a pot of water to a slow boil, drop in the green beans for 1 minute, then follow with the sprouts and spinach for 20-30 seconds. Drain all vegetables and rinse them under cold water to stop cooking. Set aside to drain.

Heat coconut oil in a small frypan (skillet) or wok over high heat. Add the sliced garlic, shallot and chillis and cook for 2-3 minutes, until fragrant and softened but not brown.

Combine the blanched vegetables, grated coconut (or thread coconut) and garlic mixture in a mixing bowl. Squeeze over the juice of a lime, and add a bit of salt and pepper. Get in there with your hands and give it a good mix together, scrunching it a bit to get the spices into everything.

This recipe will serve four people as a substantial side, or more as part of a meal with lots of side dishes.
RECIPE NOTES
Balinese recipes usually call for a combination of long (mild) red chillis, and small (hot) red chillis. The long red chilli here gives a mild heat to the salad, which is nice as it is. If you like spicy food you can add more long red chilli, or 1-2 small hot chillis to really amp it up. 
Balinese shallots are very small, while New Zealand shallots are a lot bigger. I used one New Zealand shallot (about the length of my thumb) for this recipe, and about three Balinese shallots when I made the salad in Bali. 
If you are planning to use fresh coconut, use a dry coconut with a brown husk (not a young, green coconut). 
NUTRITION INFORMATION
Calories:
141
kcal
|
Carbohydrates:
11
g
|
Protein:
3
g
|
Fat:
10
g
|
Saturated Fat:
8
g
|
Cholesterol:
0
mg
|
Sodium:
28
mg
|
Potassium:
389
mg
|
Fiber:
4
g
|
Sugar:
5
g
|
Vitamin A:
2405
IU
|
Vitamin C:
35.5
mg
|
Calcium:
45
mg
|
Iron:
2.1
mg
Nutrition Facts
Urab sayur: Balinese coconut and vegetable salad
Amount Per Serving
Calories 141
Calories from Fat 90
% Daily Value*
Fat 10g15%
Cholesterol 0mg0%
Sodium 28mg1%
Potassium 389mg11%
Carbohydrates 11g4%
Protein 3g6%
Vitamin A 2405IU48%
Vitamin C 35.5mg43%
Calcium 45mg5%
Iron 2.1mg12%
* Percent Daily Values are based on a 2000 calorie diet.