This plant-based twist on a Hawaiian poke bowl transforms ordinary watermelon into a surprisingly awesome substitute for raw tuna.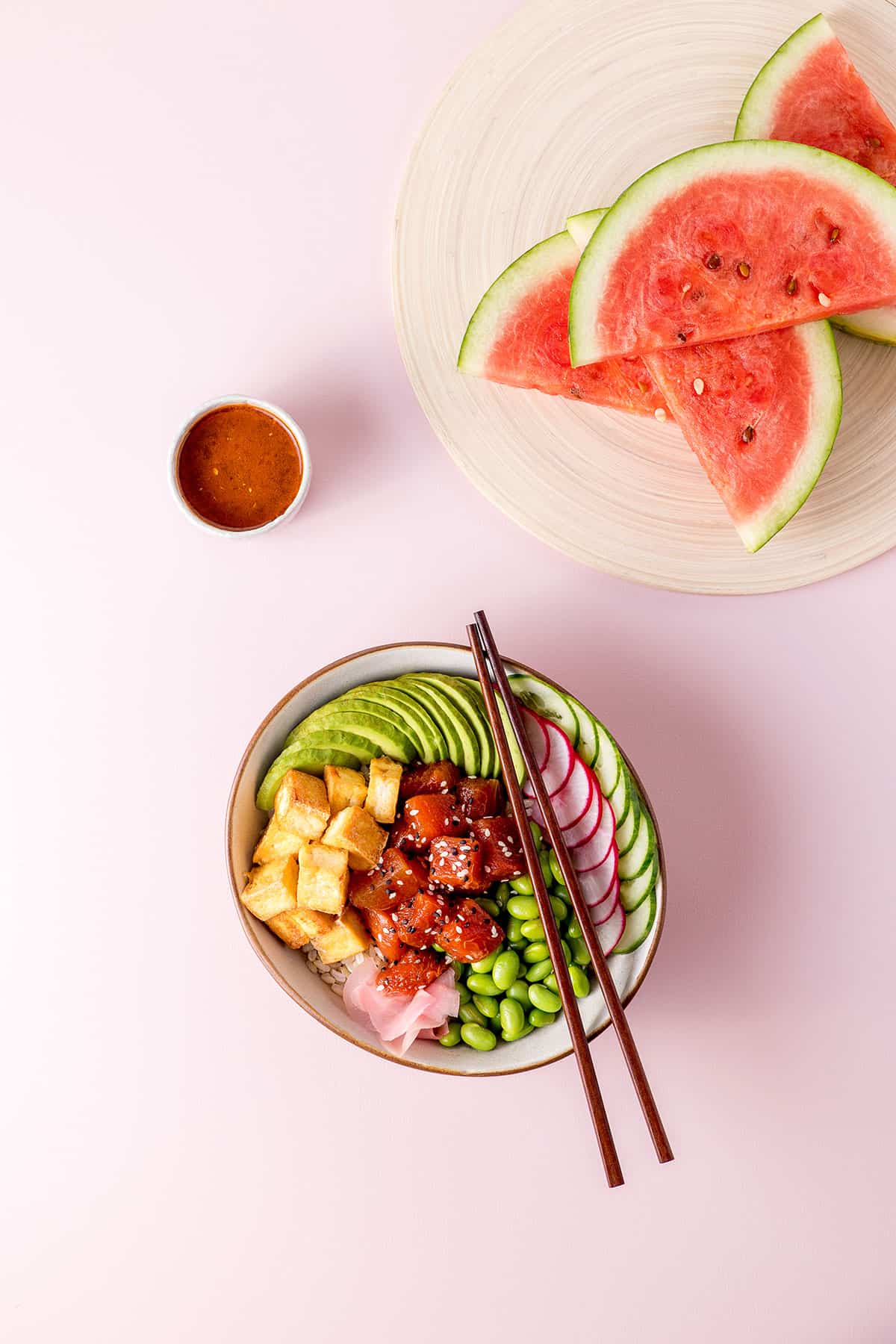 Happy new year to you. It's high summer here in New Zealand, and I'm full of gratitude to be here in my little corner of the world. We're one of few countries enjoying a relatively normal life right now, and I've been making the most of that with camping, trips to the beach and quality time with friends and family.
Wherever you are, I send my love and well wishes. I'm optimistic that 2021 is going to be a better year than 2020, it just has to be.
Healthy summer meals
These scorching hot summer days lead into drowsy summer evenings, and I'm not loving spending too much time in the kitchen, so variations on salad bowls are on high rotate around here.
I like the idea of cooking up some brown rice earlier in the day (when I can) and popping it in the fridge, so that later on it's just a matter of topping the rice with a bunch of salad veges, some protein (generally tofu, sometimes beans or nuts) and a tasty dressing.
The whole family is happy, it's nutritionally sound, and not too much effort when the heat of the day has sapped our energy.
If it's not summer where you are, save this for later. Summer is coming.
Watermelon as a vegan alternative to tuna
Having a bit of fun with the whole salad bowl concept, I decided to try my hand at Hawaiian poke bowls.
Poke (pronounced poh-kay) is a Hawaiian diced raw fish dish (often tuna), typically marinated in a tangy Japanese influenced dressing.
Instead of tuna, I applied the same flavours to watermelon and the results were astounding. The man of the house has never enjoyed eating fish, and despite the fact this is 100% fish free, he couldn't eat it because the look and the texture of the watermelon was just too close to raw fish (and brain logic wasn't enough to get past it). So if that idea makes you squeamish too, look away.
If you're still with me, you've got to try this watermelon weirdness to believe it. This is a magical marriage of process and ingredients that results in seriously delicious cubes of watermelon with a firm and shockingly fishy texture.
Enough about the look and the texture though, how does it taste? Not much like fish, but not much like watermelon either. The subtle sweetness of watermelon remains, but it soaks up all the delicious flavours of the marinade to become more savoury than sweet, tangy, a touch spicy, and full of umami.
In other words, delicious.
Key steps to making watermelon poke
There are a few steps to achieving this alchemy, but it's not hard and definitely worth the experiment.
The perfect soy or tamari based marinade/dressing, with just the right balance of sweet and sour, savoury sesame, and a little heat from ginger and chilli.
Time in the oven for the watermelon to lose some of its moisture and gain that oddly fishy firm texture.
Time in the fridge for the watermelon to chill (this recipe is awesome, but hot watermelon is seriously weird), and soak up the flavours of the marinade.
Told ya, nothing tricky.
Serve with brown rice, fried tofu, vegetables, pickled ginger and sesame seeds for a refreshing and healthy summer meal that is a little unexpected but wildly good.
I'm dying to know what you think, so drop me a comment below if you try this out.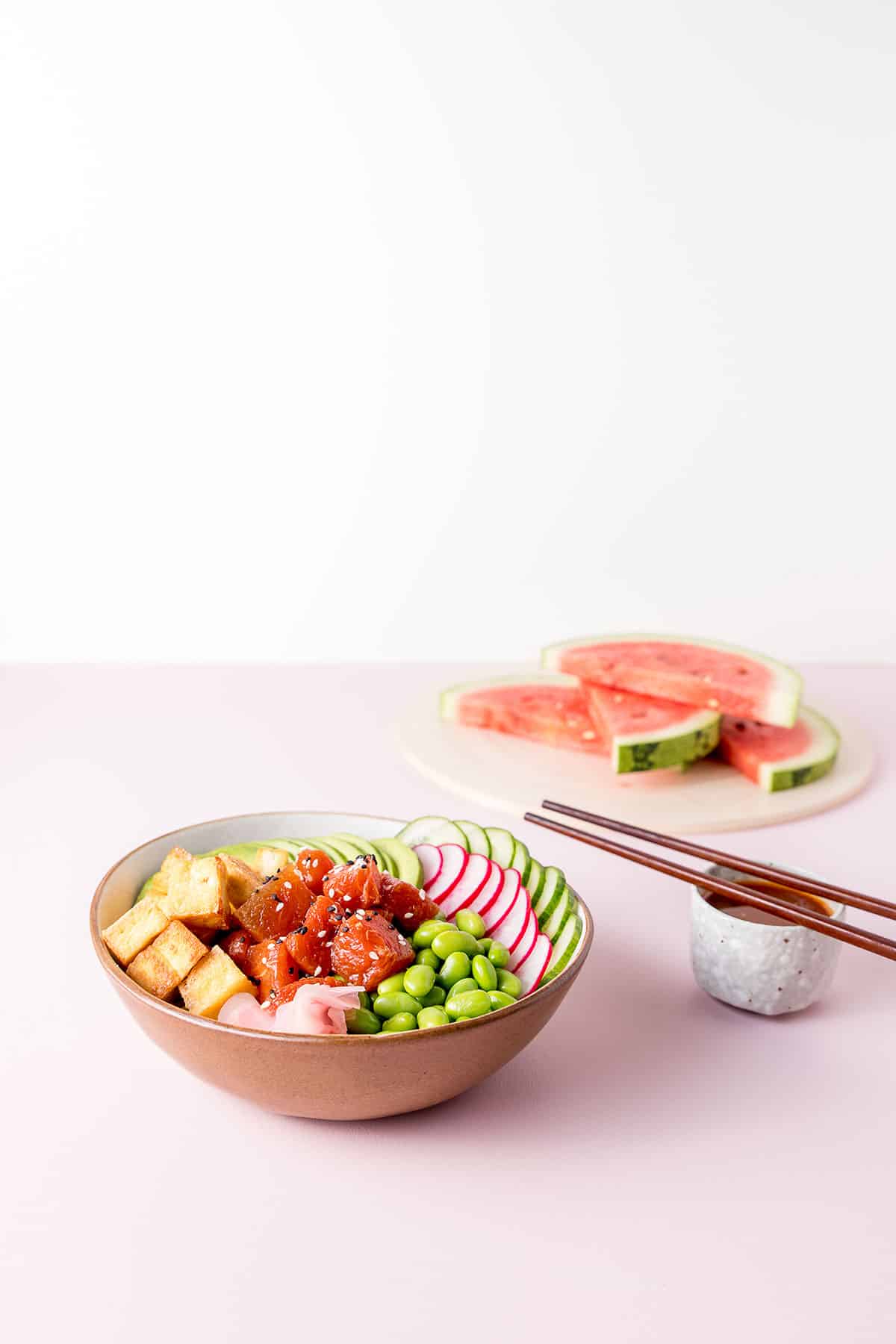 Other summery goodness you might like to try
Get the recipe
INGREDIENTS
For the watermelon poke:
¼

cup

soy sauce

(or tamari if gluten free)

2

tablespoon

rice vinegar

2

tablespoon

lemon juice

1

tablespoon

sesame oil

1

tablespoon

brown sugar

(or sweetener of your choice)

2

teaspoon

finely grated ginger

Pinch

chilli flakes

Half

large watermelon

rind removed (approx. 1 kg or 2.2 lb of watermelon flesh)
To serve:
300

g

firm tofu

(one pack)

Oil

for frying

4

cups

cooked brown rice

2

cups

frozen edamame beans

(podded)

3

radishes

thinly sliced

1

cucumber

thinly sliced

1

avocado

thinly sliced

Pickled ginger

Toasted sesame seeds
INSTRUCTIONS
Preheat oven to 180°C (350°F).

Mix watermelon poke ingredients together in a large mixing bowl (everything but the watermelon). Cube the watermelon, then toss in the marinade. Strain the watermelon, making sure to keep the marinade, and spread the watermelon in a single layer in a large roasting dish.

Bake watermelon for 45 minutes, until it has shrunk and become firmer – but is not browned. While still hot, scoop the baked watermelon back into the bowl of marinade and refrigerate until cold. This can be done up to a day ahead of time.

When ready to serve, drain the tofu, cube and fry until golden brown on all sides. Drain on paper towels and season with a little salt. Cook edamame beans in boiling water for 2-3 minutes, then drain and refresh under cold water. Drain the watermelon and reserve the marinade to use as dressing.

In bowls, top cooked brown rice (hot or cold) with drained watermelon poke, fried tofu, edamame beans, sliced radish, cucumber and avocado. Add a little pickled ginger and a scattering of sesame seeds, and serve reserved marinade on the side as a dressing. A drizzle of kewpie mayo doesn't go amiss here either. 
RECIPE NOTES
Nutrition information is estimate and does not include oil for frying. 
First published in the Summer 2021 issue of Nourish Magazine.
NUTRITION INFORMATION
Calories:
624
kcal
|
Carbohydrates:
89
g
|
Protein:
25
g
|
Fat:
22
g
|
Saturated Fat:
3
g
|
Trans Fat:
1
g
|
Sodium:
832
mg
|
Potassium:
1247
mg
|
Fiber:
14
g
|
Sugar:
23
g
|
Vitamin A:
1575
IU
|
Vitamin C:
36
mg
|
Calcium:
229
mg
|
Iron:
6
mg