A healthier home made vegan white pizza topped with creamy white sauce, zucchini, pine nuts and a scattering of sunflower seed 'parmesan' sprinkle.
Hello beautiful people. How are things in your corner of the world? Fair enough if you're not feeling too happy about how 2020 has gone so far. It's not quite what any of us had planned.
We have had somewhat of a return to 'normal' here in New Zealand, but it's not life as we know it and there's no certainty about what comes next. I've struggled a lot with the forced abandonment of normal expectations about work, family and personal plans. I wouldn't say I'm a control freak - but I do like a good plan. Time to let go huh?
I have enjoyed one small silver lining from the past few months. I've conquered sourdough - both the technique and the ever present challenge of how to fit making it into our household routine. I like making rustic white loaves for the weekend (perfect with soup for lunch) and moist, seeded loaves during the week for toast and sandwiches. It just takes a bit of pre-planning (lucky I like a good plan!).
Aside from the obvious perks of enjoying home made bread on the regular, all this time playing with bread has also really increased my knowledge and understanding of flour. I'm no master baker, but my comfort with experimentation has really changed for the better.
Which brings me to today's recipe for home made white pizza with a from-scratch yeasted base. Read on my friends...
White pizza, huh?
If all of your pizza experiences have involved red tomato sauce and oodles of cheese, white pizza might seem puzzling. Let me assure you, it's definitely a thing.
At its simplest, white pizza (or pizza bianca if you're in Italy) just means there's no tomato sauce. It might be drizzled with olive oil and topped with fresh herbs, or be smothered in white sauce and multiple cheeses. Other toppings that work well on a white pizza include potato, artichoke and fresh greens like rocket.
My thinking is that for pizza to be pizza, there needs to be some ooziness going on. Seeing as we're not getting that from cheese, I used a generous layer of my favourite creamy sauce - which is made from cauliflower and cashews (hooray for hidden vegetables).
Ribbons of zucchini (made with a vegetable peeler) were piled on top, with a drizzle of olive oil, a scattering of lemon zest and pine nuts, and a few chilli flakes for good measure. A generous spoonful of vegan parmesan sprinkle rounded it off, adding a salty, savoury and cheesy flavour.
The end result was oozy and delicious and hit all the right notes for pizza satisfaction. Overall it's a lighter and healthier pizza too with more vegetables, and no dairy. To my delight, my girls who love an ordinary vegetarian pizza - and do not love zucchini - thought this was delicious. They demolished the first pizza before the second had even come out of the oven. I call that success.
Make your own dough, or not...
My refreshed interest in playing with bread definitely extends to pizza dough, and if we wanted pizza during lockdown it was really the only way for a while. It's really easy to get the dough mixed and kneaded, then forget about it while the yeast does its magic.
In the weekend, I make pizza dough some time after lunch, let it do its thing, then when dinner rolls around it's super simple to get toppings organised and pizza into the oven.
If you're not familiar with dough making, there are a few easy steps to follow.
Wake up the yeast. I use active yeast, which is dry and comes in a small jar. You can mix it straight in with flour, but it does work better if it's mixed with warm water and a little sugar and set aside to dissolve and start to 'bloom'. You can tell when this is happening because a creamy, velvety layer forms on top of the water.
Mix the dough. Once the yeast is blooming, it gets mixed with flour, salt and some olive oil until the mixture is shaggy but combined.
Knead the dough. I do this by hand - simply by tipping the dough onto a benchtop and pushing and pulling the dough for about 10 minutes. It's good for your arm muscles, but if you have a mixer with a dough hook you can use that instead. The kneading is done when the dough is silky and elastic.
Prove the dough. The dough then gets put to bed to allow it to rise, known as 'proving'. I lightly oil a large mixing bowl, put the ball of dough in there, then cover it with a tea towel and a dinner plate. Find a warm spot and leave the dough there for 1-2 hours until it's at least doubled in size.
Knock down and divide. Once the dough has risen, it gets divided into portions for pizza making. I tip the dough back onto the bench and use a sharp knife to cut it into portions. Each portion gets a light knead and formed into a ball. I pop the balls onto a lined tray and cover to rest for another half an hour or so while I get the toppings organised.
Bring on the pizza. When the oven is hot and everything is organised, each dough ball gets stretched or rolled into a pizza shape, topped, then fired into a hot oven. A pre-heated pizza stone helps the pizza cook quickly and get a nice crisp crust. A pre-heated cast iron skillet also does a great job, which I discovered after my much loved pizza stone broke in two... during lockdown. So unfair. If you don't have either, then preheat a regular oven tray. It won't be quite the same, but a hot tray is always better than a cold tray.
Simple, she said. I know there are a few steps there, but they're not hard, I promise.
However... if making your own dough does feel too hard, this pizza recipe will still work out great with store bought bases. And if you're in the US, you can probably get your hands on pre-made dough from the supermarket (which by the way, is totally not a thing here in New Zealand).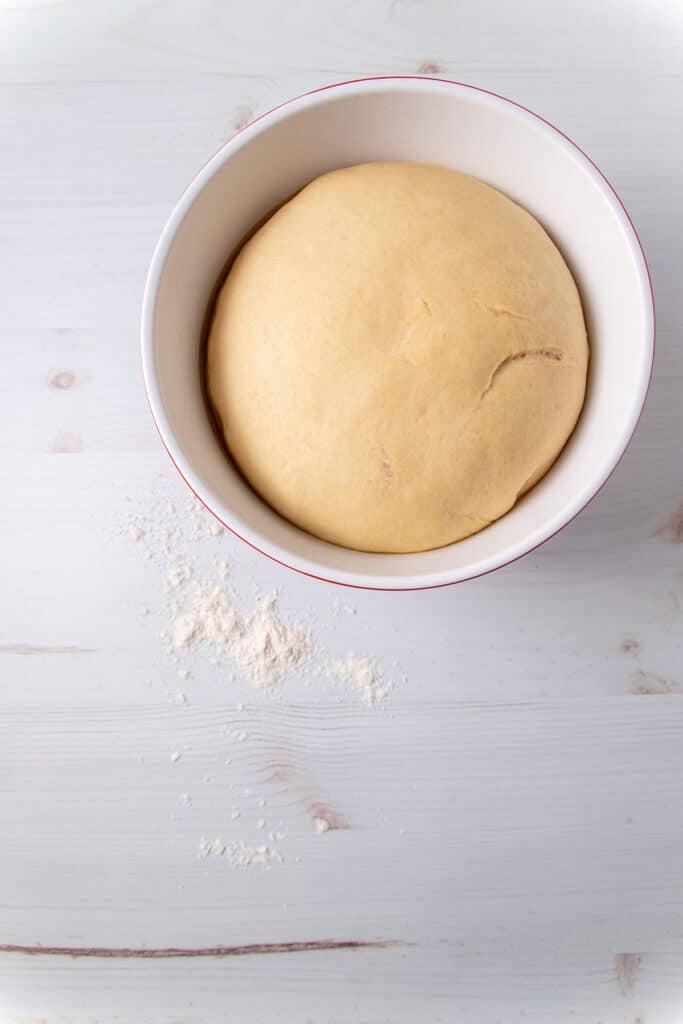 Planning the logistics
For those of you who love a good plan, here's how I recommend tackling this recipe.
Make the dough and set it aside to rise. If you're making pizza for dinner, do this after lunch - let's say 2-3pm. You can be relaxed about the time the dough needs - more rising time will be better than less.
While the dough is rising (or earlier in the day, or even the day before if you prefer), make the vegan parmesan sprinkle and creamy cauliflower sauce, which can go in the fridge once it's done. The sauce recipe makes enough to use for the pizzas plus another meal, and you'll also have vegan parmesan sprinkle left over - bonus.
Allow enough time to preheat your oven and a pizza stone or cast iron skillet, before you want to cook the pizzas - let's say 45 minutes.
Unless you have more than one oven, you'll be cooking the pizzas one at a time. Get everything ready so that when one pizza is in the oven, you're preparing the next one ready to fire in as the other comes out. We're quite happy eating pizza production-line style, especially on a relaxed weekend evening with a glass of wine in hand.
Enjoy!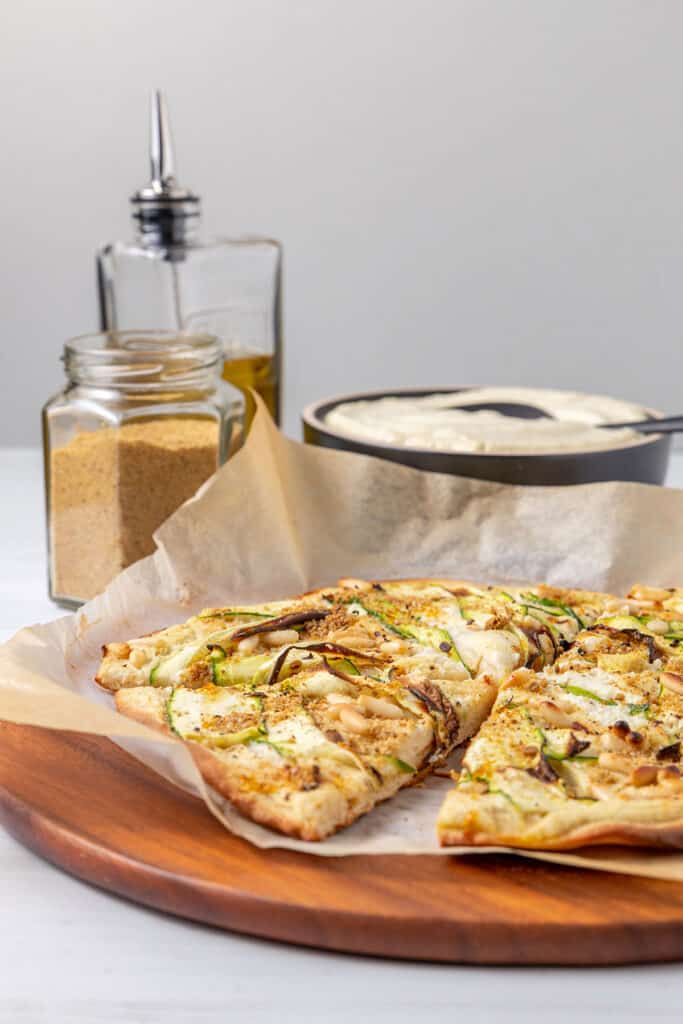 You might also like
Get the recipe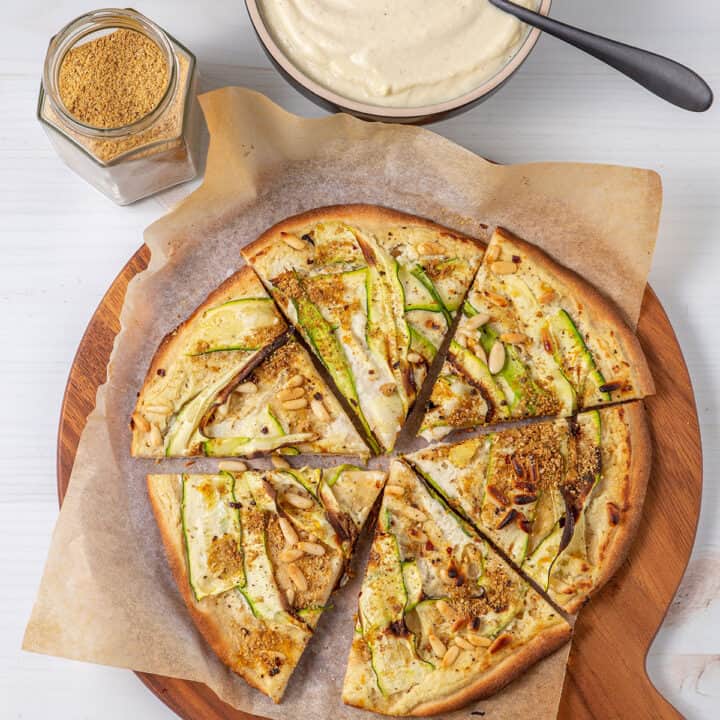 INGREDIENTS
For the pizza dough:
300

ml

warm water

(10.15 oz)

1

teaspoon

raw sugar

7

g

active yeast

(1 sachet, or 1 heaped teaspoon from a jar)

2

tablespoon

olive oil

+ extra

500

g

high grade flour

(1.1 lb or approximately 3 ½ cups)

1

teaspoon

salt
INSTRUCTIONS
Stir warm water, sugar and yeast together in a small bowl and set aside for 5-10 minutes to allow the yeast to bloom.

In a large mixing bowl, combine the flour, salt, olive oil and yeast mixture. Tip the dough onto a lightly floured surface and knead for about 10 minutes, until the dough is smooth and elastic. Put the dough in a lightly oiled bowl and cover. Set aside for 1-2 hours in a warm place, until the dough has doubled in size.

Around 45 minutes before you want to cook the pizzas, preheat oven to 240C (465F), with a pizza stone, cast iron skillet or baking tray in place.

Tip the dough onto a work surface and divide into four even portions. Lightly knead each portion and form into a ball. Set aside to rest for 20-30 minutes.

Prepare zucchini by slicing thinly or using a vegetable peeler to create ribbons.

Working with one pizza at a time, stretch or roll the dough into a circle and place on a piece of baking paper (this is the easiest way to move the pizza in and out of the hot oven without losing the heat in your pizza stone or cast iron skillet).

Top pizza dough with a generous smear of creamy cauliflower sauce - about half a cup per pizza. Arrange zucchini ribbons on top of the sauce. Sprinkle with about 1 tablespoon of pine nuts per pizza, a little lemon zest and chilli flakes (optional). Drizzle with a little olive oil and scatter with vegan parmesan sprinkle.

Carefully transfer pizza into the oven and cook for 10 minutes, until the crust is golden brown. Repeat with remaining dough and toppings.
RECIPE NOTES
Nutrition information is estimate and provided per pizza. 
NUTRITION INFORMATION
Serving:
1
pizza
|
Calories:
683
kcal
|
Carbohydrates:
108
g
|
Protein:
20
g
|
Fat:
20
g
|
Saturated Fat:
3
g
|
Sodium:
646
mg
|
Potassium:
518
mg
|
Fiber:
7
g
|
Sugar:
5
g
|
Vitamin A:
217
IU
|
Vitamin C:
19
mg
|
Calcium:
38
mg
|
Iron:
8
mg