Pillowy soft home-made Italian style potato foccacia bread topped with potato, olives and rosemary.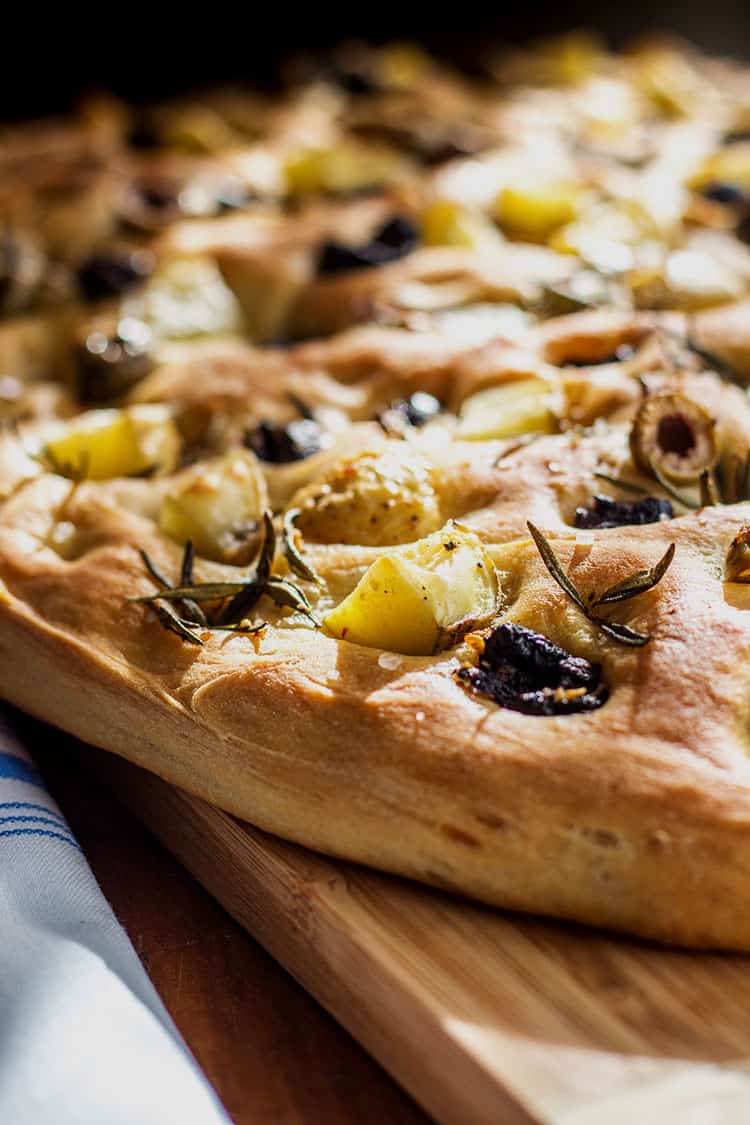 Home made bread is one of life's great pleasures. The simple yet magical kitchen alchemy that turns flour, yeast and water into bread makes me very happy.
However, like many people I have a conflicted relationship with bread. I'm not a fan of the faddish anti-gluten trend among people who don't have gluten intolerance or coeliac disease. Wheat is high in plant protein and its cultivation and storage have played a central role in the rise of modern civilization. I will concede that Western culture is far too reliant on wheat though.
When a typical day for many might include a processed wheat-based cereal or toast for breakfast, sandwiches for lunch and pasta for dinner, things are out of whack. We would all benefit from more diversity in our diet and treating wheat as more of a 'sometimes' food.
For me that translates to eating very little bread on a day to day basis, but unabashedly enjoying a loaf of sourdough from the farmer's market or home made bread from time to time at home. My husband makes a killer overnight-proved ciabatta which, freshly out of the oven, is often our Sunday morning breakfast alongside lashings of coffee.
I, on the other hand, like to tinker with doing something different when I make home made bread. I'm a big fan of heavily seeded breads, and love to make a filled scroll to serve alongside soup. This weekend I turned my hand to this potato foccacia which was an instant hit with everyone.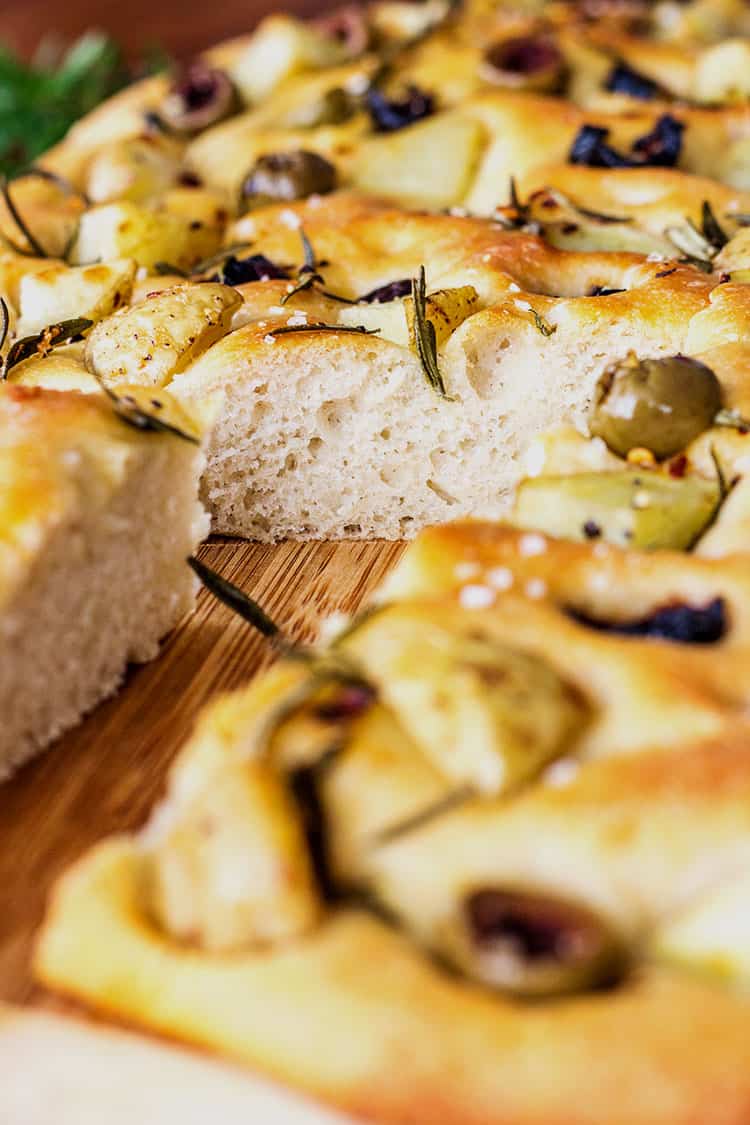 How to make potato foccacia
The secret to the pillowy softness of this foccacia is using mashed potato in the dough, which results in a moist yet soft and light interior to the loaf.
I mashed my potatoes until they were as smooth as I could get them, then left them to cool enough to easily handle. The cooling is important because, a. you don't want to burn your hands when kneading the dough, and b. if the mashed potato is too hot it'll kill off the yeast before it's had a chance to do its thing.
Once the mashed potatoe has cooled to a warm temperature, mix it with high grade flour, salt, olive oil and a tepid water/yeast mixture. Once it comes together as a shaggy dough, tip it onto a counter top and knead for 5-10 minutes until smooth and elastic, sprinkling with very sparing amounts of flour as needed to prevent it becoming overly sticky. The finished dough should be smooth and a little sticky.
Return the dough to an oiled bowl, cover with a tea towel and set aside to rise for an hour until roughly double in size. At that stage the dough can be stretched into a large oval shape on a baking tray and deeply dimpled with your fingers, before being covered and set aside to rise again for another hour.
Foccacia toppings
Once the proving is done, it's time to add toppings to the foccacia before it is baked.
I tossed cubed potatoes, sliced olives and rosemary leaves with some extra virgin olive oil, garlic, chilli flakes, salt and pepper before spreading the mixture evenly over the surface of the potato foccacia.
Here it is, ready to go in the oven.
Make a meal of it
I couldn't have been happier with how this home made foccacia turned out. The bread itself is beautifully soft and delicious, while the toppings are fragrant, salty and moreish.
It would be very easy and entirely excusable to make a meal of this bread more or less by itself. It's hard to stop at one piece.
It's a big loaf though, so you could also use this as a side to a family meal and enjoy leftovers the next day, as we did. Here are some ideas for meals to serve with foccacia:
Get the recipe
INGREDIENTS
For the bread:
2

cups

mashed potato

(about 4 medium sized potatoes, peeled, boiled and mashed)

2

teaspoon

instant yeast

1

cup

warm water

4

cups

high grade flour

2

tablespoon

extra virgin olive oil

2

teaspoon

salt
For the foccacia topping:
1

cup

potato cubes

(about 2 medium sized potatoes)

½

cup

mixed olives

pitted and sliced in half

2

tablespoon

extra virgin olive oil

3

cloves

garlic

crushed or finely grated

1

sprig

rosemary

leaves removed

½

teaspoon

chilli flakes

½

teaspoon

ground black pepper

Salt
INSTRUCTIONS
Start by preparing the mashed potato: peel, chop, boil and mash about 4 medium sized potatoes to make 2 cups of mashed potato. Set aside and allow to cool until warm.

Mix yeast with warm water and set aside for 5 minutes to dissolve and begin to activate.

In a large mixing bowl, mix mashed potato, flour, olive oil, salt and water/yeast mixture, until a shaggy dough comes together.

Tip dough out onto a lightly floured surface and knead for 5-10 minutes, sprinkling with a little more flour as needed to prevent the dough becoming overly sticky. The finished dough should be smooth, elastic and a bit sticky.

Return dough to an oiled bowl, cover with a tea towel and set aside in a warm place to rise for 1 hour, until the dough has about doubled in size.

Knock down the dough with your fist, then stretch to a large oval shape on an oiled baking tray. Use your fingers to deeply dimple the dough, cover and set aside to rise for another hour.

At this time, prepare your foccacia topping by mixing everything together in a bowl and setting aside to marinate.

Preheat oven to 200C (390F).

When the dough has finished proving, spread the foccacia topping evenly over the surface of the loaf and drizzle any remnants of oil in the bowl over the loaf too. Use your fingers to push individual chunks down into the dough a bit, to ensure everything sticks once the loaf is baked.

Grind over a little sea salt if desired (remembering the olives are salty too).

Bake for 30 minutes, until the loaf is golden brown.

Cool for 10-15 minutes before slicing into large wedges to serve.
RECIPE NOTES
Use floury or all purpose potatoes for this recipe (not waxy potatoes). 
Nutrition information estimated per piece, based on slicing the loaf into 10 large wedges. 
NUTRITION INFORMATION
Calories:
319
kcal
|
Carbohydrates:
55
g
|
Protein:
8
g
|
Fat:
7
g
|
Saturated Fat:
1
g
|
Cholesterol:
0
mg
|
Sodium:
586
mg
|
Potassium:
592
mg
|
Fiber:
5
g
|
Sugar:
0
g
|
Vitamin A:
55
IU
|
Vitamin C:
14.9
mg
|
Calcium:
51
mg
|
Iron:
6.5
mg
Nutrition Facts
Potato foccacia with olives and rosemary
Amount Per Serving
Calories 319
Calories from Fat 63
% Daily Value*
Fat 7g11%
Cholesterol 0mg0%
Sodium 586mg25%
Potassium 592mg17%
Carbohydrates 55g18%
Protein 8g16%
Vitamin A 55IU1%
Vitamin C 14.9mg18%
Calcium 51mg5%
Iron 6.5mg36%
* Percent Daily Values are based on a 2000 calorie diet.