A hearty lentil salad with maple and balsamic roasted baby carrots and red onion, tossed with baby kale and dressed with chimichurri sauce.
Happy New Year my friends! Sayonara 2017 and Hola 2018. I've had a very relaxed time with my family over the holidays and now I'm back!
It's midsummer here in New Zealand and it's been HOT. To be honest I haven't much felt like cooking and we've been eating lot of picnicky, plattery sort of salad meals featuring an awful lot of hummus and olives.
But after a visit to my local farmers market yesterday, my fridge is bursting at the seams with amazing fresh produce and I finally felt inspired to get back in the kitchen. Other things come and go from my farmers market selections, but baby carrots are always there. So cute, so sweet, and so yummy roasted, they're sure to be the first to go.
Lentil salad
If you've been following Quite Good Food for a while you will of course already know I love lentils. We go through a lot of them here. And with good reason: they're cheap and healthy, packed with protein, fibre, iron and folate.
Perhaps most importantly though, they're sustainable. Growing pulse crops like lentils enriches the soil where they grow, reducing the need for chemical fertilisers. They can grow in the most inhospitable of places and require very little water. As the world's population grows, water becomes more scarce and food security suffers, eating more lentils is one small but legit thing you can do to help.
Now, on to the salad. This satisfying lentil salad can be served cold, warm or hot. Cooked French green lentils are tossed with maple and balsamic roasted baby carrots and red onions, and a few big handfuls of baby kale. A herby, garlicky, spicy chimichurri sauce is used to dress it all up. This is a punchy salad with plenty of flavour, and the sweet little bursts of roasted red onion every now and then make me very happy indeed.
Other than scrubbing the baby carrots and making the chimichurri sauce, it's all hands off cooking time which is a beautiful thing no matter what season it is where you are.
Here are a few more lentil recipes you might like:
Chimichurri sauce
Argentinian style chimichurri is typically eaten slathered over barbecued meats, but it's also outstanding with vegetables and plant based proteins.
The sauce is easy to make - a straight forward mixture of hand chopped parsley and oregano (hand chopped is important, you're not making pesto), loads of crushed garlic, some chilli, red wine vinegar and a slightly impolite amount of extra virgin olive oil. If you have a bottle of citrus infused extra virgin olive oil hiding in the back of your pantry, this is your chance to bust it out.
I used half of the sauce to toss through the salad, and the remainder to spoon over individual serves for a bit of extra oomph. I love this stuff.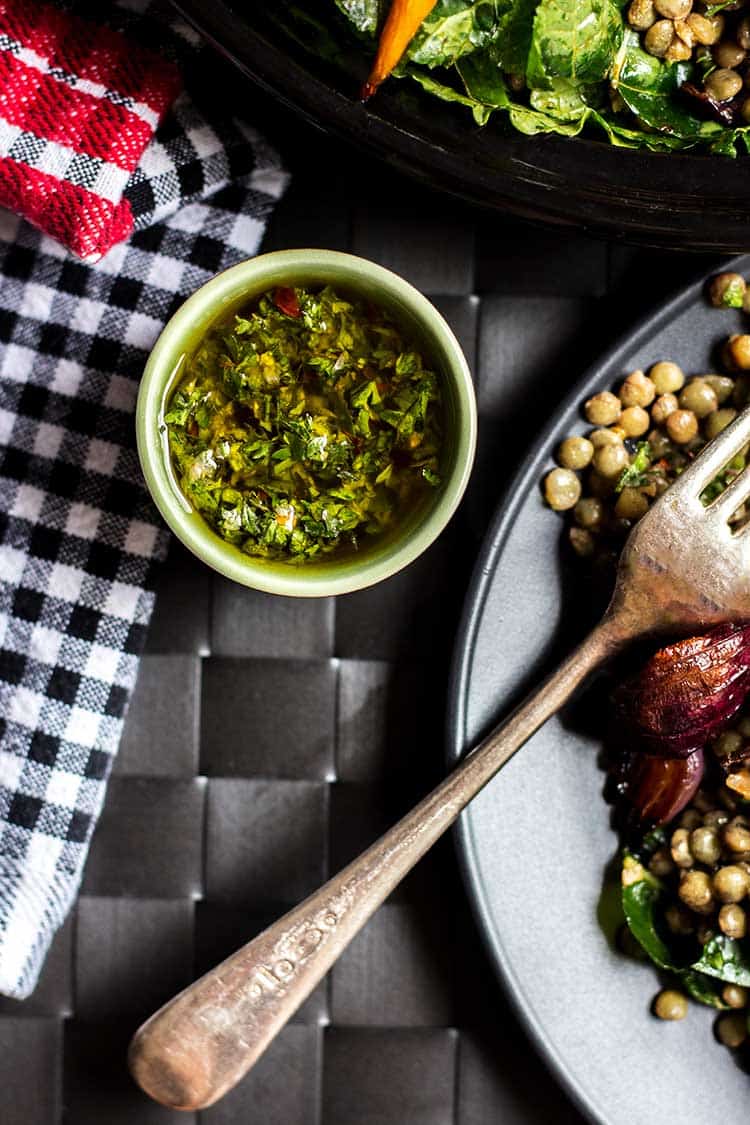 Meal, side dish or packed lunch
This lentil salad is a great, well balanced meal all on its own and will serve four people that way, or serve it as a side dish and it'll go a lot further. It would be excellent with borek or a cauliflower steak.
Leftovers make a standout packed lunch for work the next day, just make sure you use kale or another sturdy green that'll still be delicious once it's become a bit wilted by the dressing.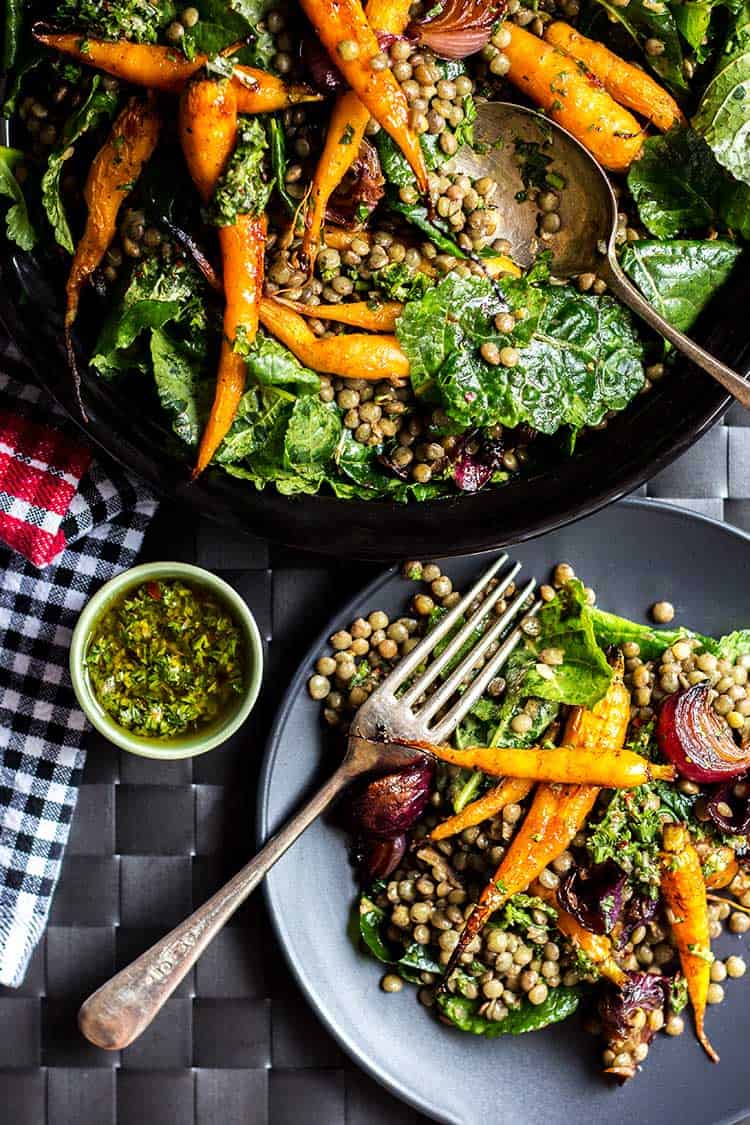 Get the recipe
INGREDIENTS
For the salad:
1

cup

French green lentils

2

bay leaves

(optional)

Big bunch

baby carrots

(about 450g or 1lb), trimmed and scrubbed

6

small red onions

peeled and cut into eighths (or substitute 2 large red onions, cut into chunks)

1

tablespoon

olive oil

1

tablespoon

maple syrup

1

tablespoon

balsamic vinegar

½

bag

baby kale

(about 60g or 2oz)

Salt and pepper to season
For the chimichurri sauce:
½

cup

parsley

finely chopped

2

tablespoon

fresh oregano

finely chopped (or substitute 2 teaspoon dried oregano)

3

cloves

garlic

crushed or grated

2

tablespoon

red wine vinegar

½

teaspoon

chilli flakes

(optional)

90

ml

extra virgin olive oil

(¼ cup + 2 tbsp)

Salt and pepper

to season
INSTRUCTIONS
Preheat oven to 200C fanbake (390F).

Cover lentils and bay leaves with plenty of water and bring to a simmer. Cook for 20-25 minutes or until cooked but retaining a little bite. Drain and set aside (if serving salad cold, rinse under cold water first).

While the lentils are cooking, toss the baby carrots and red onion chunks with 1 tablespoon of olive oil, maple syrup and balsamic vinegar. Season well with salt and pepper, then roast for about 30 minutes (shaking the pan every 10 minutes or so), or until tender, golden brown and fragrant.

To make the chimichurri sauce, stir all ingredients together and season to taste.

To assemble the salad, toss the drained lentils with the roasted baby carrots and red onion, about half a bag of baby kale and half of the chimichurri sauce.

Serve the remaining sauce on the side, for people to drizzle according to their personal taste.
RECIPE NOTES
Serves 4 as a meal or more as a side dish. 
NUTRITION INFORMATION
Calories:
489
kcal
|
Carbohydrates:
49
g
|
Protein:
14
g
|
Fat:
27
g
|
Saturated Fat:
3
g
|
Sodium:
110
mg
|
Potassium:
943
mg
|
Fiber:
19
g
|
Sugar:
12
g
|
Vitamin A:
17780
IU
|
Vitamin C:
37.6
mg
|
Calcium:
156
mg
|
Iron:
6.2
mg
Nutrition Facts
Lentil salad with roast baby carrots and red onion
Amount Per Serving
Calories 489
Calories from Fat 243
% Daily Value*
Fat 27g42%
Sodium 110mg5%
Potassium 943mg27%
Carbohydrates 49g16%
Protein 14g28%
Vitamin A 17780IU356%
Vitamin C 37.6mg46%
Calcium 156mg16%
Iron 6.2mg34%
* Percent Daily Values are based on a 2000 calorie diet.