Rich, and oh so delicious baked eggplant with garlicky, spicy lentils and tomatoes and a fresh herby topping.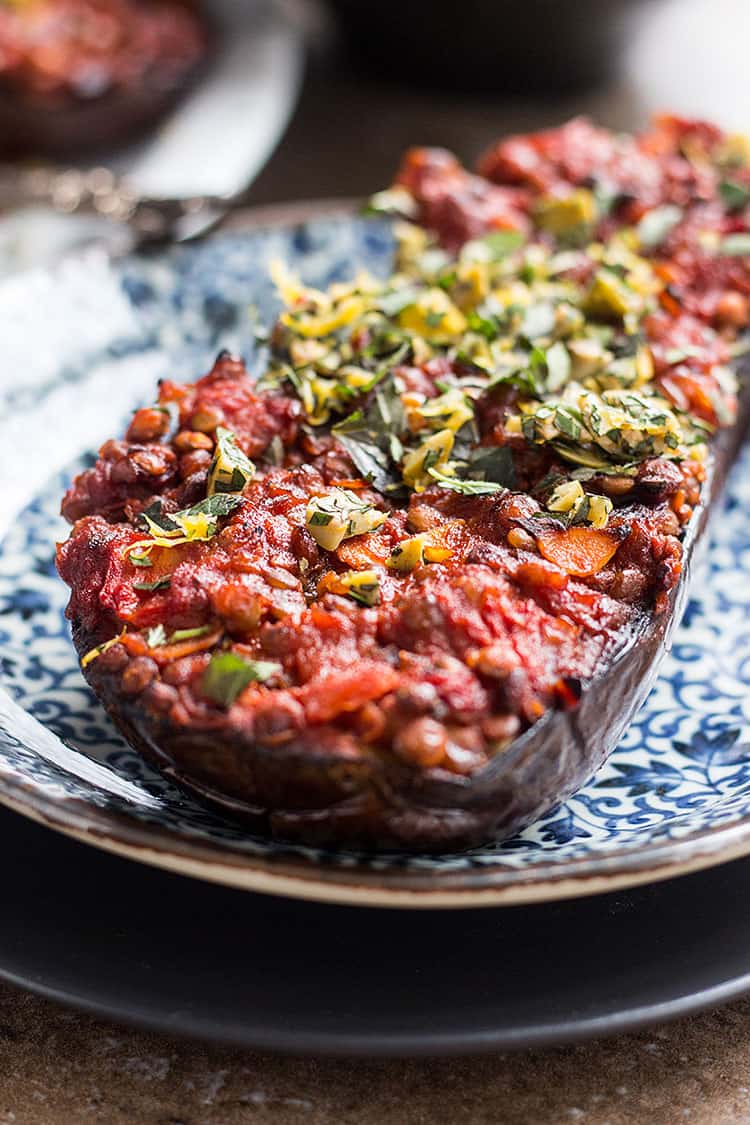 Eggplants (or aubergine or brinjal) are plentiful, affordable and in absolutely perfect condition right now in New Zealand, so I've been eating them at least once a week - one way or another.
I'm always happy enough with plain grilled, baked or fried eggplant as a side dish or to add to heartier salads, I love it cooked with a miso glaze, and I also adore it slow cooked, silky soft and full of flavour as it is in this dish.
A member of the nightshade family, eggplant is a relative of the tomato. Like tomatoes, they're also actually a fruit. They come in many shapes and sizes, though the most commonly available is the traditional large, dark purple eggplant we all recognise.
Eggplant is low in calories, high in fibre and contains no fat (though I don't get too excited about that given how much oil they can soak up while cooking!). They're not especially high in any one nutrient, but contain a wide range of essential vitamins and minerals, and the dark purple skin is thought to be high in antioxidants. I say eat them whenever you can!
Cooking eggplant well is definitely not difficult, but I have to admit that I've had my fair share of eggplant fails over the years. Read on...
Don't over salt your eggplant
Popular advice used to be that eggplant should always be sliced and salted to remove any bitterness.
Salting eggplant involves dredging it in a fair quantity of salt and leaving it to draw extra liquid out, before rinsing off the salt, drying the eggplant and continuing with the recipe.
I've done that, forgotten to wash the salt off well enough, rendered a dish inedible and just about given myself a sodium overdose.
I personally don't bother with salting them anymore, as modern varieties don't need it. Salting eggplant does however stop it from soaking up quite as much oil, and I'd still consider doing it for homegrown eggplant that might have been on the vine longer and developed more bitterness.
Don't under salt your eggplant
Eggplant needs seasoning. Don't even think about cooking it without adding a little salt. Just don't do what I did above.
Don't under cook your eggplant
There's no such thing as al dente eggplant. Undercooked eggplant is spongey, difficult to chew and downright disgusting.
Whatever your cooking method, take your time and if anything, cook it for a bit longer than you really think necessary. When well cooked, eggplant should be perfectly soft, the flesh almost silky and maybe even falling apart a bit.
Baked eggplant vs fried eggplant
If you're frying eggplant, it will be happy to suck up as much oil as you deem polite to add to the frypan.
You can mitigate this a bit by making sure the oil is properly hot before adding the eggplant, in which case it'll fry and brown beautifully (delicious!).
If the oil isn't hot enough, the eggplant will just literally suck up every single drop of it, appear dry and refuse to play ball.
Baked eggplant helps reduce the amount of oil needed and is my usual go-to method of cooking eggplant.
If I'm serving it plain, I'll either brush sliced, seasoned eggplant with a little olive oil, or use spray oil to lightly coat it. I turn the eggplant halfway through cooking, season and brush or spray with oil again then continue cooking. This uses a lot less oil overall and is perfect for eggplant that will be added to a salad that has a dressing.
Add tomatoes, lentils and a herby topping
For this recipe I started by deeply scoring and frying the cut side of my eggplant halves until browned.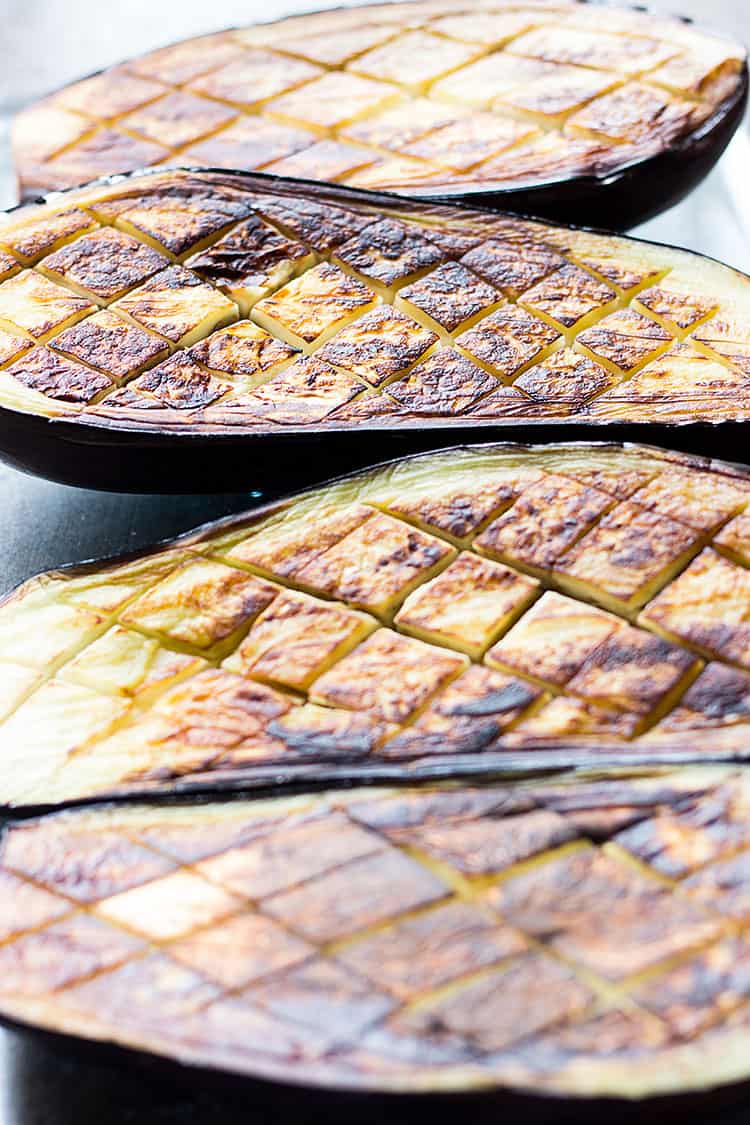 I cooked some green lentils up with canned tomatoes, red onion, lots of garlic, smoked paprika and a bit of cayenne pepper for kick, before spooning this mixture over the eggplant halves then slow baking them until the eggplant was perfectly tender, and the topping thick, fragrant, jammy and browning in places.
To freshen up what is quite a rich dish, I roughly chopped a handful of fresh oregano with green olives and some lemon zest.
This is a beautiful thing to strew over the cooked eggplant just before serving, and provides a welcome contrast to the rich flavours.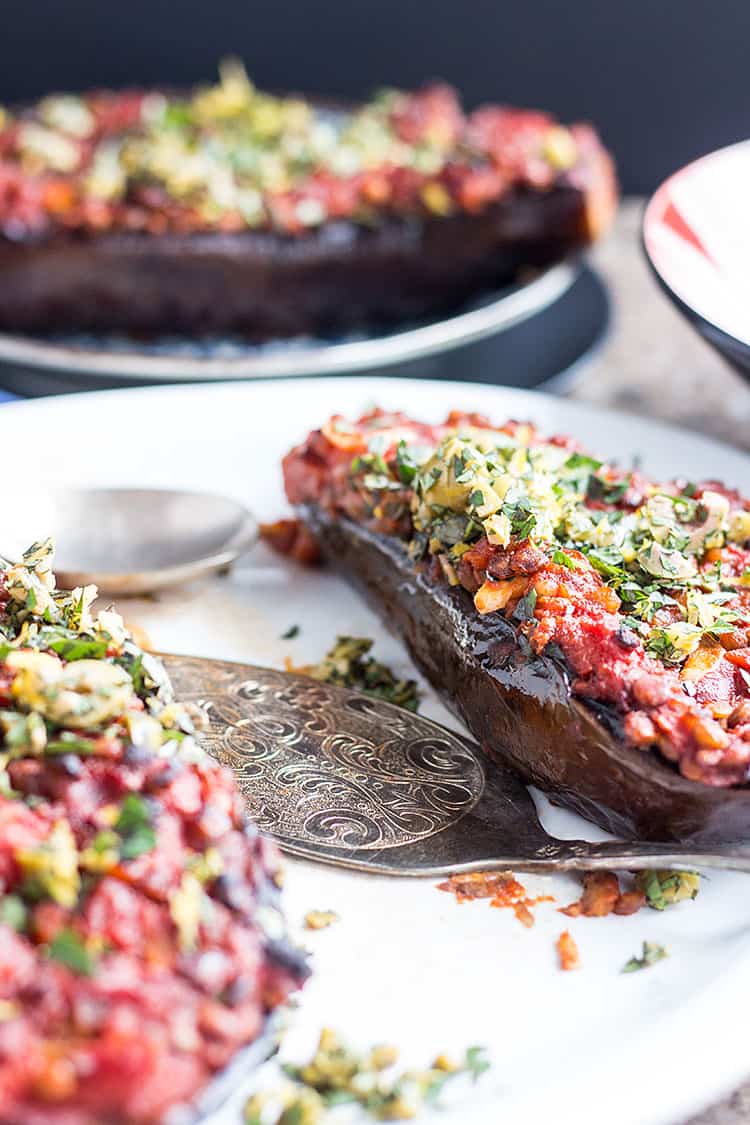 I cooked green lentils from scratch to use in this recipe. If you don't have time you can happily substitute canned lentils. The texture won't be quite the same but it'll still be a delicious meal.
These eggplant halves can be served hot or at room temperature (they make excellent leftovers).
Two halves is a decent meal for one person, or this recipe can easily serve four if you serve the eggplant with rice or bread and a green salad.
Get the recipe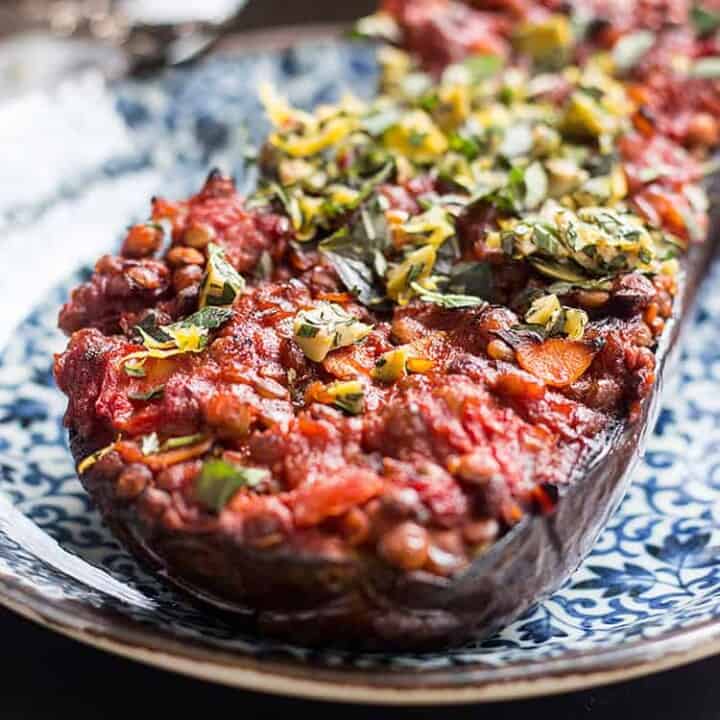 INGREDIENTS
For the eggplant:
2

large eggplant

(aubergine)

2

tablespoon

olive oil
For the lentils and tomatoes:
2

tablespoon

olive oil

1

red onion

(spanish onion) finely chopped

4

cloves

garlic

finely sliced

2

cans

chopped tomatoes

1

teaspoon

smoked paprika

1

teaspoon

brown sugar

or sweetener of your choice

Pinch

cayenne pepper

1

cup

cooked green lentils

(approx. ⅓ cup dry lentils, if cooking from scratch)
For the herby topping:
¼

cup

fresh oregano

finely chopped (about half a cup of loose leaves) or substitute parsley

Zest of one lemon

10

green olives

(pitted), finely chopped
INSTRUCTIONS
Preheat oven to 190C (375F) fanbake.

If cooking lentils from scratch, rinse them in a sieve under running water, then add to a saucepan, cover with plenty of water and bring to the boil. Cook at a low boil for around 20 minutes, or until the lentils are cooked but still retain a little bite. Drain and set aside.

Wash eggplant, cut in half lengthways and score the cut surface with a deep criss-cross pattern. This will help it cook evenly and let the flavour of the tomato mixture penetrate the eggplant while cooking.

Heat a large frypan (skillet) over medium to high heat. If your frypan is big enough to hold all four eggplant halves, add 2 tablespoon of olive oil, swirl to evenly coat the pan and bring the oil up to heat. Once the oil is hot, add the eggplant halves and allow to fry for 5-10 minutes or until well browned. If your frypan is smaller, add 1 tablespoon of olive oil and do the eggplant halves in two batches.

Remove browned eggplant to a baking dish - ideally one that snugly holds all four halves close together. Season the cooked surface of the eggplant well with a sprinkle of salt.

Using the same frypan, add 2 tablespoon more olive oil, bring up to heat, then add the red onion and garlic. Cook for 5-10 minutes, stirring often, until the onion and garlic are soft, golden and fragrant.

Add the canned tomatoes, smoked paprika, brown sugar, cayenne pepper, cooked lentils, and a little salt to season. Stir everything together and cook over a medium heat for around 10 minutes, or until the mixture has thickened. Taste and add more salt if necessary.

Spoon the tomato and lentil mixture evenly over the four eggplant halves. It will seem like a lot, but just pile it up as best you can. Once cooked, the tomato mixture will reduce and thicken quite a lot.

Bake the eggplant halves for 45-60 minutes, or until the eggplant is very soft and provides almost no resistance to a fork or butter knife. Cooking time will vary depending on the size of the eggplant, so start checking from 45 minutes. If they're underdone at that point you can also turn up the oven temperature for the remainder of the cooking time to 200C (390F).

While the eggplant is cooking make the herby topping. Mix the chopped fresh oregano, lemon zest and green olives together in a small bowl and set aside until serving time.

Serve the eggplant hot or at room temperature, sprinkled with the herby topping.
RECIPE NOTES
Serves 4 as part of a meal, or serves 2 with no accompaniments. 
NUTRITION INFORMATION
Calories:
429
kcal
|
Carbohydrates:
61.4
g
|
Protein:
16.9
g
|
Fat:
16.2
g
|
Saturated Fat:
2.3
g
|
Sodium:
518.2
mg
|
Fiber:
19.7
g
|
Sugar:
17.9
g
|
Vitamin A:
250
IU
|
Vitamin C:
37.1
mg
|
Calcium:
150
mg
|
Iron:
5.9
mg