Chili fries, get in my belly! These smoky, crispy homemade cajun spiced fries with a bangin' bean chili and a cooling avocado, lime and coriander sauce are downright delicious.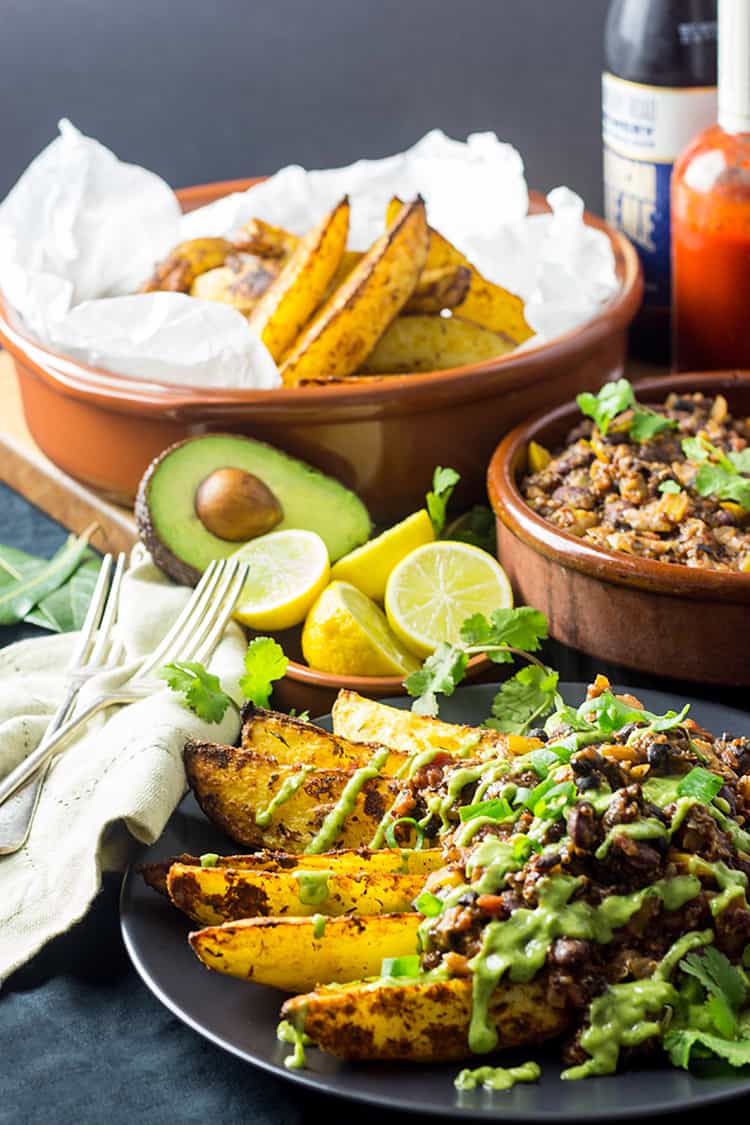 I am so excited to share this recipe with you! These vegan chili fries are one seriously delicious, flavour packed meal. This recipe has got it all: crispy homemade potato wedges with a smoky cajun spice mix; hearty, protein packed bean chili with a low hum of chipotle; and a cooling, creamy avocado sauce with lots of coriander (cilantro) and lime juice. It's got all the textures, all the flavours and if you don't enjoy this meal, well, you don't enjoy life.
Chili fries are total comfort food, perfect for a weekend lunch or dinner, great to feed a crowd, and I'd have to say - brilliant drinking food with a nice lineup of craft brews on the side. Gotta love it.
Don't be put off by the relatively long list of ingredients here, most of them are spices, and this is a very easy meal to get cooking then leave to do its thing while you do something more fun. You can make the chili and the avocado sauce ahead of time, so all you need to do at the last minute is the wedges.
Smoky cajun fries
To get great wedges, you need to start with the right potatoes. I used beautiful new season agria potatoes, which are yellow fleshed and floury - perfect for mashing, roasting or making fries or wedges with. From what I gather, russet potatoes are what you'd use if you're in the US.
Wash and dry your potatoes well, but leave the skin on. You lose a lot of nutrition by peeling your spuds, and leaving the skin on also helps give that lovely crispy, chewy edge you want on a good potato wedge.
The spice mix is so easy to make yourself, and will make enough for two meals (or one large meal if you're cooking this recipe for a crowd). Onion powder and garlic powder aren't so commonly used in New Zealand, but they're easy to find and pretty handy in lots of recipes. Just get yourself to your local bulk foods store (Bin Inn, for example) and you'll find everything you need.
If that's just all too much for you, use a store bought cajun spice mix and a bit of brown rice flour. The brown rice flour isn't essential but helps coat the potatoes and create a nice crispy crust. If you're not gluten free, you could substitute with regular white flour.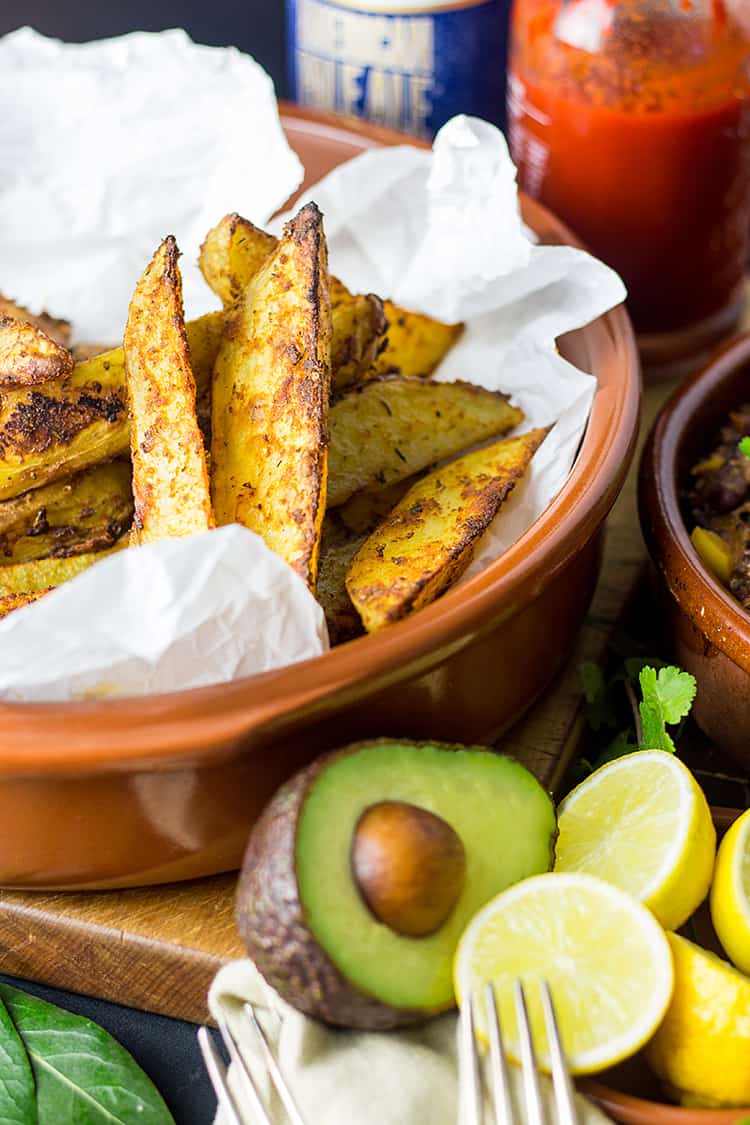 Bangin' bean chili
I love a good bean chili, and I also love that it's made with so many cost-effective store cupboard ingredients. There was quite a line up of empty cans for recycling when I was done making this!
The chili starts with a traditional base of onion, garlic and capsicum (bell pepper) cooked with ground cumin until tender, then in go cans of black beans, kidney beans and tomatoes. I added some quinoa too, which boosts the protein and fibre even further, and also helps thicken the chili up as it cooks.
The ingredient that lifts this from good to great, is canned chipotle chilis in adobo sauce. Chipotle chilis are smoke dried jalapenos, spicy, smoky and really delicious. In New Zealand you'll find them in a small can, either in the Mexican section at the supermarket, or sometimes alongside chilli sauces in the aisle with sauces and dressings. Be careful! I used only one in this dish, because I wanted to keep it family-friendly and any more would have sent my daughter running. If you don't need to cater for kids, and you like a bit of spice, add more. Just go slow and taste as you go, it's hard to fix a dish that's too spicy to eat.
Enter the avocado sauce. Avocado, blended with coriander (cilantro) and lime juice is the perfect antidote to spice. It's creamy, cooling, a little sharp, and just the thing to balance out these chili fries. Push the boat out and add a vegan cashew sour cream (or regular sour cream) if you like.
Yes, it's healthy too
Weighing in with 25g of protein, and 54 per cent of the recommended daily intake for iron, these chili fries also have pretty serious health cred. Potatoes are high in vitamin C (this meal has 256 per cent RDI, per serve) so you'll also be absorbing that iron and getting the most out of this beauty of a meal.
Get the recipe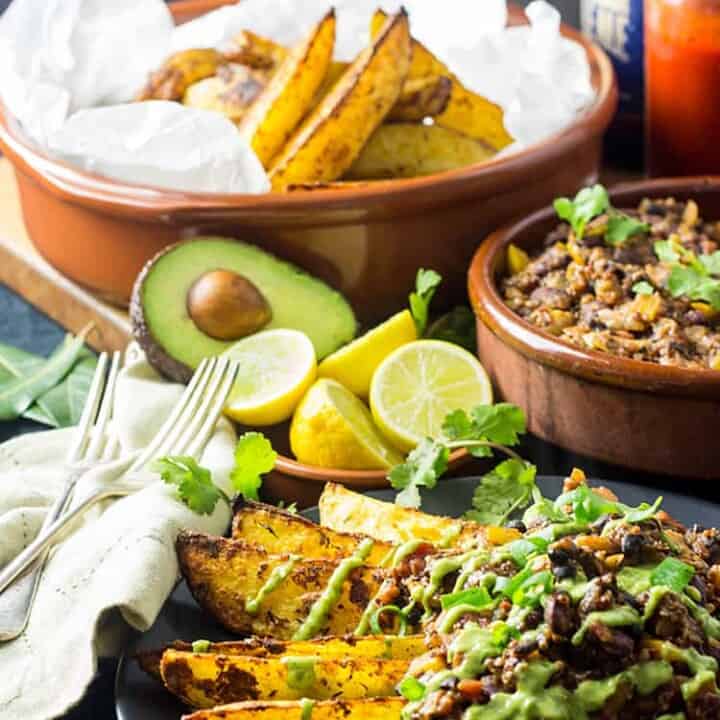 INGREDIENTS
For the chili:
2

tablespoon

olive oil

1

onion

finely chopped

3

cloves

garlic

crushed or finely grated

1

yellow or red capsicum

(bell pepper) finely chopped

1 ½

teaspoon

ground cumin

2

cans chopped tomatoes

1

can black beans

rinsed and drained

1

can kidney beans

rinsed and drained

¼

cup

quinoa

(I used red quinoa, any colour is fine)

1

cup

vegetable stock

1

bay leaf

½

teaspoon

salt

1-3

chipotle peppers

finely chopped (canned, in adobo sauce)
For the fries:
4

large floury potatoes

(I used agria potatoes)

2

tablespoon

olive oil
For the cajun spice mix:
2

tablespoon

brown rice flour

(or regular flour if not gluten free)

2

teaspoon

smoked paprika

1

teaspoon

garlic powder

1

teaspoon

dried oregano

1

teaspoon

dried thyme

½

teaspoon

onion powder

½

teaspoon

black pepper

½

teaspoon

salt

¼

teaspoon

cayenne pepper
For the avocado sauce:
1

avocado

1

cup

coriander leaves

(cilantro) loosely packed

2

tablespoon

lime juice

¼

cup

water

¼

teaspoon

salt
INSTRUCTIONS
Preheat oven to 210C (410F).

Get the chili underway first.

Heat 2 tablespoon olive oil in a large frypan (skillet) or saucepan.

Add onion, garlic, capsicum and ground cumin and cook over a low to medium heat for 5-10 minutes, until everything is softened, fragrant, and starting to colour a little.

Add tomatoes, black beans, kidney beans, quinoa, vegetable stock, bay leaf and salt. Stir to combine, and turn down heat a little.

Depending on how spicy you like your chili, add 1-3 chopped chipotle chilis. Adding one will result in a mild chili that still has a little kick, and adding three will make it pretty spicy.

Cook for 45 minutes, stirring occasionally, or until the quinoa is cooked and the chili is thick, glossy and smells amazing. If it gets too thick while cooking, add a splash of water.

Discard bay leaf before serving.

Chili can be made ahead of time and reheated to serve, if desired.
For the fries:
Begin by making the cajun spice mix - mix everything together in a small jar or dish. This recipe will make enough spice mix for two meals, or one meal if you're cooking extra potatoes.

Wash and dry the potatoes well, leaving the skin on. Trim away any blemishes.

Slice lengthways into large wedges. I cut mine in half, then into quarters, then cut those in half again to get eight wedges from each spud.

Use a plastic bag or a large mixing bowl to coat the wedges. Put chopped potatoes in and drizzle over 2 tablespoon olive oil, shake or stir to coat all surfaces. Then add a few tablespoonfuls of the spice mix, and shake or stir again to coat the wedges evenly in spice mix.

Tip the wedges into a large roasting dish or tray, and put them in the oven to bake for 30-40 minutes. Turn the wedges every 15 minutes to ensure even cooking, and leave them in for an extra few minutes if necessary. When done, the wedges should be darkly golden brown, crispy on the outside and tender on the inside.
For the avocado sauce:
While everything else is cooking, make your avocado sauce.

Scoop avocado flesh into a blender or food processor.

Add coriander (cilantro), water, lime juice and salt.

Blend until smooth.

Taste and adjust seasoning with more lime juice or salt, if required.

Add a little extra water to thin the sauce to your desired consistency, if required.

The sauce can be made ahead of time and refrigerated until ready to serve, but is best made and eaten on the same day.
To serve:
Pile a good scoop of chili onto a serve of fries, drizzle with avocado sauce, and sprinkle with extra coriander (cilantro) and chopped spring onions (scallions).
RECIPE NOTES
Nutrition estimated (I didn't weigh the potatoes).
NUTRITION INFORMATION
Calories:
804
kcal
|
Carbohydrates:
128.3
g
|
Protein:
25.8
g
|
Fat:
23.9
g
|
Saturated Fat:
3.5
g
|
Cholesterol:
0
mg
|
Fiber:
29.8
g
Nutrition Facts
Cajun chili fries with avocado coriander sauce
Amount Per Serving
Calories 804
Calories from Fat 215
% Daily Value*
Fat 23.9g37%
Cholesterol 0mg0%
Carbohydrates 128.3g43%
Protein 25.8g52%
* Percent Daily Values are based on a 2000 calorie diet.