Zucchini ribbons and marinated artichokes, tossed with a lemon macadamia dressing and toasted macadamias, served with caramelised onion and butter bean puree.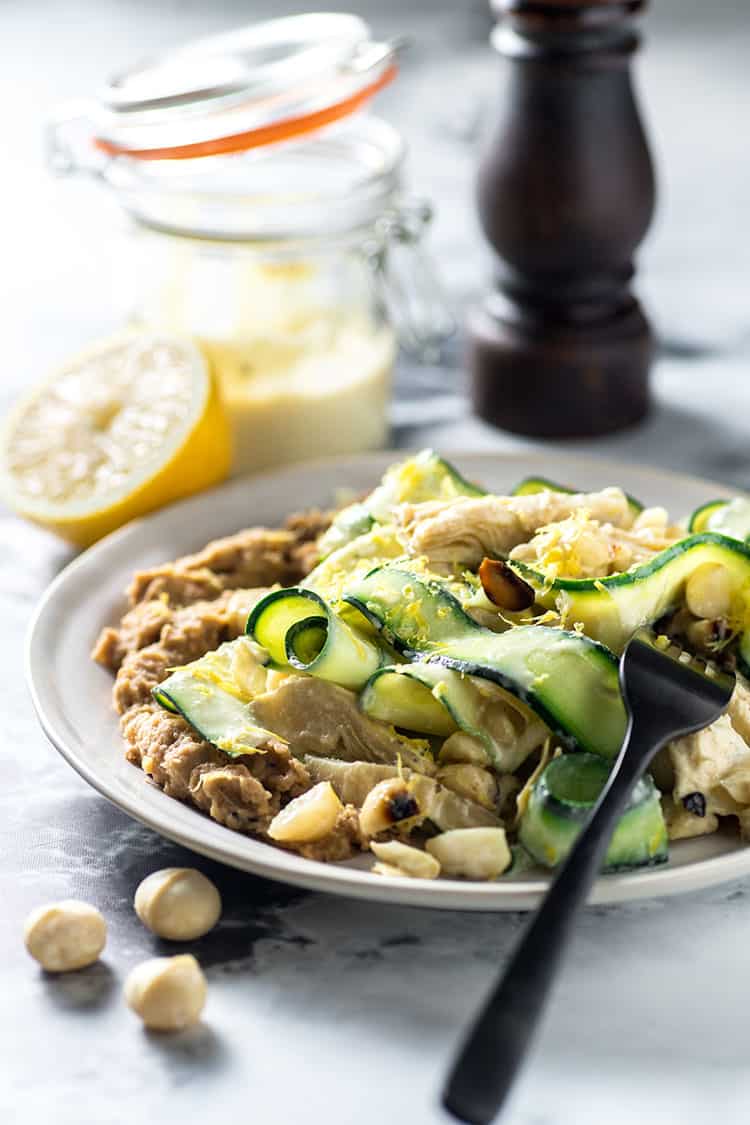 During my lovely, leisurely summer I visited Cathedral Cove Macadamias, a macadamia orchard perched on a beautiful piece of Coromandel Peninsula coastline.
It's a gorgeous spot, where you'll be greeted by the owner, offered samples and given the opportunity to crack open a few nuts yourself using their heavy duty macadamia cracker. We wandered through the orchard, played on the swing and said hello to their pet goats, before making our decisions and heading onwards with a big bag of organic macadamia nuts and some macadamia butter.
Since then, the bag of nuts has been staring at me. I adore macadamias, but they're quite an expensive nut in New Zealand so I didn't want to just snack on them. They needed a recipe that deserved them.
Macadamia salad with zucchini and artichoke
After some deliberation, I decided to toss toasted macadamias with ribbons of raw zucchini, marinated artichoke and a lemony macadamia dressing. This macadamia salad is simple, light and fresh, and dare I say it, a little sexy.
The dressing is quite a triumph. A few macadamias, blended with lemon juice, olive oil and a dab of mustard, form a silky smooth dressing that's similar to mayonnaise in consistency, just a little lighter. If you have macadamia oil on hand, use that instead of olive oil.
Seasoned with salt and pepper and balanced with a little sweetener (I used maple syrup), I would enjoy this dressing with any salad. I expect it would be very good to simply dress crunchy cos lettuce (either fresh or grilled), and utterly perfect with new season asparagus. I'll have to wait until next spring to try that.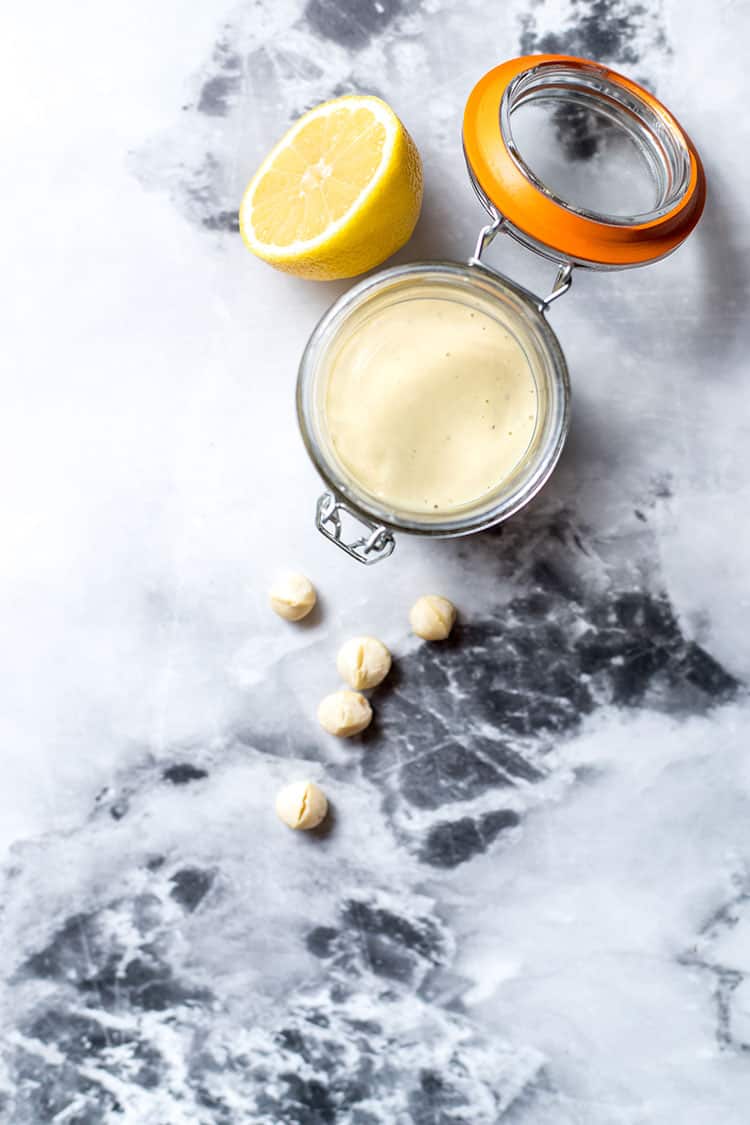 Today this macadamia dressing works in beautiful harmony with zucchini ribbons and store bought marinated artichokes. The acid and salt of the dressing serve to lightly 'cook' the zucchini, softening it so you wouldn't particularly notice it's raw.
Served on a bed of caramelised onion and butter bean puree, each mouthful has a seductive mix of flavours and textures, earthy base notes and bright, fresh top notes, soft puree, slippery zucchini and crunchy toasted macadamias.
It's a lovely salad, perfect for date night or a light meal on a balmy evening. To make it a little more substantial, you could serve it with warmed pita breads to scoop up the bean puree. Buenísimo.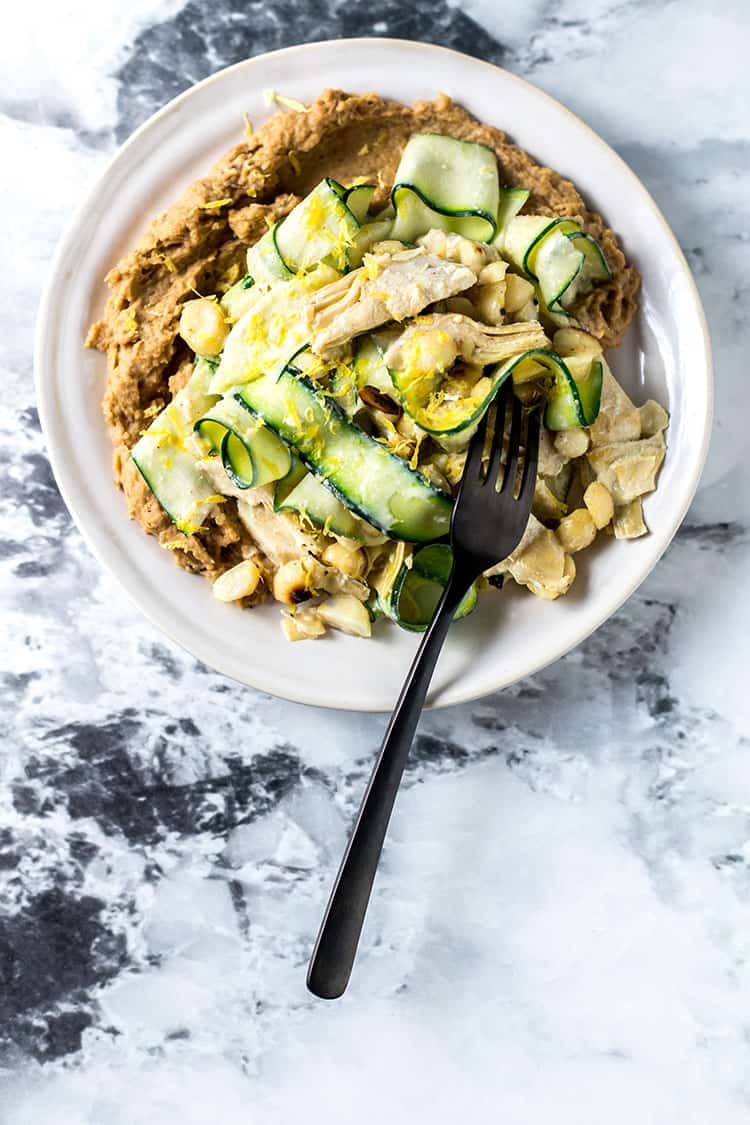 Caramelised onion and butter bean puree
Lately I've really been enjoying hummus and other dips as a base to salads and roasted vegetables. It's a departure from serving them with breads, adds protein to a plate of plants, and it's also really delicious.
For this puree I started by caramelising a roughly chopped onion. Multi-tasking as usual, I MAY have got distracted and taken it too far. But you know what? It wasn't burned so I used it anyway, and it added serious depth and richness to the puree. So don't fear a dark caramelisation and a bit of char, it's still good as long as the onion isn't actually burned.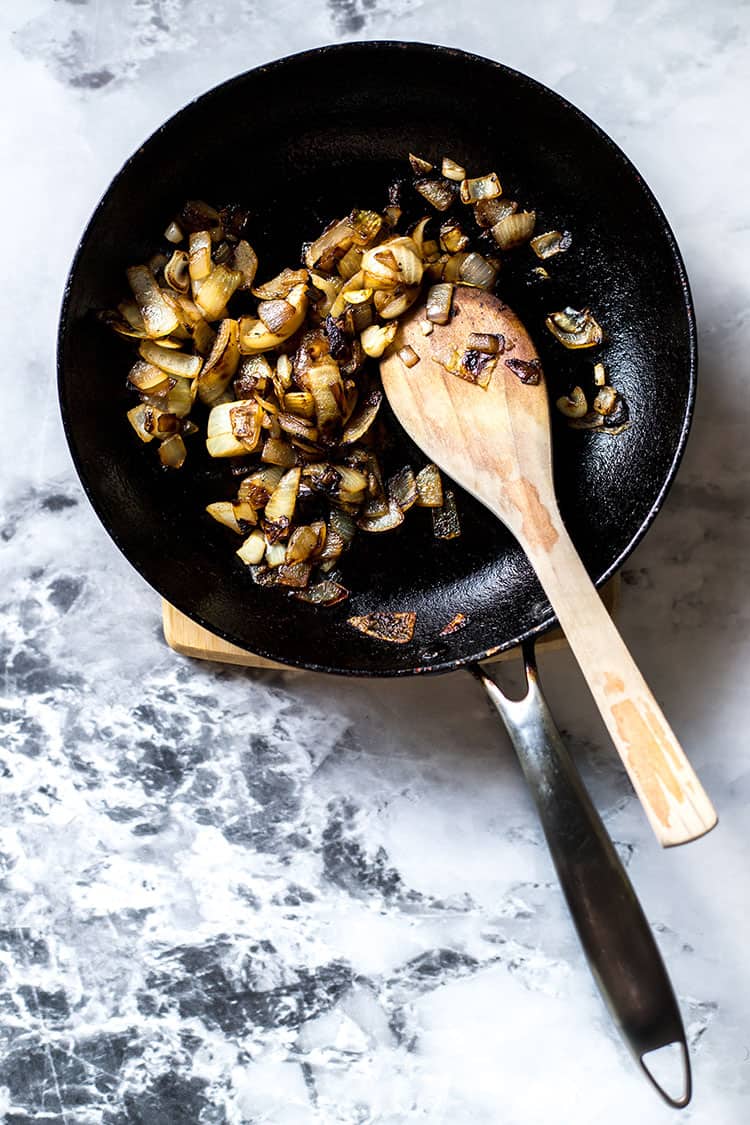 The onions are then blended with canned butter beans, a little mustard, salt, and enough water to get it to a thick but fairly smooth consistency.
This bean puree is surprisingly richly flavoured - earthy, sweet from the onion, and with a little sharpness from the mustard. It's a great dip on its own, and works very well as the base for this salad.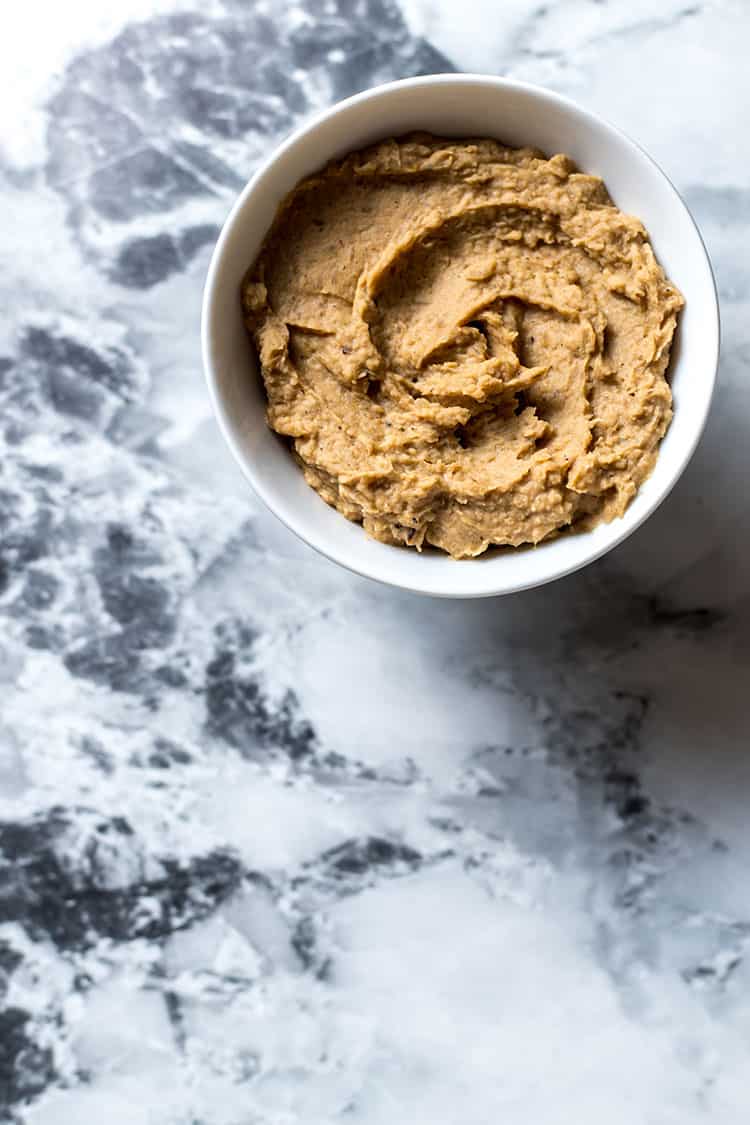 Get the recipe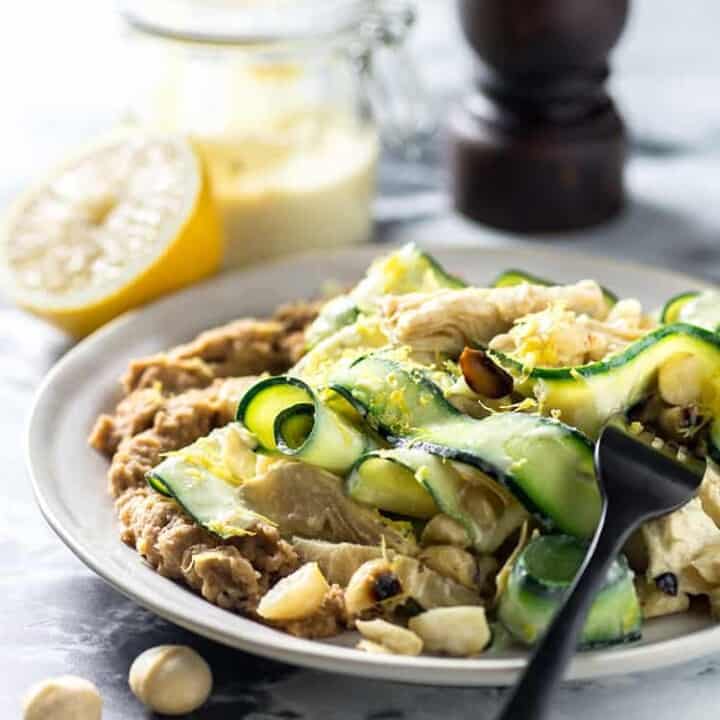 INGREDIENTS
For the dressing:
10

macadamias

3

tablespoon

lemon juice

(freshly squeezed)

3

tablespoon

extra virgin olive oil

(or macadamia oil if you have it)

½

teaspoon

dijon mustard

¼

teaspoon

salt

2-3

grinds

black pepper

1-2

teaspoon

maple syrup

(optional)
For the caramelised onion and butter bean puree:
1

tablespoon

olive oil

1

onion

roughly chopped

1

clove

garlic

roughly chopped

1

can

butter beans

drained (400g/14oz can)

1

teaspoon

dijon mustard

¼

teaspoon

salt

2-4

tablespoon

water
For the salad:
2

zucchini

170-180g

marinated artichokes

(a small jar, about 6oz)

½

cup

macadamias

roughly chopped (about 70g/2.5oz)

Lemon zest

to garnish
INSTRUCTIONS
The dressing and puree can be made ahead of time, then used to assemble the salad at serving time.

Put all dressing ingredients except for the maple syrup into a small blender (I used a stick blender in an upright blending jar). Blend until perfectly smooth, then taste and adjust sourness by adding 1-2 teaspoon maple syrup, if desired. Set aside until serving time.

To make the puree, heat olive oil in a frypan (skillet) over medium heat. Add onion and cook, stirring often, for around 10 minutes or until deeply caramelised. Add garlic for the final 1-2 minutes of cooking time. Remove from the heat and allow to cool a little.

Put caramelised onion mixture, butter beans, mustard, salt and 2 tablespoon of water into a blender or food processor. Blend until fairly smooth, stopping to scrape down the sides as needed. You may like to add another 1-2 tablespoon of water to achieve a thick but smooth consistency. Set aside until serving time.

To make the salad, trim ends from the zucchini then use a vegetable peeler or mandoline to slice the zucchini into thin ribbons lengthwise. Drain artichokes and slice each piece in half, if you like. If using natural macadamias, toast in a dry frypan for about 5 minutes until coloured in places. Toss zucchini ribbons, artichokes, macadamias and dressing together in a mixing bowl.

To serve, smear a generous scoop of bean puree onto a plate, then top with a jumble of salad and a sprinkle of lemon zest. For a more substantial meal, serve with grilled pita bread.
RECIPE NOTES
Nutrition information is estimate. 
NUTRITION INFORMATION
Calories:
843
kcal
|
Carbohydrates:
51
g
|
Protein:
16
g
|
Fat:
67
g
|
Saturated Fat:
9
g
|
Cholesterol:
0
mg
|
Sodium:
971
mg
|
Potassium:
1371
mg
|
Fiber:
16
g
|
Sugar:
16
g
|
Vitamin A:
1240
IU
|
Vitamin C:
67.9
mg
|
Calcium:
111
mg
|
Iron:
6
mg