Orange chipotle tofu skewers are a step away from typical soy-based marinades, and the charred, caramelised cubes are just delicious in a soft taco or alongside your favourite salads.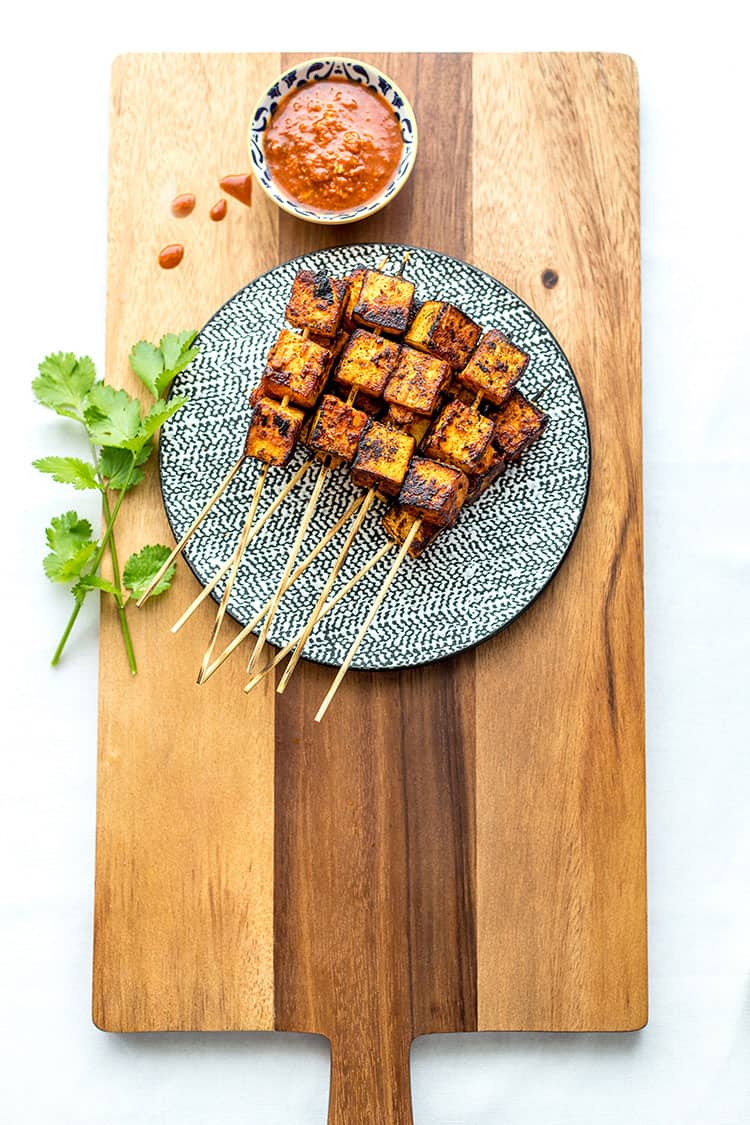 My calendar is indelicately nudging me back towards the reality of the working year (okay maybe it's more of a kick than a nudge), while I desperately try to hold onto that summer holiday feeling for as long as I can. And what a summer it's been!
We tripped up and down New Zealand's Coromandel peninsula and visited iconic Cathedral Cove on what must be one of the most idyllic summer days I've experienced. We stayed in a retro kitsch New Zealand bach (holiday home), laughed with dear friends and celebrated my oldest daughter's 10th birthday (10! how did that happen?!).
I've done a little work here and there, but mostly focused on spending lots of time with my children and holding firm to my plans for a healthier 2019. I've started training for a half marathon in May (!), which is a first and a big challenge for me. I'm loving how much fitter and stronger I'm feeling already, and feeling thankful for my health.
Salads, freshly picked beans and tomatoes are reigning supreme in my kitchen (it's been too hot to cook sometimes), and I'm loving barbecue grilled tofu as a protein addition to these easy summer meals. A surprise discovery has been grilling fresh green beans directly on the barbecue until they're charred, yum.
How to cook perfect tofu
The trick to successful tofu is draining it well, before marinating it in something flavourful as it doesn't have much flavour of its own.
To drain tofu, you can use a tofu press, or wrap it with paper towels or a clean tea towel and press between two dinner plates with a heavy weight on top (1-2 cans will do the trick). Leave for at least 30 minutes to drain.
Well drained tofu will suck up the flavours of the marinade so much more effectively. Heating the marinade first also helps, along with plenty of resting time for the marinade to do its job. Allow a minimum of an hour, or up to a day if you're organised.
This Mexican inspired marinade uses zesty fresh orange with smoky chipotle sauce and paprika as the key flavours. Grilled on the barbecue until caramelised and charred around the edges, these tofu skewers are smoky, with a sweet and spicy kick.
I also like to baste the cooked tofu with a little more reserved marinade at serving time to refresh the flavours.
This tofu is just delicious wrapped in a soft taco with avocado and salad, and it's excellent served as part of a meal alongside Grilled Mexican sweet corn.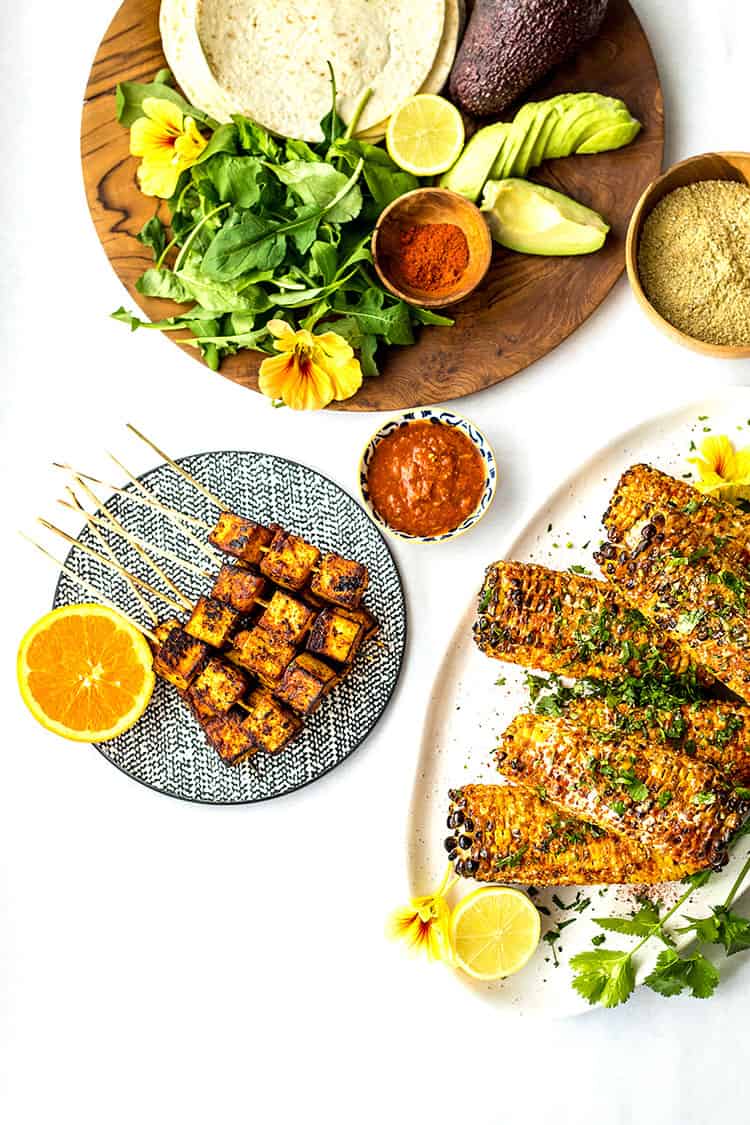 I created this recipe for the summer 2019 edition of Nourish magazine, and thought it was about time I shared it with you too.
Get the recipe
INGREDIENTS
1

block

firm tofu

(about 275g)

Cooking oil

Skewers
Marinade
1

orange

zest and juice (about ¼ cup juice)

2

cloves

garlic

finely grated or chopped

2

tablespoon

chipotle sauce

(see recipe notes)

1

tablespoon

brown sugar

1

teaspoon

smoked paprika

1

teaspoon

olive oil

½

teaspoon

ground cumin

½

teaspoon

salt

¼

teaspoon

oregano
To serve (optional)
6

soft tacos

1

avocado

sliced

2

cups

salad greens

½

cup

coriander

(cilantro), roughly chopped

1

orange

to squeeze
INSTRUCTIONS
If you're using bamboo skewers, soak them in cold water to prevent them burning later on.

Begin by preparing the tofu. Remove from packaging, rinse under cold water, then drain using a tofu press, or wrap with paper towels or a clean tea towel and press between two dinner plates with a heavy weight on top (1-2 cans will do the trick). Leave for at least 30 minutes to drain. Unwrap tofu, slice it into evenly sized cubes and put it in a container that will hold the tofu in a single layer.

While the tofu is draining, combine marinade ingredients in a small saucepan. Heat until just simmering, then pour over the tofu, ensuring every piece is well coated. Put it in the fridge to marinate for at least an hour, or up to a day.

When you're ready to cook, thread cubes of tofu onto skewers, reserving the remaining marinade for later. Cook tofu on the flat part of a barbecue grill, using plenty of oil to ensure it doesn't stick. Turn regularly until browned on all sides – it won't take long. Remove from the heat and baste with a little extra marinade to serve.

You can also cook these under a hot grill in the oven, just keep a close eye on them and turn them regularly, until charred a little on all sides.

If using, heat tacos briefly on the barbecue (or a hot frypan) to warm through, then fill with sliced avocado, salad greens, coriander, barbecued tofu and a little of the reserved marinade, or a squeeze of fresh orange juice.
RECIPE NOTES
Nutrition information is estimate and does not include optional ingredients for serving. 
In New Zealand I recommend Tonzu organic tofu, which is widely available from supermarkets. 
Use your favourite chipotle sauce, at a level of heat you enjoy. A medium spicy sauce will be suitable for most people. 
NUTRITION INFORMATION
Calories:
100
kcal
|
Carbohydrates:
4
g
|
Protein:
4
g
|
Fat:
7
g
|
Saturated Fat:
0
g
|
Cholesterol:
0
mg
|
Sodium:
259
mg
|
Potassium:
7
mg
|
Fiber:
0
g
|
Sugar:
2
g
|
Vitamin A:
410
IU
|
Vitamin C:
0.3
mg
|
Calcium:
59
mg
|
Iron:
0.8
mg