A nut free vegan parmesan sprinkle made with toasted sunflower seeds. Try it sprinkled on pasta, soup, salads or pizza.
It's hard to write anything without referencing world events right now. Not acknowledging them feels wrong, when we are all reeling from their effects in different ways.
Here in New Zealand we are coming out the other side of seven weeks at home, my children are back in school, and we're quietly optimistic we've nearly stamped out coronavirus. For the past week or so New Zealand has been sitting at only one active case remaining - on the verge of elimination - which I find quite remarkable.
I'm not alone in finding it hard to celebrate this milestone though. In New Zealand we know we're in a remote bubble, that's normal life here. But never have we felt so separate from the rest of the world. As a nation of travellers, many of us have family living around the world. We have no idea when our borders will reopen, when we'll see our extended family again, or what the future will bring. Now that the immediate threat of illness appears to have passed, our small country is focused on economic recovery in a very uncertain global context. We ain't out of the woods yet, as they say.
Wherever you are, I hope you and your family are well.
Today I'm sharing my recipe for vegan parmesan sprinkle with you. When I first cut dairy from my diet I really missed grated cheese, especially parmesan, for sprinkling on top of pasta and soup. This is the vegan 'parmesan' I settled on for a tasty, cheesy, savoury sprinkle that works on just about anything.
A nut free vegan parmesan
While it's true that cashew nuts can solve just about any vegan recipe problem, it's also true that they're expensive, and that you can have too much of a good thing.
I'm a big fan of using sunflower seeds as a healthy, affordable alternative to nuts. They work perfectly in pesto, and I had an idea they'd do just as well in a parmesan sprinkle. Being nut free also makes this allergy friendly.
It's key to toast the sunflower seeds well, until they're deeply golden. Toasting the seeds first deepens their flavour and improves the texture of the final product. I toast them in a dry frypan, which is quick and easy.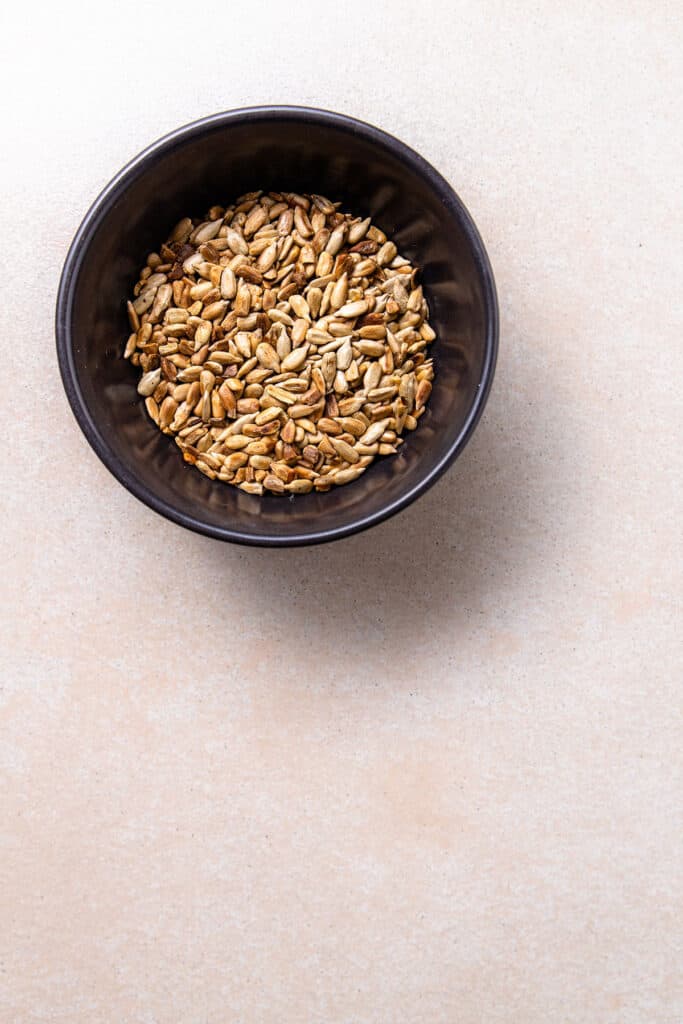 It's then a simple matter of giving the toasted seeds and a few extras a blitz in a blender or food processor, until the mixture has the texture of a coarse powder.
After a little trial and error, I settled on these extra flavours:
nutritional yeast, for it's cheesy flavour and B12 boost
salt, to lift the overall flavour
garlic powder and smoked paprika, just a little to add mellow warmth.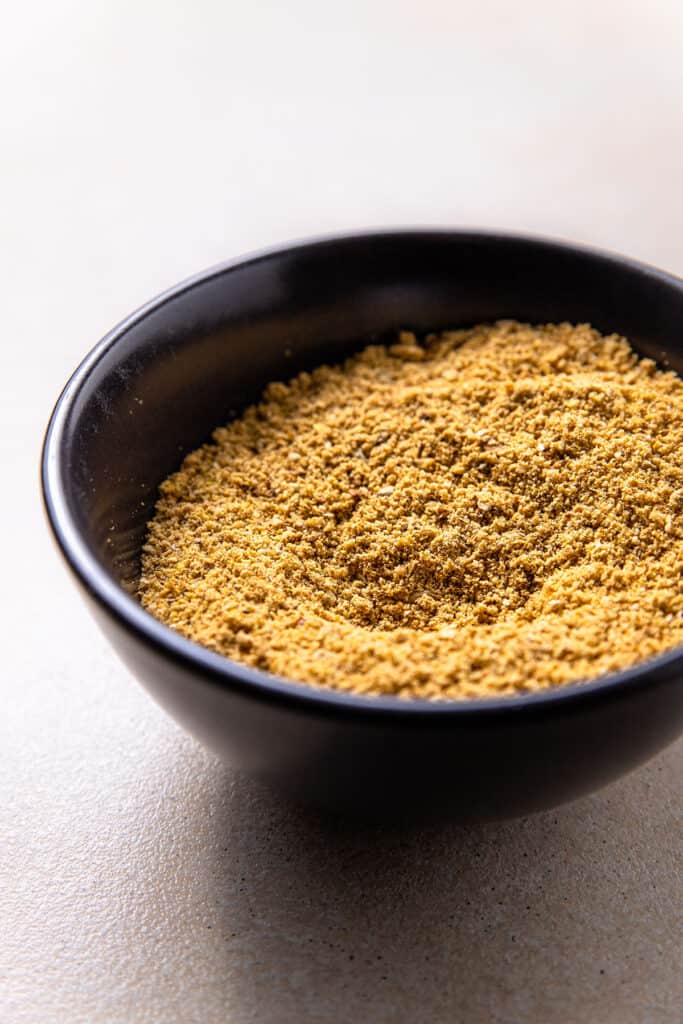 What can you use vegan parmesan sprinkle for?
First things first, vegan parmesan sprinkle is definitely not cheese and it doesn't behave like cheese. It does not melt.
However, it does a great job at adding a salty, savoury, umami hit when needed. I've sprinkled this magical golden dust on all kinds of things, including salad, soup, pasta, risotto and pizza. So don't hold back.
A few hidden benefits
Sunflower seeds are a good source of Vitamin E, an anti-oxidant that helps protect your cells against free radicals. One serve of this sunflower seed sprinkle goes a long way towards your recommended daily intake of Vitamin E, without even feeling like you're trying. Source: New Zealand Nutrition Foundation.
Nutritional yeast is a secret weapon for vegetarians and vegans because it's a good source of Vitamin B12, which can be lacking in a plant-based diet. Learn more about nutritional yeast and it's benefits.
Get the recipe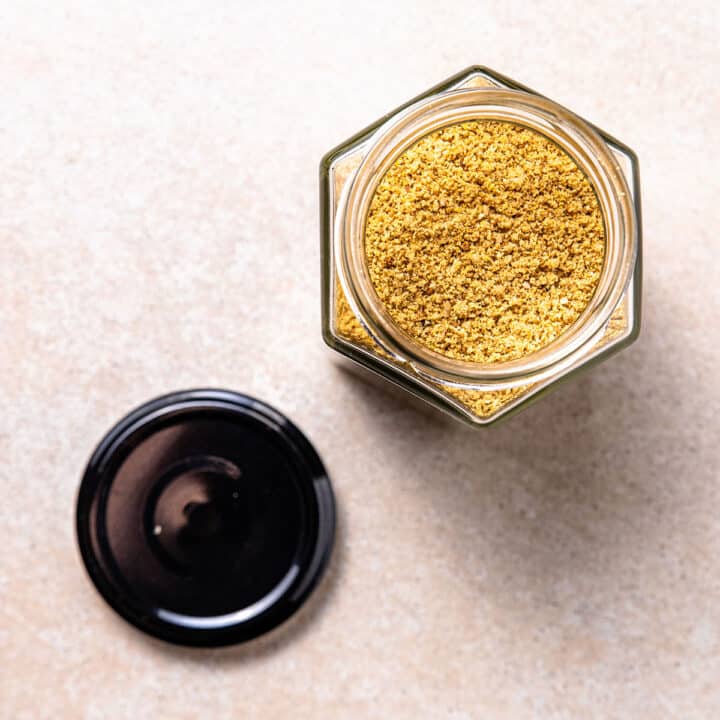 EQUIPMENT
Blender or food processor
INGREDIENTS
½

cup

sunflower seeds

2

tablespoon

nutritional yeast

½

teaspoon

garlic powder

¼

teaspoon

smoked paprika

¼

teaspoon

salt
INSTRUCTIONS
Toast the sunflower seeds in a dry frypan (skillet) over medium heat, stirring often, until the sunflower seeds are golden brown. Remove from the heat and set aside to cool.

Put the toasted sunflower seeds and the remaining ingredients into a blender or food processor. Pulse until the mixture is a coarse powder.

Store in a jar or airtight container. Sunflower seeds have a tendency to go rancid over time, so use the sprinkle within a few weeks while it's still fresh.
RECIPE NOTES
Nutritional information estimated based on approximately 1 tablespoon per serving. 
NUTRITION INFORMATION
Calories:
38
kcal
|
Carbohydrates:
2
g
|
Protein:
2
g
|
Fat:
3
g
|
Saturated Fat:
1
g
|
Sodium:
49
mg
|
Potassium:
61
mg
|
Fiber:
1
g
|
Sugar:
1
g
|
Vitamin A:
21
IU
|
Vitamin C:
1
mg
|
Calcium:
4
mg
|
Iron:
1
mg