A non-traditional but satisfying edamame hummus made with nutritious edamame beans and pumpkin seeds.
After a bad run of horrendous weather events in New Zealand lately, many fresh vegetables are expensive and not at their best - so we're looking towards the freezer and thinking about how to get creative with what we find.
I was rummaging through the freezer last week and found an unopened bag of frozen, podded edamame beans I'd forgotten about. Bonanza! They're an easy addition to lots of meals, and all of us enjoy them.
A bit about edamame beans
Edamame beans are whole, immature soy beans. They come in a small green pod that holds 2-3 beans. You can buy them frozen, either in the pod, or free flow like frozen peas. They should be cooked before use - a few minutes is all it takes.
A cup of edamame provides about 18g of protein, and is high in folate, vitamin K and a range of other vitamins and minerals.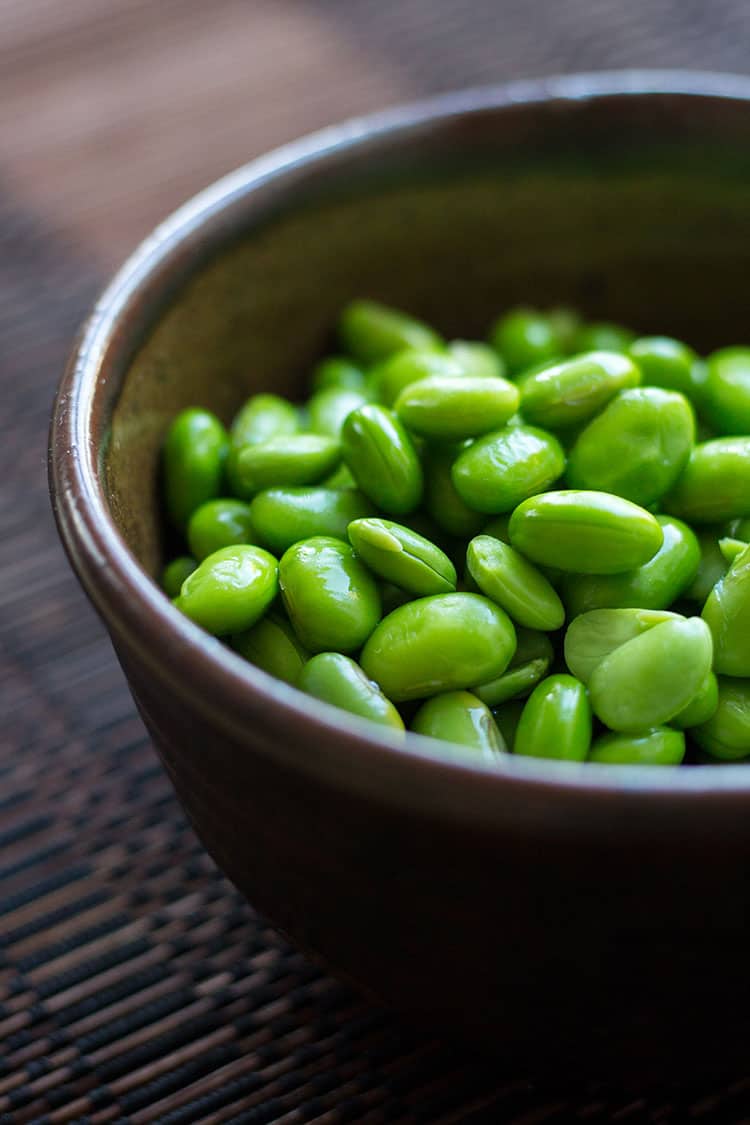 My big girl learned the joys of popping salted edamame beans out of their pods, straight into her mouth, at our favourite Japanese restaurant when she was about three years old. In fact she's been known to demolish a whole bowl of them in minutes, you know, to make sure she doesn't miss out.
Treated like a vegetable, rather than a legume, edamame can be steamed or boiled, then eaten as they are or added to salads and stir fries. For a quick and easy meal I like to add half a cup of cooked edamame beans to a bowl of rice, top it with avocado, kimchi and a splash of tamari and call it lunch or dinner. Yum.
Edamame hummus
I love having some kind of home made spread, dip or hummus on hand to add to salads and work lunches throughout the week. I make my own hummus regularly, so after finding that bag of beans in the freezer, I thought I'd give edamame hummus a whirl instead.
I cooked two cups of edamame beans, then blended them with all the usual hummus ingredients. I decided to add half a cup of pumpkin seeds to increase the healthy fats and boost the iron content (pumpkin seeds are, surprisingly, one of the highest plant based sources of iron around).
The resulting edamame and pumpkin seed hummus is delicious and familiar tasting, if a little 'greener' in both looks and flavour. It's has a bit of texture from the pumpkin seeds and is moreish in all the right ways. Nutritionally, this edamame hummus is a little higher in both protein and iron than regular hummus made with chickpeas.
I vote for serving this edamame hummus spread thickly on grainy toast (pictured here on a few slices of life-changing bread) for a light meal, or with crackers or crisps for a tasty snack. I'm extra pleased to say it met with the toddler seal of approval in my house, which is worth a lot!
Get the recipe
INGREDIENTS
2

cups

frozen edamame beans (shelled)

(about 200g/7oz)

½

cup

pumpkin seeds

2

tablespoon

extra virgin olive oil

2

cloves

garlic

1

teaspoon

cumin seeds

2

tablespoon

lemon juice

freshly squeezed

1

tablespoon

tahini

½

teaspoon

salt

½

cup

water
To garnish:
Pumpkin seeds

Sesame seeds

Edamame beans

Extra virgin olive oil
INSTRUCTIONS
Cook edamame beans by adding them to boiling water and simmering for five minutes. Drain in a colander and run under cold water to cool, set aside.

Put olive oil, garlic and cumin seeds in a small saucepan or frypan (skillet) and cook over a low heat for a minute or two until fragrant.

Put all ingredients into a high speed blender or food processor and blend until smooth, stopping to scrape down the sides a few times if necessary.

To serve, drizzle with a little extra virgin olive oil and sprinkle with a few sesame seeds, pumpkin seeds and edamame beans. (Optional).

Serve with toast or pita bread as a light meal or with your favourite crackers or crisps as a snack.
RECIPE NOTES
Makes approximately 1 ¾ cups of hummus. 
Nutrition information is based on a generous quarter cup per serve, and does not include additional olive oil, seeds or edamame beans for garnish. 
NUTRITION INFORMATION
Calories:
130
kcal
|
Carbohydrates:
5
g
|
Protein:
5
g
|
Fat:
10
g
|
Saturated Fat:
1
g
|
Sodium:
198
mg
|
Potassium:
206
mg
|
Fiber:
2
g
|
Vitamin C:
4.3
mg
|
Calcium:
32
mg
|
Iron:
1.6
mg
Nutrition Facts
Edamame and pumpkin seed hummus
Amount Per Serving
Calories 130
Calories from Fat 90
% Daily Value*
Fat 10g15%
Sodium 198mg9%
Potassium 206mg6%
Carbohydrates 5g2%
Protein 5g10%
Vitamin C 4.3mg5%
Calcium 32mg3%
Iron 1.6mg9%
* Percent Daily Values are based on a 2000 calorie diet.