Perfectly smooth and creamy hummus, using a few secrets to make it the best home made hummus ever.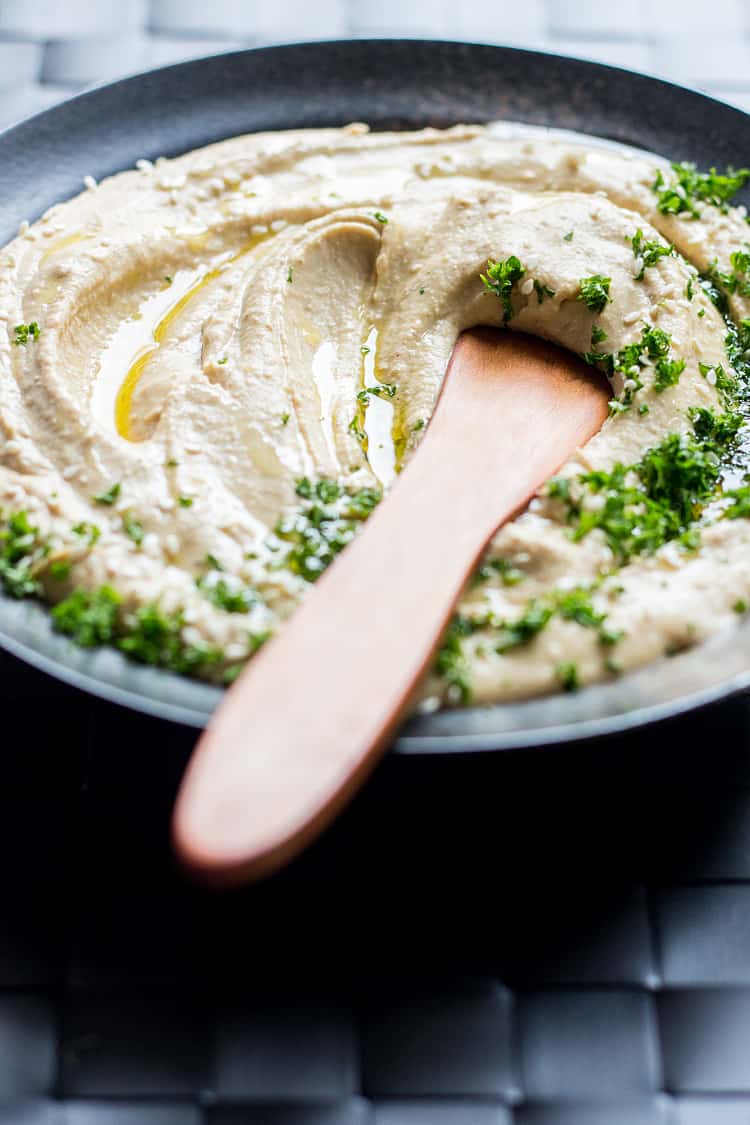 A recipe for hummus isn't going to change the world, but it will save you some money and it is SO much better than the bought stuff.
If you have a can of beans in the cupboard, you have dip. In just a few minutes you can have something on the table that's delicious, nutritious and probably cost little more than the one or two dollar price of the beans (and it's even cheaper if you cook your own beans from scratch).
A little love = the best home made hummus
Hummus is not always something that'll light your fire. At its worst, the bought stuff can be watery, bland and gritty all at the same time. Meh. I often make my own, because it's so quick and easy, and so much nicer. Even so, I'd give most of my efforts at home made hummus a 7/10.
However, when I have a little time on my hands to put a bit more love into the process, it really does create a thing of great beauty. My best home made hummus is made using a few extra steps to take it from good to great.
Did you say, peel your chickpeas?
If time is on your side, going the extra mile to peel your chickpeas makes all the difference to the texture of your hummus. Peeled chickpeas result in an incredibly smooth and creamy hummus that's a cut above the regular stuff.
It's quick and perversely satisfying to slip their little skins off (just give them a squeeze and out pops the chickpea, much like podding broad beans). It took me about 10 minutes to do one can. I definitely don't bother with this step all the time, but it really is worth it when I do.
Waste not, want not (use the aquafaba)
For years and years I opened my can of chickpeas, tipped them into a sieve, drained the can liquid down the sink, then rinsed the chickpeas really, really well under the kitchen tap.
That was before I knew about aquafaba, and frankly that changed everything. Aquafaba is the cooking liquid (or canning liquid) of chickpeas, a really useful ingredient which behaves similarly to egg white. I've experimented quite a bit with it in meringue, mousse, aioli, ice cream and apricot meringue pie.
So why are we tipping it down the sink when we make hummus? Using aquafaba instead of water to thin the hummus to the right consistency is yet another way to achieve the smoothest, lightest texture of hummus.
Infuse the olive oil with flavour
When I'm short on time, I throw everything in the blender and go for it. That's life, and we don't have to strive for the best home made hummus every single time. But if I'm making the effort, I prefer to gently heat the olive oil with the garlic and cumin seeds before adding the lot to the blender. It mellows out the flavour of the garlic and brings out the fragrance of the cumin. Beautiful.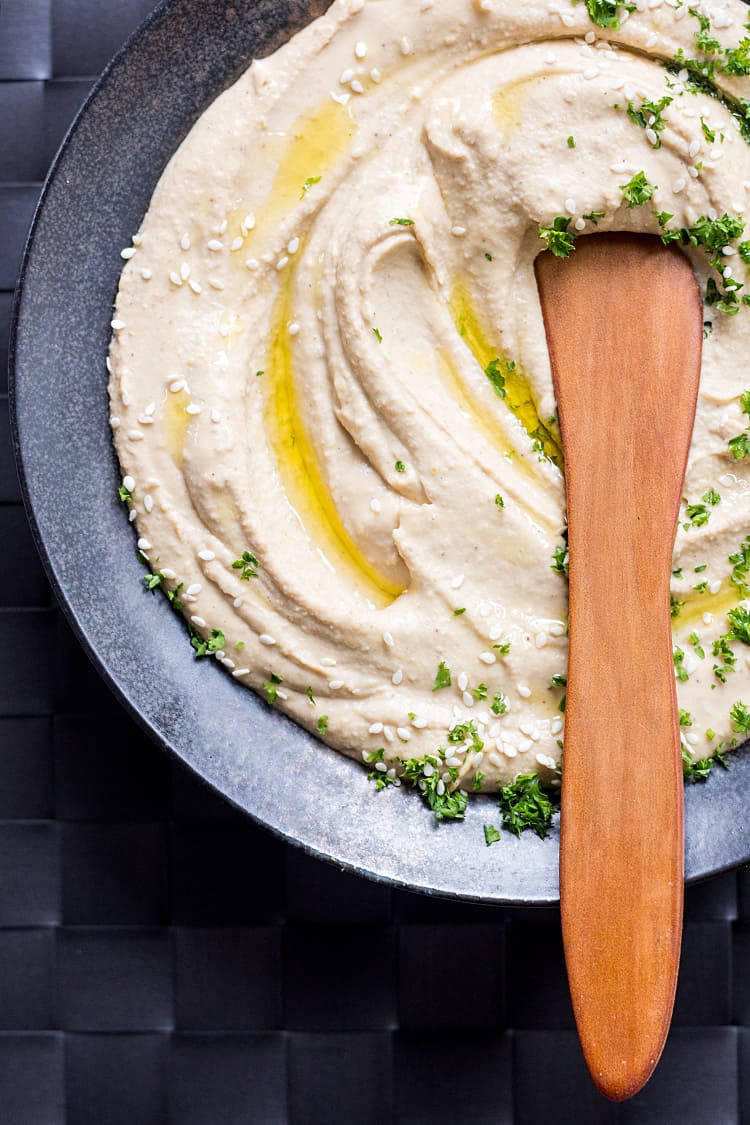 Get the recipe
INGREDIENTS
1

can chickpeas

drained (but reserve the aquafaba)

2

tablespoon

olive oil

1

teaspoon

cumin seeds

2

cloves

garlic

roughly chopped

2

tablespoon

tahini

Zest and juice of one lemon

Salt to taste
To garnish (optional):
Parsley

finely chopped

Sesame seeds

Olive oil

to drizzle
INSTRUCTIONS
If you have time, peel the chickpeas by squeezing each one out of its skin. It'll take about 10 minutes to do one can.

Heat a frypan (skillet) over a low heat and add your olive oil, cumin seeds and garlic. Cook for a few minutes, until the garlic has softened and the cumin is fragrant.

Add all ingredients except for aquafaba and salt to a high speed blender or food processor. I prefer to use my high speed blender for the smoothest result.

Starting with a slow speed, blend the hummus ingredients while drizzling in aquafaba. Increase the speed, and stop to scrape down sides if necessary. Continue to blend and add aquafaba until the hummus is perfectly smooth and a lovely soft (but not runny) consistency. I used about half a cup of aquafaba. Taste and adjust seasoning with salt, to your preference.

To serve, sprinkle with sesame seeds and finely chopped parsley, and drizzle with extra olive oil (this is a great opportunity to use a nice infused oil - I like fennel flavoured olive oil with hummus).

Serve with good bread and a salad for a quick and easy meal.

Makes approximately one and a half cups (or at least twice the amount in a standard supermarket pottle).
RECIPE NOTES
Nutrition information does not include additional oil for drizzling - use your own discretion.
NUTRITION INFORMATION
Calories:
141
kcal
|
Carbohydrates:
12
g
|
Protein:
4
g
|
Fat:
8
g
|
Saturated Fat:
1
g
|
Cholesterol:
0
mg
|
Sodium:
212
mg
|
Potassium:
144
mg
|
Fiber:
3
g
|
Sugar:
0
g
|
Vitamin A:
10
IU
|
Vitamin C:
3.1
mg
|
Calcium:
39
mg
|
Iron:
1.4
mg
Nutrition Facts
My best home made hummus
Amount Per Serving
Calories 141
Calories from Fat 72
% Daily Value*
Fat 8g12%
Cholesterol 0mg0%
Sodium 212mg9%
Potassium 144mg4%
Carbohydrates 12g4%
Protein 4g8%
Vitamin A 10IU0%
Vitamin C 3.1mg4%
Calcium 39mg4%
Iron 1.4mg8%
* Percent Daily Values are based on a 2000 calorie diet.