Creamy, dreamy pasta sauce made with cauliflower, cashews and a few simple flavourings.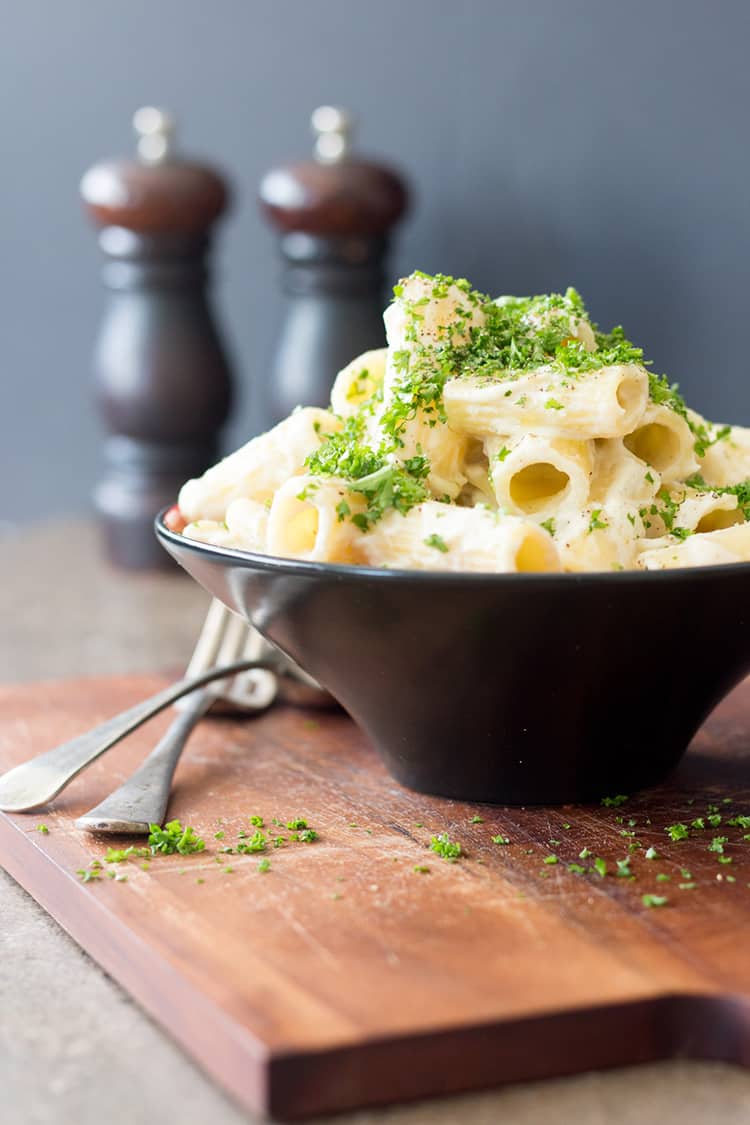 Isn't it funny how vegetables we've previously ignored, or at least paid no great attention to, can suddenly capture our imagination?
Cauliflower has been enjoying its renaissance for a while as a versatile ingredient for pizza crusts, mash, rice and the rest. I'm totally on board with it and have been really enjoying cauliflower roasted and added to salads, made into soup, and one of my absolute make again and again favourites is this Kung Pao Cauliflower recipe from The Circus Gardener.
Today I've used cauliflower as the base of a silky smooth, creamy-with-no-cream, alfredo-style pasta sauce. Its mild and slightly sweet flavour is just perfect here.
Versatile cauliflower sauce
The basic creamy cauliflower sauce recipe makes a plain white sauce that is very tasty, slightly cheesy, and incredibly versatile. Cashews make it extra creamy and boost the protein and healthy fats.
I've used this cauliflower sauce in place of bechamel in a baked pasta dish, and it would also be great on pizza.
The cheesiness comes from nutritional yeast, which is high in vitamin B12 and great for adding an umami, non-dairy cheese flavour. If you don't have it, leave it out, and if you love it, add more (hello vegan macaroni cheese!).
And hey if you eat cheese, go ahead and add a handful of parmesan. Even if you're not vegan this is a delicious and healthy sauce that sneaks a few extra serves of vegetables into a meal.
Mix up the flavours
I've added chargrilled capsicums (bell peppers) before to make a brightly coloured and flavoured sauce (brilliant on gnocchi tossed with a handful of baby spinach). You could also add lots of fresh basil, sun dried tomatoes or curry powder to the blender.
Get a batch of this sauce into your fridge or freezer and you've got an easy, delicious and very fast meal or two on hand. This recipe makes about five cups of sauce, for my family that's about right to dress two family-sized pasta meals.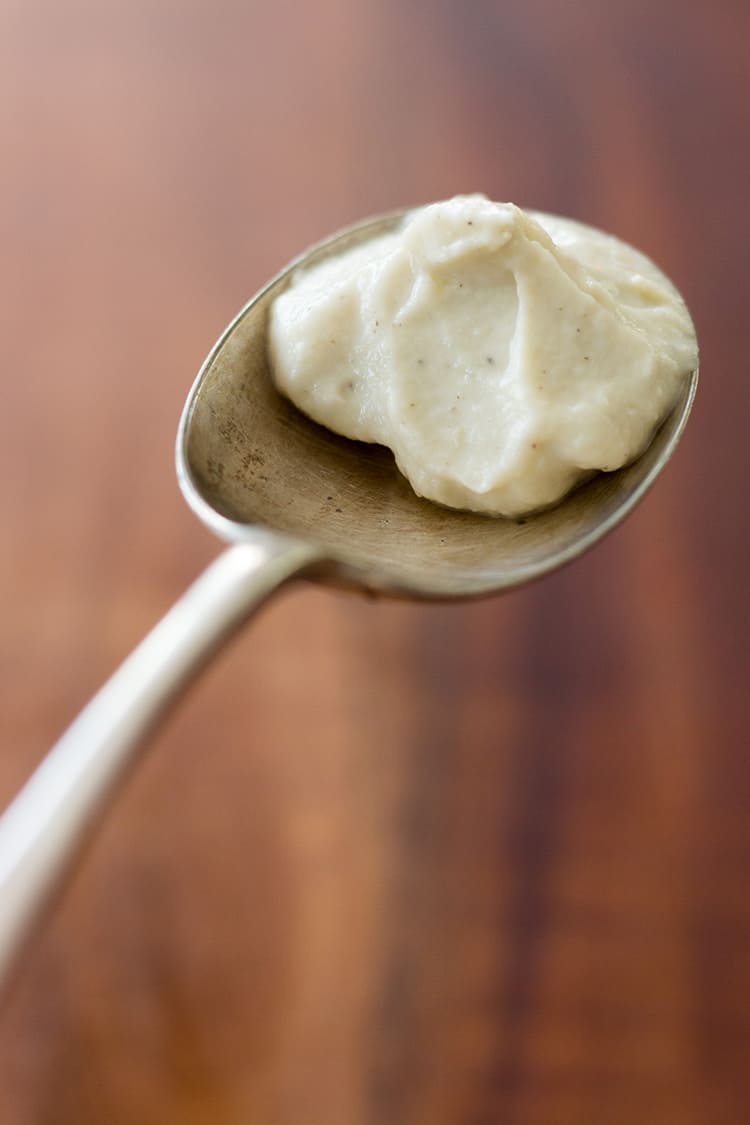 Watch the video
Get the recipe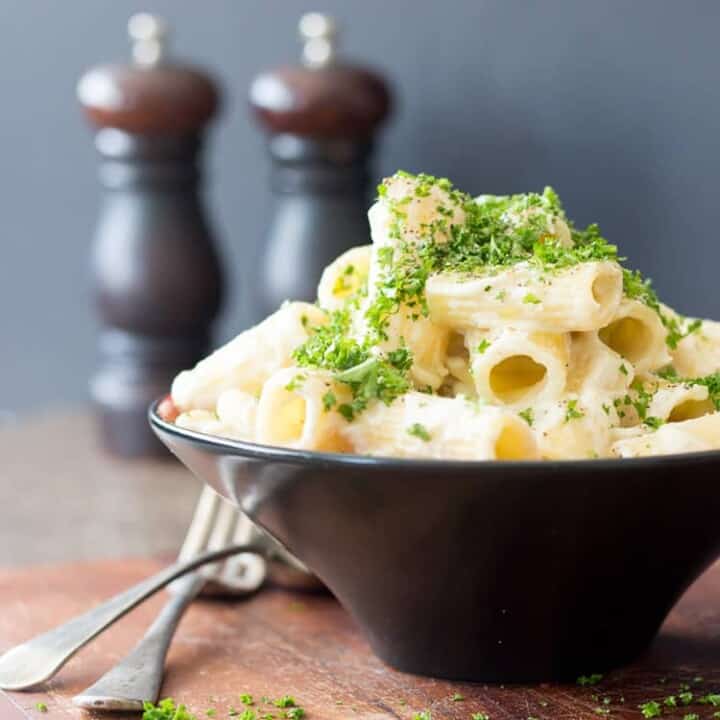 INGREDIENTS
600

g

cauliflower

(about half a cauliflower or 4-5 cups of small florets)

½

cup

cashews

soaked in cold water overnight (or minimum four hours) and drained

2

teaspoon

olive oil

1

onion

chopped

2

cloves

garlic

chopped

1

cup

vegetable stock

1

tablespoon

nutritional yeast

(optional, or add more if you like it)

Pinch of nutmeg

¼

teaspoon

salt

Good grind of black pepper
INSTRUCTIONS
Bring a pot of salted water to the boil. Add cauliflower and cook for 10 minutes, or until soft.

While the cauliflower is cooking, heat olive oil in a frypan (skillet). Add onion and garlic and cook over a low to medium heat until golden and soft, but not browned.

Drain cauliflower and add to your blender, along with cooked onion and garlic mixture, drained cashews, vegetable stock, nutritional yeast, salt, pepper and nutmeg.

Blend until completely smooth.

Return to saucepan and bring back up to heat if serving immediately, or pop it in the fridge or freezer for a meal later on.
NUTRITION INFORMATION
Calories:
89
kcal
|
Carbohydrates:
8.7
g
|
Protein:
4.2
g
|
Fat:
5.1
g
|
Saturated Fat:
0.9
g
|
Fiber:
2.6
g