A rich and comforting mushroom korma, made from scratch and every bit as good as your favourite Indian takeaway.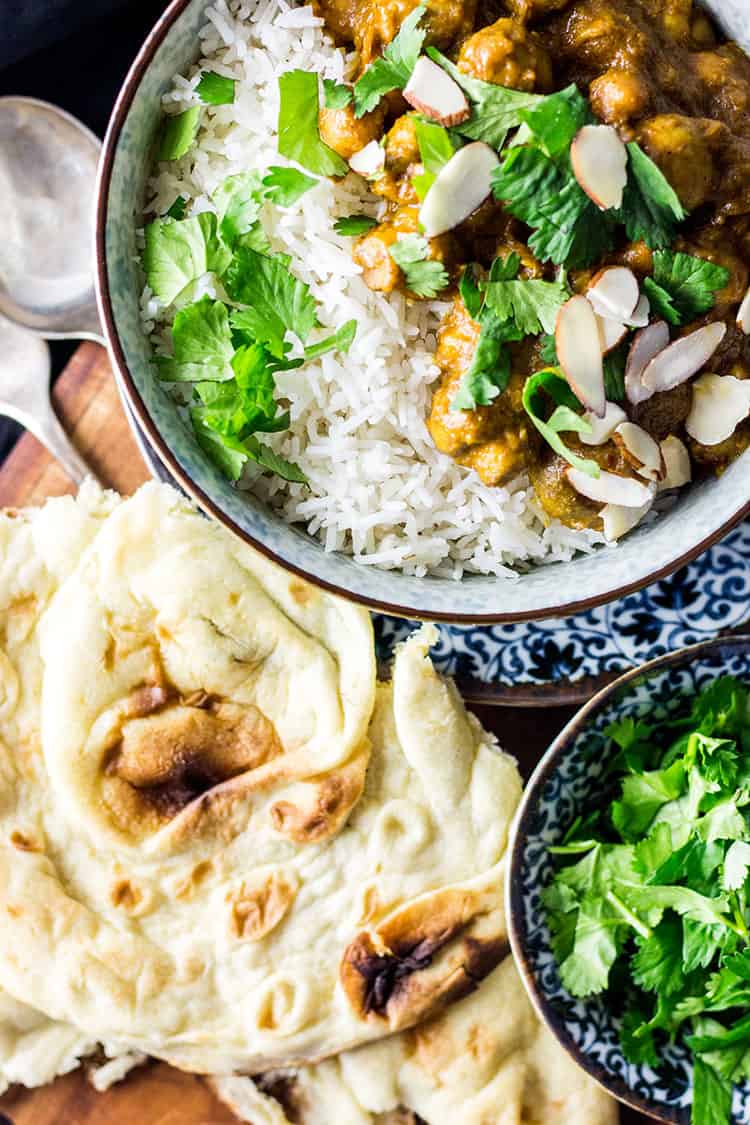 I have a deep and abiding love for the complex, fragrant spices of India. The food was one of the major drawcards for a backpacking stint I did around south India pre-kids. It was an amazing adventure. Confronting, exciting and infuriating, but always with the constant background of exceptionally delicious food.
I have to admit that by the end of our six week trip, I craved everything light, fresh and crisp, and it was a while before I bought an Indian takeaway again. Curry is firmly back on the menu now though, and it's about 50/50 home-made vs takeaway, depending on how busy life is.
Our favourite takeaway store is less than five minutes walk from home - very convenient on a Friday night, I must say. The shop is run by a gorgeous Indian and Nepalese couple that seem to be doing things authentically, which makes us happy. When I think good curry, I don't think of food court curries with lurid artificial food dyes used to make them look more appealing (anyone else with me on that?).
This week I was doing my grocery shopping and found the tiniest little button mushrooms, some barely bigger than the tip of my thumb. I filled a paper bag with them and spent the rest of my time shopping thinking about what I could do with them. Tiny little button mushrooms are perfect to use to make marinated mushrooms for salads, but given that it's been raining and grey all weekend, I opted for a creamy and comforting korma packed with button mushrooms, and some chickpeas for added protein.
Make your own korma
Making your own korma curry sauce is not hard at all, and please don't be put off by the long list of spices this recipe calls for.
If you don't have the spices on hand already, I strongly urge you to visit your local whole foods store or Indian supermarket to buy spices from bulk bins - you'll find you can probably buy everything you need for the cost of just one package of spices from the supermarket. I realised this a few years ago and now it's the only way I buy spices.
Before you get started, measure out all of the dry spices onto a plate or into a bowl, so that you're not gathering and measuring while you're cooking later. Trust me, it'll make the spice list seem far less overwhelming, and when the recipe calls for them, you can just throw them in the pan in one go. Easy.
This spice blend results in a full flavoured korma of low to medium heat: it has some heat, but my eight year old was happy to eat it. If you prefer a milder curry, cut the chilli flakes down to ¼ teaspoon, and if you like a hot curry, boost the quantity to 1 tsp.
Blitz your onions and cook them slow
A little secret to making more-authentic home-made curries, is to blitz your onion, garlic and ginger first (or grate if you don't have a food processor). Your curry sauce will have a far better flavour and texture.
I blitzed my onion, garlic and ginger with half a cup of water until it was a thick slurry, then scraped the mixture into a pan with some coconut oil. It takes 15-20 minutes of cooking over a medium-low temperature, stirring often, for the liquid to cook away and the onion mixture to turn golden brown. This is the base of your sauce and it's worth taking the time.
Once the onion mixture is golden, you add the spices (in one go, easy!) and cook for another minute or two until everything is fragrant. Don't walk away or let your spices burn, otherwise all of that onion cooking time is wasted. Turn the temperature up before adding the button mushrooms for a minute or two to coat them in the spices.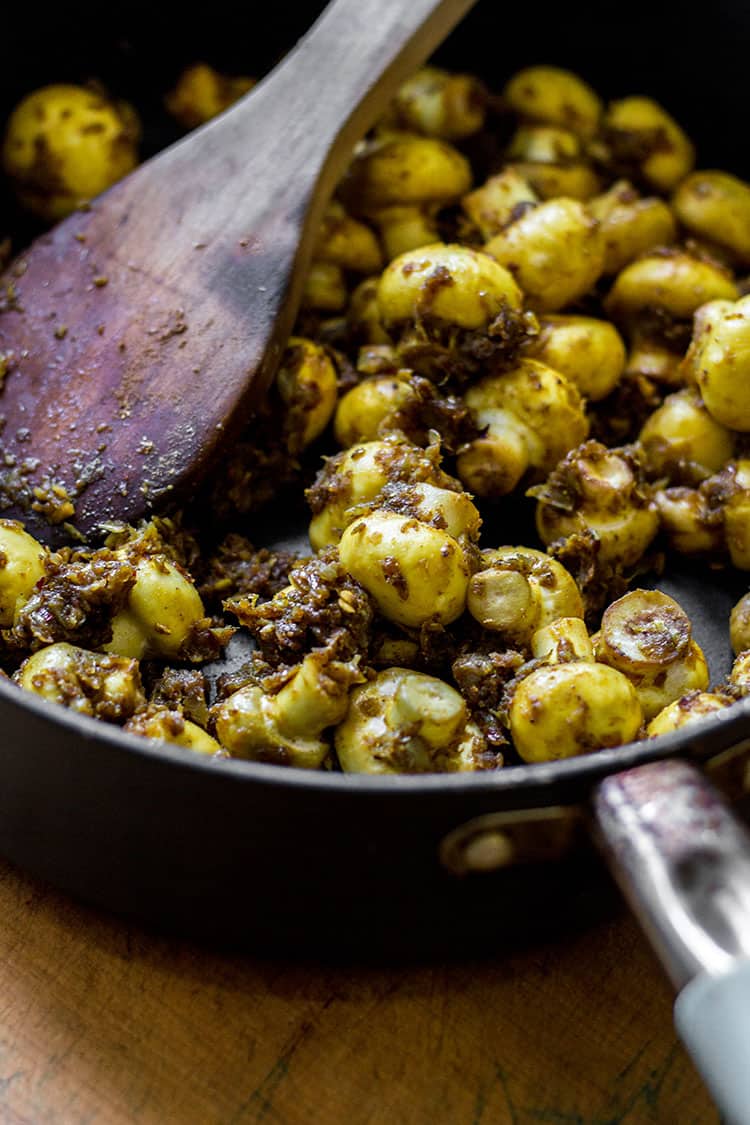 Now add the chickpeas, coconut cream and tomato paste. Some ground almonds stirred into the sauce thicken it a bit (but can be left out if you're nut free). Another 10 minutes at a low temperature and your mushroom korma will be richly coloured and fragrant, and ready to serve.
Mushroom korma with all the fixings
Serve this mushroom korma with basmati rice, coriander (cilantro) and flaked almonds to garnish, and naan bread to mop up the leftovers. If you're going all out, make a lentil dal to serve alongside and buy a store bought Indian chutney or pickle too. I love tart and spicy green mango pickles, or brinjal (eggplant) chutney.
If you fancy making your own naan, check out these great recipes from Connoisseurus Veg, Lazy Cat Kitchen and Yumsome.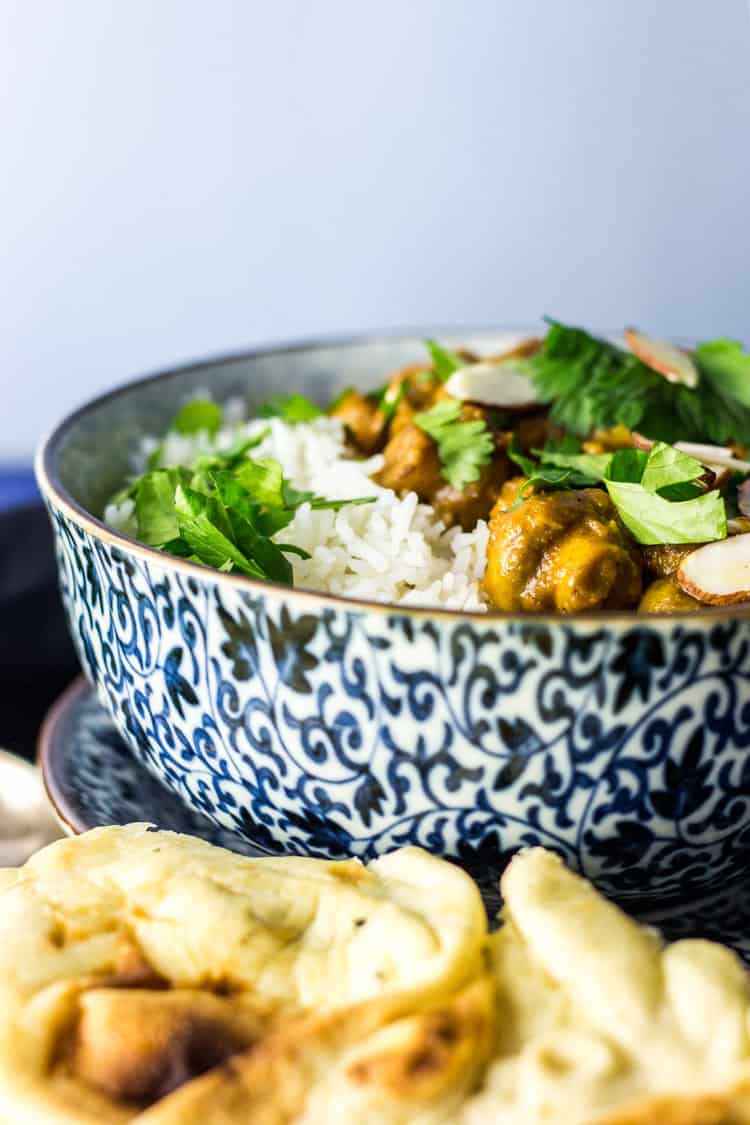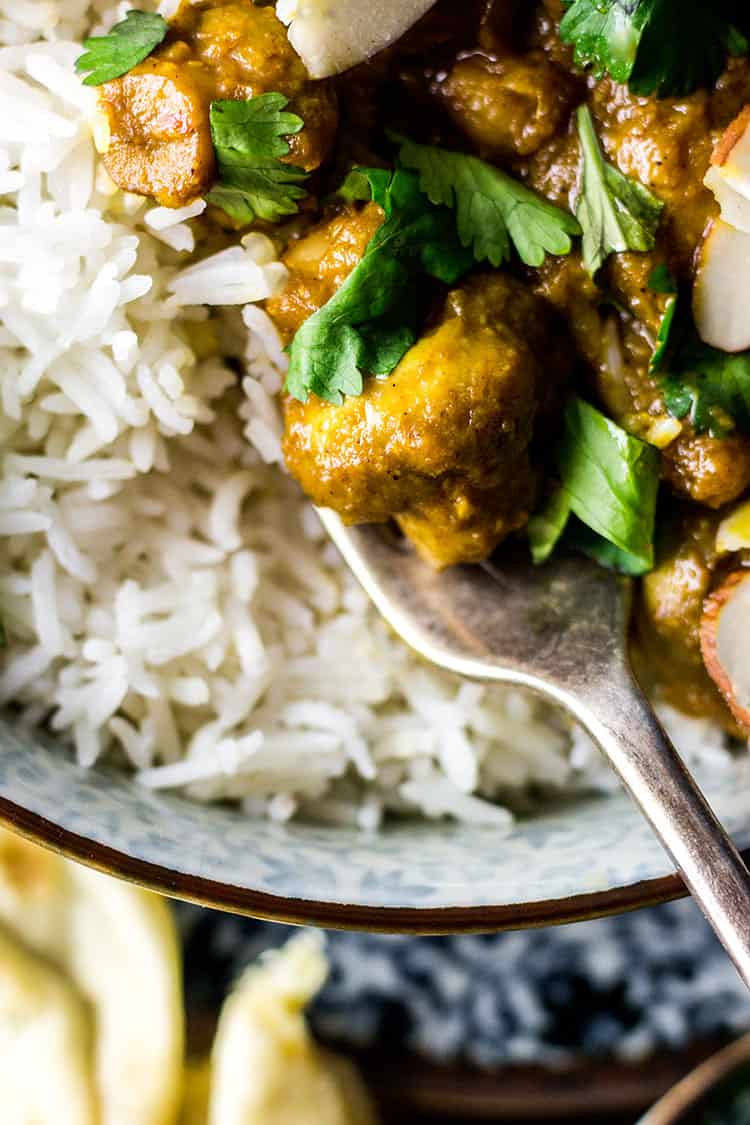 Get the recipe
INGREDIENTS
Dry spices:
¼

teaspoon

ground cloves

½

teaspoon

chilli flakes

½

teaspoon

ground black pepper

1

teaspoon

garam masala

1

teaspoon

turmeric powder

2

teaspoon

ground cumin

2

teaspoon

ground coriander

3

cardamom pods

(or substitute ¼ teaspoon ground cardamom)
Curry base:
2

onions

(roughly chopped)

3

cloves

garlic

(peeled and roughly chopped)

1

thumb-sized piece

fresh ginger

(peeled and roughly chopped)

2

tablespoon

coconut oil

(or substitute with another cooking oil)

300

g

button mushrooms

(about 10-11oz, whole if small, or quartered if larger)

1

can

chickpeas

(drained)

1

can

coconut cream

2

tablespoon

tomato paste

2

tablespoon

almond meal

(ground almonds)

1

teaspoon

salt
To serve:
Cooked basmati rice

Coriander

(cilantro)

Flaked almonds

Naan bread
INSTRUCTIONS
Start by measuring out all of the dry spices onto a plate or bowl. Smash the cardamom pods with something heavy so that they split open a little. Set aside.

Blitz onion, garlic and ginger in a food processor with ½ cup of water, until it is a thick, rough slurry.

Heat a large saucepan over medium heat and add 2 tablespoon coconut oil. Once hot, scrape in the onion mixture. Cook, stirring often, for 15-20 minutes or until liquid has evaporated and the onion mixture is golden brown. Turn down the heat if it is browning too quickly.

Once the onion mixture is golden, add the dry spices, stir and cook for another 1-2 minutes until fragrant.

Add the mushrooms, turn the heat up a bit and cook for another 1-2 minutes to coat the mushrooms in the spice mixture. Season with 1 teaspoon salt.

Add the chickpeas, coconut cream, tomato paste and almond meal. Stir to combine, lower the heat and simmer for 10 minutes.

Serve with cooked basmati rice, coriander (cilantro) and flaked almonds to garnish, and naan bread to mop up the leftovers.
RECIPE NOTES
Nutrition information is calculated for the korma only (excludes rice, naan bread and garnishes). 
Serving with 1 cup of cooked basmati rice (per person) increases the protein per serve to 17g.
NUTRITION INFORMATION
Calories:
570
kcal
|
Carbohydrates:
36
g
|
Protein:
13
g
|
Fat:
45
g
|
Saturated Fat:
37
g
|
Sodium:
666
mg
|
Potassium:
970
mg
|
Fiber:
10
g
|
Sugar:
7
g
|
Vitamin A:
245
IU
|
Vitamin C:
13.7
mg
|
Calcium:
86
mg
|
Iron:
6.1
mg
Nutrition Facts
Mushroom korma with chickpeas
Amount Per Serving
Calories 570
Calories from Fat 405
% Daily Value*
Fat 45g69%
Sodium 666mg29%
Potassium 970mg28%
Carbohydrates 36g12%
Protein 13g26%
Vitamin A 245IU5%
Vitamin C 13.7mg17%
Calcium 86mg9%
Iron 6.1mg34%
* Percent Daily Values are based on a 2000 calorie diet.