A review of There's a beetroot in my cake, by Judy Moosmueller and Jennifer Leckey from Heart to Plate.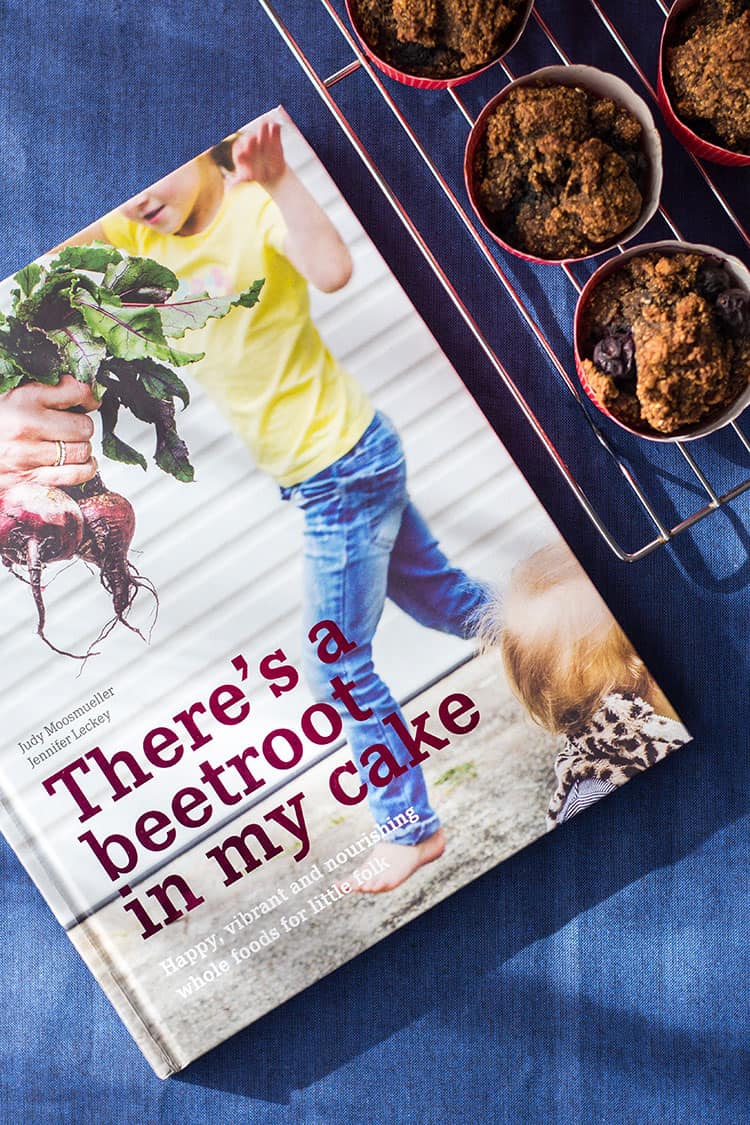 There's a beetroot in my cake is a lovely little recipe book filled with ideas on how to include more plants and supercharged foods on little folks' and their parents' plates.
"We all want thriving, happy and healthy children and food plays a huge part in that."
Ain't that the truth. From the moment they were born, I've worried about what my children eat. Are they eating and drinking enough? Are they getting enough variety? What about iron? Why won't she eat corn/peas/tomatoes...? I know I'm not alone.
This sweetly illustrated cookbook by Judy Moosmueller and Jennifer Leckey from Heart to Plate provides a range of healthy ideas for little meals, soups, snacks, lunch boxes, sweets and drinks to suit most dietary requirements.
There's a good selection of veg options (many easily veganised) suitable for very little people, through to bigger kidlets with more adventurous tastebuds.
We'll be trying the kitchari, a mildly spiced mung bean and rice dish, and I'm intrigued by the recipe for mini falafel burgers, which includes psyllium husks as a binding agent in the falafel mixture. The sweet section really appeals to our style of eating, with recipes for tahini hot chocolates and raw birdseed triangles both catching my eye. Modern classics like kale chips and chocolate avocado puddings are here too.
If, like many people I know, your diet is more traditional and you just want your kids to get a bit more variety, you'll be well pleased with twists on family favourites like meatballs (that hide a few serves of veg), fish tacos, cauliflower muffins and nourishing broth-based soups.
There's a few things in here I doubt I'll ever get my kids to eat, like eggplant mini pizzas (they're not that easily fooled!) but I'm sure there are eggplant-loving kids out there, somewhere.
Carob muffins with pear and blueberries
My pick of ideas to try is this wholesome recipe for carob muffins with pear and blueberries. Made with rolled oats, chia seeds, pear puree and blueberries, they're naturally vegan and gluten free, and healthy enough to eat for breakfast. These carob muffins met with cheerful approval from my toddler, who considers cake a food group!
For those new to carob, it's similar in flavour to chocolate, but less rich and without the caffeine. An allergy-friendly option, carob featured prominently in my childhood because of my younger brother's severe food allergies. I haven't had it in years, and its flavour in these yummy muffins took me back 30 years in the blink of an eye.
Carob powder is less commonly available than cocoa or cacao powder, but I had no trouble finding it at my local whole foods store (Bin Inn, if you're in New Zealand). I'm pleased to add it to my pantry, and will be using it again for more kid-friendly goodies.
Get the recipe
INGREDIENTS
2

tablespoon

chia seeds

(or flax seeds)

2

cups

oats

(200g)

½

cup

rapadura sugar

(75g)

½

cup

carob powder

(50g)

1

teaspoon

baking powder

1

teaspoon

baking soda

¾

cup

pear puree

(180ml)

1 ½

cups

blueberries

(150g)

1

teaspoon

vanilla essence

½

teaspoon

salt
INSTRUCTIONS
Pulverise the chia/flax seeds with a coffee grinder, then mix them with 6 tablespoons of water and let sit for 30 minutes.

Preheat your oven to 180C (350F).

Grind the rolled oats in a food processor and transfer into a bowl with all the other dry ingredients and mix.

In another bowl combine all the wet ingredients and gently fold together with the chia gel, dry mix and blueberries.

Dollop the mixture into cupcake holders and bake for about 20 to 30 minutes until a skewer comes out clean.
RECIPE NOTES
Recipe from There's a beetroot in my cake, by Judy Moosmueller and Jennifer Leckey. Republished with permission of the authors. 
I made my own pear puree by peeling, coring and chopping three pears, cooking them in a saucepan with a little water until soft (about 10 minutes), then pureeing with a stick blender. This made about 1 cup of pear puree. 
Rapadura sugar wasn't available, so I used soft brown sugar instead. 
NUTRITION INFORMATION
Calories:
123
kcal
|
Carbohydrates:
27
g
|
Protein:
2
g
|
Fat:
1
g
|
Sodium:
207
mg
|
Potassium:
172
mg
|
Fiber:
4
g
|
Sugar:
14
g
|
Vitamin A:
15
IU
|
Vitamin C:
2
mg
|
Calcium:
61
mg
|
Iron:
1
mg
Nutrition Facts
Carob muffins
Amount Per Serving
Calories 123
Calories from Fat 9
% Daily Value*
Fat 1g2%
Sodium 207mg9%
Potassium 172mg5%
Carbohydrates 27g9%
Protein 2g4%
Vitamin A 15IU0%
Vitamin C 2mg2%
Calcium 61mg6%
Iron 1mg6%
* Percent Daily Values are based on a 2000 calorie diet.
Disclaimer
I was gifted a copy of There's a beetroot in my cake to review. All opinions and words are my own.