Fudgey brownie, sweet chunks of pear and a cashew swirl with a hint of ginger. This delicious whole foods treat is vegan, gluten free and refined sugar free.
My oven, somewhat undramatically, just stopped working about a month ago. Being old and it not being the first time, after a bit of thought we decided to get a new one. So far, so simple. I wasn't laughing nearly a month later when the new one still hadn't been installed. Let's just say, never trust an appliance salesman...
So this brownie has been on my mind for quite a while! It was next up on my recipe list ages ago but it had to wait. And wait. When the new oven was finally installed this was one of the first things I cooked and I have to say I think it was a great choice to celebrate being able to bake again!
This brownie hits the trifecta: gluten free, vegan and refined sugar free. The brownie mix is made with oat flour, ground almonds and ground flaxseed, richly flavoured with cocoa and a touch of coffee, and only lightly sweetened with agave syrup. Generous dollops of gingery cashew cream are swirled through, and the whole thing is finished with slices of ripe, sweet pear. It's easy to make and relatively healthy, yet still ticks the box as a chocolatey treat that's just sweet enough. If you're after a full on sugar fix, this isn't it!
I'm a bit of a newcomer to using agave syrup. I've known about it as a sugar alternative for ages, but was somewhat put off by some of the bad press about it. So what's the deal? Agave syrup is sap from an agave plant, boiled down to form a syrup. It's favoured by vegans because it is purely plant-derived, unlike honey, or white table sugar that is often whitened using bone char (which really is pretty gross).
Unlike maple syrup or brown rice syrup, agave syrup doesn't have a unique flavour. It just tastes sweet, which makes it a versatile choice. In fact, it's quite a lot sweeter by comparison to other sweeteners, which allows you to use less to achieve the same result. Agave syrup has a much lower GI than regular sugar, so it won't cause insulin spikes, but it's also higher in fructose - which is linked to health problems like cardiovascular disease and is also believed to put stress on the liver.
I don't follow a sugar free diet, but I am mindful about the amount of sugar I consume (both the regular stuff, and alternative sweeteners). I'm of the view that a little, infrequently, will do no harm. Use your own discretion when deciding what kind of sweetener to use. If you're actively eliminating fructose from your diet like a lot of people these days, use maple syrup for this recipe instead.
Get the recipe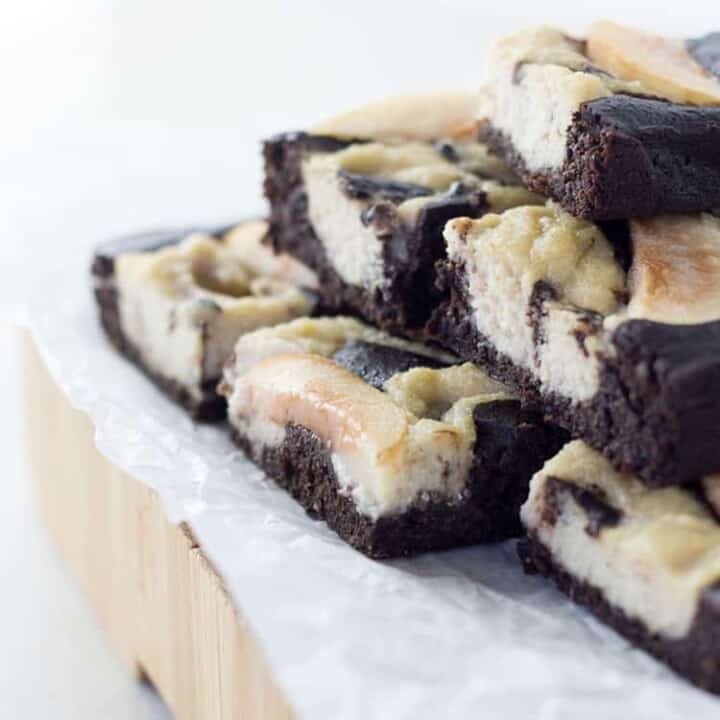 INGREDIENTS
For the cashew cream:
1

cup

raw cashews

(soaked in water for four hours or overnight)

2

tablespoon

agave syrup

or maple syrup

1

teaspoon

vanilla paste

or natural vanilla extract

¼

cup

water

approximately

1-2

teaspoon

ground ginger

to taste

Pinch salt
For the brownie:
3

tablespoon

ground flaxseed

(buy it pre-ground or make your own in a high speed blender or coffee grinder)

1

cup

oat flour

(buy it pre-ground or make your own by grinding oats in a high speed blender, check label if gluten free)

½

cup

ground almonds

almond meal

½

cup

cocoa

1

teaspoon

baking powder

check label if gluten free

Pinch of salt

¾

cup

milk of your choice

(I used soy, almond would also work well)

¼

cup

+ 2 tablespoon agave syrup

or maple syrup

¼

cup

coconut oil

melted if solid

1

teaspoon

instant coffee

dissolved in 1 tablespoon boiling water

1

teaspoon

vanilla paste

or natural vanilla extract

1-2

pears

peeled, cored and sliced
INSTRUCTIONS
For the cashew cream:
Put cashews, agave syrup, vanilla paste and a pinch of salt into a food processor or high speed blender. While blending, slowly pour in water until you reach a smooth and creamy consistency - a similar thickness to hummus. Add ground ginger to taste and blend to combine.

Set aside until needed.
For the brownie:
Mix 3 tablespoon of ground flaxseed with 6 tablespoon of water and set aside for about 15 minutes. It will become thick and gel-like. This mixture is the equivalent of three 'flax eggs' and will act as an egg replacer in the brownie batter.

Preheat oven to 200C (390F) and grease and line a rectangular baking dish.

Mix dry ingredients in a large mixing bowl: oat flour, ground almonds, cocoa, baking powder and salt.

Add wet ingredients: milk, agave syrup, coconut oil, dissolved coffee and vanilla paste.

Beat until the mixture is smooth and well combined. If it seems too thick, add 1-2 tablespoon more milk.

Pour batter into the pre-prepared baking dish.

Spoon large dollops of cashew cream onto the brownie batter, then use a butter knife to swirl it through. There's no right way to do this, just make it look pretty and don't overdo it - you want large pockets of cashew cream to remain.

Arrange slices of pear evenly over the top of the brownie and push in to the batter a little.

Bake for approximately 15 minutes. Once done, the brownie will pull away from the sides of the pan a little and look 'cooked', but a skewer will not come out clean. You want the middle to still be a bit fudgey.

Allow brownie to cool in the tin completely before removing, slicing and storing in the refrigerator.

Best served at room temperature.
NUTRITION INFORMATION
Calories:
156
kcal
|
Carbohydrates:
17.7
g
|
Protein:
3.4
g
|
Fat:
9.1
g
|
Saturated Fat:
3.8
g
|
Fiber:
2.4
g
|
Sugar:
1.7
g