A decadent cashew-based feijoa cheesecake made with whole foods and the unique tang of feijoa, New Zealand's favourite fruit.
When the leaves start falling in autumn, the feijoas start appearing. First, a few highly prized individuals eaten with care. Then the masses arrive and buckets and bags of feijoas become a commodity shared among friends and workmates. Paying for feijoas is not the Kiwi way.
Relishing the perfect feijoa soon turns into "What the heck are we going to do with all of these!?", while the ground beneath neighbourhood feijoa trees starts to ferment.
Iconic in New Zealand, feijoas are zingy, tart, sweet and floral in flavour. Thankfully once we've satisfied our need to eat them fresh, they also lend themselves well to smoothies, baking, fruit compote, chutney, desserts and even booze - feijoa wine and vodka both being firm Kiwi favourites.
Feijoa trees also grow in parts of South America and warm-temperate climates that have a bit of winter chill, so you might be able to find them in your neck of the woods.
Feijoa cheesecake
Baked apple and feijoa crumble is probably my go-to feijoa dessert, but this year I decided to try something new and use feijoas in a raw vegan dessert. I haven't made a vegan cheesecake for a while, so the time was now.
I started by making a cheesecake base of dates, almonds and sunflower seeds, blitzed to a fine crumb with some coconut oil and pressed firmly into the base of a tin.
For the feijoa cheesecake topping, I soaked some raw cashews, then blended them until smooth with maple syrup, coconut oil and plenty of feijoas. I used the pulp of about six feijoas (about a cup of feijoa flesh by volume), and also added two whole feijoas, skin on and stems trimmed, to punch up that distinctive feijoa flavour.
Depending on the relative balance of ripe, sweet and tart of your feijoas, you might like to taste the mixture and add another whole feijoa to sharpen the flavour. I thought the mixture still needed a little more freshness so also added a big handful of fresh mint leaves, a flavour that works really well with feijoa.
Once you're happy with the flavour of the feijoa cheesecake filling, pour it over the cheesecake base and refrigerate or freeze until set. If you're not making this for a social gathering, you can slice the cheesecake up once set then freeze it in individual portions for future dessert emergencies.
Feijoas do oxidise when cut, so the topping will become a slightly dubious beige colour - but the flavour is excellent and easily passed the taste test with a few friends who went back for seconds.
If you like, you can use a microplane to finely grate a little feijoa zest over the cheesecake to serve. It's pretty, and also adds an extra layer of that fresh feijoa zing we Kiwis love so much.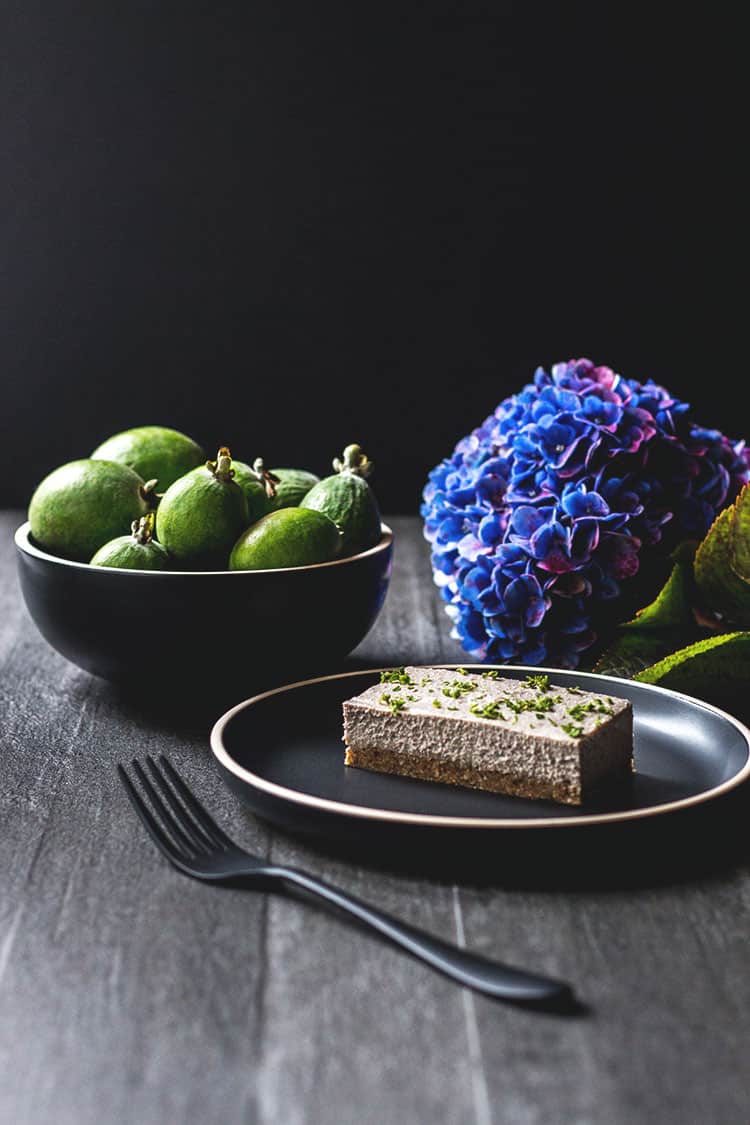 Get the recipe
INGREDIENTS
For the base:
1

cup

dates

¾

cup

raw almonds

½

cup

sunflower seeds

2

tablespoon

coconut oil

(melted if solid)
For the topping:
3

cups

raw cashews

soaked (see recipe notes)

½

cup

maple syrup

½

cup

coconut oil

(melted if solid)

1

cup

feijoa pulp

(pulp scooped from about 6 feijoas)

2-3

whole feijoas

skin on, washed and stem trimmed away

Large handful

fresh mint leaves

(about ¾ cup loosely packed)
INSTRUCTIONS
Start by soaking your cashews (see recipe notes).
For the base:
Put dates, almonds, sunflower seed and coconut oil into a food processor. Blitz until the mixture comes together in a ball and holds together when squeezed between your fingers.

Tip the mixture into an 18x27cm or similar sized pan (approximately 7x10.5 inches) lined with baking paper. This will make it easier to lift the whole cheesecake out later, to put on a board to slice.

Press the mixture evenly into the pan, using wet hands as it's quite a sticky mixture. Refrigerate or freeze to firm up while you're making the cheesecake topping.
For the topping:
Drain and rinse soaked cashews, and put them into a high speed blender. Add the maple syrup, coconut oil, feijoa pulp and two whole feijoas and blend until smooth. Taste and add another whole feijoa if desired. Once you're happy with the feijoa flavour, add fresh mint leaves and pulse to combine. I like to add the mint last, so that small green flecks remain visible.

Pour the feijoa cheesecake topping over the chilled base, spread evenly, then refrigerate or freeze until firm.

Slice into portions and serve with a sprinkle of feijoa zest on top if you like. The cheesecake is quite rich so I was happy to cut it into 20 smaller square portions, though you could make larger servings if you want to. The cheesecake is best served at refrigerator temperature, which will give it a medium-soft texture. Store leftover portions in the freezer for dessert emergencies.
RECIPE NOTES
Nutrition information estimated based on 20 small serves. 
Prep time does not include soaking time for cashews. For best results soak raw cashews in cold water for 4-6 hours, or overnight. If you're in a pinch, soak them in hot water from the tap for 30 minutes instead - the recipe will work, though will no longer be raw. 
NUTRITION INFORMATION
Calories:
265
kcal
|
Carbohydrates:
20
g
|
Protein:
5
g
|
Fat:
19
g
|
Saturated Fat:
7
g
|
Cholesterol:
0
mg
|
Sodium:
3
mg
|
Potassium:
274
mg
|
Fiber:
2
g
|
Sugar:
11
g
|
Vitamin C:
4.1
mg
|
Calcium:
38
mg
|
Iron:
1.8
mg