Gluten-free cinnamon oat cookies studded with dark chocolate chips, dried cranberries and sliced almonds.
Anyone following along will have noticed I usually post a new recipe about once a week. So it's been a bit quiet huh?
The reason is two-fold, I'm working on an exciting but massive project right now that's taking a whole lot of brain space, and the side effect is that I seem to have forgotten how to cook (or sleep).
These cookies are batch number five. Who would have thought it could be so hard to get a cookie recipe right?
Not one to give up, I have persevered, sworn a fair bit, conned my kids into eating the average batches, and fed a bunch of failed cookies to the birds.
Gluten-free vegan cookies
Originally I set out to make something a bit like an ANZAC biscuit, one of New Zealand's favourites. But I wanted to make them gluten-free, vegan, and low in added sugar. And of course still taste great. It was a taller order than I expected. The earlier batches were way too soft and cakey, and the version that included peanut butter was, well, strange.
The end result is nothing like an ANZAC biscuit and that's ok. These biscuits (see note below) were an evolution. Where we ended up is with a chunky, oaty biscuit made with store bought gluten-free flour and porridge oats, lightly sweetened with maple syrup and cinnamon, and studded with dark chocolate chips, dried cranberries and sliced almonds. Chia seeds are in there too, along with a little oil - but these are definitely lower in fat than your average cookie.
Best of all, both the family and I approve. These cookies are healthier than usual, while still being sweet enough (thank you, chocolate) and a welcome snack with a glass of your favourite milk or a stiff black coffee.
I suppose there are a lot of gluten-free vegan cookie recipes out there already and I didn't need to reinvent the wheel. But these are mine, dammit.
p.s. to my US friends. Cookies or biscuits? Gosh it's confusing. What you call a biscuit we call a scone, and what we call a biscuit you call a cookie. Clear as mud?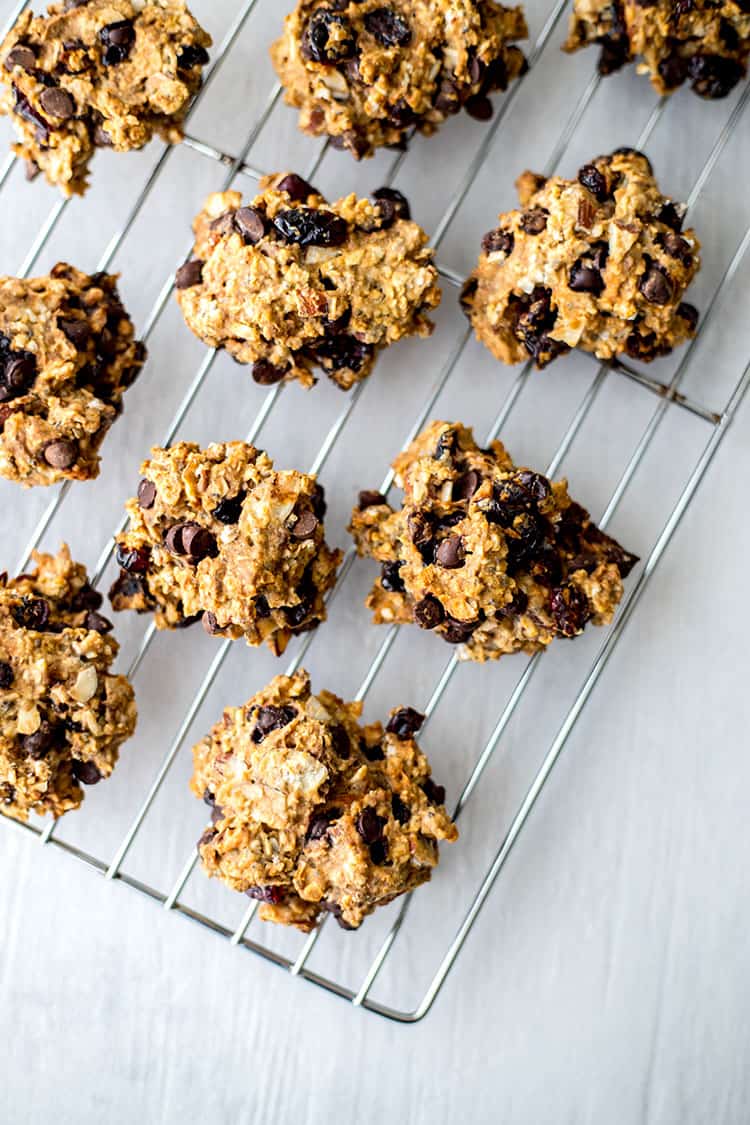 Get the recipe
INGREDIENTS
1

cup

gluten free flour

1

cup

rolled oats

(certified gluten free if required)

½

cup

dried cranberries

½

cup

sliced almonds

½

cup

almond milk

(or milk of your choice)

¼

cup

dark chocolate chips

2

tablespoon

cooking oil

(I used grape seed oil)

2

tablespoon

maple syrup

1

tablespoon

chia seeds

1

teaspoon

natural vanilla extract

½

teaspoon

ground cinnamon

½

teaspoon

baking soda

Pinch

salt
INSTRUCTIONS
Preheat oven to 180C (355F) fanbake/convection or 200C (390F) regular bake.

Line a baking tray with baking paper.

Mix all ingredients thoroughly. The cookie mixture will be too sticky to handle, so use a tablespoon to drop 15 heaped spoonfuls onto the baking tray.

With wet hands, flatten each cookie a little and even up their shape if needed.

Bake for 25-30 minutes, until golden brown and firm to the touch.

Cool cookies on a wire rack and store in an airtight container.
RECIPE NOTES
Use a store bought gluten-free standard flour mix.
Try raisins, sultanas or chopped dried apricots instead of cranberries, if you prefer. 
NUTRITION INFORMATION
Calories:
125
kcal
|
Carbohydrates:
17
g
|
Protein:
2
g
|
Fat:
5
g
|
Saturated Fat:
1
g
|
Cholesterol:
0
mg
|
Sodium:
56
mg
|
Potassium:
72
mg
|
Fiber:
2
g
|
Sugar:
5
g
|
Calcium:
45
mg
|
Iron:
0.8
mg
Nutrition Facts
Gluten-free oaty chocolate cranberry cookies
Amount Per Serving
Calories 125
Calories from Fat 45
% Daily Value*
Fat 5g8%
Cholesterol 0mg0%
Sodium 56mg2%
Potassium 72mg2%
Carbohydrates 17g6%
Protein 2g4%
Calcium 45mg5%
Iron 0.8mg4%
* Percent Daily Values are based on a 2000 calorie diet.