Pick up just four basic ingredients and you're on your way to making orange sherbet, a chilly summer treat that's light, fresh and creamy.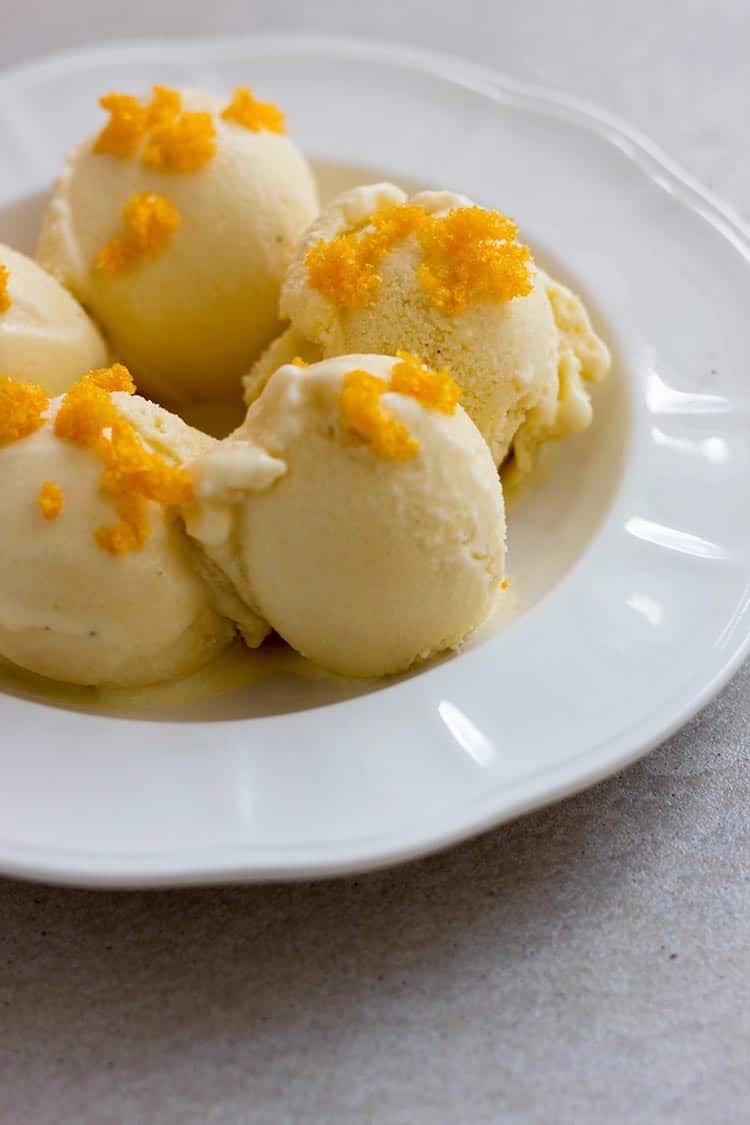 So what the heck is sherbet? When I was a kid I knew it as a tangy, powdered sugar treat that came in a paper bag with a straw. The term also refers to the cousin of sorbet and ice cream. Sherbet falls somewhere in the middle: where sorbet has only fruit (and sugar), and ice cream is rich and, well, creamy. Sherbet typically has 1-3 per cent dairy, so think of it as a lighter, fresher version of ice cream. Or a creamy sorbet.
Anyway whatever you want to call it, this dairy-free sherbet is just the thing for a hot afternoon pick me up or a light dessert to cool you down on a sultry summer evening.
The ingredients are simple: coconut cream (I used light coconut cream), orange juice (squeeze your own, or use 100% pure juice), ripe bananas and a touch of maple syrup.
Everything is blended until very smooth, churned in an icecream machine until it's the texture of soft serve, then frozen for a few hours to firm up.
I bought my husband an icecream machine as a birthday gift a few years ago and we've used it a lot, it's so much fun coming up with our own flavour combinations  - whether simple or luxurious. Bit cheeky eh? I've used it at least as much as he has so maybe it was more of a gift to the household...! Ours is a Cuisinart icecream maker
, which I really recommend. They're heavy duty machines with a powerful motor which does an excellent job. There are also many cheaper versions on the market which I'm sure do a decent job too, so keep your eye out for a bargain if you like the idea of making your own.
If you don't have a machine, you can sometimes get away with making sorbets, sherbets or icecream by hand. This involves putting the liquid mixture in the freezer, then taking it out and beating it every hour or so while it hardens. The hand beating helps keep it a smooth texture and break up any ice that's forming. I haven't tested this recipe by hand so I can't be sure if it'll work. If you try it by hand, let me know how it goes.
Serve the orange sherbet straight up, in cones, or sprinkled with your favourite toppings. I sprinkled mine with some crushed freeze dried mandarin pieces (yum). Orange zest, toasted coconut flakes or chocolate (always chocolate) would also be great.
Sherbet is best eaten fresh or within the first few days of being made. The longer it's in the freezer, the harder and icier it will become.
Get the recipe
INGREDIENTS
1

can coconut cream

I used light coconut cream

1

can orange juice

use the can from the coconut cream to measure

1

can ripe bananas

(I used three bananas, roughly equivalent to one can)

2

tablespoon

maple syrup

(optional - leave it out, or use sweetener of your choice)
INSTRUCTIONS
Ensure the bowl of your icecream maker is well frozen.

Put all ingredients into a blender or food processor and whiz until very smooth.

Pour mixture into the bowl of the icecream maker, turn it on and leave to churn for 45-60 minutes, or until the texture of soft serve ice cream.

Scoop out into a freezer-safe container, cover and freeze for a few hours to firm up.

Remove from the freezer 5-10 minutes before serving to allow the sherbet to soften slightly - due to its lower fat content it freezes harder than regular icecream.

Makes approximately 1 litre (just under 1 US quart).
NUTRITION INFORMATION
Calories:
115
kcal
|
Carbohydrates:
16.9
g
|
Protein:
1.2
g
|
Fat:
5.2
g
|
Saturated Fat:
4.3
g
|
Cholesterol:
0
mg
|
Fiber:
1
g
Nutrition Facts
Orange sherbet
Amount Per Serving
Calories 115
Calories from Fat 47
% Daily Value*
Fat 5.2g8%
Cholesterol 0mg0%
Carbohydrates 16.9g6%
Protein 1.2g2%
* Percent Daily Values are based on a 2000 calorie diet.