Home made chocolates made with cacao butter and a gooey salted date caramel filling are just the ticket for Easter.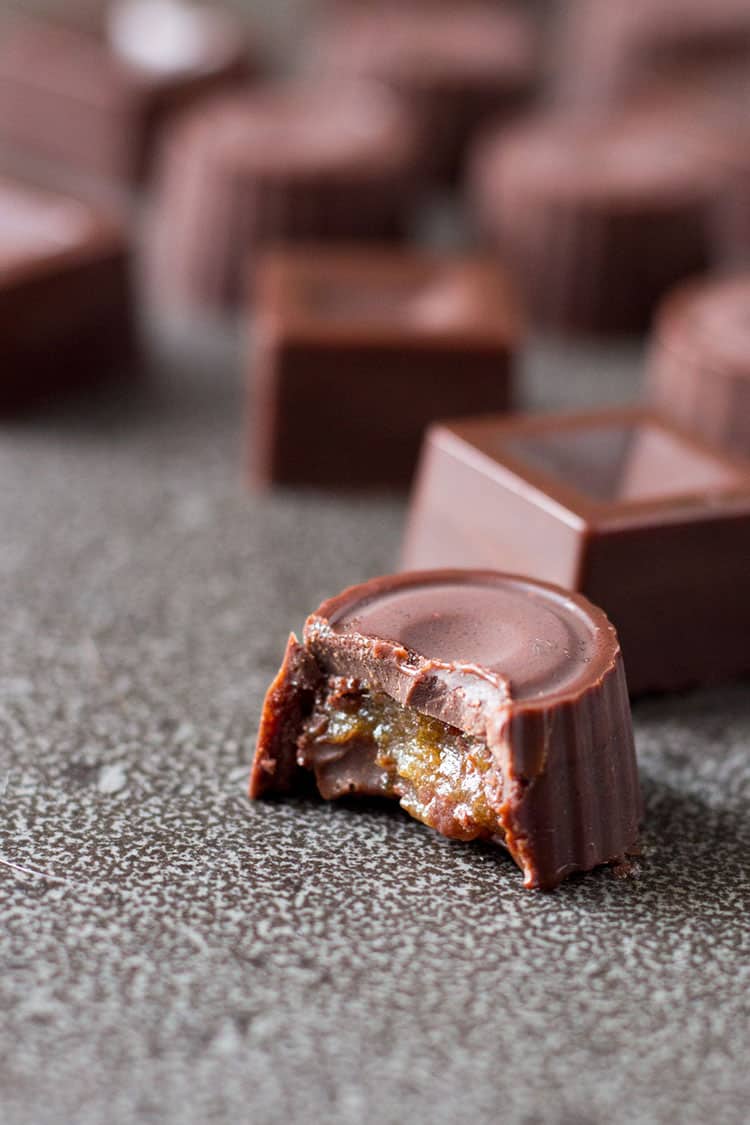 Making your own chocolates from the raw ingredients is incredibly easy and ensures you get maximum benefit from them. And I'm not talking about the OMG I'm in my pyjamas on the sofa feeding my emotions with chocolate kind of benefit! Raw cacao is a superfood, so these chocolates are not only delicious but they are good for you too. Mmm pass another, please?
Okay, so we're all grown ups here and know chocolate (even healthy raw vegan chocolate) shouldn't be the cornerstone of any diet. But, making it with raw cacao and leaving out the refined sugar allows us to feel a lot better about enjoying it as a treat. Going to the effort to make pretty wee chocolates like this kind of acts like a natural portion controller for me too, I want them to last!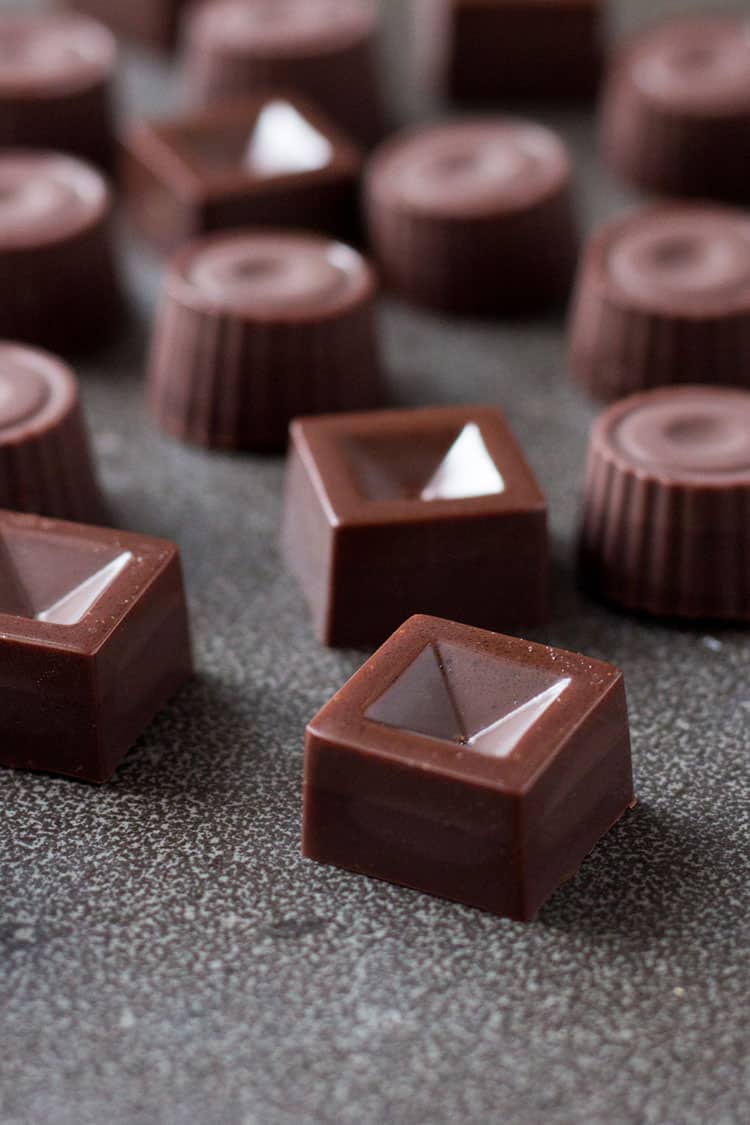 I wrote a bit about cacao vs cocoa in this recipe for fruit and nut cacao cups last year. The short of it is that cacao is chocolate in its purest form, and is thought to have the highest levels of antioxidants and magnesium of all foods. Sweet.
Cacao butter is the vegetable fat extracted from the cacao bean. It's pale yellow, and smells and tastes like chocolate (kind of like white chocolate without the sweetness). Aside from eating it, it's also great for your skin and a popular ingredient in natural massage bars and body creams.
Now about these chocolates. I started by making a date caramel. Date caramel, welcome to my life. You can stay. Date caramel is basically just dates, blended until smooth (you'll need a food processor or high speed blender for this). I also added a tiny bit of coconut oil to help it firm up when chilled - this is totally optional.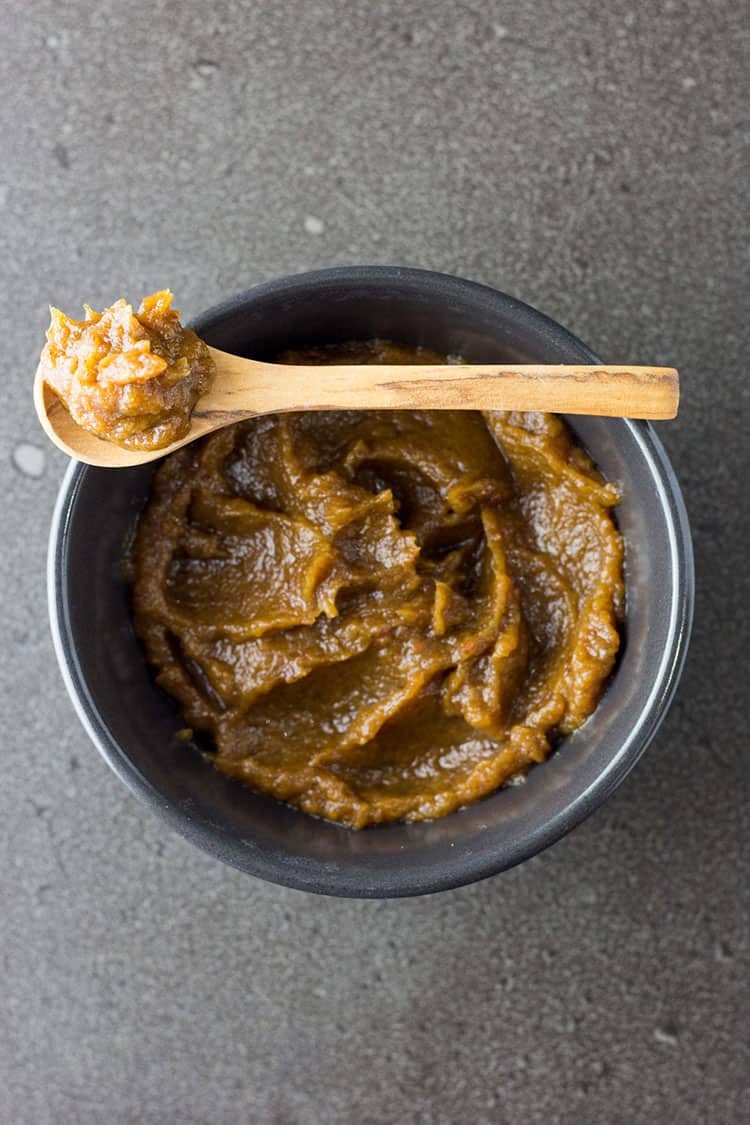 Most of the recipes I've seen for date caramel begin with luscious juicy medjool dates. If you're feeling wealthy, go for it and use those. I object to using these beauties in a blender (unless it's just one or two) so I soaked some regular dry dates overnight, drained them, blended them then added just enough of the soaking water back in to reach a smooth and caramelly consistency. A little ground sea salt ups the awesome by at least 50 per cent, according to my highly scientific test kitchen process.
Once the caramel is sorted, it's a really simple case of melting the cacao butter, stirring in cacao powder, vanilla and a little sweetener (I used agave) and assembling the chocolates. I bought these cute silicon chocolate molds from Kmart for about $2 each.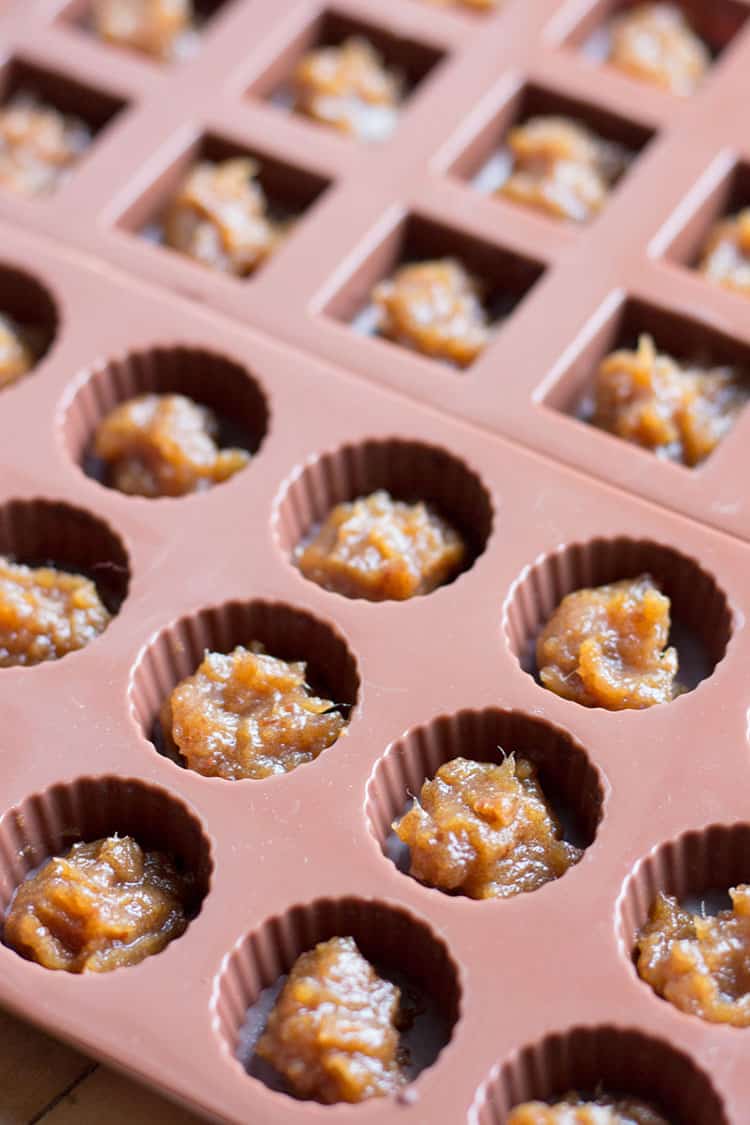 I used a half teaspoon measure to evenly add a little chocolate to each hole in the mold, then popped the molds in the fridge for five minutes to firm up before adding a wee dollop of date caramel to each one. I found this a bit awkward and put a bit too much in a few of them - I'd suggest using a piping bag if you want to get really perfect with your caramel. Once the caramel is in, they get topped up with more chocolate, then put in the fridge to set. See, easy.
The finished chocolates should be stored in the fridge (if they're going to be eaten within a few days) or in the freezer if you want them to last a bit longer.
Cacao butter and powder are available from some New Zealand supermarkets. Take a look in the organic or health foods aisle if you can't find them in the baking section. I bought organic raw cacao butter and powder from Bin Inn.
Enjoy!
Get the recipe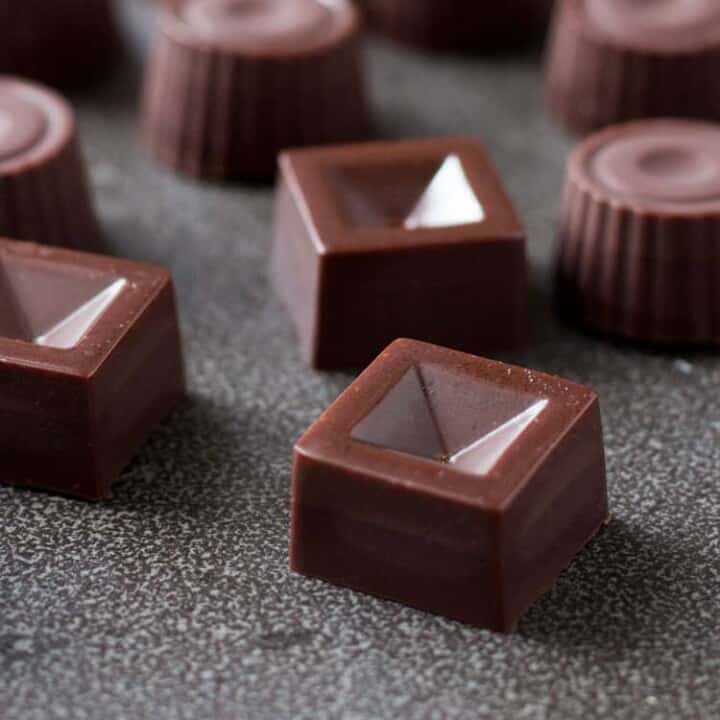 INGREDIENTS
For the salted date caramel:
1

cup

dry dates

(140g)

¼

teaspoon

ground sea salt

1

teaspoon

coconut oil
For the chocolate:
100

g

cacao butter

5

tablespoon

cacao powder

2

tablespoon

agave syrup

or maple syrup

½

teaspoon

vanilla paste

or natural vanilla extract
INSTRUCTIONS
For the salted date caramel:
Soak the dates overnight. I poured over just enough warm water to cover them, then left them at room temperature. I'm sure setting them to soak in the morning before making the caramel later in the day would be okay too.

When you're ready to make the caramel, drain the dates and reserve the soaking liquid. The soaking liquid is a good sweetener which you can use in smoothies so don't throw it away!

Add dates and coconut oil to a food processor or high speed blender, blend until smooth while adding just enough soaking liquid to reach a soft and caramelly consistency (I used approximately 3 tbsp).

Scrape the caramel into a dish and stir through the sea salt. Cover and refrigerate until needed.
For the chocolate:
Get a double boiler arrangement set up (I used a glass bowl over a small saucepan of barely simmering water). Add cacao butter to the bowl and gently melt. Be careful not to let it get too hot. I removed the bowl from the heat every few minutes to keep the cacao melting at a very gentle temperature.

Once melted, add in cacao powder, agave and vanilla paste. Whisk until smooth.

Use a half teaspoon measure to evenly pour a little chocolate mixture into the base of each chocolate mold. Put the molds into the fridge for five minutes to firm up. While they're chilling, keep the chocolate warm (I kept mine sitting over the hot water, but with the flame turned off).

Use a small spoon or a piping bag to put a small dollop of date caramel into the middle of each mold. You don't want it to touch the sides, or be higher than where the final level of chocolate will be. You'll have about ¼ cup or so of date caramel left, I'm sure you won't have any trouble using it up some other way.

Use a small spoon to evenly top up each mold with chocolate, then refrigerate chocolates for a few hours or overnight until firm.

Best stored in the freezer, or in the fridge if they'll be eaten within a few days.
RECIPE NOTES
Prep time does not include soaking time for dates.
Nutrition information is estimated based on using approximately ⅔ of the date caramel recipe.
NUTRITION INFORMATION
Calories:
49
kcal
|
Carbohydrates:
4.1
g
|
Protein:
0.2
g
|
Fat:
3.6
g
|
Saturated Fat:
2.4
g
|
Cholesterol:
0
mg
|
Sugar:
2.1
g
Nutrition Facts
Salted date caramel raw chocolates
Amount Per Serving
Calories 49
Calories from Fat 32
% Daily Value*
Fat 3.6g6%
Cholesterol 0mg0%
Carbohydrates 4.1g1%
Protein 0.2g0%
* Percent Daily Values are based on a 2000 calorie diet.