One for the grownups - creamy vegan coffee cheesecake topped with salted coconut caramel popcorn. Swoon.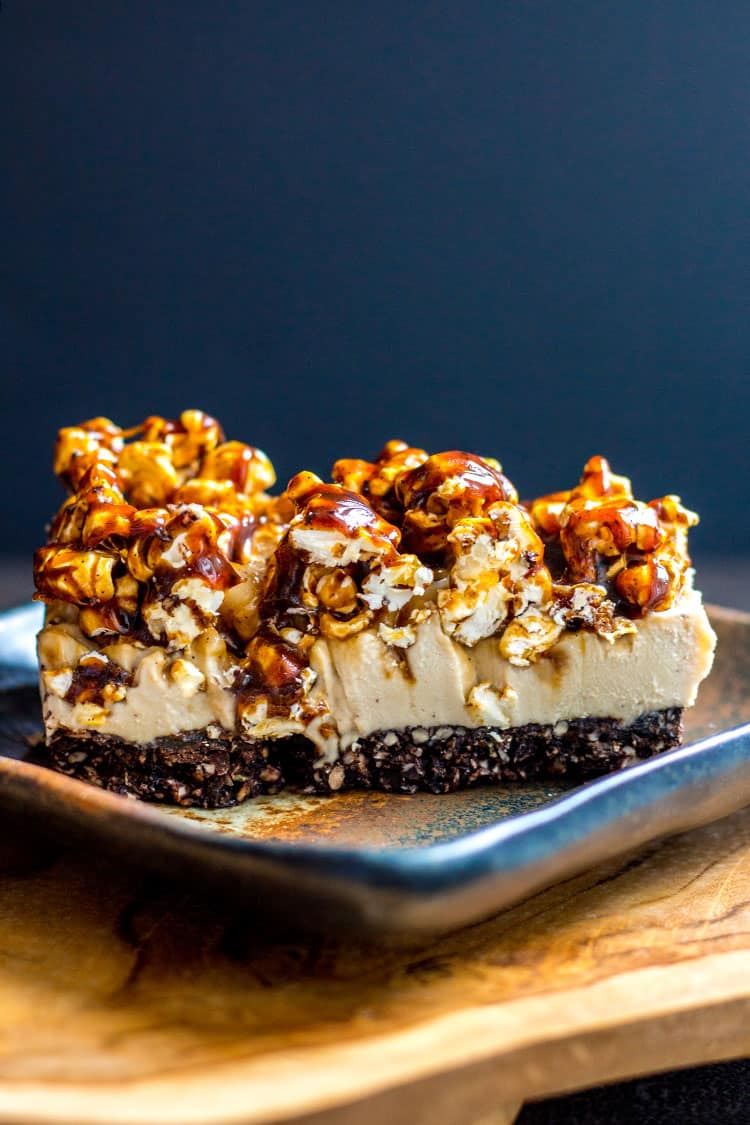 Chocolate? Tick. Coffee? Tick. Caramel? Tick.
Guys where do I even start? This vegan coffee cheesecake (aka soul food) is everything.
I've had a crazy few weeks that included my old Mac unceremoniously dying during a work day, which saw me out the door and making the fastest big ticket purchase I've ever made. "Give me a new MacBook Pro. Now." I think I made the salesman's day. Since then I've hit deadline after deadline while keeping the home fires burning, and frankly I decided a reward was in order.
Vegan coffee cheesecake
Cheesecake and I go way back, indeed it's got to be one of my favourite desserts. I adore these lighter recipes for lime and vanilla and raspberry, lime and coconut cheesecakes, but sometimes full decadence is the only way.
This vegan coffee cheesecake recipe is made with cashews that have been soaked overnight, strong coffee and vanilla, sweetened with brown rice syrup and set with a little coconut oil. It's rich, smooth, sweet and creamy - almost like a good coffee icecream.
The base is a healthyish combination of seeds, dates, cocoa and coconut oil, simply blitzed in a food processor, then pressed into a tin and chilled.
But friends, the pièce de résistance is the salted coconut caramel popcorn topping...
Salted coconut caramel popcorn
I've been thinking about this caramel corn for a long time, just waiting for the right opportunity to create something awesome with it. It was worth the wait.
This salted coconut caramel sauce is made with simple ingredients and is equally simple to make. Thick coconut cream, coconut sugar, vanilla and a touch of salt are simmered in a saucepan until a thick, mahogany coloured caramel sauce is born.
Compared to making caramel with regular sugar, this is a bit mind bending because it starts out dark and it's kind of tricky to tell whether it's getting too dark, or heaven forbid, burning. I just kept it at a low temperature, with an eye on it, stirring every now and then.
I decided it was ready after about 20 minutes, once I could drag a wooden spoon across the bottom of the pan and it would create a momentary channel through the sauce. A few drops on a cold plate set to a thick but not crunchy caramel.
When the sauce was ready I poured it over some freshly popped popcorn and stirred it until evenly coated, then used my hands to break it up and push it gently into the cheesecake to evenly cover the surface. I drizzled the whole thing with some reserved sauce then put it in the freezer to set.
Look at those gorgeous little pools of dark caramel. Be still my heart.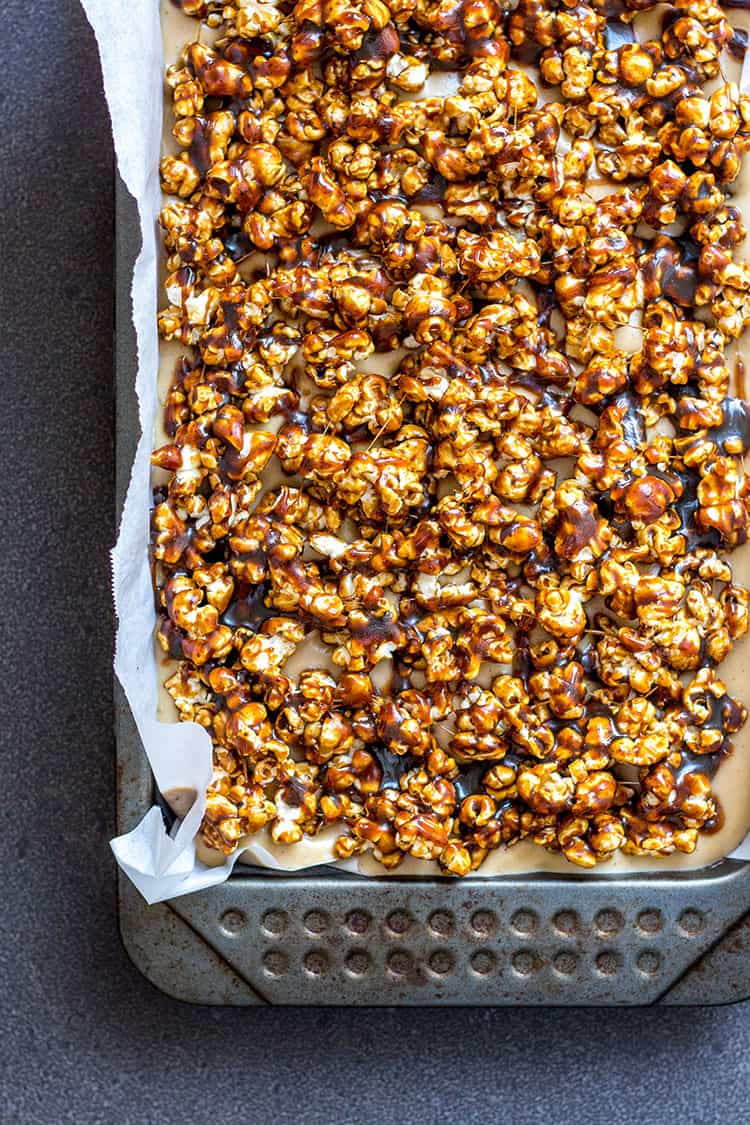 Do you even need a reason?
This coffee cheesecake is decadent enough to hold its own for a special occasion or celebration, but do you even need a reason? Celebrate life, I say.
Once the cheesecake has either chilled overnight or spent six hours or so in the freezer, get in there and slice it up. Use your biggest, heaviest kitchen knife because I have to admit this one isn't too easy to slice up (and nor is it particularly graceful to eat), but damn it tastes good.
Sweet, salty, dark and rich, this will please you in so many ways.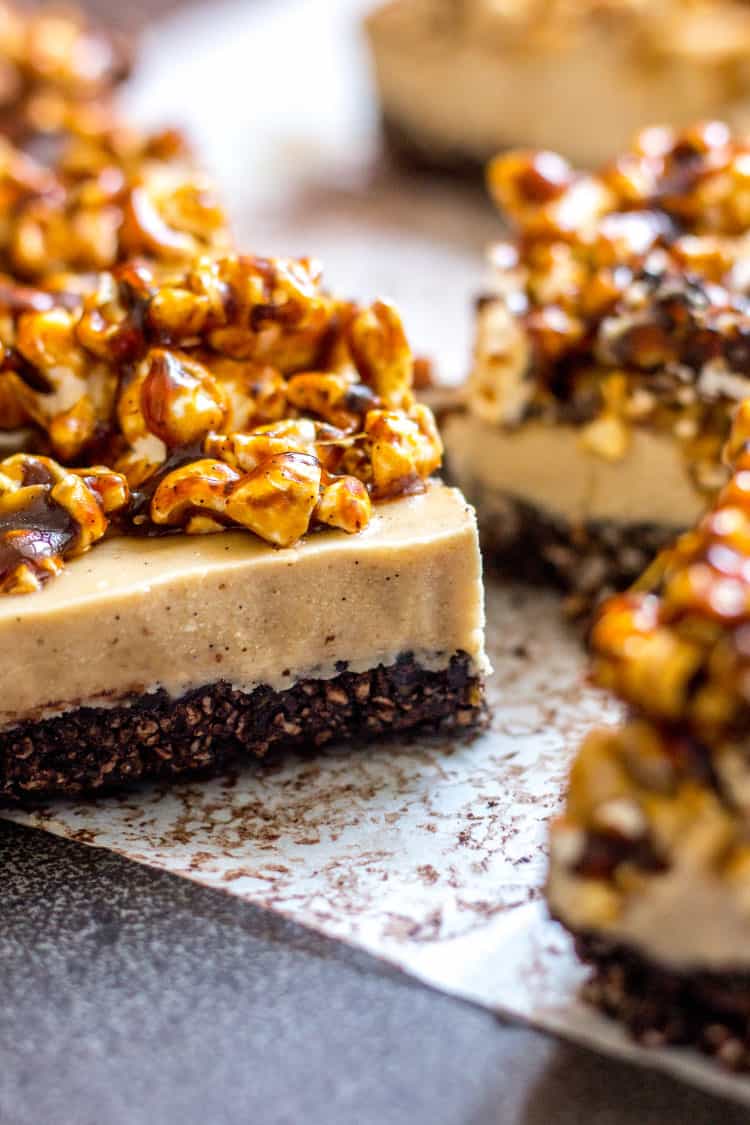 Get the recipe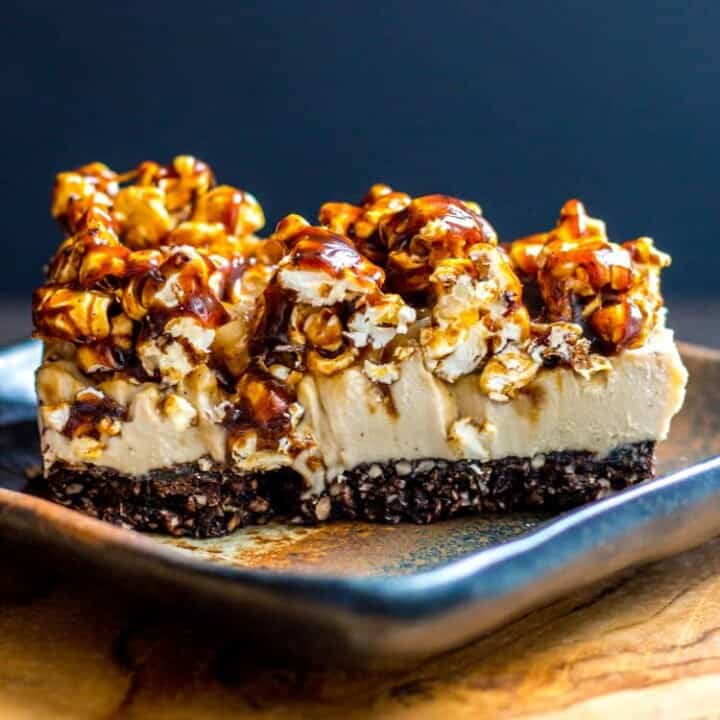 INGREDIENTS
For the cheesecake base:
1 ½

cups

sunflower seeds

1

cup

dates

(roughly chopped)

½

cup

pumpkin seeds

½

cup

cocoa powder

¼

cup

coconut oil

(melted if solid)

Pinch

salt
For the cheesecake filling:
2 ½

cups

raw cashews

(soaked overnight)

½

cup

brown rice syrup

(or maple syrup)

½

cup

strong brewed coffee

¼

cup

coconut oil

(melted if solid)

1

teaspoon

vanilla paste

(or natural vanilla extract)
For the caramel popcorn:
1

tablespoon

coconut oil

2

tablespoon

popping corn

1

cup

coconut sugar

½

cup

coconut cream

(the thick part from a can of full fat coconut cream)

1

teaspoon

vanilla paste

(or natural vanilla extract)

½

teaspoon

salt
INSTRUCTIONS
Start by soaking your cashew nuts in plenty of water the night before.

Line an 18x27cm or similar sized pan (approximately 7x10.5 inches) with baking paper. This will make it easier to lift the whole cheesecake out later, to put on a board to slice.

To make the base, blitz pumpkin and sunflower seeds together in a food processor until they're a coarse powder. Add the dates, cocoa, salt and coconut oil, then blitz again until well combined. Press into the lined pan then refrigerate or freeze while you make the filling and topping.

Next, make your coconut caramel sauce. Put all of the sauce ingredients into a small saucepan and bring to a simmer. Continue to cook over a low heat, stirring often, for about 20 minutes or until the sauce is thick, glossy, and forms a channel through the sauce when you draw a spoon across the bottom of the pan.

While the sauce is cooking, make your popcorn. Heat 1 tablespoon coconut oil in a large saucepan with a lid. Once the oil is hot, add the popping corn and put the lid on. Let the corn pop, shaking the pan every now and then, until the sound of popping corn dies down again. Tip the popped corn out into a large mixing bowl.

Drain and rinse the cashews, then put into a high speed blender or food processor. Add the remaining cheesecake filling ingredients and blend until smooth, stopping to scrape down the sides a few times if needed.

Pour the cheesecake filling onto the cheesecake base and spread out evenly with a spatula.

Once the caramel sauce is done, pour about three quarters of it over the popcorn and stir to coat it evenly. Use your hands to break up the popcorn clumps a bit and arrange it evenly over the surface of the cheesecake, gently pushing it down into the cheesecake filling a little.

Drizzle the remaining caramel sauce over the surface of the cheesecake (reheat it if it's set), then freeze for at least six hours or until firm.

The cheesecake will slice more cleanly if cut while frozen (use your biggest, heaviest knife) and can then be stored in the freezer in portions. Allow to soften at room temperature for a little while before serving.
RECIPE NOTES
Prep time does not include soaking or chilling time.
Nutrition information is based on 12 generous bar sized portions, but you could easily cut those in half for 24 serves - which are still a lovely little treat.
NUTRITION INFORMATION
Calories:
521
kcal
|
Carbohydrates:
48
g
|
Protein:
11
g
|
Fat:
36
g
|
Saturated Fat:
15
g
|
Sodium:
139
mg
|
Potassium:
488
mg
|
Fiber:
5
g
|
Sugar:
27
g
|
Vitamin A:
10
IU
|
Vitamin C:
0.7
mg
|
Calcium:
44
mg
|
Iron:
3.9
mg
Nutrition Facts
Vegan coffee cheesecake with salted caramel popcorn
Amount Per Serving
Calories 521
Calories from Fat 324
% Daily Value*
Fat 36g55%
Sodium 139mg6%
Potassium 488mg14%
Carbohydrates 48g16%
Protein 11g22%
Vitamin A 10IU0%
Vitamin C 0.7mg1%
Calcium 44mg4%
Iron 3.9mg22%
* Percent Daily Values are based on a 2000 calorie diet.