Layer upon layer of delicious vegan crepes and luscious chocolate ganache, mille crepes cake (or pancake cake) is an impressive dessert for a special occasion.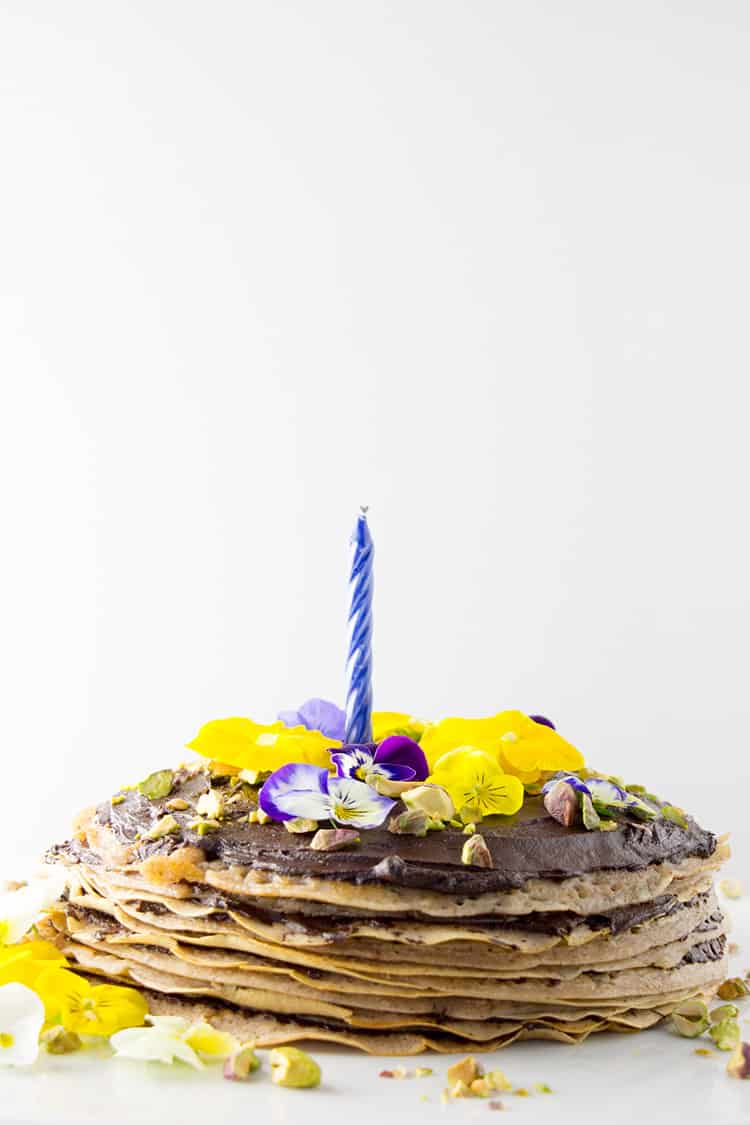 So what's the special occasion, I hear you ask? Today is the first birthday of Quite Good Food. This blog of mine is one year old today, and what a year it's been.
Rewind to a little over a year ago. I was at home with a three month old baby, equally loved up and shell shocked by the arrival of my sweet girl into our family (she's not my first baby, but all babies are a shock to the system!). It was also the first time in a long time that I'd taken any significant pause from my highly pressured job, let the stress subside and simply breathed. It was a bit of a revelation, and one which gave me the mental space to think about my dreams and all the things I'd like to do 'if only I had the time'.
Food is central to every part of my life and it has been for as long as I can remember. From being let loose in the kitchen as a kid wielding the iconic New Zealand Edmond's Cookbook, to perplexing my parents by choosing to become vegetarian when I was 15, cooking for family dinner parties as an older teen, seeking out interesting and exotic meals as an adult, cooking schools in South East Asia and cookbooks for bedtime reading. You get the idea. It's always been there.
And so I began a blog. I thought about it for a day, then just started. That's probably a good thing, because if I'd realised how deep the pool I was about to jump into was, I'd probably have never done it. Certainly if I'd known about the beautifully composed food world of Instagram I'd have been paralysed with self doubt. Ignorance is bliss! But here I am a year later and I'm having so much fun. I've put one foot in front of the other, learning things small and large along the way, and just kept going.
And wow, you all seem to quite like what I'm doing here! From small beginnings, there's now an established community of Quite Good Foodies with new followers joining in every day. Thank you so much for your support, encouragement and kind words. The top three recipes of the last 12 months, as voted by you, are my ever popular tofu-based lime and vanilla vegan cheesecake (nearly 45,000 pins as of today, wow!), allergy friendly raspberry, lime and coconut cheesecake and these simple three ingredient crispy kumara cakes.
This year I no longer have a baby. I have a demanding toddler, a new business which is growing rapidly and a successful blog which will also continue to grow. It's a juggle. I can't always post new recipes as often as I'd like to, but I'll remain dedicated to inspiring you with healthy, interesting and delicious food whenever I can. My big dream is to make food and food writing my career, and I'm one step closer to that every day. How cool is that?
And now for cake!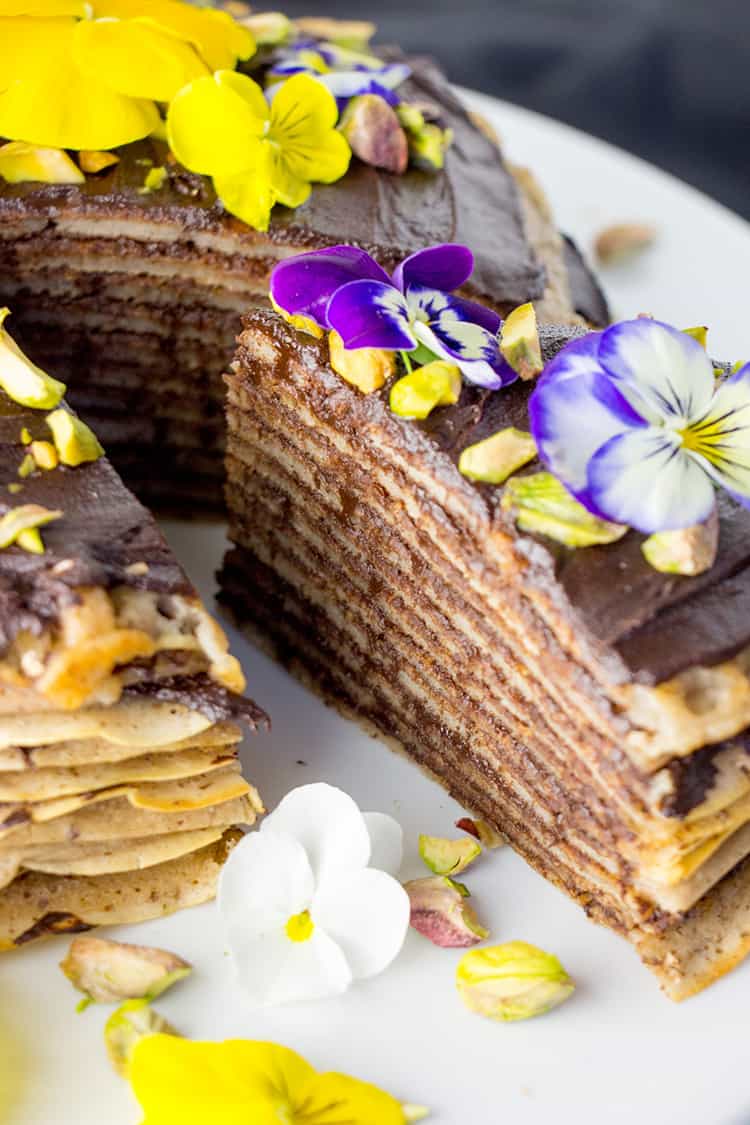 I've always wanted to try mille crepes cake, or pancake cake, so celebrating this milestone was a perfect opportunity. I made a vegan crepe batter with light coconut cream and flax eggs, which worked so beautifully. The fat content of the coconut cream really seems to have helped create a light and tender crepe, with perfectly lacy edges and none of the toughness which can sometimes occur in baking recipes which don't include egg or dairy.
A simple ganache made with good quality dark eating chocolate (I used Whittaker's Dark Ghana 72%) is a rich and bittersweet counterpoint, and the glue which holds the whole thing together.
This cake takes a little time and dedication to make your stack of crepes, but is otherwise incredibly simple. The cake is best eaten fresh, but can be gently warmed to serve with your favourite icecream or whipped coconut cream.
I can't make many health claims here! But this cake is actually a much better option than many typical recipes which are full of large quantities of sugar and butter (or other fats). It's also a wonderful example of how a plant-based diet absolutely doesn't stand in the way of enjoying sumptuous desserts, even if they fall squarely into the 'occasionally' category.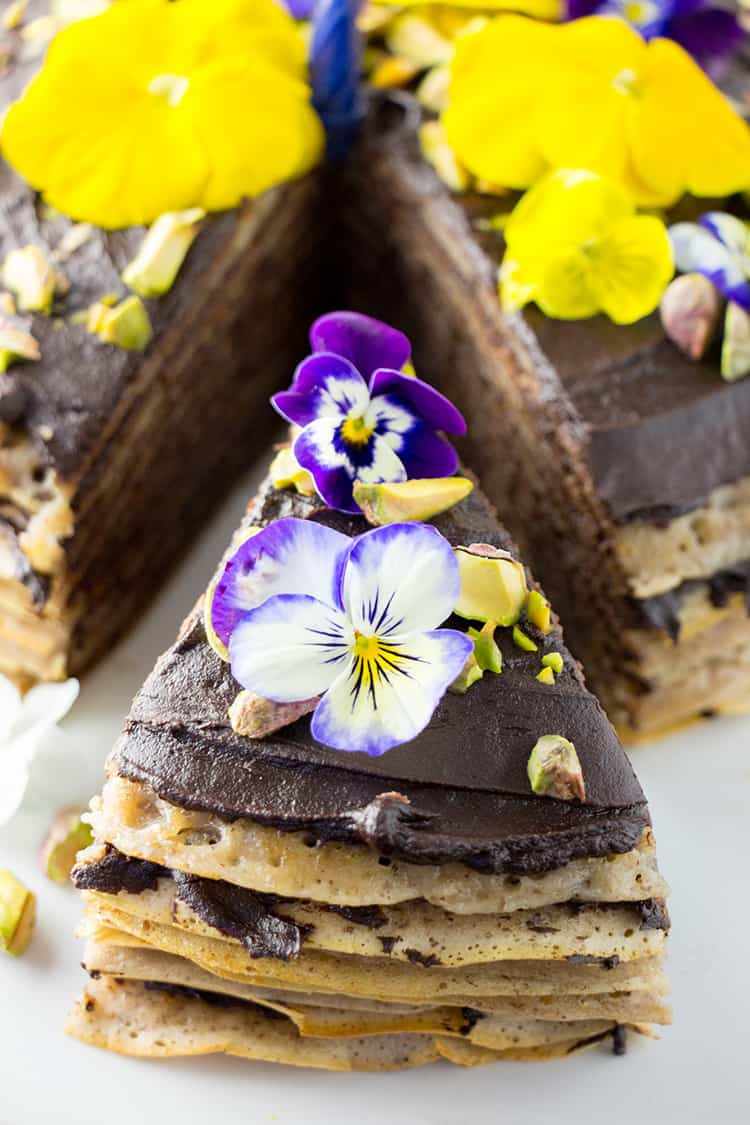 Get the recipe
INGREDIENTS
For the crepe batter:
2

tablespoon

flax meal

(ground flax seeds, I do mine in a coffee grinder)

2

cups

white flour

2

teaspoon

baking powder

¼

teaspoon

baking soda

½

teaspoon

ground cinnamon

½

teaspoon

natural vanilla extract

¼

teaspoon

salt

1

can of lite coconut cream

(approximately 1 ½ cups, made up to 2 ⅔ cups of liquid with water)

1-2

teaspoon

coconut oil for cooking crepes
For the chocolate ganache:
250

g

good quality dark eating chocolate

roughly chopped, approximately 9 oz

½

cup

soy milk

or milk of your choice, approximate

½

teaspoon

natural vanilla extract
To serve:
¼

cup

pistachios

roughly chopped (optional), approximate

Edible flowers

if desired (I used pansies and violas)
INSTRUCTIONS
For the crepes:
Mix 2 tablespoon flax meal with 6 tablespoon of water and set aside for 10 minutes to thicken. This is your egg replacer for the crepe batter.

Heat a non stick frypan (skillet) over a moderate heat.

Sieve dry ingredients together in a large mixing bowl.

Pour in the coconut cream/water mixture and vanilla extract, then whisk until smooth, adding a little extra water if necessary to reach a smooth pouring consistency.

Add a small knob of coconut oil to your pan and swirl to coat the bottom.

Pour ⅓ cup of batter at a time into the pan. Swirl into a nice and evenly round shape, then cook for 1-2 minutes or until bubbles are popping through the batter, the top is drying slightly and the underside is lightly golden, then flip and cook for a further 30 seconds to a minute on the other side. Remove to a plate or low oven, and continue to cook crepes until your batter runs out, adding another smidge of coconut oil to the pan from time to time.
For the chocolate ganache:
Put soy milk and vanilla extract into a saucepan and heat until at boiling point. Turn off the heat and add chocolate to the pan. Leave to sit for five minutes for the chocolate to melt, then whisk until smooth. You may need to return the pan to a low heat for a minute or two if you still have lumps of chocolate in your ganache. The exact quantity of milk you need will depend a bit on the type of chocolate and milk you're using. I found that ½ cup + 2 tablespoon was the right amount to achieve a smooth and silky consistency.
To serve:
While the ganache is still warm, assemble your cake by spreading even quantities (around 1 heaped tablespoon) of ganache thinly on a crepe, before stacking and repeating. Finish with all of the remaining ganache as your top layer.

Top with finely chopped pistachios and decorate with edible flowers, if desired.

Serve while warm, with icecream or whipped coconut cream.
NUTRITION INFORMATION
Calories:
309
kcal
|
Carbohydrates:
35.2
g
|
Protein:
5.3
g
|
Fat:
18.3
g
|
Saturated Fat:
13.2
g
|
Cholesterol:
5.7
mg
|
Fiber:
2.9
g
|
Sugar:
11.9
g
Nutrition Facts
Vegan mille crepes cake
Amount Per Serving
Calories 309
Calories from Fat 165
% Daily Value*
Fat 18.3g28%
Cholesterol 5.7mg2%
Carbohydrates 35.2g12%
Protein 5.3g11%
* Percent Daily Values are based on a 2000 calorie diet.