Hummus pasta is a quick and easy high protein meal using spaghetti or your favourite pasta, tossed with hummus, zoodles, greens and lemon.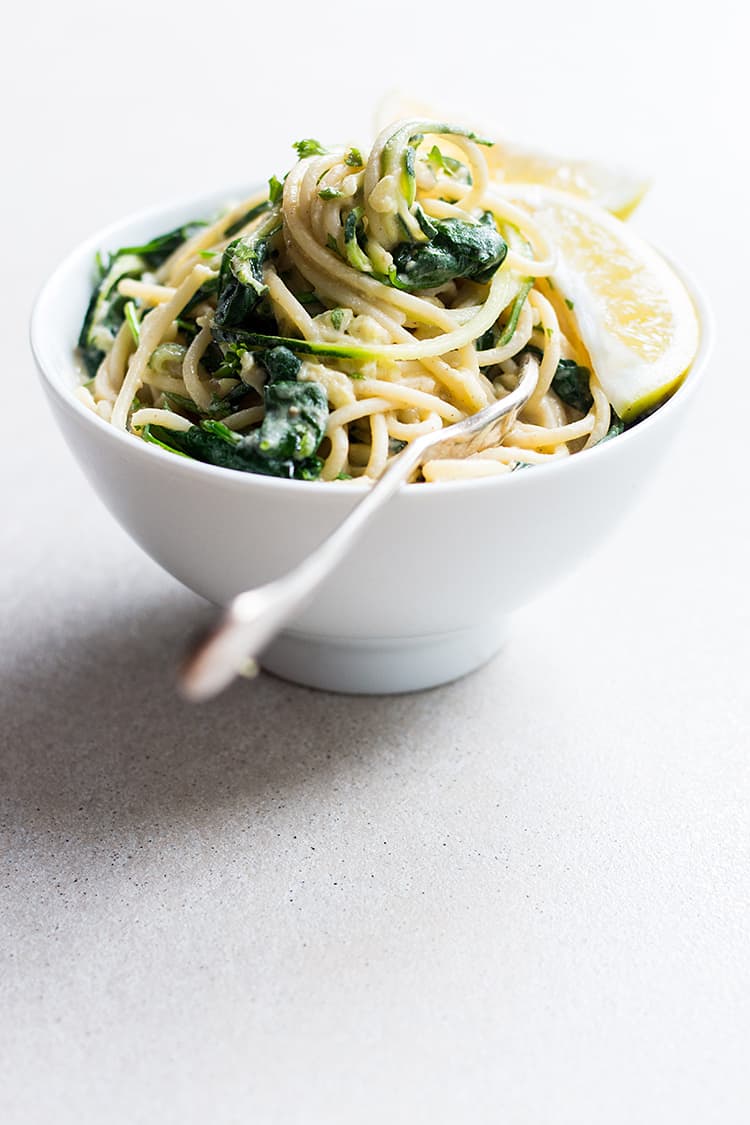 Who doesn't love hummus? Well I suppose there must be someone out there, but it's pretty much a staple in our house and the homes of almost everyone I know. I often make my own because it's so easy, so cheap, and so much better than the bought stuff. Hummus makes its way into our sandwiches, salad bowls, falafel wraps, middle eastern spreads, snacks with drinks, school lunchboxes... The list goes on.
Something I've never done with it before, is to use it hot. Why not? Why not indeed.
Tossed with hot pasta and a little of the cooking water to loosen it, hummus makes a creamy pasta sauce that's as difficult as opening a pot of hummus. Crazy easy.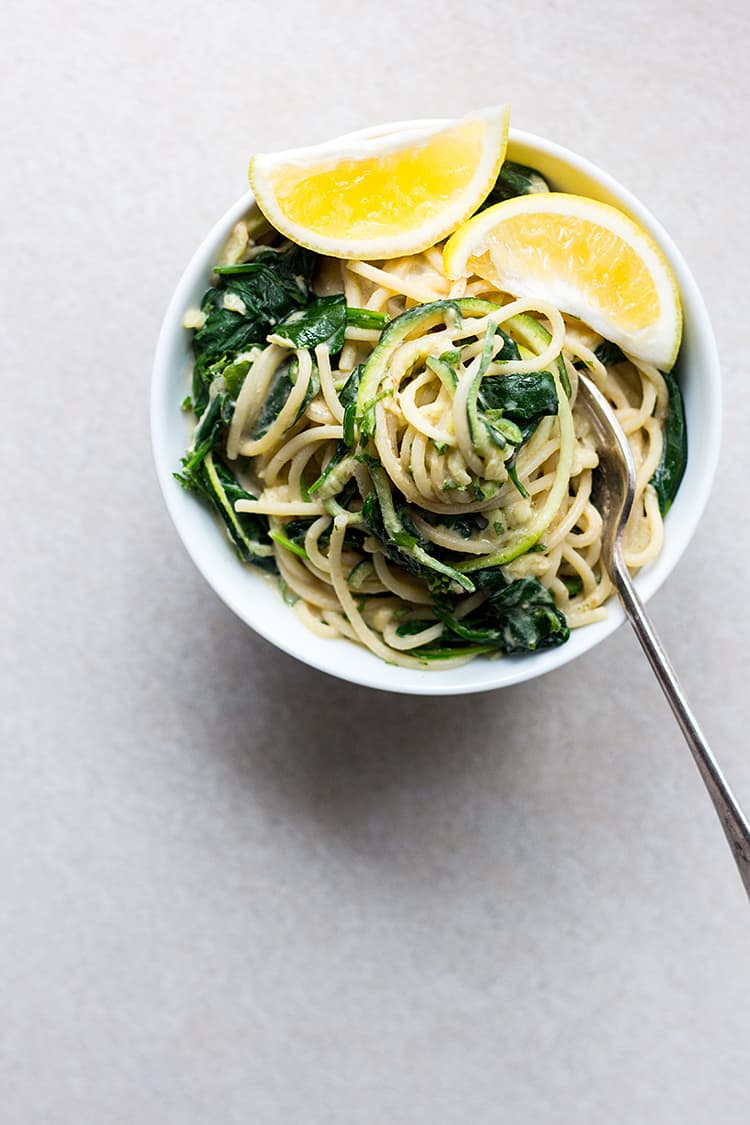 Hummus pasta is your friend
For this quick and easy meal I tossed freshly cooked spaghetti with a large dollop of home made hummus, zoodles, a large handful of baby spinach and kale, and a good squeeze of lemon juice. It was creamy and rich, bright and lemony, full of vegetables, and on the table in under 10 minutes.
I have to say I was a little surprised by how well this simple idea works. Obviously it tastes really hummusy (is that a word!?) but if you like hummus, no worries there. There's a good 2-3 serves of vegetables in this bowl, and it's high in protein, calcium, iron and vitamin C. It takes as long as it takes for your pasta to cook, and the only real work you need to do is to turn your zucchini into zoodles.
I really liked this hummus pasta with extra lemon squeezed over to sharpen its flavour, and in hindsight I wish I'd added a big sprinkle of chilli flakes. I can't wait until my summer vegetable garden takes off, and I can try variations of this with loads of cherry tomatoes. Yum.
This recipe serves one, but can easily be multiplied to feed more people.
Get the recipe
INGREDIENTS
A small handful of regular or gluten free spaghetti

(or pasta of your choice, about 70g/2.5oz)

1

zucchini

spiralized

A large handful of baby spinach or kale

or a mixture of both (about 2 cups)

¼

cup

hummus

(home made or store bought), approximate

1

lemon

Finely chopped parsley

to garnish (optional)

Chilli flakes

to garnish (optional)
INSTRUCTIONS
Bring a saucepan of salted water to the boil.

Cook pasta according to packet directions.

When the pasta is al dente, add the zoodles and greens for 10-20 seconds. You just want to heat them through, not cook them (otherwise they'll turn to mush).

Scoop out about half a cup of cooking water and set aside.

Drain pasta and vegetables and return to the saucepan.

Add the hummus, a squeeze of lemon, salt, pepper and a little splash of cooking water. Toss everything together until combined and well coated with hummus (add a little more cooking water if needed).

Serve immediately, garnished with parsley and chilli flakes if you like, and extra lemon for squeezing.
RECIPE NOTES
Nutrition information is approximate.
NUTRITION INFORMATION
Calories:
440
kcal
|
Carbohydrates:
76
g
|
Protein:
20.2
g
|
Fat:
8.4
g
|
Saturated Fat:
1.3
g
|
Cholesterol:
0
mg
|
Fiber:
11
g
Nutrition Facts
10 minute hummus pasta
Amount Per Serving
Calories 440
Calories from Fat 76
% Daily Value*
Fat 8.4g13%
Cholesterol 0mg0%
Carbohydrates 76g25%
Protein 20.2g40%
* Percent Daily Values are based on a 2000 calorie diet.