Tender Afghan dumplings with a leek and spring onion (scallion) filling, served with minted yoghurt dressing and drizzled with an oil-based tomato and garlic sauce.
Yesterday is gone and its tale told. Today new seeds are growing. - Rumi
A few months ago I had the privilege of meeting and interviewing Tania Jones and the team at Home Kitchen in my home town of Hamilton, New Zealand.
In this post I'm sharing the story of Home Kitchen's beginnings, and the team's delicious recipe for ashak - Afghan vegetable dumplings.
Stay tuned for my next post too, where I'll share some of Home Kitchen head chef Nikbakht Danish's story, and another great recipe.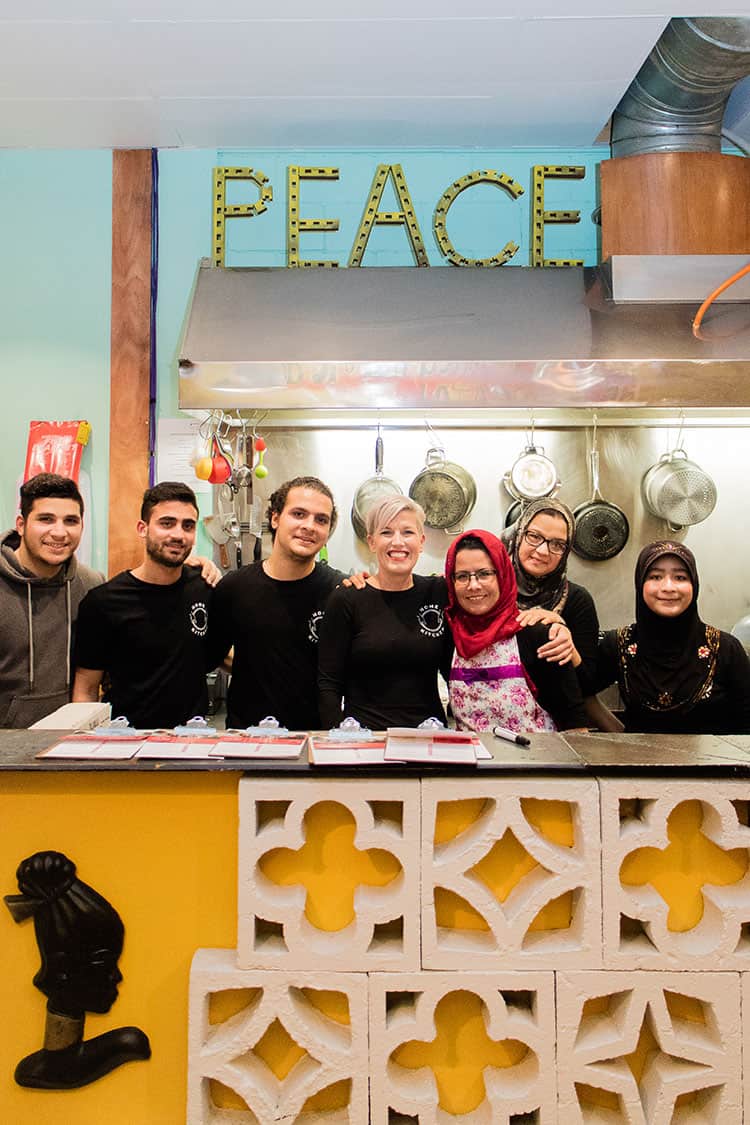 A humanitarian crisis inspires action
Let's rewind to 2015. Tania Jones was working in a corporate job in the software development industry. She watched the Syrian refugee crisis unfolding in the media and felt helpless to do anything. "I really connected with the issue. It was heart breaking. But I thought – what can one person do?"
Two years later Tania became aware of Defend Europe, a far-right group with the stated aim of monitoring refugee rescues in the Mediterranean. In reality they were actively obstructing non-government organisation (NGO) vessels from rescuing migrants who had set sail from North Africa.
Tania says learning about this was the catalyst. "I knew I had to do something to help, to take action somehow. So I made the decision to stand in my values."
In September 2017 Tania arrived on the island of Lesvos in Greece, ready to volunteer at Kara Tepe refugee camp. On this small island over 10,000 men, women and children from Syria, Afghanistan and other countries are waiting in camps. Moria, the largest of them, has been called the worst refugee camp on earth with over 7,500 people living in desperate and dangerous conditions while they wait indefinitely for their asylum applications to be processed.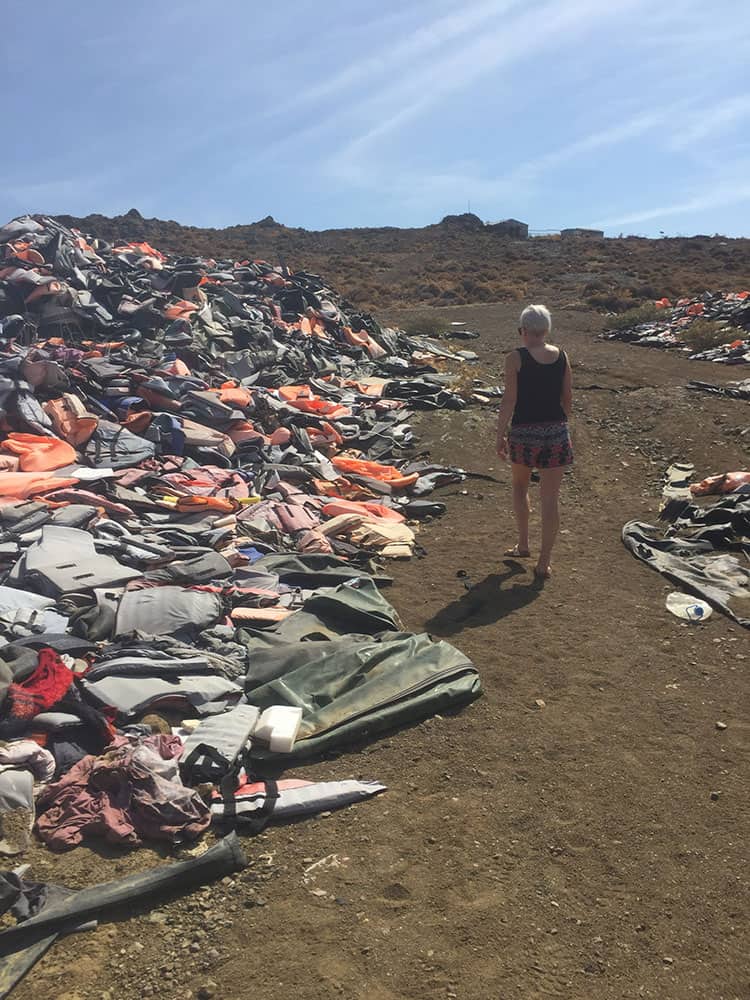 Tania soon met locals Nikos and Katerina, who originally started helping by going down to the beach every night with food, blankets and clothes to hand out as boats full of people came ashore. The need was huge, and before long Nikos and Katerina turned their tourist restaurant into Home For All, a social charity kitchen to support the refugee community.
"Anyone could go to their restaurant and be fed a lovingly cooked meal for free," says Tania. "Different faiths were put to one side as people ate together. People were treated with dignity and respect, and I was blown away by the warmth and sense of belonging it created."
Today Home For All is a fully fledged Greek NGO dedicated to giving refugees a break from the stresses of living inside the camps, and a crucial support hub for families and community members on Lesvos.
When Tania came back to New Zealand she wanted to recreate something similar to support our former refugee community in Hamilton. She went to the Red Cross to find out about the gaps and talk about how she could help. "I thought about upskilling people in computer coding, but then found out about a group of women who wanted to cook," Tania explains.
The beginning of Home Kitchen
Tania launched Home Kitchen in March 2019 as a social enterprise focused on empowering former refugees to flourish by providing work and training opportunities that showcase their diverse food and cultures.
It began with pop up restaurant evenings at Yalla Yalla Café, and has continued with hugely popular cooking classes and catering services.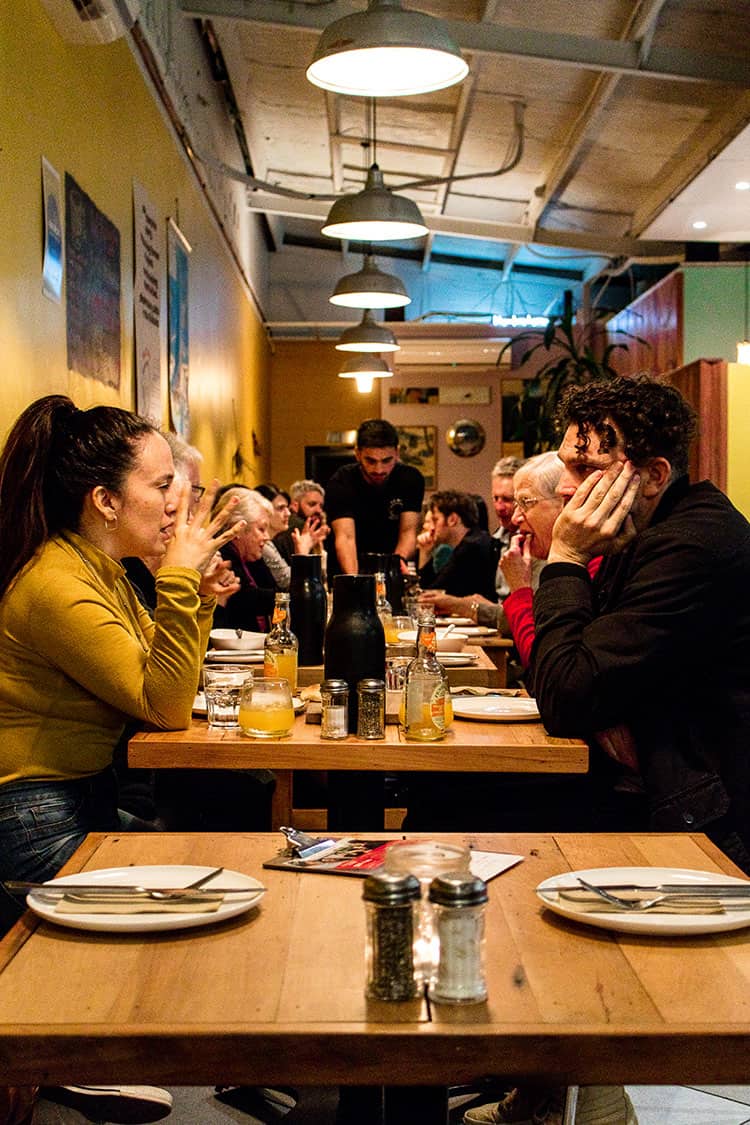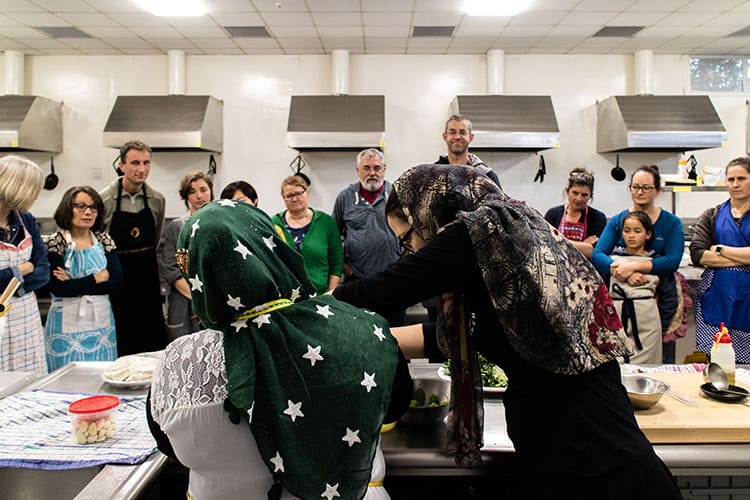 A social enterprise model
The Home Kitchen social enterprise model is 'for profit, for purpose', meaning everyone on the team of nine is paid a living wage, and all profits go back into growing Home Kitchen.
"Some people thought I was crazy, but I was determined everyone would be paid a living wage right from the start," says Tania. "A living wage offers people financial independence and the ability to support their families, and although we've had to take a more commercial focus to cover that cost, we're breaking even already which is fantastic."
The immediate goal is to provide work and training for up to 20 people by the end of 2019. To make that happen, Home Kitchen needs to find a home of its own. "We're looking for somewhere with a commercial kitchen and office space to be our base," says Tania. "We also want to find unique dining locations around Hamilton that would be suitable for hosting pop ups, and we're thinking about a food truck." Volunteers are needed to help with administration and marketing, and, notably, no one on the team has formal hospitality experience. Mentoring or other support from chefs would be invaluable.
"This is my way of generating more love and empowering people to thrive," says Tania. "I hope that through our work we can eventually increase awareness and gain more love and support for all refugees everywhere, and offer real opportunities where refugees and former refugees can celebrate their culture, earn a decent wage and feel a strong sense of belonging in their new or temporary communities."
Afghan vegetable dumplings
Ashak, or vegetable-filled Afghan dumplings, were one of the first dishes I tried at the pop up restaurant and later learned to make at a Home Kitchen cooking class.
I fell in love with these dumplings straight away, they're moreish, an absolute flavour sensation, and proof that simple ingredients, treated with love, can come together as a delicious and comforting meal.
The filling is a simple combination of leek, spring onions (scallions) and garlic, cooked until tender then bundled into store bought dumpling wrappers. The magic comes from serving the dumplings with a minted yoghurt dressing and a drizzle of oil-based tomato and garlic sauce - don't even think about skipping this, it's incredible!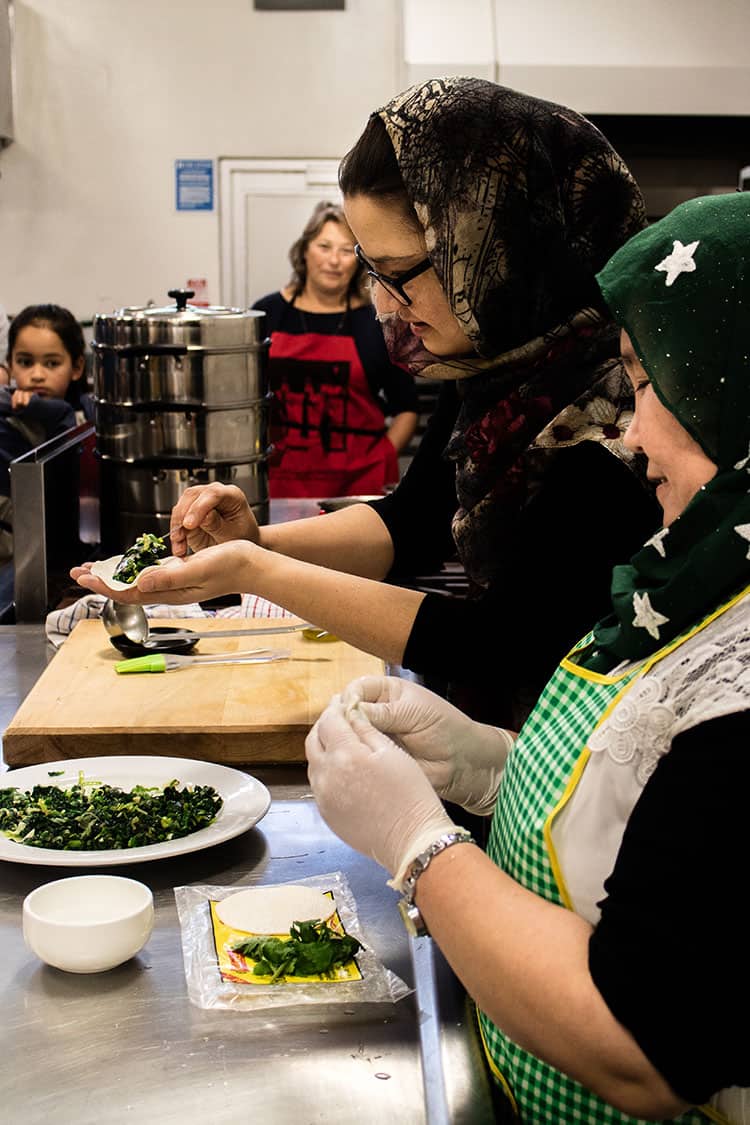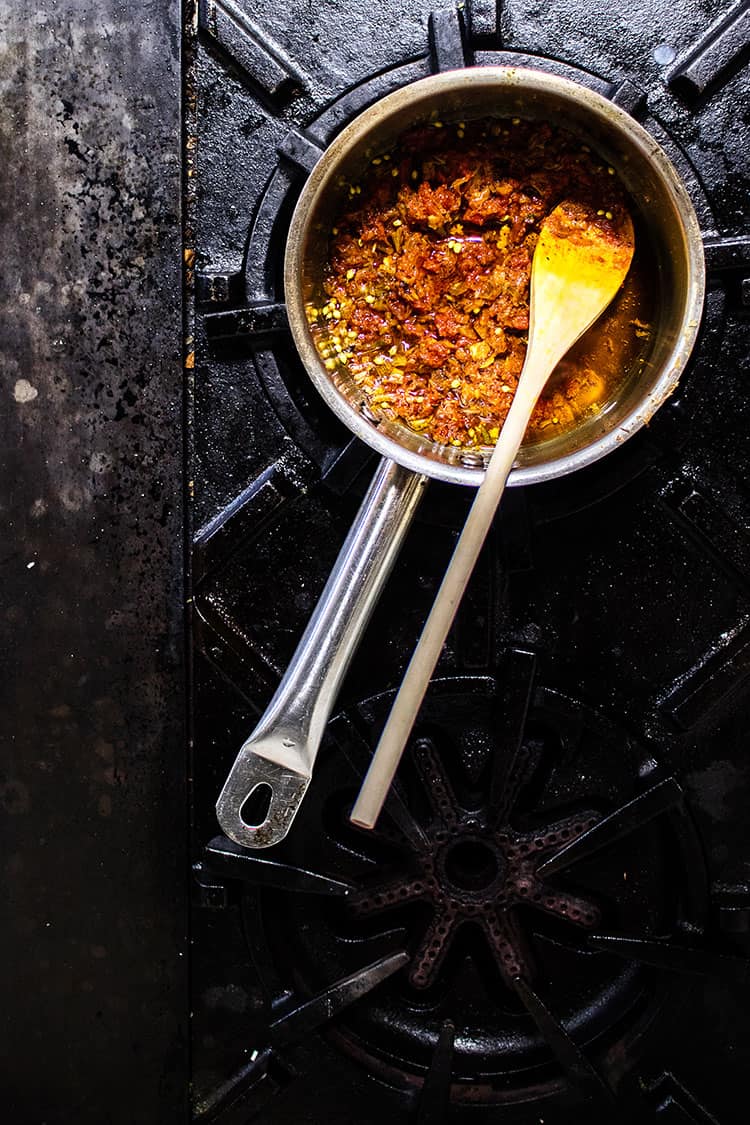 Get the recipe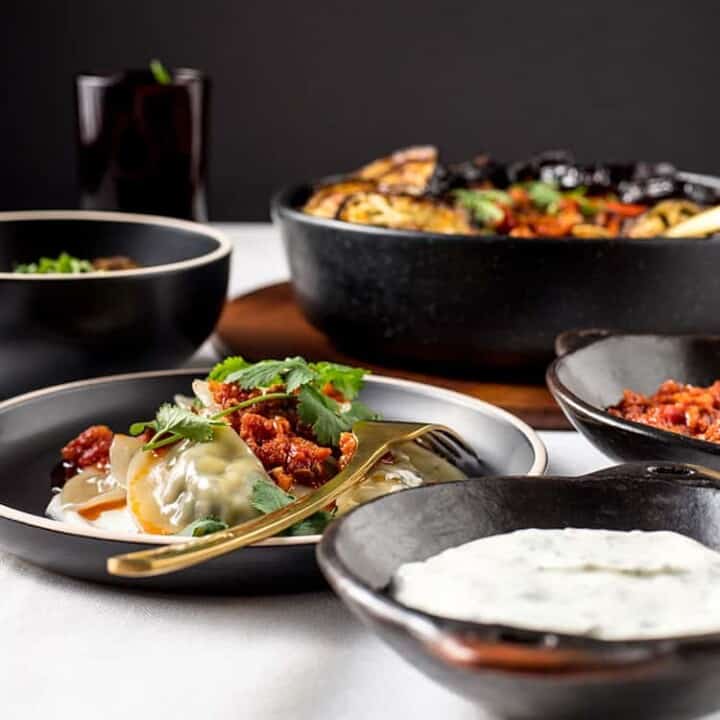 INGREDIENTS
For the yoghurt dressing:
¾

cup

coconut yoghurt

(or regular yoghurt)

2-3

tablespoon

finely chopped fresh mint

2

cloves

garlic

finely chopped or grated

Salt and pepper

to season
For the tomato and garlic sauce:
¼

cup

oil

1

cup

chopped tomatoes

fresh or canned

½

onion

finely chopped

1

clove

garlic

finely chopped or grated

1

teaspoon

coriander seeds

¼ - ½

teaspoon

cayenne pepper

(optional)

¼

teaspoon

salt
For the dumplings:
¼

cup

oil

3

large

leeks

finely chopped

5

spring onions

(scallions) finely chopped

1

clove

garlic

finely chopped or grated

Salt and pepper

to season

1

pack

round dumpling wrappers

(60 per pack)

Fresh coriander

(cilantro) to garnish
INSTRUCTIONS
For the yoghurt dressing:
Mix together the yoghurt, mint, garlic and salt and pepper to season. Set aside in the fridge until later.
For the tomato and garlic sauce:
Heat oil in a small frypan over medium heat. Add chopped tomato, onion, garlic, coriander seeds, cayenne pepper and salt. If you're sensitive to spice, add less cayenne pepper or leave it out. Fry, stirring often, for 10-15 minutes until soft, fragrant, and the tomato has lost a lot of its moisture. Set aside until serving time. 
For the dumplings:
Heat oil in a large frypan over medium heat. Add chopped leeks, spring onions and garlic. Cook, stirring often, for around 10 minutes, or until the mixture is soft, fragrant and has reduced in size by about half. Season with salt and pepper to taste. 

To assemble the dumplings, you will need a small bowl of water and a lined baking tray to arrange them on. Spoon a teaspoon of leek mixture into the centre of a dumpling wrapper. Dip your finger into the water and wet the edges of one half of the wrapper. Fold the wrapper in half to form a semi-circle and pinch around the edges, making sure the dumpling is fully sealed. Set aside on the lined tray and repeat until all dumplings have been filled. At this stage the dumplings can be covered and refrigerated until you're ready to cook them. 

The dumplings can be steamed or simmered to cook. If steaming, arrange the dumplings in one layer in a stainless steel or lined bamboo steamer (not touching, otherwise they'll stick together). Steam for about 5 minutes, until the wrappers are translucent. If simmering, lower dumplings into simmering vegetable broth or water and simmer for 3-4 minutes, until wrappers are translucent. Repeat in batches until all dumplings are cooked. 

To serve, spread a small spoonful of the yoghurt dressing on each plate. Arrange dumplings on top of the yoghurt dressing, then top with a little tomato and garlic sauce, more yoghurt dressing, and fresh coriander to garnish. 
RECIPE NOTES
Nutrition information is estimate. 
Recipe makes 60 dumplings, which will easily serve 8 people, or more if served as a side dish. 
Recipe published with permission of Home Kitchen. 
Story and recipe first published in the Spring 2019 issue of Nourish magazine. 
NUTRITION INFORMATION
Calories:
336
kcal
|
Carbohydrates:
42
g
|
Protein:
7
g
|
Fat:
16
g
|
Saturated Fat:
2
g
|
Cholesterol:
8
mg
|
Sodium:
457
mg
|
Potassium:
229
mg
|
Fiber:
2
g
|
Sugar:
4
g
|
Vitamin A:
784
IU
|
Vitamin C:
10
mg
|
Calcium:
93
mg
|
Iron:
3
mg