Oven-baked cubes of tofu coated with spicy peanut butter and sesame seeds are tasty protein bombs to add to salads or other meals on busy days.
Please excuse me, things have been a bit quiet around here. A whirlwind three weekends in a row of going away and having fun, followed by my entire household coming down with a terrible virus, proved to be more than even I could juggle. A few balls had to drop (heck they rolled right out the door, never to be seen again).
I'm a working Mum who wears many hats, and that comes with both rewards and challenges. I'm a 'get shit done' kind of gal, who always has a to-do list going on in my head. That means that some weeks I'm giving myself virtual high fives and slaps on the back for being so damn amazingly productive, and other weeks I beat myself up for not being able to meet the impossibly high standards I set for myself. Balance eh? It's like the holy grail.
Shopping for interesting ingredients, pottering in the kitchen and creating tasty meals is one of my favourite things, and one of the hardest to find time for when life is busy. Times like this, I'm all about shortcuts that aren't a compromise on nutrition or flavour.
Spicy peanut butter tofu
I recently came into possession of a jar of smoky chipotle peanut butter. You can imagine my delight (it's positively addictive), and I can think of so many ways to use it that don't include the words 'on toast'. I'm thinking dressings for noodle salads, added to stir fries, something with sweet potato... It's a shortcut that takes you halfway to satay sauce but leaves the final directions up to you. Brilliant.
If you have some, or can get your hands on something similar, this recipe for peanut butter tofu is so easy to achieve it's embarrassing. If chilli-spiked peanut butter is not in your pantry, you can mix smoked paprika and chilli flakes into regular crunchy peanut butter for a very similar effect (details in the recipe below). If you have it, a few drops of liquid smoke is an excellent addition too.
I added a little tamari to my chipotle peanut butter for saltiness, thinned it with a little water, then gently stirred cubes of firm tofu through it until they were thickly coated. Oven baked with a sprinkle of sesame seeds, this tofu is salty, spicy, nutty and moreishly delicious.
Store-bought slaw for the time-saving win
Lazy it may be, but I have NO GUILT about buying store-bought slaw. A bag of plain store-bought slaw contains nothing but vegetables that have simply been pre-shredded for you. The slaw is a great instant salad and it can also be the basis of a quick and dirty stirfry.
Today I added a handful of shredded mint leaves, more sesame seeds, a squeeze of fresh lime and a dribble of sesame oil to make a loosely Asian flavoured salad. It was the perfect bed for cubes of oven-baked peanut butter tofu, and taken to another level with a drizzle of hot sauce.
For a more substantial meal, you could add vermicelli or crunchy noodles. A drizzle of your favourite mayo wouldn't go amiss either.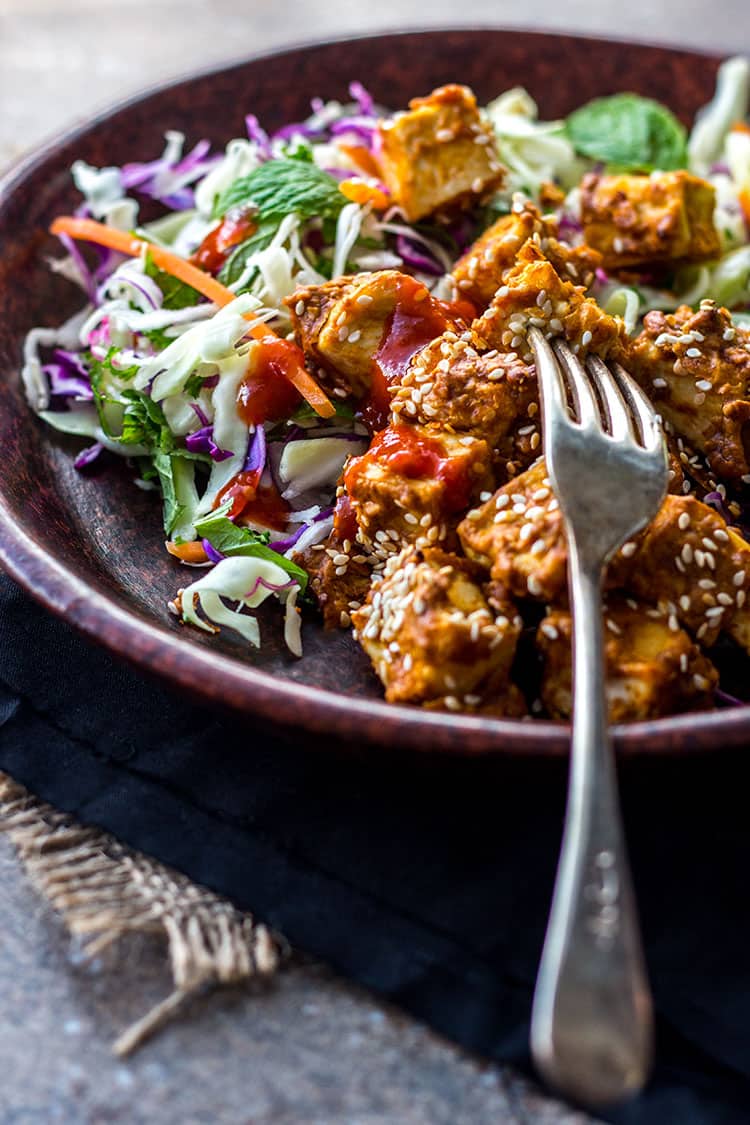 Get the recipe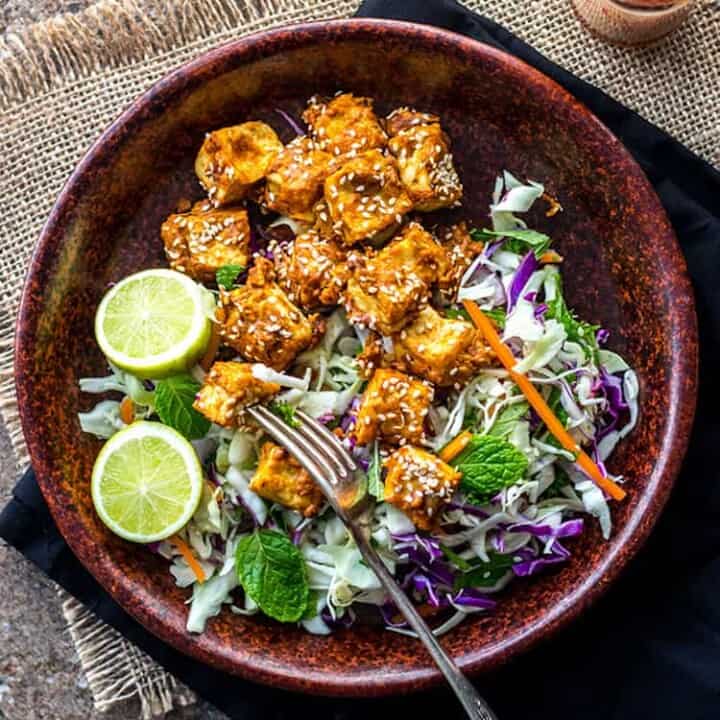 INGREDIENTS
For the tofu:
1

pack

firm tofu

(about 275g/10oz)

3

tablespoon

crunchy peanut butter

(or chipotle peanut butter)

1

teaspoon

tamari

(or soy sauce if not gluten free)

½

teaspoon

smoked paprika

(omit if using chipotle peanut butter)

¼

teaspoon

chilli flakes

(omit if using chipotle peanut butter)

⅛

teaspoon

liquid smoke

(optional - omit if using chipotle peanut butter)

3

tablespoon

water

2

teaspoon

sesame seeds
For the salad:
½

bag

ready made slaw

(about 225g/8oz)

Handful

fresh mint leaves

2

tablespoon

lime juice

(juice of one lime)

½

teaspoon

sesame oil

1

teaspoon

sesame seeds

Hot chilli sauce

(optional)
INSTRUCTIONS
Preheat oven to 210C/410F fanbake.

Drain tofu on kitchen towels and cut into dice.

If using chipotle peanut butter, mix 3 tablespoon of chipotle peanut butter with water and tamari in a mixing bowl.

If making your own chilli peanut butter, mix 3 tablespoon crunchy peanut butter with smoked paprika, chilli flakes, liquid smoke (if using), water and tamari in a mixing bowl.

Stir tofu gently through the peanut butter until it is thickly coated.

Spread peanut butter coated tofu out on a lined baking tray and sprinkle with sesame seeds.

Bake for 15-20 minutes or until golden brown and firm.

While the tofu is baking, toss the slaw, mint leaves, lime juice, sesame oil and sesame seeds together in a mixing bowl.

Serve cooked tofu on top of the slaw, with hot chilli sauce according to your taste.
NUTRITION INFORMATION
Calories:
289
kcal
|
Carbohydrates:
17
g
|
Protein:
17
g
|
Fat:
18
g
|
Saturated Fat:
3
g
|
Sodium:
354
mg
|
Potassium:
613
mg
|
Fiber:
4
g
|
Sugar:
7
g
|
Vitamin A:
430
IU
|
Vitamin C:
45.7
mg
|
Calcium:
129
mg
|
Iron:
2.9
mg
Nutrition Facts
Baked spicy peanut butter tofu
Amount Per Serving
Calories 289
Calories from Fat 162
% Daily Value*
Fat 18g28%
Sodium 354mg15%
Potassium 613mg18%
Carbohydrates 17g6%
Protein 17g34%
Vitamin A 430IU9%
Vitamin C 45.7mg55%
Calcium 129mg13%
Iron 2.9mg16%
* Percent Daily Values are based on a 2000 calorie diet.