Pretty in pink, these chickpea and beetroot falafel are easy to make and delicious served with a simple tahini and lemon sauce.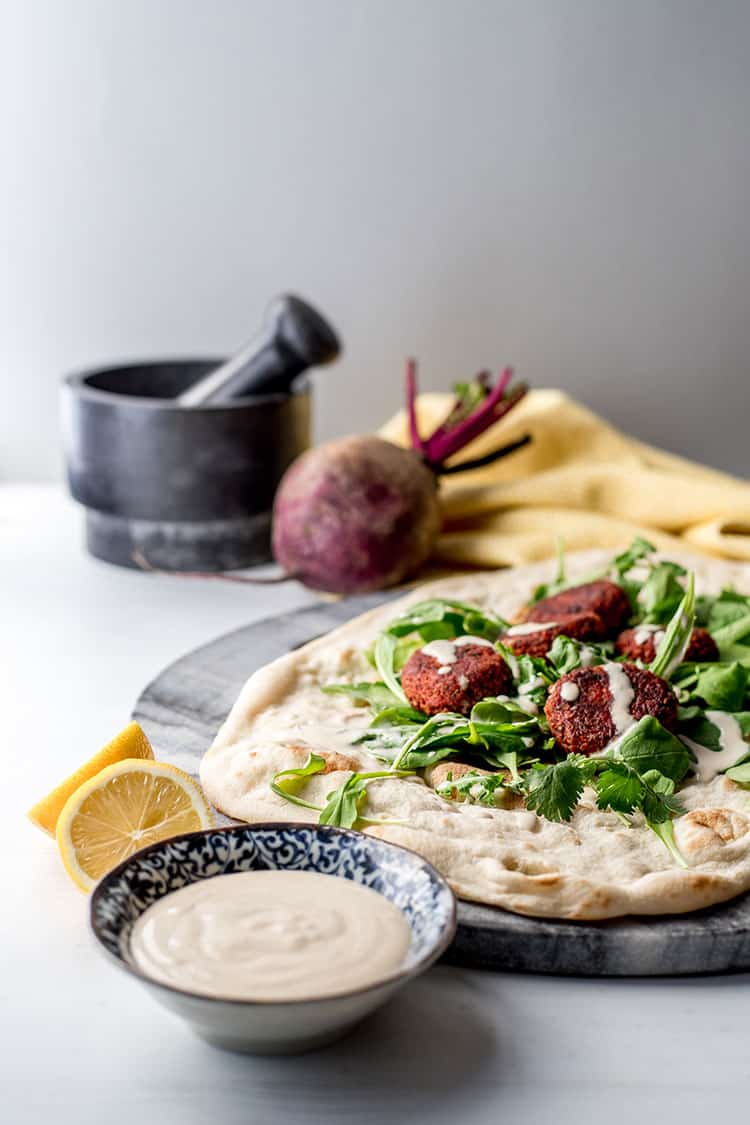 Finally, the seasons are turning. Our Kiwi summer really seemed to go on forever, with sultry evenings and sleepless hot nights commonplace right up until the end of March. I don't remember it being like that five or 10 years ago.
As always, I'm ready for the change. Snuggly jumpers, cozy evenings in front of the fire and plenty of home made soup have me almost looking forward to the chilly days to come. Admittedly, in another three or four months I may feel differently.
I'm not quite in cozy winter cooking mode just yet, but I have been enjoying more substantial meals and the shine of salad is starting to fade. The colder months typically also see my family much busier with work, school and after school activities, so I like to have some simple but nutritious meals planned for the week.
Home made, from scratch falafel is a surprisingly great meal to make ahead. I often work from home, so earlier in the day I'll whip up a batch of falafel dough then pop it in the fridge for later. All the work is done by the food processor, so it's not hard and only takes a few minutes. Later on, it's a simple case of rolling the falafel mixture into balls and pan frying them, before serving the cooked falafel with flat breads and vegetables. A little home made sauce on the side takes all of two minutes to shake together, and before you know it a tasty, nutritious meal is on the table.
Homemade beetroot falafel
I enjoy beetroot any way it comes and have been thinking about adding it to falafel for a while. It makes the falafel a pretty pink colour, doesn't affect the overall flavour much (though does add a nice sweet earthiness) and bumps up the nutritional value.
Adding beetroot to the mix does take a bit more cooking time, but it's as simple as peeling and chopping a beetroot and chucking it in the oven for half an hour. You could do that part the night before while you're using the oven for something else.
I experimented a bit with this recipe to get it right, and learned a few things along the way. In no particular order...
Too much beetroot gives a more intense colour, but adds too much moisture to the falafel mix.
Processing everything together causes the other ingredients to be over-blended and too smooth by the time the beetroot is blended in. Processing the beetroot first is a pro tip.
A bit of flour is helpful for binding, and chickpea flour works almost as well as white flour.
Baking the beetroot falafel instead of frying works just fine but the falafel are a bit more fragile.
In the end I used less beetroot than I imagined would be necessary, roasted it until tender (removing excess moisture in the process) and processed it alone before adding chickpeas, onion, garlic, herbs and spices. Once that mixture was processed but still had some texture, I removed it to a bowl and stirred through chickpea flour to form a dough that wasn't too sticky and could be rolled by hand.
I have to say, the uncooked beetroot falafel mixture is disturbingly 'meaty' looking, but don't worry, it tastes great.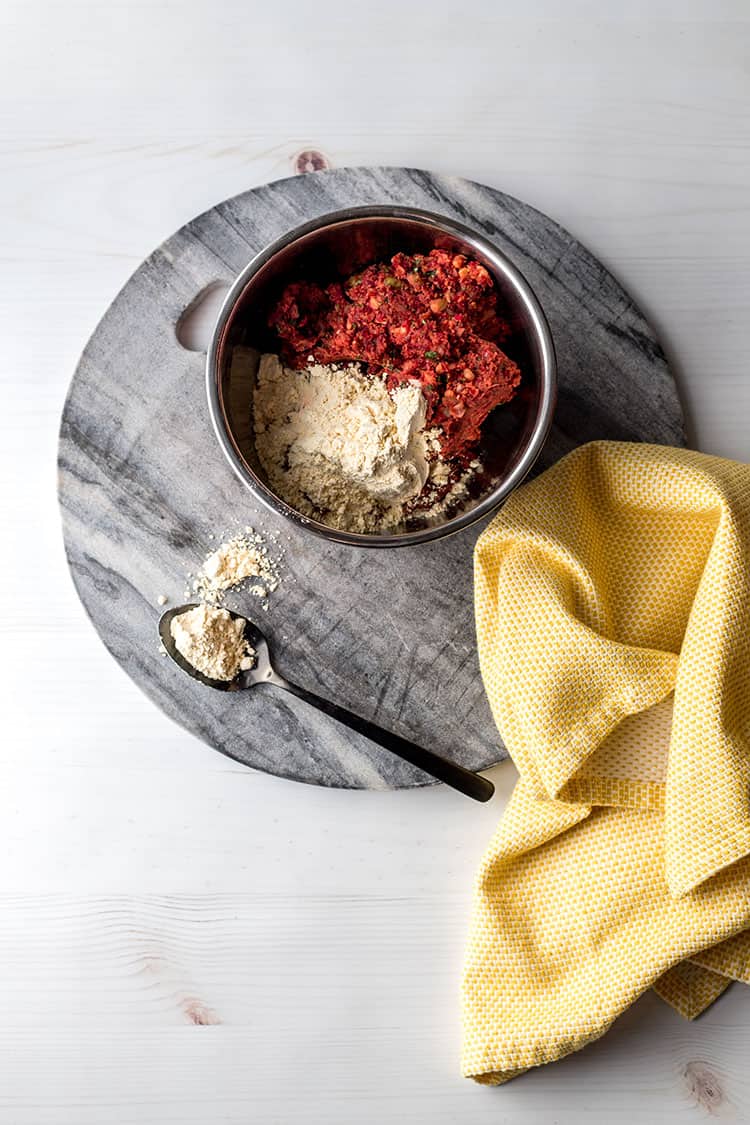 I tested this beetroot falafel mixture both fried and oven baked. I prefer fried falafel for its crispy brown edges and firm texture, but oven baking with a little spray oil does cut down on the fat content and still works - the edges are just a little less crispy, and the overall texture more delicate.
Once the falafel are wrapped in bread and being gobbled up, you probably won't notice much difference.
Simple tahini sauce
You can serve beetroot falafel with any sauce or condiment you like. I like to serve it with tahini sauce, which is a pretty traditional accompaniment that just works. For the simplest tahini sauce ever, I shake together tahini, water, lemon juice and a little salt until the ingredients emulsify into a thick but pourable dressing consistency. Delicious.
I served this batch of beetroot falafel with generous handfuls of rocket and coriander leaves. You could also try it with carrot and seed salad for a colourful and nutritious meal.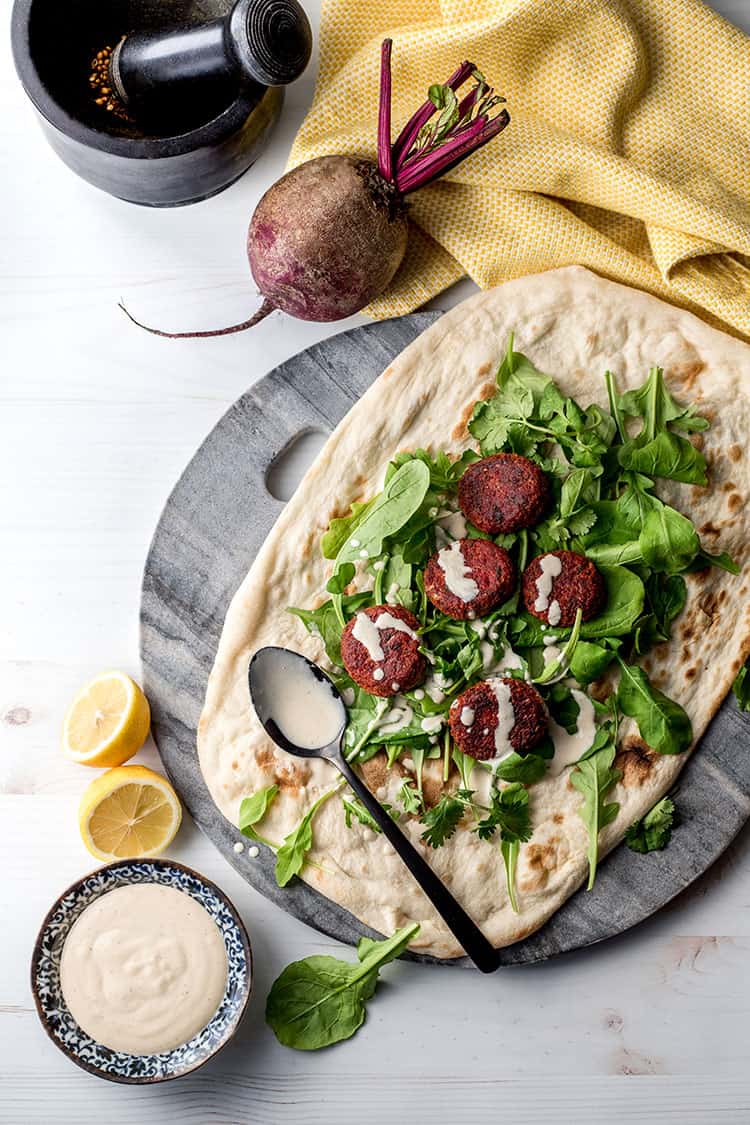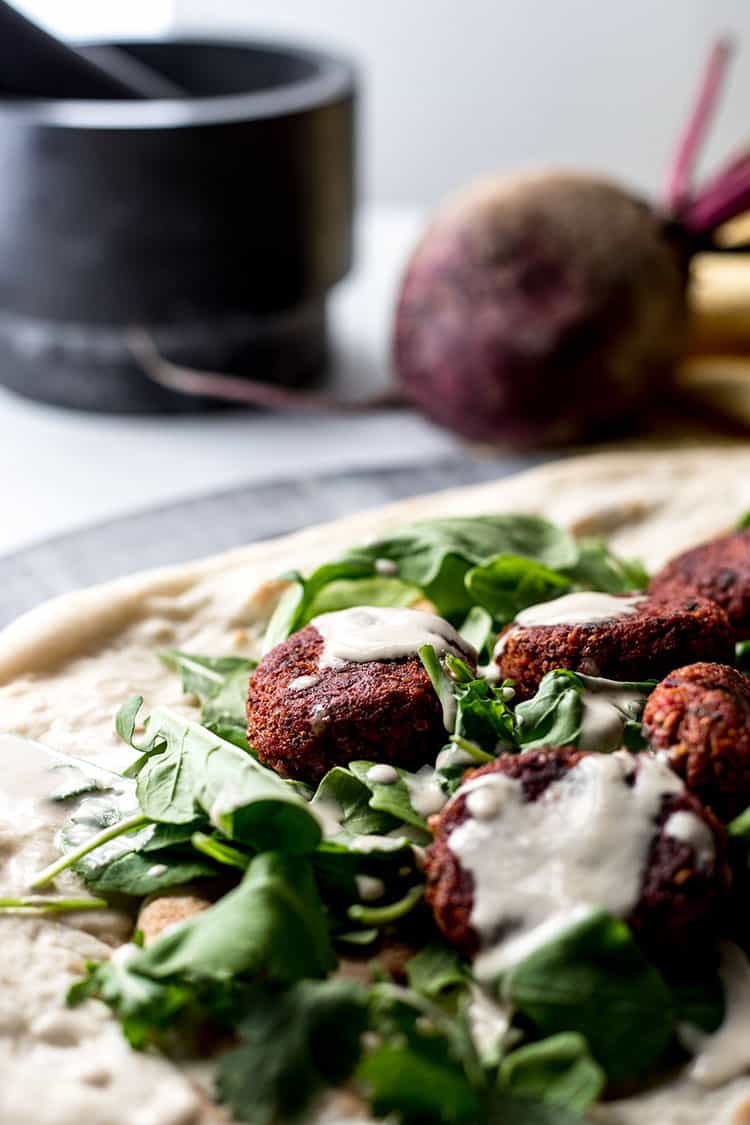 You might also like:
Get the recipe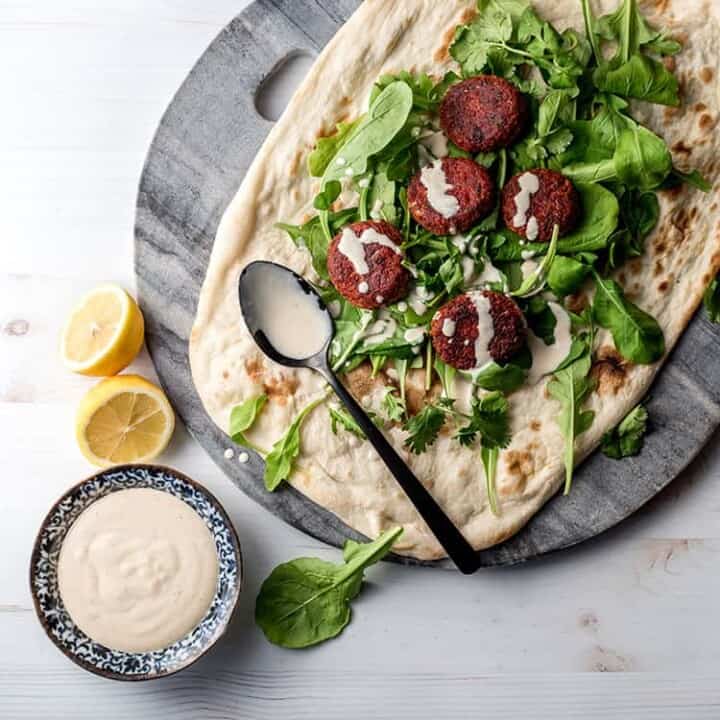 INGREDIENTS
For the beetroot falafel:
1

medium sized

beetroot

(about 200g/7oz) peeled and cut into chunks

Spray olive oil or olive oil to brush beetroot

1

teaspoon

cumin seeds

1

teaspoon

coriander seeds

1

can

chickpeas

drained and rinsed (240g/8.5oz chickpeas)

1

medium sized

onion

chopped

½

cup

coriander

(cilantro) roughly chopped

2

cloves

garlic

chopped

¼

teaspoon

salt

½

cup

chickpea flour

+ extra if needed

Cooking oil

for shallow frying (I use grape seed oil)
For the tahini sauce:
¼

cup

tahini

¼

cup

water

1

tablespoon

lemon juice

1-2

pinches

salt

(to taste)
To serve:
4

flat breads

of your choice

4+

handfuls

salad greens

of your choice (I used rocket and coriander)
INSTRUCTIONS
For the falafel:
Preheat oven to 210C (410F).

Spread chopped beetroot on a baking tray and spray or brush with a little olive oil and season with a little salt. Roast for 30-40 minutes, until beetroot is tender when cut with a knife. Remove from oven and allow to cool for at least 10-15 minutes. You can do this step ahead of time or even the night before if you prefer.

Heat a small frypan (skillet) over medium heat, then toast the cumin and coriander seeds for 1-2 minutes until fragrant. Remove from the heat and allow to cool for 1-2 minutes, then grind using a mortar and pestle or a spice grinder. If you don't have one, add the toasted spices to the food processor with the beetroot.

Put roasted beetroot into your food processor and blitz, scraping down the sides from time to time, until the beetroot is in consistently sized very small pieces (it probably won't form a puree as there's not enough moisture at this stage).

Add chickpeas, onion, garlic, chopped coriander (cilantro) and salt to the food processor. Process, stopping to scrape down the sides from time to time, until the mixture is well combined but still has some texture.

Scoop the falafel mixture into a mixing bowl, then add the chickpea flour and stir to combine. Check the consistency by rolling a small bowl of falafel dough, it should easily hold its shape and not be too sticky. If the mixture is still too soft or sticky, add more chickpea flour, 1-2 tablespoon at a time, until it reaches the right consistency. At this stage the falafel dough can be refrigerated for later, or cooked straight away.

When you're ready to cook, heat enough neutral flavoured cooking oil in a frypan (skillet) over medium heat for shallow frying. Working quickly, roll falafel into small walnut-sized balls, flatten slightly, then gently place into the frypan. Repeat until the frypan is fairly full, but falafel are not touching each other. Allow falafel to fry for 3-4 minutes on each side, until golden brown. Remove to a warm oven and repeat with the remaining falafel dough.

If you would prefer to oven bake the falafel, roll the dough into balls, flatten slightly and arrange on a lined baking tray. Spray or brush with a little olive oil and bake at 210C (410F) for 20-25 minutes, turning carefully after 10 minutes and spraying or brushing with a little more oil if needed.
For the tahini sauce:
Put all sauce ingredients into a small jar or sealed container and shake until combined. Taste and add more salt if required.
To serve:
Serve beetroot falafel with warmed flat breads, salad greens and a generous drizzle of tahini sauce.
RECIPE NOTES
Nutrition information is estimate and does not include oil for shallow frying - you decide how much oil you would like to use. 
NUTRITION INFORMATION
Calories:
400
kcal
|
Carbohydrates:
59
g
|
Protein:
16
g
|
Fat:
13
g
|
Saturated Fat:
1
g
|
Cholesterol:
0
mg
|
Sodium:
482
mg
|
Potassium:
660
mg
|
Fiber:
11
g
|
Sugar:
9
g
|
Vitamin A:
170
IU
|
Vitamin C:
8.3
mg
|
Calcium:
88
mg
|
Iron:
5.2
mg