Home made boysenberry and apple cider vinegar shrub, a refreshing alternative to fruit cordials and a perfect mixer for alcoholic and non-alcoholic drinks.
Christmas. Heatwave. Christmas heatwave. Those words don't usually belong together, am I right? Christmas is a summer thing here in New Zealand, but in my living memory we have NEVER had temperatures hovering around 30C (86F) in December. It's been crazy.
On the one hand it's been lovely. Summer is here! On the other hand, is this global warming? It's depressing.
Berries are at their peak right now though, prolific and affordable. I picked up a kilogram (just over two pounds) of fresh, fat and juicy boysenberries for $8NZD last week and gosh they were good. They don't keep well though and the berries towards the bottom were inevitably a bit bruised and weepy by the next day. There was no way I was going to let them go to waste, so I turned them into a batch of refreshing home made boysenberry shrub.
Do tell, what is a shrub?
No, I'm not talking about a small tree. Shrubs are a sweetened vinegar-based syrup, or drinking vinegar, made from fresh fruit, vinegar and sugar. Shrubs are a gorgeous addition to non-alcoholic drinks like soda water, and make a stellar mixed drink with spirits like vodka, gin or whisky. Heck, they're probably even great in a champagne cocktail.
The taste is a balance of sweet, sharp and fruity, and it's a seriously refreshing combination. Figuratively and literally.
This was my first time making shrubs and it's incredibly simple. I followed the excellent directions in this article from Food 52 on how to make shrubs without a recipe.
I lightly mashed a heaped cup of boysenberries and stirred them through a cup of sugar, then covered the bowl and left the mixture in my fridge for a few days - stirring at least once a day. After a few days of sitting in the fridge the sugar will have mostly dissolved and drawn all the liquid out of the fruit. It's then a simple matter of pouring the syrupy fruit through a sieve, discarding the solids, then mixing vinegar into the fruit syrup - to taste.
I also threw a handful of fresh lemon balm in with the fruit and sugar, but in honesty I couldn't taste it in the final product so I've been serving this boysenberry shrub with a sprig of lemon balm leaves in the glass - which tastes excellent.
My husband is vinegar-averse and revolted by the idea of this drink. I however LOVE it, as does my eight year old daughter. I admittedly do have a liking for sharp flavours, and already drink diluted apple cider vinegar regularly. If this is you too, get your hands on some berries or other fruit and give it a go!
Which vinegar to use?
I used unpasteurised, unfiltered apple cider vinegar (ACV) to make my boysenberry shrub. I enjoy the flavour of ACV, and it's also thought to be good for gut health and a range of other things. Whether those benefits still exist when it's mixed with sugar, who knows. I know I like it though.
You can also use balsamic vinegar, white wine vinegar or red wine vinegar - which would probably be my pick of vinegars to try next time around, perhaps with strawberries or plums.
What about all the sugar?
I'm sure I'm not alone in thinking sugary drinks don't have a place in a healthy diet. By my calculations, if you make a drink using about 1 tablespoon of boysenberry shrub syrup (enough, in my opinion) it'll contain about 6 grams of sugar, or just over 1 teaspoon. Not too bad compared to the 35 grams or so found in a can of soft drink. This is made with real fruit so has some positive nutritional benefit too. I don't feel too bad about it at all.
Merry Christmas to you and yours
I wish you all a wonderful holiday, a happy Christmas and celebratory New Year. Please take the time to be thankful for all you have, to share your time with the people you love and spare a thought for those less fortunate.
The world is a troubled place, now more than ever, and I for one feel enormously lucky to enjoy the freedom, health and wealth afforded me by living in New Zealand.
I'll be taking a break over the holiday period to hang out with my kids, take lots of day trips, and hopefully bury my nose in a few new cookbooks.
Thank you for your ongoing support, it means the world to me. See you in 2018.
Amber xxx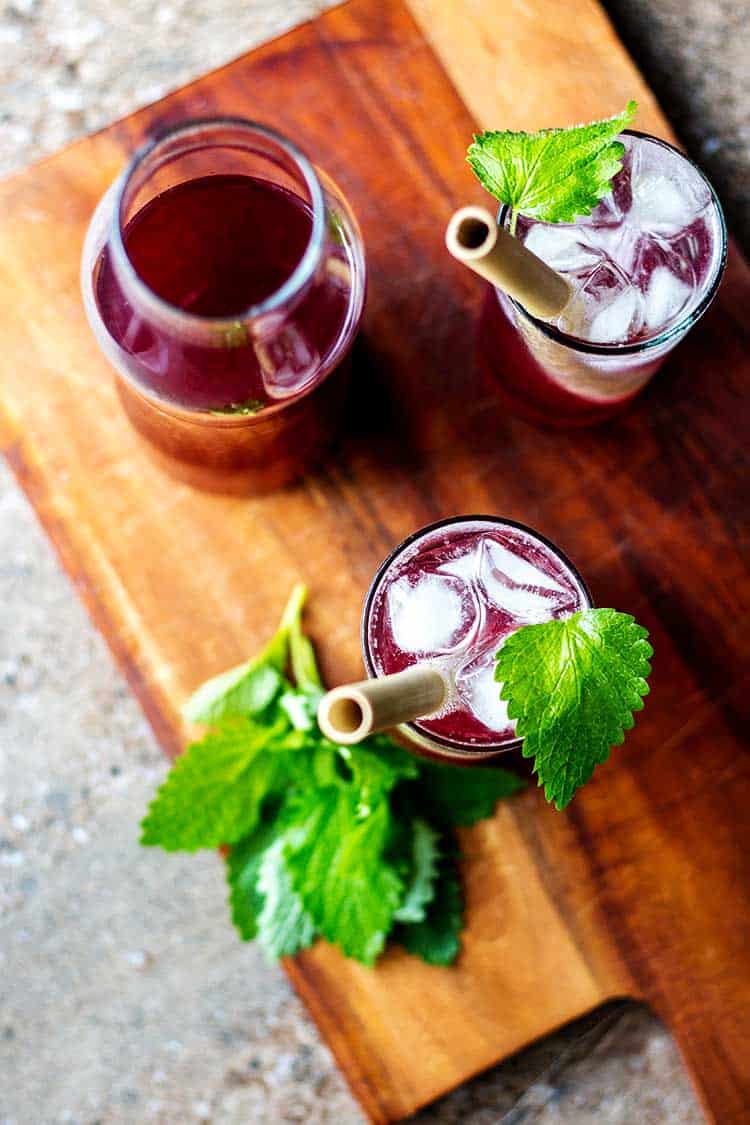 Get the recipe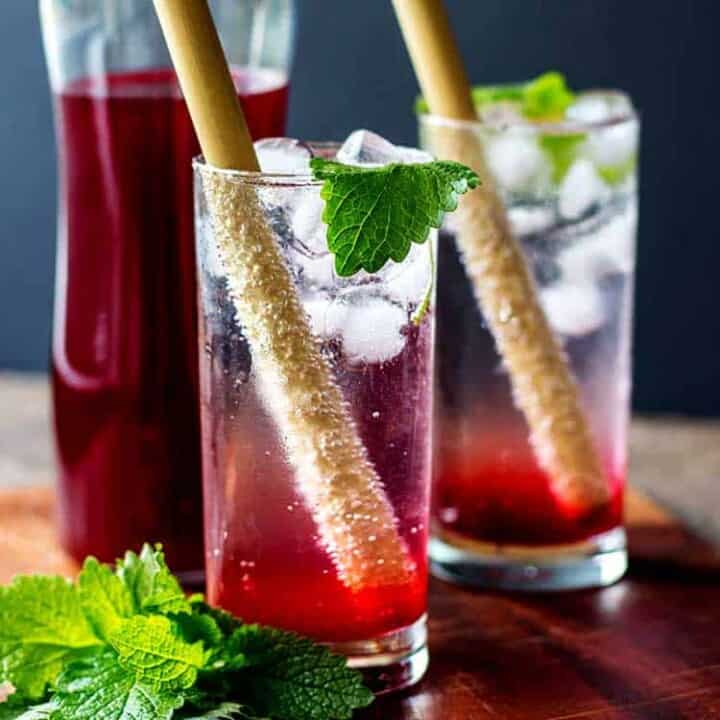 INGREDIENTS
1

heaped cup

boysenberries

or other berries (about 220g/0.5lb)

1

cup

sugar

1

cup

apple cider vinegar

Lemon balm leaves

to garnish (or mint leaves, both optional)
INSTRUCTIONS
Lightly mash fruit and stir through one cup of sugar. Cover and refrigerate for 2-3 days, stirring daily. You can leave it on the countertop in cooler climates.

Stir the mixture, then strain the syrupy fruit through a sieve and discard the solids. If there's undissolved sugar, mix it in.

Stir in the vinegar, starting with half a cup and tasting as you go. I used the full cup.

Pour into a bottle with a lid and pop it in the fridge.

Serve about 1 tablespoon of shrub syrup in a mixed drink. Try it with soda water, and a splash of vodka or other spirits if you like. Garnish with fresh lemon balm or mint leaves.
RECIPE NOTES
Makes about 2 cups of shrub syrup. 
Fresh or frozen berries can be used, just defrost them first if using frozen. 
NUTRITION INFORMATION
Calories:
29
kcal
|
Carbohydrates:
7
g
|
Potassium:
15
mg
|
Sugar:
6
g
|
Vitamin A:
5
IU
|
Vitamin C:
0.2
mg
|
Calcium:
2
mg
|
Iron:
0.1
mg
Nutrition Facts
Boysenberry and apple cider vinegar shrub
Amount Per Serving
Calories 29
% Daily Value*
Potassium 15mg0%
Carbohydrates 7g2%
Vitamin A 5IU0%
Vitamin C 0.2mg0%
Calcium 2mg0%
Iron 0.1mg1%
* Percent Daily Values are based on a 2000 calorie diet.