Dark, dense, gluten free chocolate brownie bars topped with three-ingredient, maple sweetened peanut butter fudge.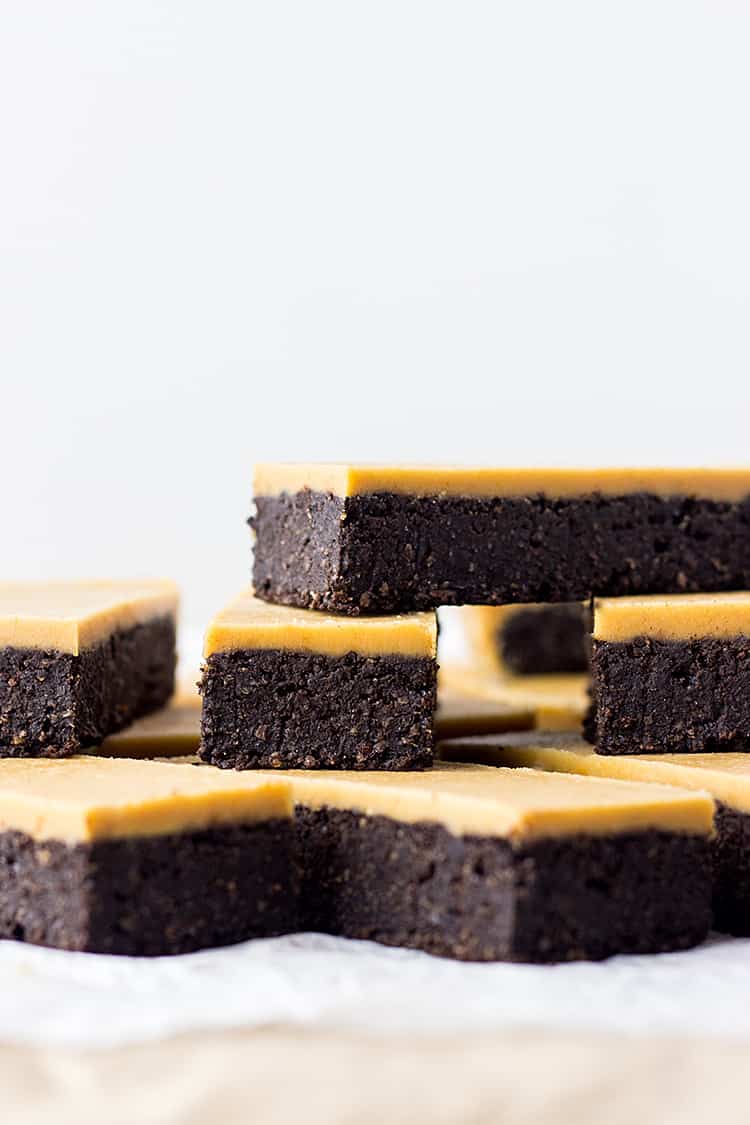 Here's one for the peanut butter lovers out there. You know who you are, and I am one of you.
It took me a long time to come around to peanut butter and sweet things, for some reason it just didn't appeal. I'm still not a huge fan of actual peanuts and sweet things (snickers, bleurgh) but salty, savoury peanut butter is a whole other story.
I LOVE smooth peanut butter as a rich counterpoint to berry or chocolate flavours, and it's just gorgeous in these chocolate peanut butter fudge bars. Look at these beauties!
Three-ingredient peanut butter fudge
Calling this 'fudge' might be overstating it a little. There's certainly no cooking or candy thermometers involved. But this simple peanut butter fudge is smooth and creamy, decadent and rich, all things fudge should be.
Melt together peanut butter and coconut oil, sweeten it with a little maple syrup, let it set in the fridge, and voila, you have dairy free, low carb, whole foods fudge. Magic.
Go on and make the peanut butter fudge for a treat all by itself, or whip up a batch of brownies and pour the fudge mixture over the top. I love how it gets down the sides of tin and surrounds the brownie, so when it's cut the edge pieces are definitely the best! You could add extras sprinkled over the wet fudge before it sets too, think cacao nibs, chocolate chips, nuts or seeds. Yum!
Easy vegan chocolate brownie
This isn't a new recipe, it's the same base mixture from my ever popular chocolate and pear brownie, just taken in a new direction. Making this recipe reminded me how much I like that brownie mixture. It's easy, gluten free and makes the most of the natural behaviour of its ingredients. In combination with ground flaxseed (as flax eggs), oat flour helps the brownie set well and gives it a moist, dense texture. It's rich and chocolatey, but not too sweet. I don't think you'd pick this as vegan baking, which is pretty cool.
I grind my own flaxseed and oats with a high speed blender, or you can buy flax meal or oat flour - whatever you prefer.
If you've been considering buying a high speed blender, I say do it. I bought mine last year and while it was a significant investment, for sure, I use it almost every day. It's become a key piece of kitchen equipment that I wouldn't want to do without.
If you have the money for it, the big brands are Vitamix and Blendtec. I didn't have that kind of budget, so went with an Optimum 9400 from Froothie. I love it, there's nothing it hasn't been able to do, and while I haven't tried the others I'm sure it performs to a similar standard. Blender love. Haha. (This post is not sponsored).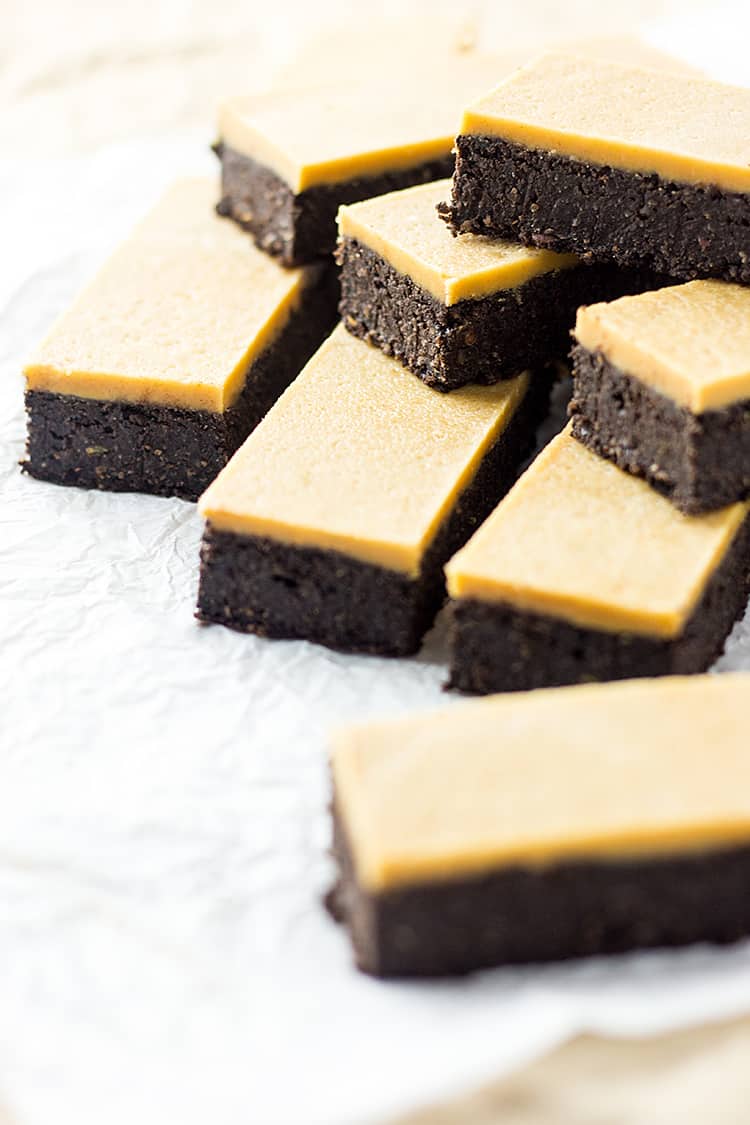 Get the recipe
INGREDIENTS
For the brownie:
3

tablespoon

ground flaxseed

(buy it pre-ground or make your own in a high speed blender or coffee grinder)

1

cup

oat flour

(buy it pre-ground - check label if gluten free - or make your own by grinding oats in a high speed blender)

½

cup

ground almonds

(almond meal)

½

cup

cocoa

1

teaspoon

baking powder

(check label if gluten free)

Pinch of salt

¾

cup

soy milk

or milk of your choice

¼

cup

+ 2 tablespoon maple syrup

¼

cup

coconut oil

melted if solid

1

teaspoon

instant coffee

dissolved in 1 tablespoon boiling water

1

teaspoon

natural vanilla extract
For the peanut butter fudge:
½

cup

smooth peanut butter

½

cup

coconut oil

2

tablespoon

maple syrup
INSTRUCTIONS
Mix 3 tablespoon of ground flaxseed with 6 tablespoon of water and set aside for about 15 minutes. It will become thick and gel-like. This mixture is the equivalent of three 'flax eggs' and will act as an egg replacer in the brownie batter.

Preheat oven to 200C (390F) and grease and line a rectangular baking dish. I used an 18x27cm pan (approximately 7x10.5 inches).

Mix dry ingredients in a large mixing bowl: oat flour, ground almonds, cocoa, baking powder and salt.

Add wet ingredients: milk, maple syrup, coconut oil, dissolved coffee, vanilla paste and flax seed gel.

Beat until the mixture is smooth and well combined. If it seems too thick, add 1-2 tablespoon more milk.

Pour batter into the pre-prepared baking dish.

Bake for approximately 15 minutes. Once done, the brownie will pull away from the sides of the pan a little and look 'cooked', but a skewer will not come out clean. You want the middle to still be a bit fudgey.

Allow brownie to cool in the tin for about half an hour before adding the peanut butter fudge layer.

To make the peanut butter fudge, melt peanut butter, coconut oil and maple syrup together in a small saucepan. Whisk until smooth and well combined, then pour over the brownie.

Chill in the fridge until completely set. Serve straight from the fridge, as the peanut butter fudge will soften and melt at room temperature.
RECIPE NOTES
Prep time does not include cooling or chilling time.
Nutrition information is based on 16 bar sized portions, but you could easily cut those in half for 32 serves - which are still a lovely little treat.
NUTRITION INFORMATION
Calories:
221
kcal
|
Carbohydrates:
15.6
g
|
Protein:
4.5
g
|
Fat:
17.1
g
|
Saturated Fat:
10.2
g
|
Cholesterol:
0
mg
|
Fiber:
2.6
g
Nutrition Facts
Chocolate peanut butter fudge bars
Amount Per Serving
Calories 221
Calories from Fat 154
% Daily Value*
Fat 17.1g26%
Cholesterol 0mg0%
Carbohydrates 15.6g5%
Protein 4.5g9%
* Percent Daily Values are based on a 2000 calorie diet.