A healthy but delicious dessert of spiced poached pears in a turmeric infused syrup, inspired by Indonesian jamu.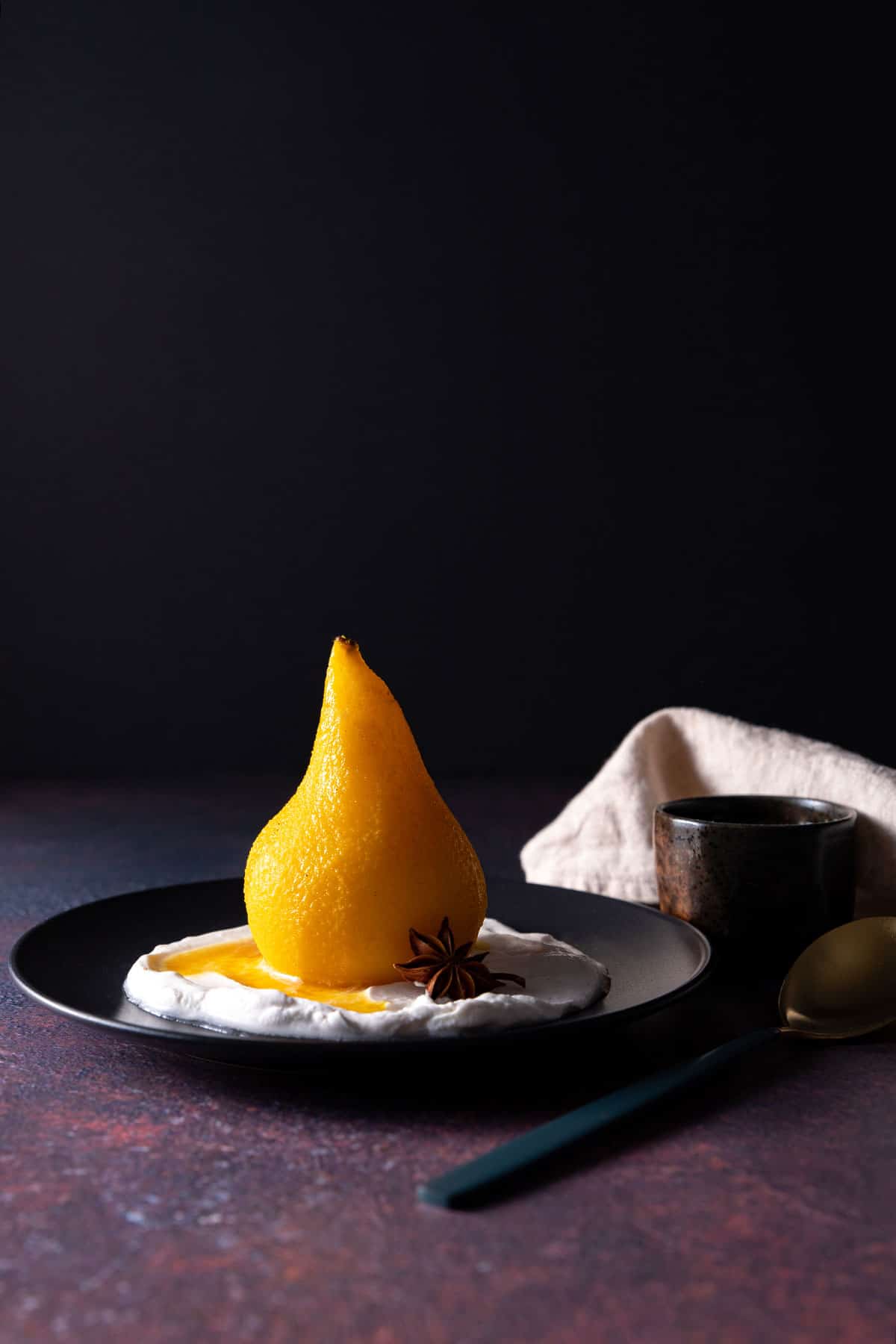 Burnished golden leaves underfoot, chill air, it's one of my favourite times of the year. Autumn always sees me feeling nostalgic, somewhat melancholy and inclined towards the cosy comforts of home.
Slippers, a warm fire, snuggles on the couch and, oh yes, a show-stopping dessert and I'm going to be feeling pretty zen.
In the interests of being kinder to my body, I'm in the mood for sweet nourishment that leaves me feeling light and energised. For me that means fruit is front and centre.
Perfect golden spiced poached pears
Poached pears really are a thing of great beauty. Gentle cooking, select spices and a little sweetness transform a simple pear into something quite seductive.
I've tried my hand at red wine poached pears many times with great success, but wanted to head in a different direction this time. With Indonesian jamu as my inspiration, I headed down the golden turmeric route and gosh did it lead me to a happy place.
I'm a sucker for the heady fragrance of freshly ground cardamom, so that made the cut. Fresh ginger and turmeric, of course. A little ground black pepper aids absorption of curcumin (the active ingredient in turmeric), and I rounded the spices out by throwing in a few whole star anise.
I chose to sweeten my poaching liquid with a little minimally processed honey from Honey Paihia, picked up over my summer holiday. To make this fully vegan, swap the honey for maple syrup or brown rice syrup.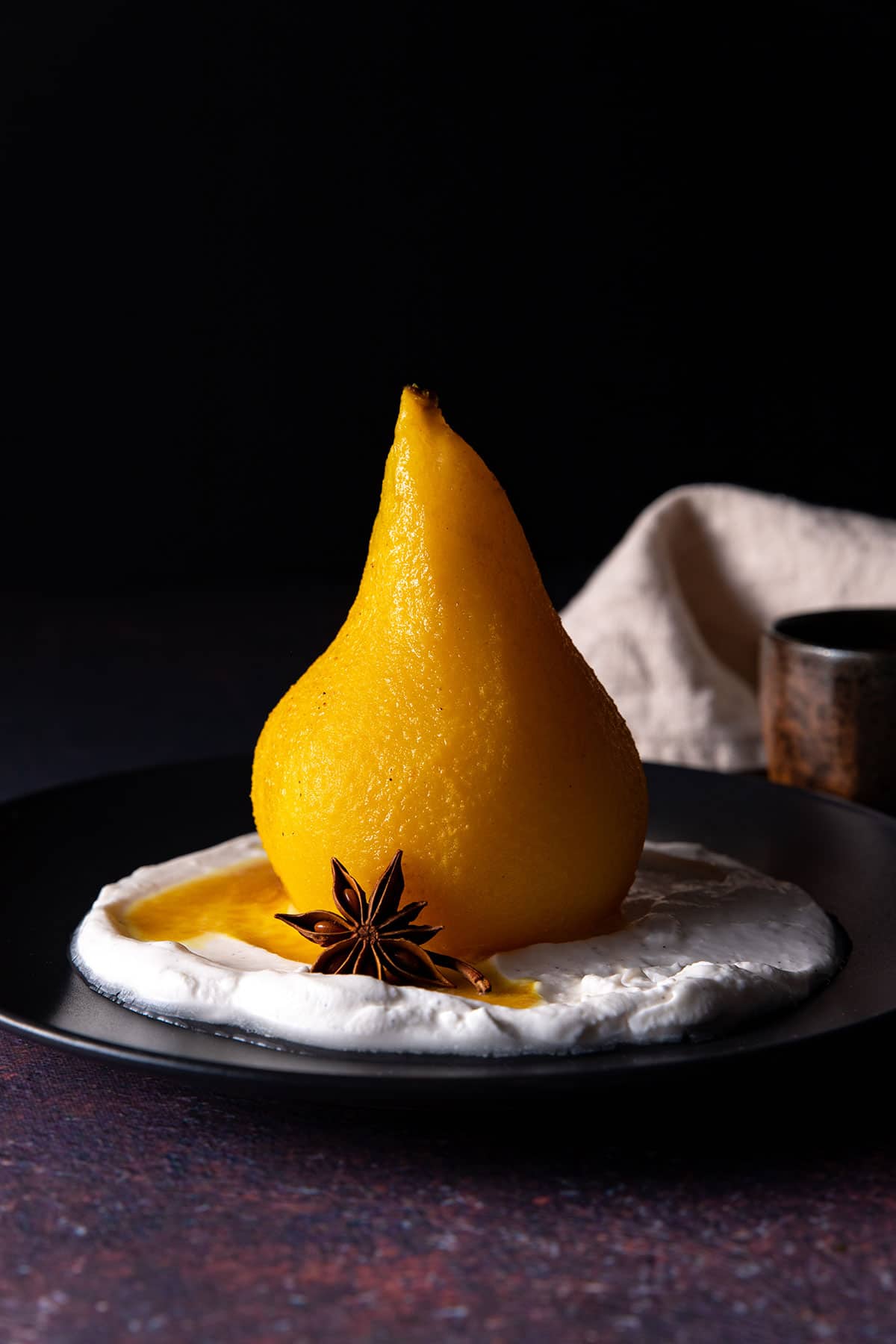 How to poach pears successfully
If this all sounds a little bit fancy, don't be put off. Poaching pears is really very simple.
Start by choosing the perfect fruit. I used beurre bosc pears, which have firm but sweet and juicy flesh. Choose pears that are ripe, but still firm, with as few blemishes as possible.
Don't be too organised! Seriously. Don't peel your pears ahead of time, they'll go brown. Make your poaching liquid, then peel your pears and put them straight in. Leave the stem on if you can, it makes a useful little handle to turn the pears while they're cooking.
Be gentle. On both yourself and the pears. Take your time, put some music on and enjoy the gorgeous smells wafting about your kitchen. On a more practical note, don't overcrowd the pan as it will make the pears difficult to turn. I tested out a few pans before I started, by placing un-peeled pears in them to see how they'd fit. Depending on the size of your pan, you'll be able to cook 4-6 at a time (I did five). They don't need to be fully submerged in liquid - around two-thirds covered is fine.
Don't rush it. Pears need a lovely bath not an angry boil. Cook them at a gentle simmer until a bread and butter knife inserted at the base meets very little resistance. The end goal is luscious, silky flesh that barely resists a spoon.
Choose your weapons wisely. Once the pears start to soften it's really easy to damage them with a spoon or tongs (not a problem, they'll still taste good). If you want perfect pears then use tongs to carefully grab the stem of the pear to turn it over in the pan.
Concentrate. Once the spiced poached pears are cooked, remove them from the poaching liquid and set aside at room temperature if you want to eat them warm - or pop them in the fridge to eat chilled (both are delicious). The remaining golden elixir is not to be wasted! Turn the heat up a bit and simmer for another 20-25 minutes to reduce the liquid by about three-quarters. There's not enough sugar in this to become a true syrup but the concentrated jamu-like liquid is still absolutely delicious spooned over the pears to serve.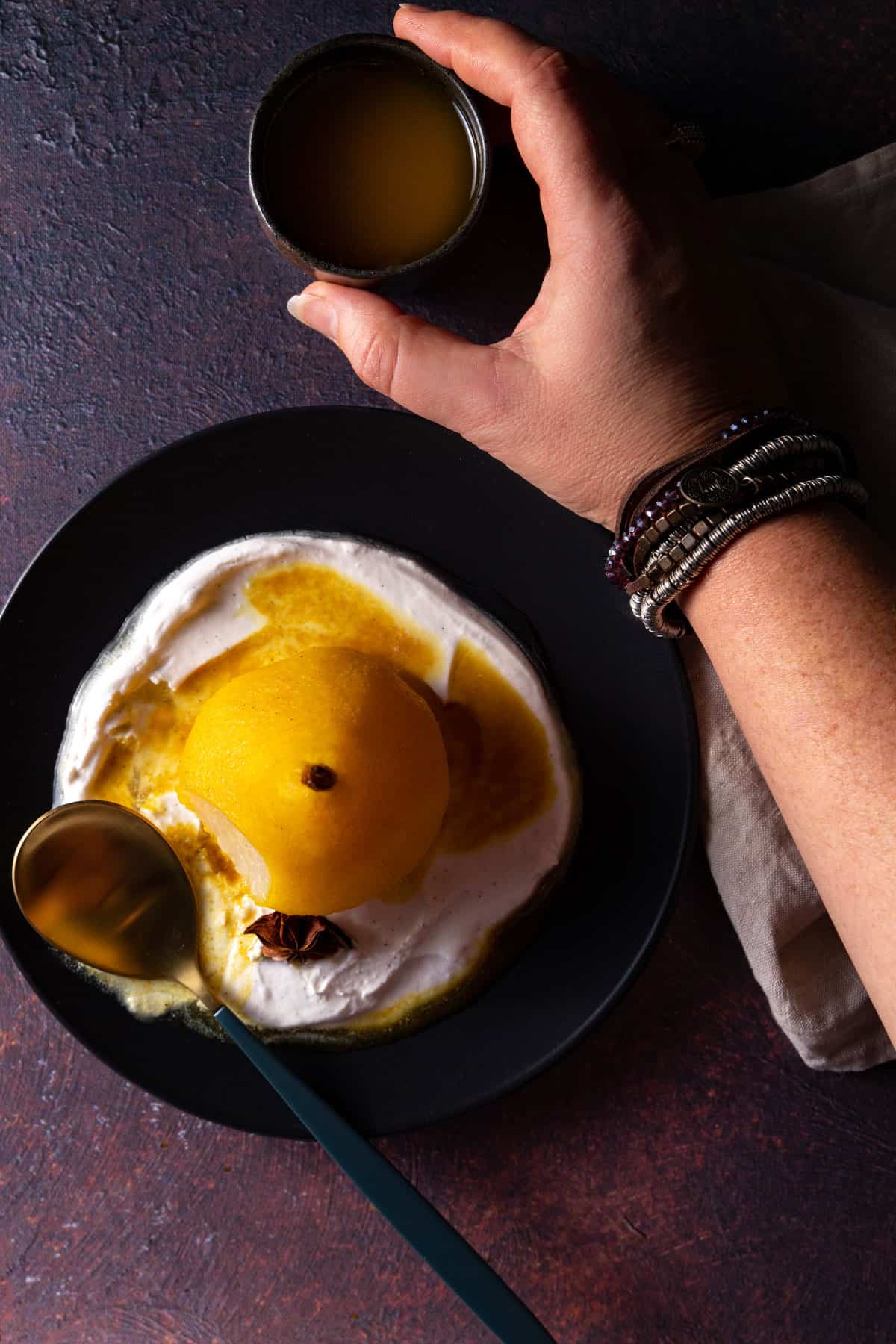 Serving ideas
I served my poached pears simply with some vanilla bean coconut yoghurt and a drizzle of the reduced poaching liquid. It was sweet perfection.
You could also serve your poached pears with:
plain yoghurt
vanilla ice cream
mango sorbet
custard
whipped coconut cream.
If you really want to push the boat out for a special occasion, try serving spiced poached pears with this saffron custard tart (skip the nectarines).
And you know what? I think you'd also be pretty happy serving a poached pear with your favourite granola for breakfast. Thank me later.
You might also like to try
Get the recipe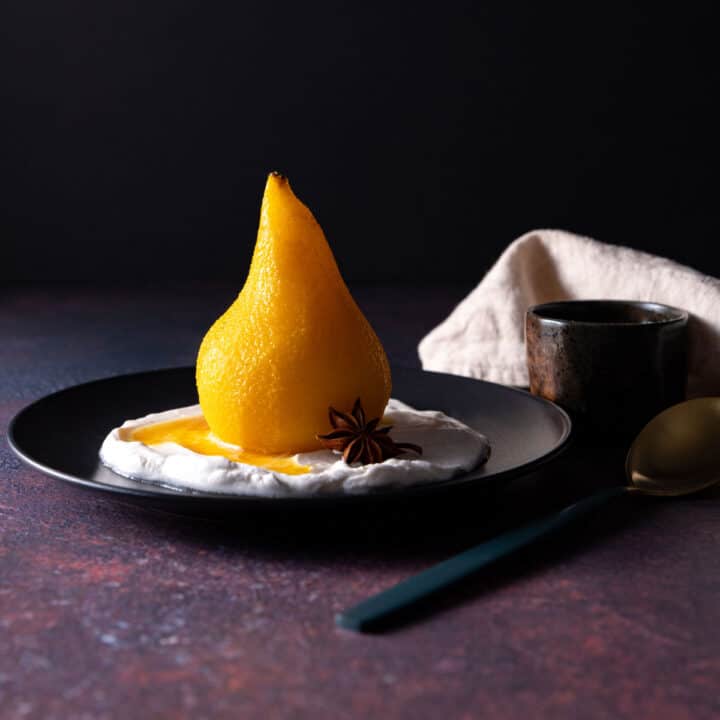 INGREDIENTS
3

cups

water

2

tablespoon

honey

(or brown rice syrup or maple syrup)

1

teaspoon

finely grated fresh ginger

½

teaspoon

ground turmeric

¼

teaspoon

freshly ground cardamom seeds

(see recipe notes)

2

whole

star anise

Pinch

ground black pepper

4-6

pears

(depending how many will fit in your saucepan)
INSTRUCTIONS
Before you start, check how many un-peeled pears you can fit into a deep saucepan with a lid. The pears should fit in one layer. Snug is fine, but they need a little room so they can be turned during cooking.

Combine all ingredients except the pears in the saucepan and stir to combine over medium heat. Once the mixture comes to a simmer, turn the heat down to low and prepare the pears.

Peel the pears, leaving the stem intact if possible. Put the pears into the poaching liquid, cover and simmer for 20-25 minutes until the pears are very tender. Turn after 10 minutes to ensure the pears cook evenly. Test for doneness by piercing the thick base of the pear with a bread and butter knife, which should meet very little resistance.

Remove pears to a plate and set aside at room temperature if serving warm, or pop in the fridge for later if serving chilled (both are delicious).

Simmer the remaining poaching liquid for about 20 minutes, until reduced by about three-quarters. Strain through a sieve and discard the chunky bits. Chill if desired.

Serve with yoghurt, ice cream or custard and drizzle pears with a little poaching liquid.
RECIPE NOTES
Nutrition information is estimate based on using four pears.
Fresh is best when it comes to ground cardamom. Try to buy either whole cardamom seeds or pods then grind by hand using a mortar and pestle or spice grinder. A quarter teaspoon of ground cardamom is equivalent to the seeds from approximately six pods.
The quantity of pears is flexible depending on the size of your saucepan. I was able to fit five in mine. If you have a bigger pan that can fit six, add a splash more water. 
Pears can be stored in the fridge for a few days once cooked. If doing this, put them in a glass storage container (turmeric stains) and pour the reduced cooking liquid over them to keep them moist. 
NUTRITION INFORMATION
Serving:
1
pear
|
Calories:
551
kcal
|
Carbohydrates:
146
g
|
Protein:
3
g
|
Fat:
2
g
|
Saturated Fat:
1
g
|
Sodium:
47
mg
|
Potassium:
916
mg
|
Fiber:
23
g
|
Sugar:
104
g
|
Vitamin A:
184
IU
|
Vitamin C:
32
mg
|
Calcium:
107
mg
|
Iron:
3
mg