A dreamy vegan custard tart with a home made short pastry case, scented with saffron and vanilla, and topped with perfect summer nectarines.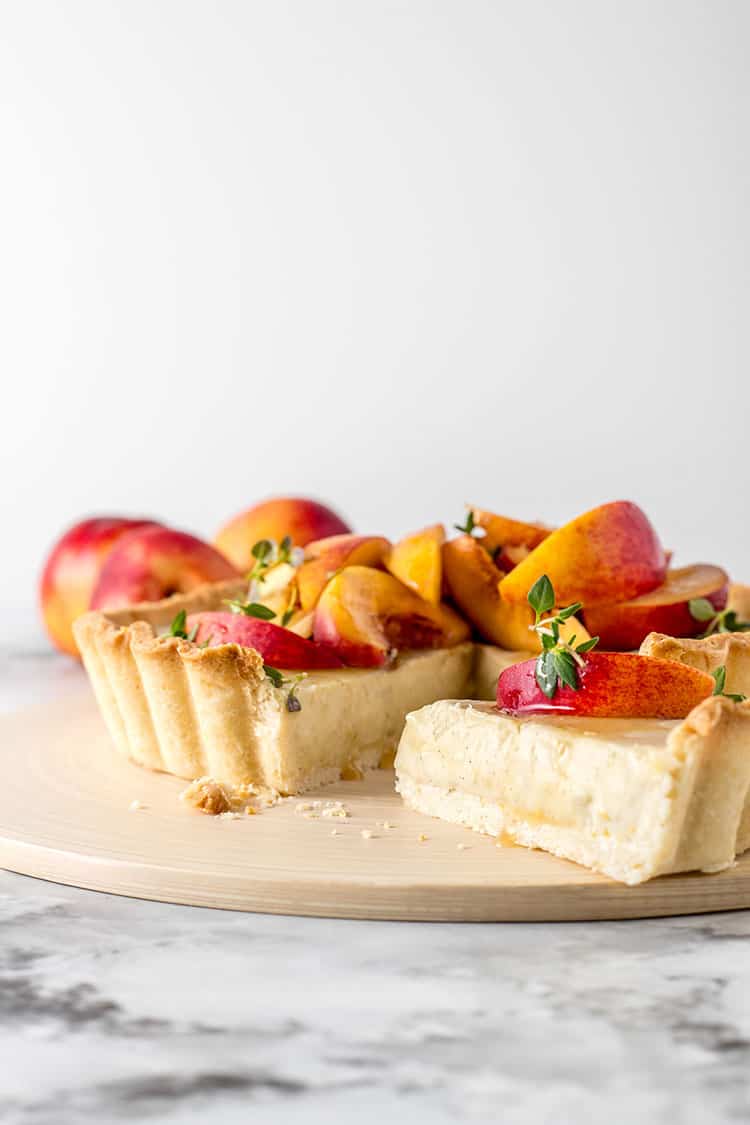 High summer is here in the antipodes. Strawberries are pretty much over, while blueberries and stone fruit are plentiful, sweet, juicy and everywhere.
During January I switched up my time between work, the kitchen and quality kid time, which meant lots and lots of swimming - either at the local public pool, or even better, the beach. We bought a tent this year and made great use of it to escape the city whenever we could.
It's also birthday season for us, with every birthday in our household happening within a 36 day period. It's a time of celebration and feasting, with multiple gatherings of different collections of family and friends every other week. Home made dumplings and chocolate cake are top of the hit list for both of my children, while the adults tend towards champagne, fresh summery meals and a little something sweet.
This dreamy vegan custard tart is the perfect end to a long summer lunch or balmy evening dinner, perhaps alongside a chilled glass of bubbles, rosé or even a buttery chardonnay. I topped the tart with nectarines which are perfectly ripe, juicy and sweet right now, though you could use any fruit you like - blackberries would also be amazing here.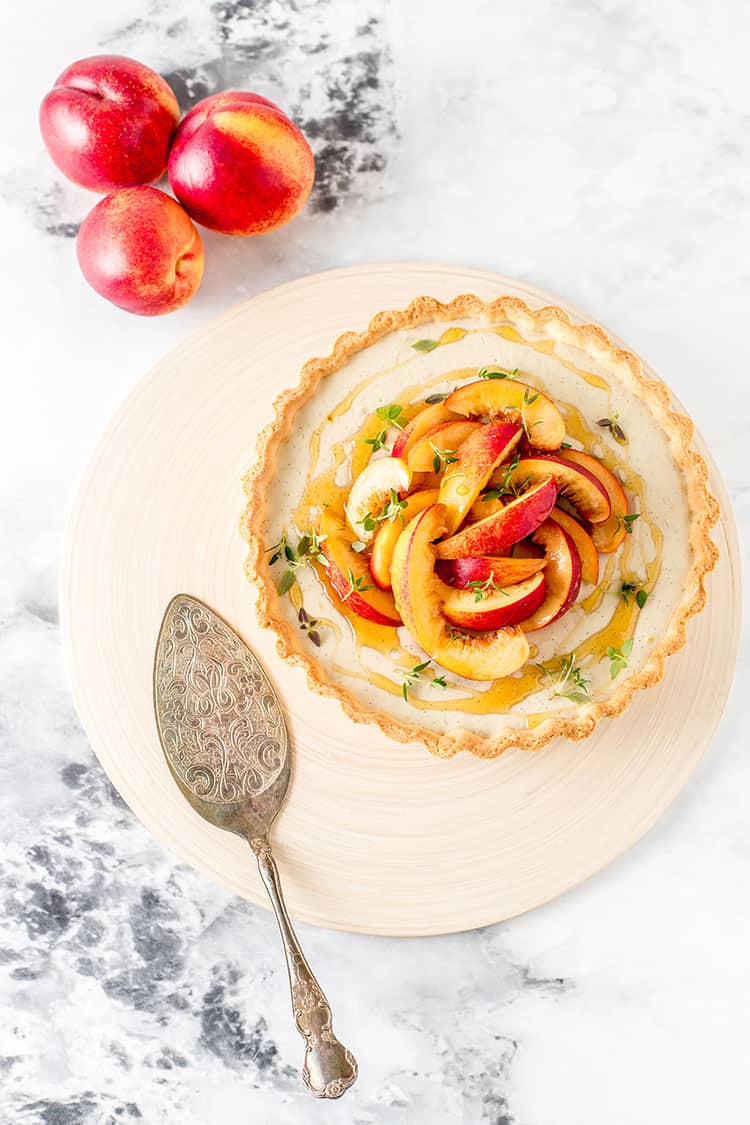 Jump to:
How to make a vegan custard tart
If you make many desserts from scratch, you might be able to guess that this tart posed a few challenges. Traditionally the short pastry would be loaded with butter, and the custard would be made with egg and cream.
I'm a firm believer that most dishes can be happily made with plants, with a little trial and error, so I got to experimenting and learned a few things along the way.
The vegan pie crust was actually fairly easy to master. I chose to use coconut oil as decent plant-based butter alternatives are hard to come by in New Zealand, and I'd prefer a less processed ingredient anyway.
The keys to success with this short pastry are to:
start with well chilled coconut oil
use a food processor
avoid the temptation to knead the dough - and in fact touch it as little as possible.
If you can keep your hands off it, the end result will be short, flaky and buttery - just as a good tart crust should be. Blind baking with paper and weights ensures a perfect finish (I use dry lentils and beans, set aside just for this purpose). If you're not familiar with blind baking, here's a great video which demonstrates the blind baking method step by step.
Getting the custard right took a little more tinkering. It's not hard to make something that looks creamy and sets, but it is harder to achieve the right mouthfeel and the perfect level of jiggle. I wanted this tart to be sliceable, but not bouncy, if you know what I mean.
I found that almond milk or soy milk didn't have a high fat content, giving the custard a sort of thin flavour and mouthfeel. Coconut cream on the other hand has too much fat, and a strong coconut flavour. A half and half mix worked perfectly, creating a smooth and creamy custard.
I flavoured the custard with vanilla, lemon zest and a generous pinch of saffron threads - which also gives the custard a nice golden colour. I sweetened it with New Zealand bush honey given to me by a friend - if you don't want to use honey then substitute with brown rice or agave syrup. If you do use honey, choose a light, floral honey blend you like the flavour of as it will really shine through.
The custard is set using the simplest method - heating the custard mixture in a saucepan with just the right amount of cornflour (cornstarch) to thicken it and allow it to set when chilled.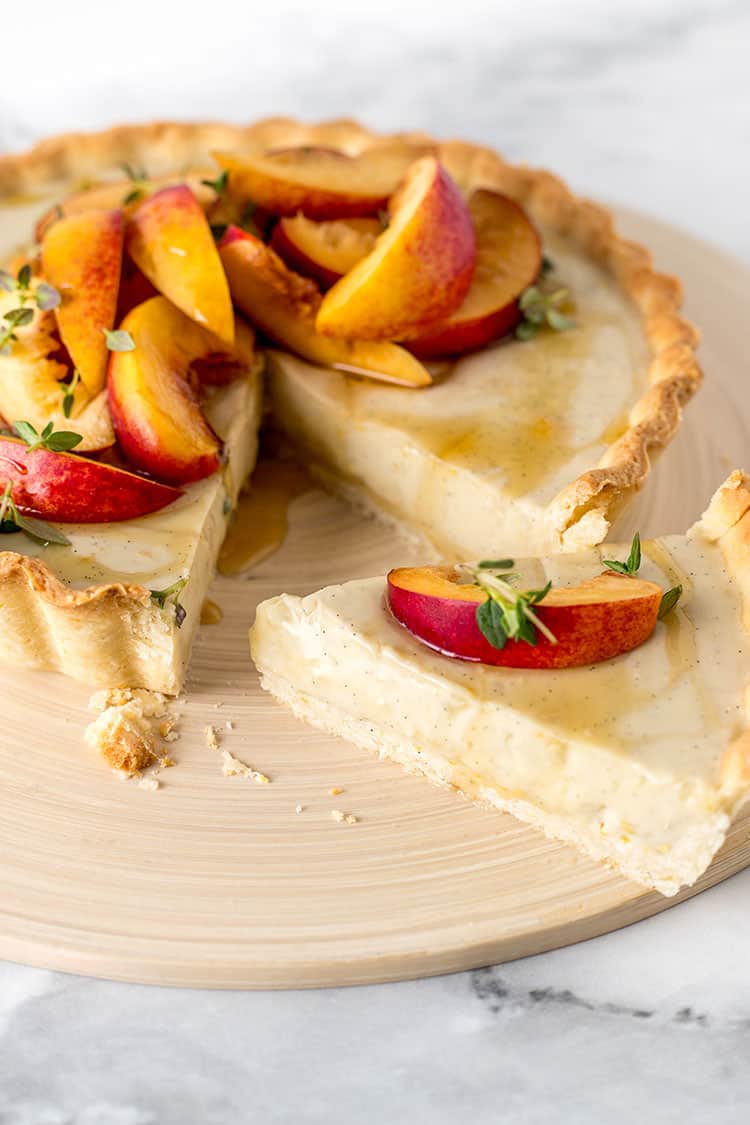 A well topped tart
I topped my tart with very ripe and juicy nectarines, sliced and removed from the stone. I drizzled over a little melted honey, and sprinkled fresh thyme leaves for a fresh contrast. This is a delicious combination, but go ahead and serve this tart your way.
Other fruits that would make a fantastic tart topping include:
other ripe stonefruit, like peaches, plums or apricots
fresh blueberries, blackberries or strawberries
poached pears or apples, perhaps with a little cinnamon.
If you like the idea of a little fresh greenery on top, mint would be a good alternative to thyme.
You might also like
Get the recipe
INGREDIENTS
For the pastry case:
250

g

standard flour

(0.55 lb)

75

g

solid coconut oil

chilled (2.65 oz)

30

g

icing sugar

(1 oz)

1

teaspoon

lemon zest

¼

teaspoon

salt

4-6

tablespoon

ice cold water
For the saffron custard filling:
Generous pinch

saffron threads

1

cup

almond milk

1 ¼

cup

full fat coconut cream

divided

3

tablespoon

honey

or substitute ¼ cup brown rice or agave syrup

2

teaspoon

vanilla paste

or natural vanilla extract

2

teaspoon

lemon zest

3

tablespoon

cornflour

(cornstarch)
To serve:
2-3

nectarines

thinly sliced and removed from stone

2-3

teaspoon

honey

melted if solid, or substitute brown rice or agave syrup

Fresh thyme leaves
INSTRUCTIONS
To make the pastry case, preheat oven to 200C (390F). Pulse the flour, coconut oil, icing sugar, lemon zest and salt together in a food processor until it has a crumbly texture. Add ice cold water a little at a time until the mixture starts to come together. I find 5 tablespoon to be the right amount, but this may vary a little. 

Tip the pastry mixture out onto a benchtop and use your hands to bring the mixture together in a ball, without kneading. Flour the surface and roll out to about 5mm (¼ inch) thick. Line the bottom of a 22cm (8-9 inch) springform tart tin. Gently press pastry into the tart tin and trim the edges. Refrigerate for 20 minutes until firm. Line the pastry case with baking paper and blind baking weights. Bake for 20 minutes, then remove the weights and baking paper and bake for another 10 minutes, or until golden brown. Set aside to cool. 

To make the saffron custard filling, start by placing the saffron into a small dish with a wee splash of boiling water (about 1 tbsp). Set aside for 5-10 minutes to allow the saffron to bloom. Put the almond milk, 1 cup of coconut cream, honey, vanilla, lemon zest, saffron threads and water into a saucepan and stir over medium heat until the mixture just begins to simmer. Stir cornflour into ¼ cup of coconut cream to form a slurry, then slowly whisk into the hot milk mixture. Continue to stir over medium heat for about five minutes, or until the custard thickens. Pour the custard into the pastry case then refrigerate for 1-2 hours, until the custard is set. 

To serve, top the custard tart with thinly sliced nectarines, drizzle with melted honey and sprinkle with a few fresh thyme leaves.  
RECIPE NOTES
Nutrition information is estimate, based on 8 servings.
Recipe first published in the Summer 2020 issue of Nourish magazine. 
NUTRITION INFORMATION
Calories:
409
kcal
|
Carbohydrates:
48
g
|
Protein:
5
g
|
Fat:
23
g
|
Saturated Fat:
20
g
|
Sodium:
117
mg
|
Potassium:
273
mg
|
Fiber:
3
g
|
Sugar:
17
g
|
Vitamin A:
260
IU
|
Vitamin C:
8
mg
|
Calcium:
57
mg
|
Iron:
3
mg