Perfectly wobbly vegan panna cotta with a warm hum of ginger is gorgeous served with golden kiwifruit.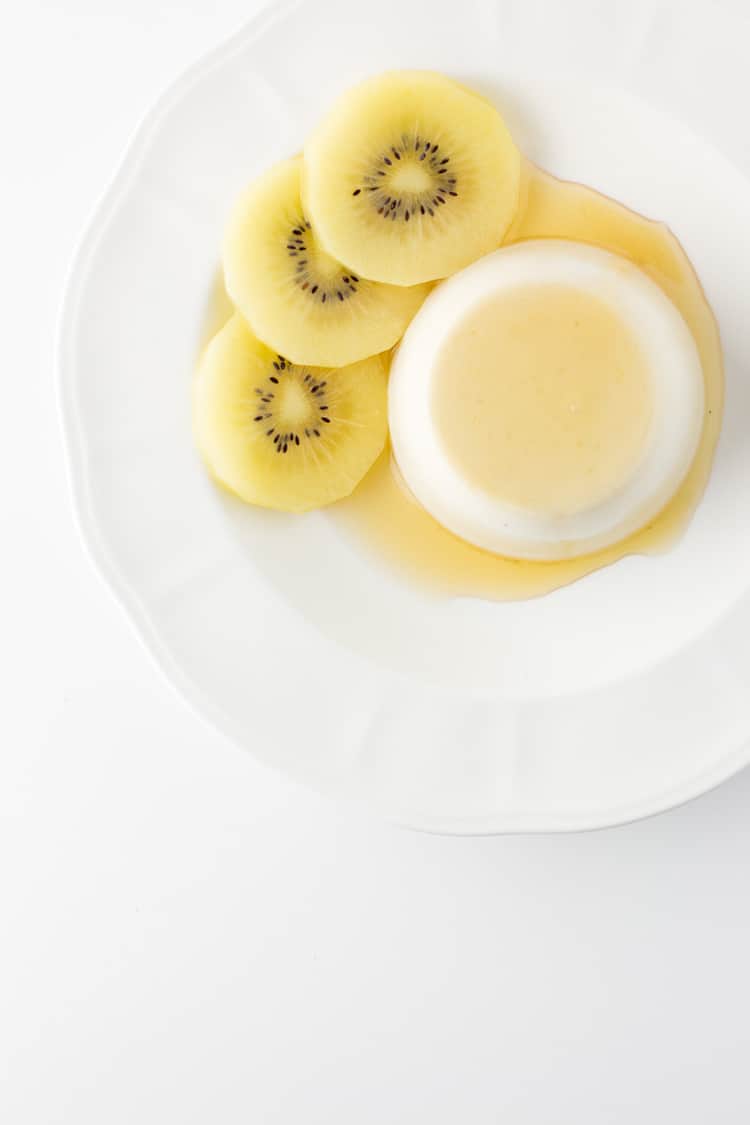 I really adore most of the classic desserts, and Italian panna cotta is no exception. Typically made with sweetened, sometimes flavoured, full cream and set with gelatine, it's a simple dessert to give a makeover to. Switching the key ingredients up, I made this one with coconut cream, and agar as the setting agent.
Do as I did and infuse it with ginger, add cocoa, lemon zest, a bit of booze or keep it plain. Serve it with fresh or cooked berries, melon balls or a tropical fruit salad. If you go the ginger route, golden kiwifruit is a match made in heaven. The kiwifruit balances the richness beautifully.
And what exactly is agar?
I've been a bit fascinated with agar since making my raspberry, lime and coconut cheesecake. Agar, also known as agar-agar (or kanten, in Japan) is an algae-based alternative to gelatin (an animal byproduct). It works in a similar way to 'set' a liquid, but its consistency is a little different in that it doesn't have that plastic, jelly mouthfeel of gelatin. Agar is a colourless powder which has no taste or odour, and it's inexpensive to get hold of from Asian supermarkets or your local whole foods store (go to Bin Inn if you're in New Zealand). It also comes as flakes, which I haven't used. I understand they're less strong - so you'd need to use comparatively more of them to achieve the same effect.
Boob wobble
The test of a good panna cotta is its telltale wobble. They say it should wobble like a 'beautiful woman's breast'. I'm not sure how happy most women would be to have their boobs compared to panna cotta! But after tinkering with the recipe until I got the agar agar levels just right, this one's got boob wobble in spades.
Less than $1 a serve
It's not always my main motivator, but I'm always thrilled when I can come up with a stunning dessert that's also easy on the pocket. This one's definitely frugal. A can of lite coconut cream costs about $1.29 here in New Zealand, and will make two panna cottas. The other ingredients cost more, but you only use a small amount of them and once bought, they all last a long time.
Panna cotta is easy to make
I began by making a super simple syrup by heating rice syrup with a few slices of ginger and bubbling it for a few minutes. Poured into the bottom of the ramekins, this forms a syrupy sauce for the panna cotta when you turn them out later.
The panna cotta mixture itself is made by adding all of the ingredients to a saucepan, simmering for five minutes to infuse the flavours and activate the agar, cooling a little, then straining and pouring into the ramekins to set. When it's time to serve, I sit the ramekins in boiling water for a few minutes to melt the syrup and ensure everything releases easily. So easy, and so pretty.
And, naturally free from just about everything
Without even trying, this dessert is allergy-friendly, free from egg, dairy, nuts, soy and gluten. It's also refined sugar free.
Get the recipe
INGREDIENTS
For the syrup:
2

tablespoon

brown rice syrup

2

slices

of fresh ginger
For the panna cotta:
1

can lite coconut cream

(400ml)

2

tablespoon

brown rice syrup

1

teaspoon

natural vanilla extract

1

teaspoon

ground ginger

1

teaspoon

fresh ginger

grated

½

teaspoon

agar agar powder

Fruit of your choice

to serve
INSTRUCTIONS
For the syrup:
Put rice syrup and ginger slices into a small saucepan. Heat over a low temperature until bubbling. Let it bubble for a minute or two, then turn off the heat.

Discard the ginger slices (or eat them!) and pour syrup evenly into the base of two ramekins. Set aside.
For the panna cotta:
Put coconut cream, brown rice syrup, vanilla, both gingers and the agar agar into a small saucepan and stir to combine. If there are any clumps of dried ginger, press them against the side of the saucepan to break them up.

Heat over a low-medium temperature until mixture is simmering. Simmer for five minutes, then turn off the heat (this step is essential to activate the agar agar).

Let the mixture cool for about 10 minutes, then strain through a fine sieve and pour evenly into ramekins. Refrigerate for a few hours until set and ready to serve. Unlike gelatin, agar agar will set at room temperature so you could leave them on the countertop if you prefer.

When it's time to serve, sit the ramekins in a larger bowl and pour boiling water around them (careful not to pour it onto the panna cotta itself). Let sit for a few minutes to melt the syrup.

Lift the panna cotta out, put a small plate or bowl on top then quickly and confidently flip them both over at the same time. Give it a single downwards shake if you like, to be sure the panna cotta has released, then remove the ramekins.

Dress with sliced fruit and serve immediately.
RECIPE NOTES
This recipe can easily be doubled or triped to serve more people.
NUTRITION INFORMATION
Calories:
489
kcal
|
Carbohydrates:
43.8
g
|
Protein:
5.8
g
|
Fat:
48.5
g
|
Saturated Fat:
42.9
g
|
Fiber:
4.7
g
Nutrition Facts
Ginger coconut panna cotta
Amount Per Serving
Calories 489
Calories from Fat 437
% Daily Value*
Fat 48.5g75%
Carbohydrates 43.8g15%
Protein 5.8g12%
* Percent Daily Values are based on a 2000 calorie diet.