She's a stunner: sweet and creamy black rice pudding gently sweetened with medjool dates, warmed by the hum of fresh ginger, topped with grilled nectarines, blueberries and toasted coconut flakes. Oh yes.
This is my first recipe of 2016 and I have to say I'm feeling pretty happy to be back in the kitchen after a decent break over the holidays.
2016 is going to be quite the year for me. Yesterday my big baby turned seven (seven! where did those years go!), next month my little baby turns one, my husband turns 40 and my other baby (this blog...) turns one in a few months too.
My sister and her babies are visiting from England shortly (so excited!), we have a family holiday in Fiji to look forward to soon, and plans are afoot for some more extended travel in Indonesia and Bali later this year.
I'm looking forward to growing this website and bringing you more deliciousness this year, and I've also just started my own business. For the first time in my life I'll be working for myself (exciting, scary, empowering!). It's all pretty wonderful, but wow I'm starting the year with a bang! There's no room for the faint hearted around here that's for sure.
It may be a cliché, but I often think about that well worn phrase "If you do what you've always done, you'll get what you've always got". I reckon it couldn't be truer. I've always been a bit scared of change. Not really of change itself, but the uncertainty of not knowing whether what's coming next is going to be what I had in mind. No more. Refer self back to "If you do what you've always done...".
Wish me luck.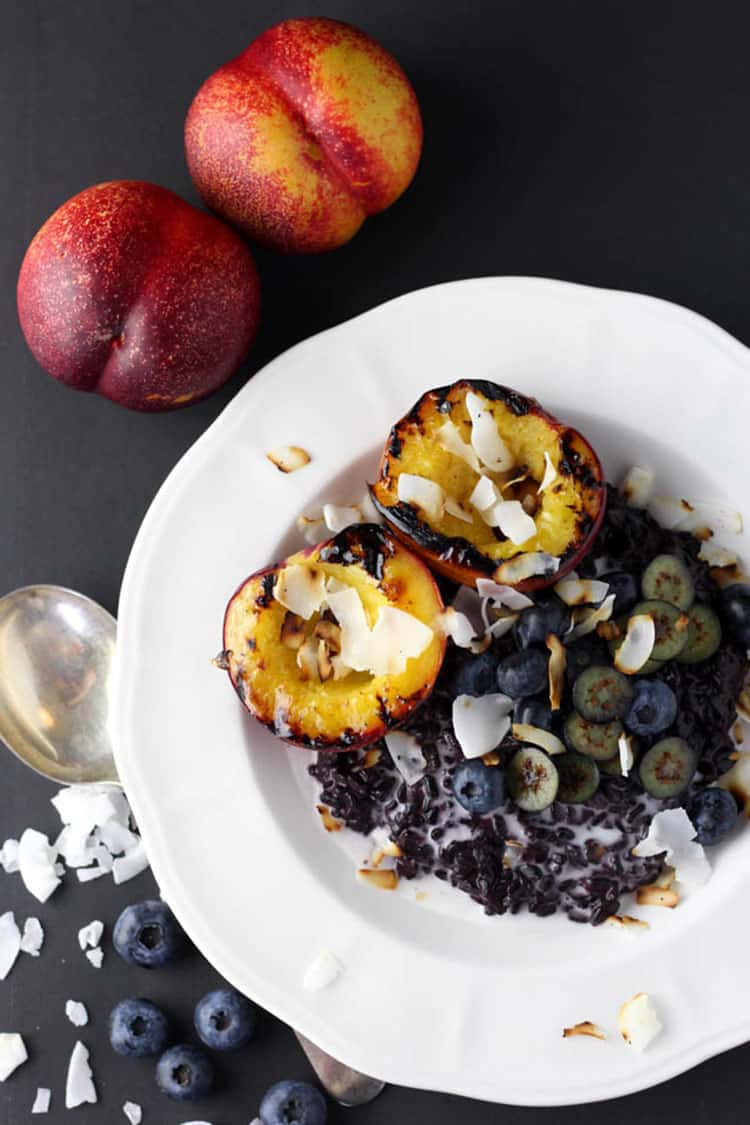 Now on a much lighter note. Check out this stunning black rice pudding. It's doesn't know whether it's breakfast or dessert, but that's okay. You can choose.
Black rice contains the highest amount of protein, fibre and antioxidants of all rice varieties, and is also a good source of iron. Its colour is caused by anthocyanin, a potent antioxidant. Spoon for spoon, black rice is actually a more powerful antioxidant than blueberries. Who'd have thought? Pair it up with some actual blueberries for breakfast and I think we're onto a bit of a winner in terms of both taste and nutrition.
Black rice is recognised as a healthful choice and eaten across Asia, commonly in coconut milk or cream based puddings that are a variation on this one. In Thailand it often comes with lashings of palm sugar (which is seriously delicious). Here I've toned down the sugar by using a few medjool dates to sweeten the coconut cream. I used light coconut cream because that's what I had. You could also use coconut milk, or drinking coconut milk (from a tetrapak) which would be the lightest option in terms of fat content.
Black rice is easily available from Asian supermarkets. It takes a little time to cook - about 45 minutes. So if you're planning to have this for breakfast I'd suggest making it the night before. It will thicken up quite a lot in the fridge overnight, but you can easily loosen it again with a little more coconut milk or water. It's nice served at any temperature - I think I prefer room temperature or slightly warmed.
The grilled nectarines contrast beautifully with the creamy rice. But if you can't be bothered grilling them, that's cool too. You could just slice fresh nectarines, or use something different like mango or pineapple. Yum.
Get the recipe
INGREDIENTS
1

cup

black rice

1

can light coconut cream or coconut milk

2-4

pitted medjool dates

depending on desired sweetness - I used 3

½

teaspoon

finely grated ginger

4

nectarines

1

punnet blueberries

approx. 1 cup

¼

cup

coconut flakes
INSTRUCTIONS
Put rice in a saucepan with 2 cups water. Bring to a simmer, cover and cook for 45 minutes or until the rice is tender and almost all of the water is gone.

While the rice is cooking, blend coconut cream and dates until smooth.

Once rice is cooked, add coconut cream and ginger to the saucepan. Stir and cook over a low heat for another five minutes. You can serve it at this point, or set aside to cool and store overnight for breakfast the next morning.

When you're ready to grill your nectarines, bring a ridged grill pan or fry pan up to a medium high heat. Cut the nectarines in half and carefully remove the stones. I cut around them carefully with a sharp knife then use a teaspoon to scoop them out. Brush with a little plain flavoured cooking oil and place cut side down on the grill or frying pan. Cook until there are char marks - don't be tempted to move them or peek too soon otherwise they'll stick. Carefully turn the nectarines and give them a few more minutes on the other side.

To toast coconut flakes - simply shake them around in a hot frypan (no oil) for 20-30 seconds or until they start to brown. Careful not to burn them!

Serve black rice pudding topped with two nectarine halves per person, a handful of blueberries and a scattering of coconut flakes. It's lovely with an extra drizzle of coconut cream too, but not essential.
NUTRITION INFORMATION
Calories:
512
kcal
|
Carbohydrates:
80.4
g
|
Protein:
8.7
g
|
Fat:
20.8
g
|
Saturated Fat:
1.5
g
|
Cholesterol:
0
mg
|
Fiber:
8
g