These tender little gluten free buckwheat pikelets (or little pancakes) make a nourishing breakfast or snack for little (and big) people.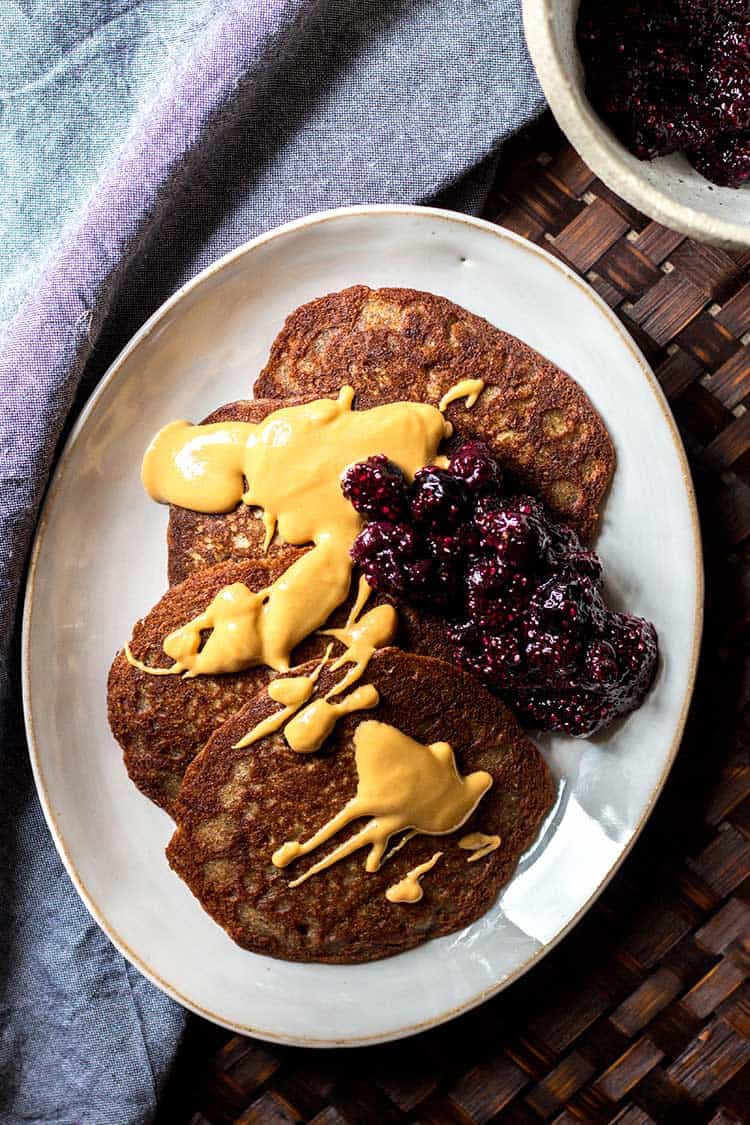 I write this post in the last hours of our long weekend, on Labour Day, which celebrates the eight hour working day. New Zealand workers were among the first in the world to claim this right, back in 1840, and it has been celebrated here since 1890.
I wonder how those who struggled for this acknowledgment of workers' rights would feel about the modern workplace, which sees work and personal hopelessly blurred by our anywhere, anytime attendance to emails, and average working days slipping well past eight hours all too often.
Like most people, I struggle with balance, but I'm acutely aware of its importance and the toll it takes when the balance slips too far in one direction. This weekend I enjoyed a leisurely few days away, camping with friends in Raglan on the west coast of New Zealand. It was a great break, despite cold, wet weather which dampened our spirits a little. We'll just have to do it again when the sun comes back.
While my little one napped this rainy afternoon away I made a batch of buckwheat pikelets for our afternoon tea. Lightly sweetened with banana and brown rice syrup, they disappeared very fast indeed.
Buckwheat pikelets
What's a pikelet? Pikelets are little pancakes common in New Zealand, Australia and the UK for morning or afternoon tea. Typically made with white flour, eggs and milk, they're usually served cold or at room temperature. Sometimes they're topped with a smear of butter or margarine, or with jam and whipped cream if people are feeling fancy.
This alternative vegan pikelet recipe uses buckwheat flour, almond milk, banana and aquafaba as the key ingredients.
You can serve these straight from the pan if you prefer them hot, and you could also use this recipe to make full sized buckwheat pancakes - just add a little more almond milk to thin the batter a bit.
NB: If you're not familiar with using buckwheat flour, be aware that it browns differently to regular flour. In the below picture the pikelet on the bottom right had gone slightly too far, but despite their apparent darkness the other two were perfectly cooked after just a few minutes on each side.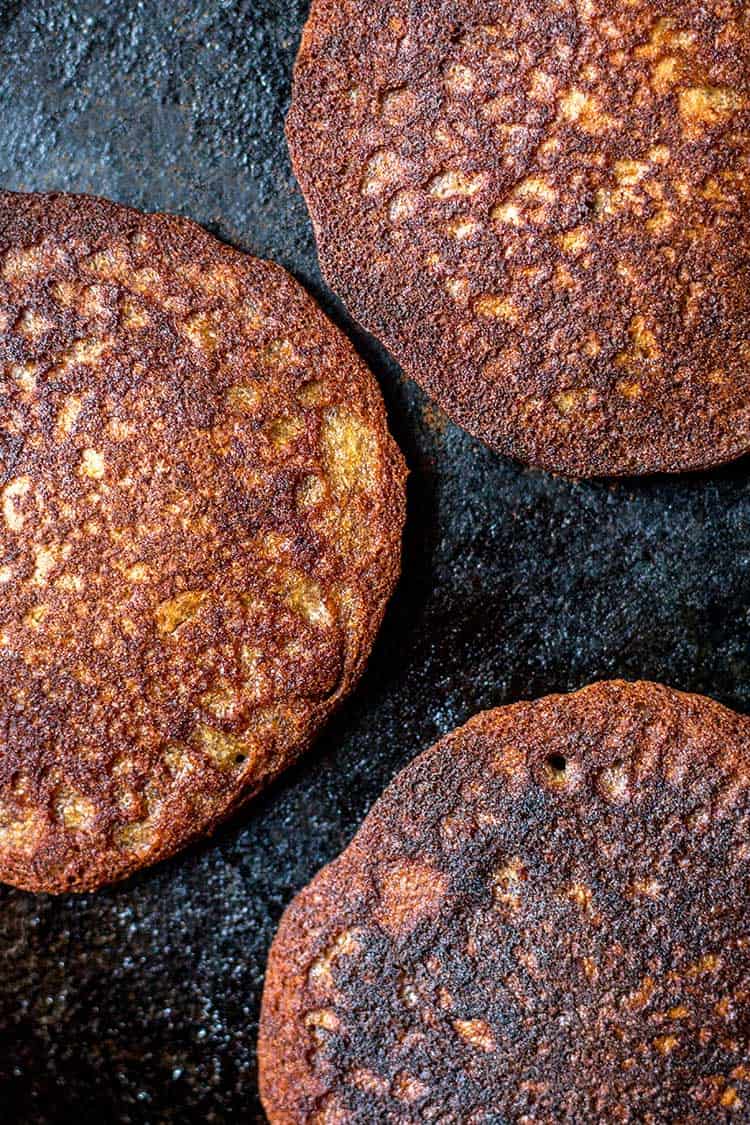 Another way to use old bananas
I have a permanent supply of old bananas. We go through a lot of them and there are always a few that linger too long and find themselves destined for smoothies or baking. Mashed and incorporated in this pikelet batter they add subtle sweetness, and along with aquafaba they replace the egg found in traditional pikelet recipes.
Another way to use aquafaba
Aquafaba is the liquid found in a can of chickpeas. It has similar properties to egg white, making it a really useful ingredient for vegans, people with egg allergies, or even just as a frugal replacement if you don't have or don't want to use eggs in a recipe.
Aquafaba makes brilliant meringues and aioli, but until now I hadn't used it as an egg replacer in a less 'egg forward' type of recipe. Turns out, it works brilliantly in pikelets or pancakes. I added 3 tablespoon of aquafaba in liquid form (no whipping) along with the other wet ingredients, and the resulting pikelets are well bound, light, fluffy and perfectly tender.
Another way to use chia seeds
I'm sure a lot of people think of chia seeds as a bit of a faddish modern hippy food. Sure, there are probably too many recipes for chia pudding out there, and that might not be your cup of tea. But I also really love chia seeds for their binding abilities in things like burgers, and to make a quick, healthy jam from frozen berries.
I wanted a healthier option to top these pikelets, and had frozen blueberries on hand, so I defrosted some and turned them into jam by adding chia seeds and brown rice syrup to sweeten. Within about 15 minutes the mixture thickens to a jam-like consistency, just with far less sugar. If the mixture is too thick, just stir in a little extra water.
I really enjoyed these buckwheat pikelets drizzled with a little runny peanut butter and a splodge of blueberry chia jam. The man of the house went with maple syrup, and the littlest one was happy with them however they came. Almond butter would also be a great accompaniment.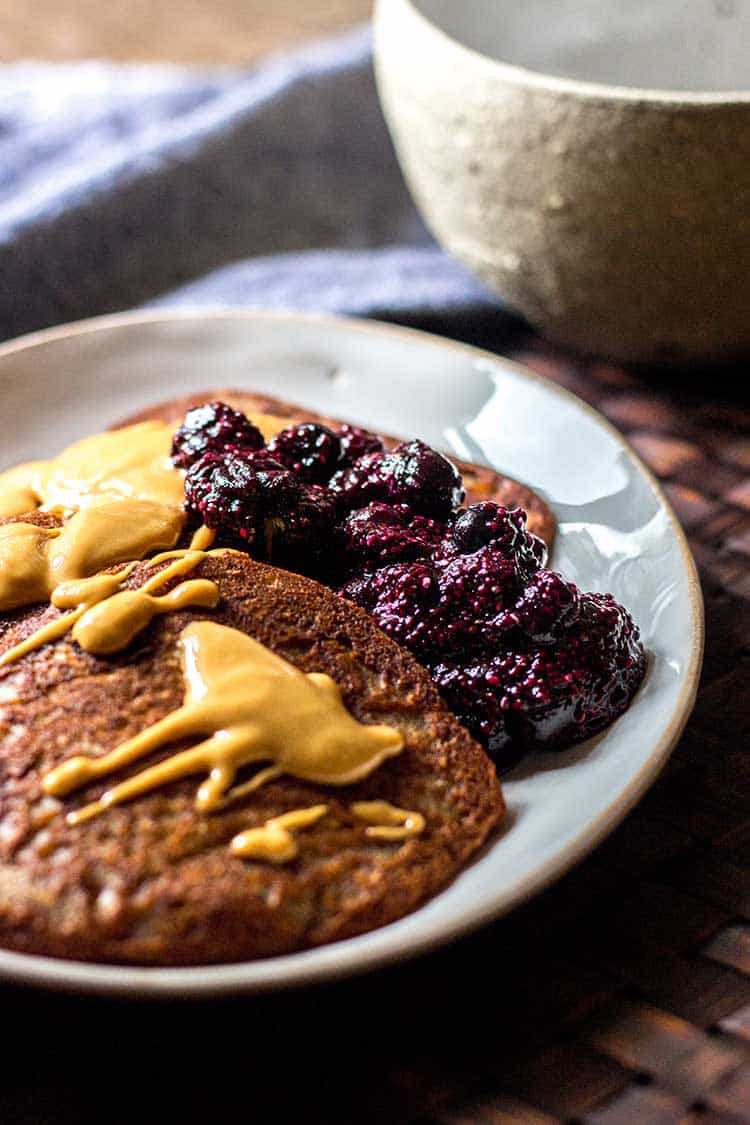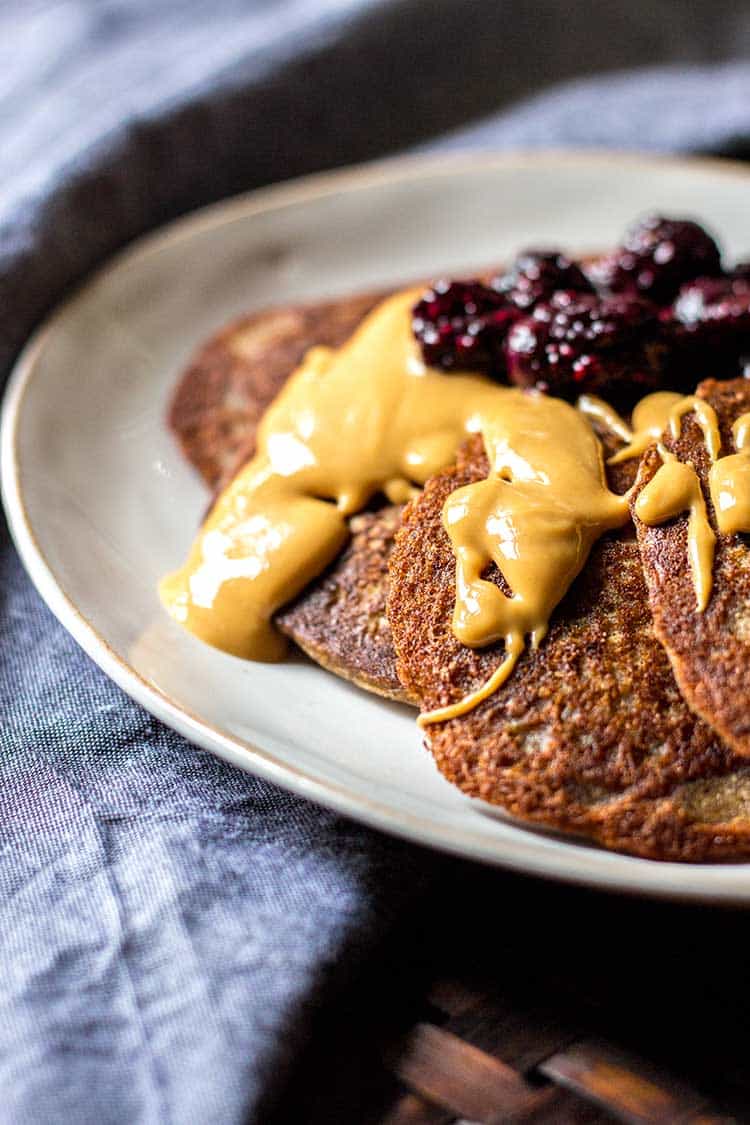 Get the recipe
INGREDIENTS
Dry ingredients:
1

cup

buckwheat flour

1

teaspoon

baking powder

(gluten free if required)

1

teaspoon

baking soda

½

teaspoon

ground cinnamon

Pinch

salt
Wet ingredients:
1

very ripe banana

(mashed)

1

cup

almond milk

(or milk of your choice)

3

tablespoon

aquafaba

(liquid from a can of chickpeas)

1

tablespoon

brown rice syrup
Blueberry chia jam:
1

cup

blueberries

2

tablespoon

water

2

tablespoon

chia seeds

1

tablespoon

brown rice syrup
INSTRUCTIONS
To make the blueberry chia jam, heat the blueberries (I used frozen), water and brown rice syrup together in a small saucepan. Simmer for five minutes to encourage the blueberries to release their juices and become soft and syrupy. Remove from the heat, allow to cool a little, then stir through the chia seeds. Leave to thicken for about 15 minutes.

To make the pikelets, mix dry ingredients in a mixing bowl. Whisk wet ingredients together in another mixing bowl, add to the dry ingredients and whisk until well combined and a smooth batter is formed.

Heat a large frypan (skillet) over medium heat and add some coconut oil. Drop in ⅛ cup (2 tbsp) quantities to form pikelets. When the surface has bubbles showing through and the bottom has browned, flip and cook the other side for a few minutes. Remove from the pan and repeat until the batter has all been used.
RECIPE NOTES
This recipe makes about 18 pikelets if they are made using ⅛ cup quantities of batter per pikelet. You could also make 36 smaller mini pikelets by using 1 tablespoon quantities of batter per pikelet. 
Nutrition is calculated per pikelet and includes blueberry chia jam.
Nutrition information does not include coconut oil or nut butter - you be the judge of how much you'd like to use. 
NUTRITION INFORMATION
Calories:
47
kcal
|
Carbohydrates:
9
g
|
Protein:
1
g
|
Sodium:
91
mg
|
Potassium:
101
mg
|
Fiber:
1
g
|
Sugar:
3
g
|
Vitamin A:
10
IU
|
Vitamin C:
1.4
mg
|
Calcium:
42
mg
|
Iron:
0.4
mg
Nutrition Facts
Buckwheat pikelets with blueberry chia jam
Amount Per Serving
Calories 47
% Daily Value*
Sodium 91mg4%
Potassium 101mg3%
Carbohydrates 9g3%
Protein 1g2%
Vitamin A 10IU0%
Vitamin C 1.4mg2%
Calcium 42mg4%
Iron 0.4mg2%
* Percent Daily Values are based on a 2000 calorie diet.