An easy recipe for warmly spiced vegan pumpkin muffins with orange and chia seeds, great served warm with your favourite spread and a strong cup of coffee.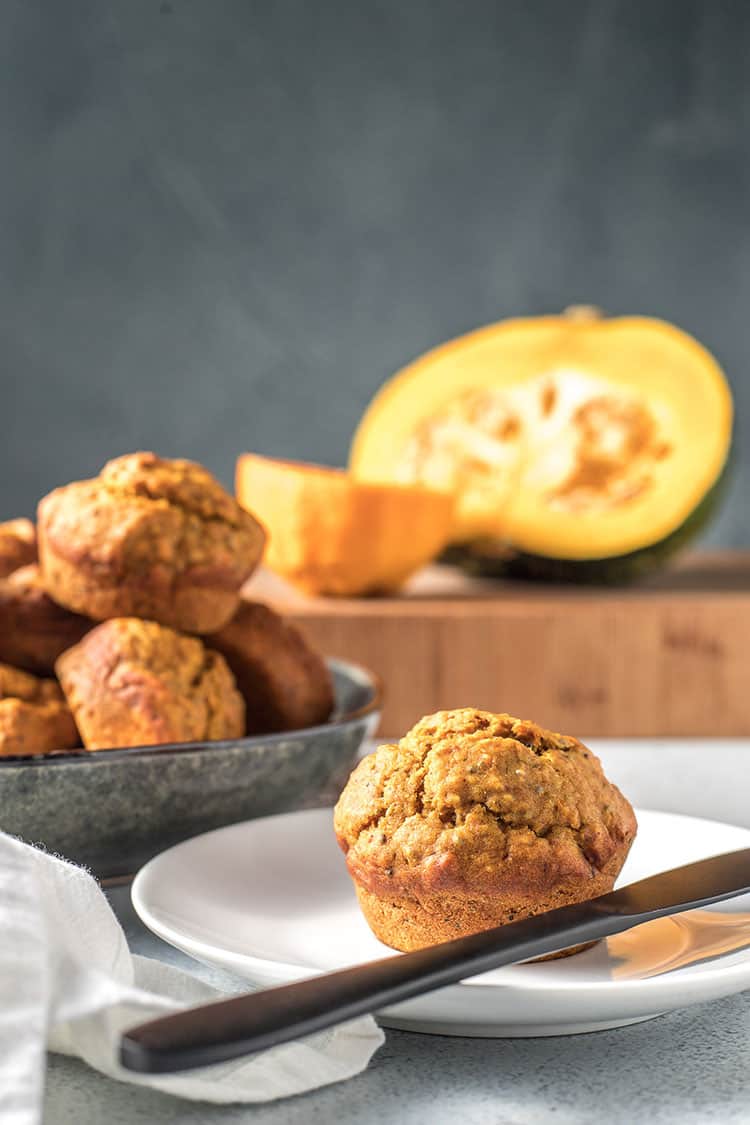 I've found it very difficult to get focused on food and blogging in the wake of the Christchurch terrorist attack that happened a little over two weeks ago. To say it was a shock is something of an understatement, and sharing recipes has felt both trivial and dismissive of this tragedy which has left New Zealand reeling.
For those who don't know, New Zealand is a little multicultural nation at the foot of the Pacific Ocean. We have a few small cities, many small towns and a whole lot of countryside in between. It's a quiet place. It's a safe place, for the most part, and crime tends to mainly happen at the lower end of the scale.
I think most New Zealanders like to think of themselves as friendly, welcoming, fair-minded and community-oriented. We're a nation of travellers who welcome and value diversity. That's true for me, and for basically everyone I know.
The realisation that this level of racism and anti-immigration sentiment exists has been hard to come to terms with. I'm embarrassed I didn't know it was so bad for our immigrant communities, and I'm horrified and deeply saddened by the tragedy the Christchurch Muslim community will live with forever.
Fortunately many people feel the same way. The outpouring of love and support we have seen over the past fortnight is humbling and makes me incredibly proud to be a New Zealander.
To New Zealand's Muslim community, I'm so sorry, this is your home and you should have been safe here.
I'm still not back to kitchen tinkering, but I have a few new autumn recipes to share with you. The autumn edition of Nourish magazine is out now, featuring two of my pumpkin recipes that demonstrate how versatile pumpkin puree can be.
The first is this recipe for pumpkin muffins. They're cozy, comforting, and just what I need right now.
Vegan pumpkin muffins
I have a bit of a thing for pumpkin pie spice, a cozy combination of ground cinnamon, ginger, nutmeg and cloves in roughly a 4:1:1:1 ratio. It's of course used to make pumpkin pie, but it's a lovely blend that can also be used in many sweet recipes.
These vegan pumpkin muffins are easy to make and will fill your home with the delicious smell of orange and sweet pumpkin pie spices while they're cooking. They're best served warm with a smear of your favourite butter or non-dairy spread, and they're just right with a strong cup of coffee for breakfast.
Chia seeds are a good source of omega-3 fatty acids, and along with the pumpkin puree they help as a binder in this eggless recipe.
To my American readers, you can use canned pumpkin puree if you prefer. It doesn't exist in New Zealand, so we make our own. To make pumpkin puree simply cook chunks of peeled pumpkin until tender then blend until smooth. I used buttercup pumpkin (squash) but you can use any type of pumpkin you have available.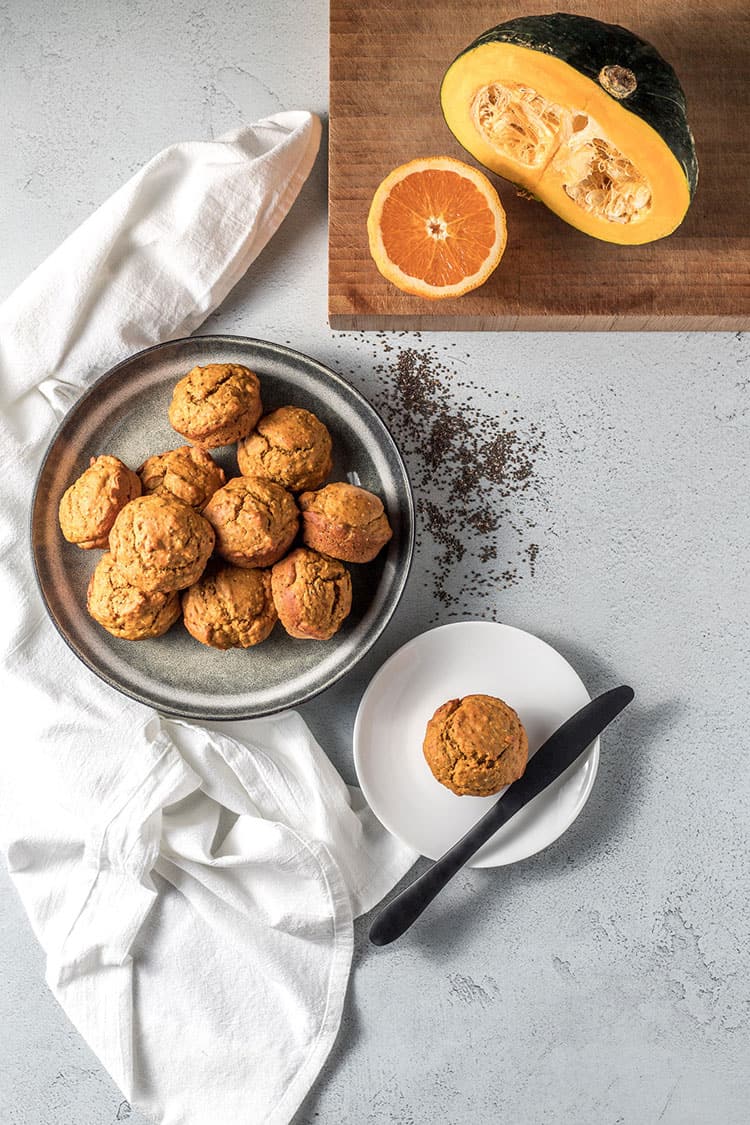 Get the recipe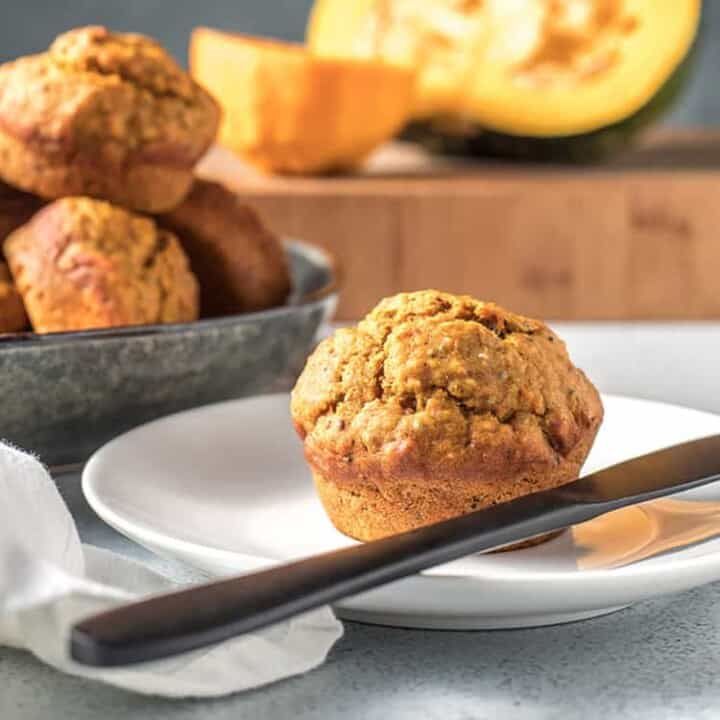 INGREDIENTS
Dry ingredients:
2

cups

white flour

(240g/8.5oz)

½

cup

brown sugar

(80g/2.8oz)

¼

cup

ground almonds

(25g/0.9oz)

2

tablespoon

chia seeds

2

teaspoon

baking powder

1

teaspoon

ground cinnamon

¼

teaspoon

ground ginger

¼

teaspoon

ground nutmeg

¼

teaspoon

ground cloves

¼

teaspoon

baking soda

Pinch

salt
Wet ingredients:
1

cup

pumpkin puree

½

cup

almond milk

(or milk of your choice)

¼

cup

oil

(see recipe notes)

1

teaspoon

natural vanilla extract

Zest of one orange
INSTRUCTIONS
Preheat oven to 200C (390F) and grease a 12 hole muffin pan.

Place all dry ingredients in a large mixing bowl and stir so that everything is evenly mixed. In another bowl, combine the wet ingredients.

Pour the wet ingredients into the dry ingredients then fold everything together (don't over-mix).


Spoon mixture evenly into each hole of the muffin pan, then bake for 25 minutes or until golden and firm to the touch.

RECIPE NOTES
Use canned pumpkin puree or make your own by cooking chunks of peeled pumpkin until tender, then blending until smooth. Leftovers can be used for soup. 

Use a neutral flavoured cooking oil for this recipe (I used grape seed oil).

Nutrition information is estimate. 
Recipe first published in the autumn 2019 edition of Nourish Magazine. 
NUTRITION INFORMATION
Calories:
172
kcal
|
Carbohydrates:
25
g
|
Protein:
3
g
|
Fat:
6
g
|
Saturated Fat:
0
g
|
Cholesterol:
0
mg
|
Sodium:
63
mg
|
Potassium:
164
mg
|
Fiber:
2
g
|
Sugar:
7
g
|
Vitamin A:
3175
IU
|
Vitamin C:
0.8
mg
|
Calcium:
82
mg
|
Iron:
1.6
mg