A dark and moist pumpkin loaf sweetened with dates, fragrant with pumpkin pie spices and topped with pecans.
I'm the first to admit that I may have my seasons mucked up with this recipe. It's spring in New Zealand, strawberries and asparagus are in the shops (and so very good!) and here I am writing about a cozy pumpkin and date loaf.
My reasons are two fold.
We've had a few sunny days, but on the whole it's been freezing and won't stop raining. We even had a fire last week. I'd hazard a guess that our chilly spring weather isn't too far removed from a chilly northern hemisphere autumn. Just without all the fall leaves.
And 'bout that chilly northern hemisphere autumn. I have so much FOMO right now! I'm seeing a stream of gorgeous autumnal recipes from my northern hemisphere food blog buddies, featuring pumpkin, sweet potato, apples, mushrooms, chestnuts and ALL the pumpkin pie spice. I love me some pumpkin pie spice.
I'm just desperate for some pumpkin pie spice in my life right now. And why the heck not? This loaf makes me want to snuggle up with a book and a cup of tea in front of the fire. It's warming, tender and sweet, and somehow dark and interesting all at the same time.
Pumpkin pie spice
Pumpkin pie spice is a mixture of sweet, warming spices: cinnamon, ginger, nutmeg, cloves and sometimes mace or allspice too. In America it exists as a pre-blended spice. That's not the case in New Zealand, but it's very easy to make.
The proportions I used are a 4:1:1:1 mix of ground cinnamon, ground ginger, nutmeg and cloves. So, in this recipe I used 2 teaspoon cinnamon, ½ teaspoon ground ginger, ½ teaspoon nutmeg and ½ teaspoon cloves. You can also follow those proportions to make a bigger batch of the spice and use it liberally in EVERYTHING, if you're also feeling the pumpkin pie spice vibe. I love it in this smoothie.
Date loaf, pumpkin loaf, pumpkin and date loaf?
One of my favourite baking treats is a lovely date loaf. I love the sticky, gooey nuggets of sweet date dotted throughout, and it brings back nostalgic childhood memories (both my mother and grandma loved it too).
It hit me last week that a basic date loaf could be transformed into a pumpkin loaf, with dates and pumpkin pie spices working together to provide most of the sweetness instead of using refined sugar. I added a splash of maple syrup for good measure, and the flavour is just divine.
The recipe calls for pumpkin puree, which is easy enough to make from scratch. I peeled and chopped about quarter of a buttercup pumpkin (use the rest for soup), simmered it until tender (about 10 minutes), drained and allowed it to steam dry a little before mashing it until smooth. If you have a baby in the house you're probably doing this on the regular already, or have your own way of making pumpkin puree. You do you.
The other ingredients are pretty straight forward. I used a flax egg to replace an ordinary egg (1 tablespoon of ground flaxseed to 3 tablespoon water, allowed to thicken), soy milk, grapeseed oil, and regular white flour. I'll try a gluten free version another time.
I dotted the top of my pumpkin loaf with pecans and glazed it with soy milk near the end of the cooking time. Both steps are optional, and you could also replace the pecans with walnuts or other nuts if you prefer.
Get the recipe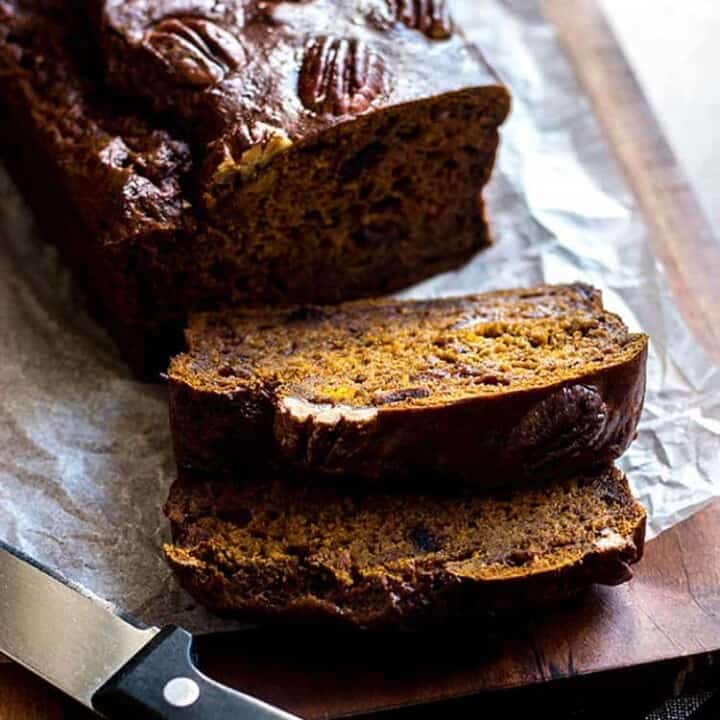 INGREDIENTS
1

cup

dates

chopped

1

cup

boiling water

1

teaspoon

baking soda

1

cup

pumpkin puree

½

cup

soy milk

(or almond or cashew milk)

2

tablespoon

maple syrup

2

tablespoon

grape seed oil

(or other mildly flavoured oil)

1

flax egg

(1 tablespoon ground flaxseed soaked in 3 tablespoon of water until gloopy)

1 ½

cups

white flour

1

teaspoon

baking powder

¼

teaspoon

salt

2

teaspoon

ground cinnamon

½

teaspoon

ground ginger

½

teaspoon

ground nutmeg

½

teaspoon

ground cloves

¼

cup

pecans

or walnuts for garnish (optional)

Additional soy milk

to glaze (optional)
INSTRUCTIONS
Mix dates, boiling water and baking soda and set aside to soak for an hour. This will soften the dates a lot.

Preheat oven to 160C (320F) fanbake.

Mix soaked dates and the soaking liquid with the pumpkin puree, soy milk, maple syrup, oil and the flax egg.

Add the flour, baking powder, salt and spices to the wet ingredients. Stir to combine, without overmixing.

Pour the mixture into a greased and lined loaf tin. Dot the surface with pecans or walnuts.

Bake for 50 minutes, then brush the surface with soy (or other) milk. Return to the oven and continue baking until cooked. Use a skewer to check for doneness from 1 hour and 10 minutes of cooking time, returning the loaf to the oven for another 5-10 minutes if necessary. The loaf is cooked if the skewer remains clean.
RECIPE NOTES
Prep time does not include soaking time for the dates. An hour is ideal to perfectly soften the dates, but you can cut this time down depending on how much time you have available. 
NUTRITION INFORMATION
Calories:
183
kcal
|
Carbohydrates:
31
g
|
Protein:
3
g
|
Fat:
5
g
|
Sodium:
193
mg
|
Potassium:
259
mg
|
Fiber:
3
g
|
Sugar:
13
g
|
Vitamin A:
3840
IU
|
Vitamin C:
1
mg
|
Calcium:
65
mg
|
Iron:
1.6
mg
Nutrition Facts
Pumpkin loaf with dates and pecans
Amount Per Serving
Calories 183
Calories from Fat 45
% Daily Value*
Fat 5g8%
Sodium 193mg8%
Potassium 259mg7%
Carbohydrates 31g10%
Protein 3g6%
Vitamin A 3840IU77%
Vitamin C 1mg1%
Calcium 65mg7%
Iron 1.6mg9%
* Percent Daily Values are based on a 2000 calorie diet.