The tried and true peach melba combo of peaches and raspberries works perfectly in this healthy-ish breakfast trifle.
You know, and I know, that trifle is good at any time of the day. So let's just make it official and embrace trifle for breakfast, okay? This is a great make ahead breakfast recipe that's especially perfect if you have visitors staying with you and you were all up half the night talking. Get up, get the coffee brewing and whip these impressive little beauties out of the fridge.
I did make a few concessions to breakfast here. There's no booze, and the custard and cream of dessert is replaced with coconut yoghurt. Peaches, raspberry chia jam, a little crunchy granola and your choice of cake, all work together to make a lovely, decadent and healthy-ish breakfast or brunch dish that is definitely worth waking up for.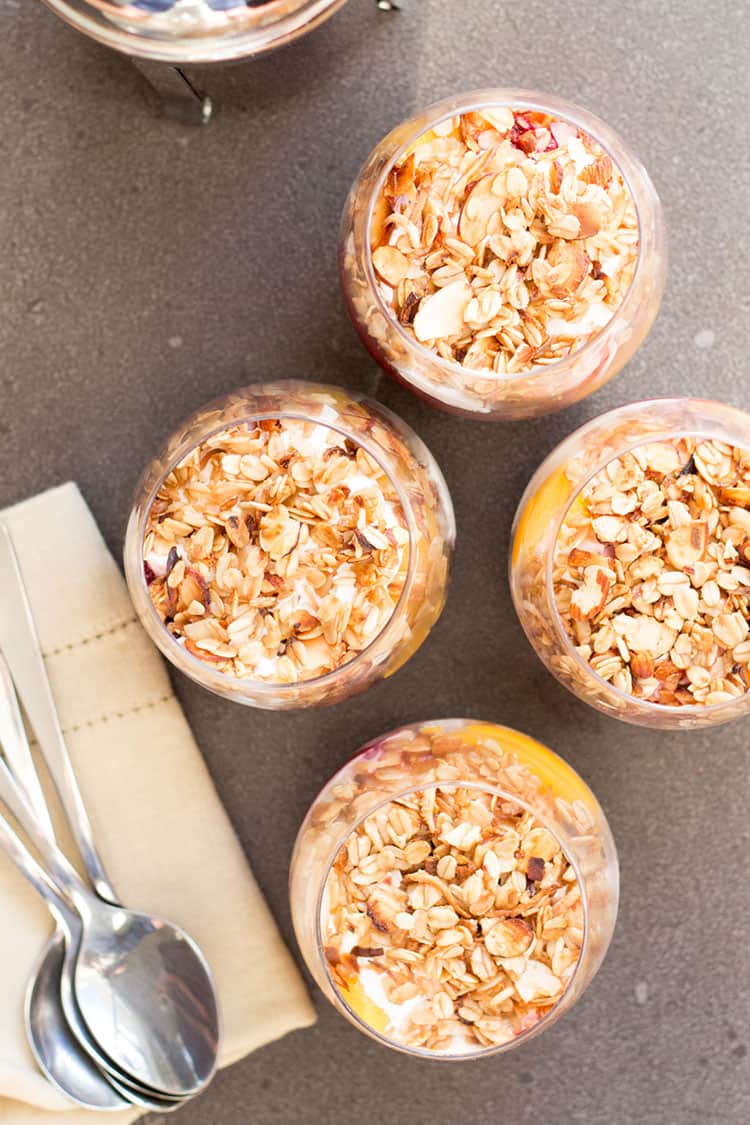 I say healthy-ish because there's quite a bit of leeway here in your choice of ingredients. I used a store-bought ginger loaf, which was delicious although pretty rich. Another type of fruit loaf, banana bread, raisin toast, vanilla cake, fruit muffins or brioche would all work, as would my vegan and gluten free lemon, apple and coconut loaf. Choose something that meets your dietary needs and run with it, or leave the cake component out entirely for a lighter option.
Use fresh raspberries if you have them, or pull some out of the freezer. Use your favourite granola, or toast a few bits and pieces just for this recipe (instructions in the recipe). Keep it dairy free with coconut or soy yoghurt, or use your favourite Greek yoghurt. You get the picture. Any way you do it, you'll have a delicious breakfast to look forward to. And who doesn't love that?
Get the recipe
INGREDIENTS
For the chia jam:
2

cups

fresh or frozen raspberries

thawed if frozen

2

tablespoon

chia seeds

1

tablespoon

maple syrup

or sweetener of your choice
For the granola:
½

cup

jumbo oats

check label if gluten free

¼

cup

sliced almonds

2

tablespoon

thread coconut

1

tablespoon

maple syrup

or sweetener of your choice

½

tablespoon

plain flavoured cooking oil

I used rice bran oil
For the rest of the trifle:
1

can of peaches in natural juice

500

g

yoghurt of your choice

I used coconut yoghurt

4

slices

cake of your choice

(I used ginger loaf, you could also use another type of fruit loaf, banana bread, raisin toast, vanilla cake, fruit muffins or brioche - choose an option that meets your dietary needs)
INSTRUCTIONS
For the chia jam:
Mash the raspberries with a fork until very liquid (a few chunky bits is fine), stir through chia seeds and maple syrup and set aside for at least half an hour to thicken.
For the granola:
Preheat oven to 200C (390F).

Stir all ingredients together then spread out on a baking sheet. Cook for about 10 minutes, stirring occasionally, until golden brown. Keep an eye on it toward the end of the cooking time as the coconut in particular can burn easily.

Remove from oven and set aside to cool.
To assemble the trifles:
Assemble trifles in individual serving glasses or bowls, or in one large serving dish.

Start with a layer of cake. Spoon over a few peaches and a bit of juice from the can, then a dollop of raspberry chia jam, a dollop of yoghurt and a sprinkle of granola. Repeat all layers one more time - stopping with the yoghurt. If you'd like the granola topping to stay really crunchy it's best to add it directly before serving.

Cover and refrigerate until serving time.