Crispy salt and pepper tofu with a cucumber and chilli dipping sauce is a moreish little nibble to have with drinks, or serve it up with sticky rice and steamed greens for a simple but yummy dinner.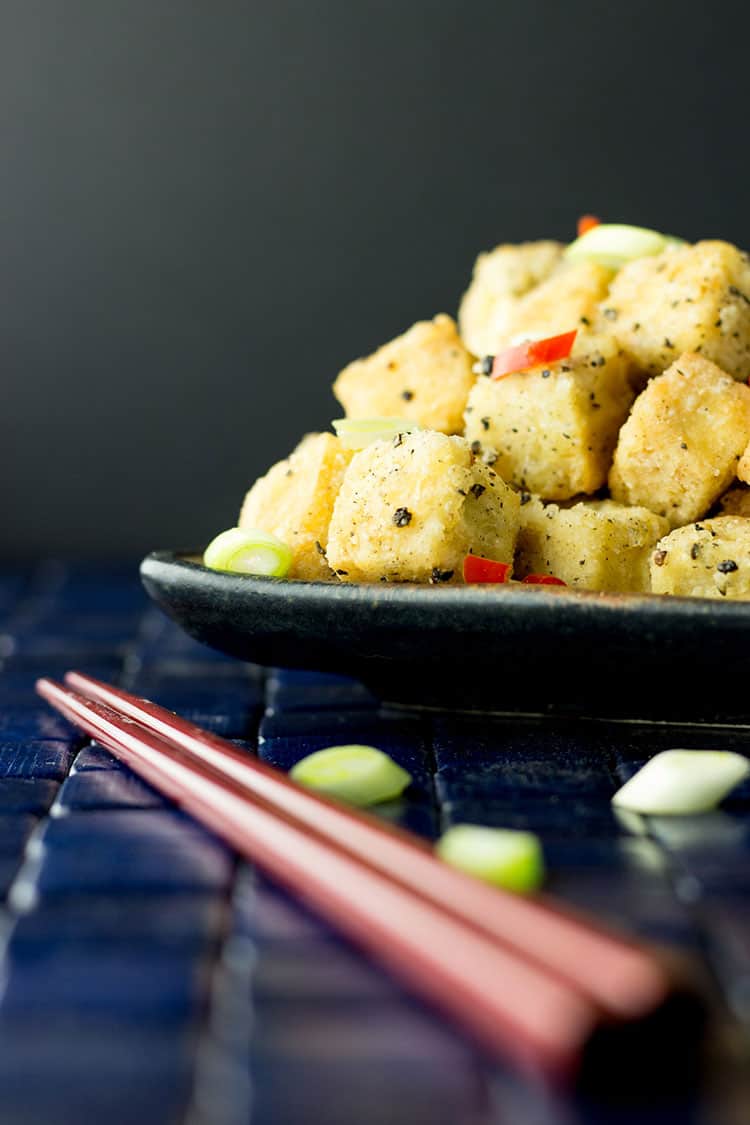 I love tofu, but I can understand why so many people are sceptical if not downright opposed to the idea of it. In its raw form it's a pretty bland staple and it absolutely relies on the cook doing something interesting with it to make it delicious.
There are probably a million and one ways to cook tofu, and I reckon I've tried most of them. This one was a first for me though. A few weeks ago I lightly coated some tofu with just a little cornflour, salt and pepper before frying it to add to a stirfry. It worked so well that it instantly got me thinking about doing it properly and serving it in the style of salt and pepper squid.
This method is a really easy introduction to tofu if you're not used to cooking it. It's very quick and easy, perfectly crispy and goes with almost any Asian inspired meal.
I ground up peppercorns and rock salt in my mortar and pestle so that I could keep them nice and chunky, but with some fine bits too.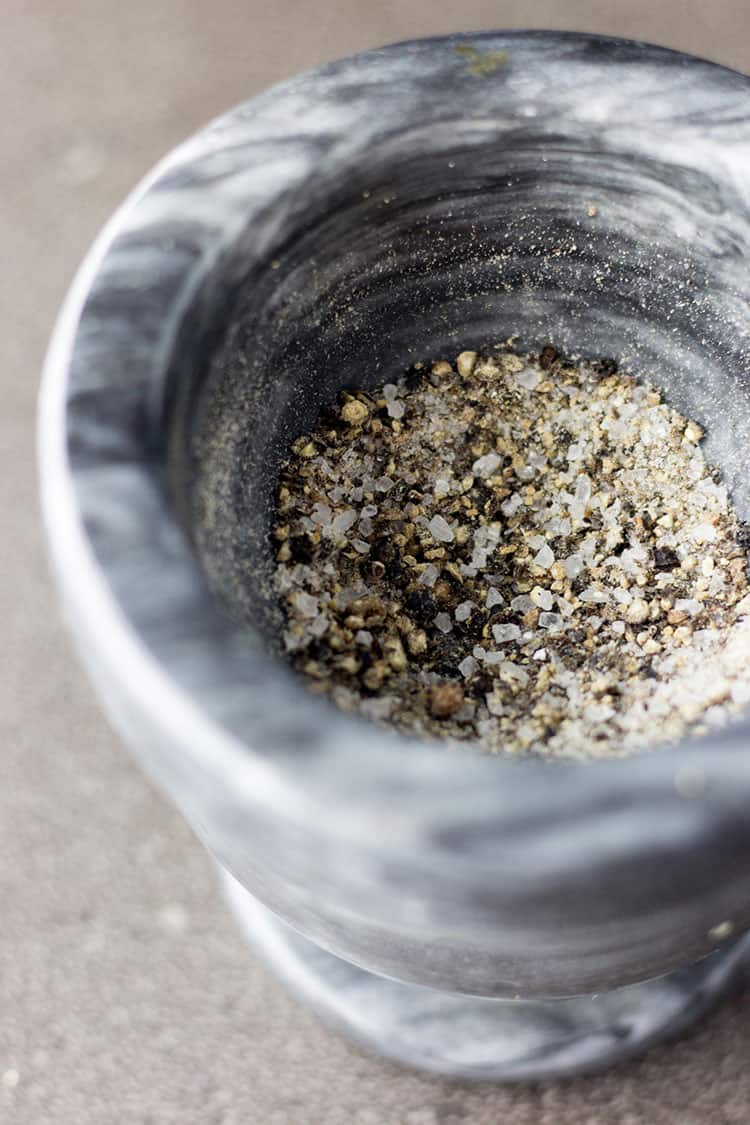 This mix is then used to heavily season a generous amount of cornflour, before dredging the tofu in it and shallow frying. Incredibly simple, and very tasty with a little light cucumber and chilli dipping sauce on the side.
Serve the tofu as a nibble, add it to a salad, use it to top a buddha bowl or serve it with sticky rice and steamed greens for a simple but yummy dinner. Likewise, change up the sauce to suit yourself. The tofu would be delicious with aioli, bbq sauce, sweet chilli, teriyaki or a light citrus and soy combo.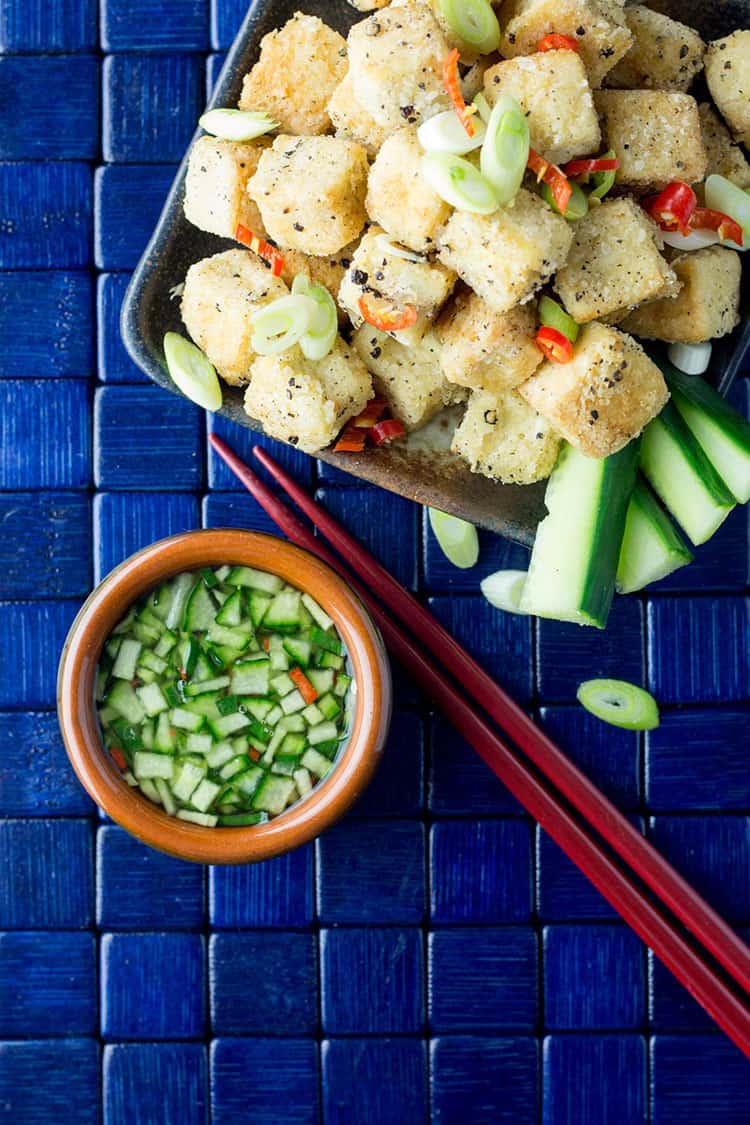 A little side note on cornflour (cornstarch for my friends in the US). It's one of those things I always have lurking in the cupboard but don't generally pay any attention to, or buy all that often. When I was buying it a few weeks ago, I noticed for the first time that there were two 'cornflours' in a row on the shelf, from the same brand. On closer inspection only one of them was made from actual corn (maize, actually) and the other one was labelled cornflour but was 100 per cent wheat. What the heck?! That's a new one on me. So if you're following a gluten free diet, pay close attention and check the label.
Get the recipe
INGREDIENTS
For the dipping sauce:
¼

cup

rice vinegar

½

cup

finely chopped cucumber

a little less than ¼ of a telegraph cucumber

½

a red chilli

finely chopped

1 ½

tablespoon

white sugar

or alternative sweetener of your choice

Pinch of salt
For the tofu:
One pack of firm tofu

275g, I used Tonzu organic tofu

¼

cup

cornflour

(cornstarch)

2

teaspoon

black peppercorns

1

teaspoon

rock salt

¼

cup

cooking oil for frying

I used rice bran oil
INSTRUCTIONS
For the dipping sauce:
Stir sugar and salt into the vinegar until dissolved, then add the cucumber and chilli and stir to combine.

Set aside until ready to serve.
For the tofu:
If you have time, it's always a good idea to press and drain your tofu. I do this by removing it from the package, wrapping it in a few layers of paper towel and arranging it between two dinner plates with something heavy on top. Even 10 minutes of draining time will be of benefit, and ideally up to an hour if you have the time. The more moisture you can drain off the tofu, the better the texture will be (and in recipes where the tofu is marinated it will suck up the flavours better). Once drained, cut the tofu into even sized cubes.

If you have one, use a mortar and pestle to roughly grind up the salt and pepper. If you don't have one then freshly ground will be fine.

Put the salt and pepper mix and cornflour into a plastic bag and give them a bit of a shake to combine.

Add tofu cubes to the bag and give them a good shake to thoroughly coat them in the cornflour.

Add ¼ cup cooking oil to a frypan and bring to a moderate heat. Once the oil is hot, add the tofu and shallow fry (working in batches if necessary). Keep turning the tofu as it cooks, until it's evenly golden brown on all sides.

Carefully remove the tofu to drain on paper towels, season with a little more salt, then serve immediately while still hot.

Serves 2-4.
RECIPE NOTES
Nutrition information estimated.
Preparation time does not include draining time for the tofu.
NUTRITION INFORMATION
Calories:
157
kcal
|
Carbohydrates:
10.7
g
|
Protein:
5.9
g
|
Fat:
9.9
g
|
Saturated Fat:
1.6
g
|
Cholesterol:
0
mg
|
Fiber:
1.1
g
|
Sugar:
5.2
g
Nutrition Facts
Crispy salt and pepper tofu
Amount Per Serving
Calories 157
Calories from Fat 89
% Daily Value*
Fat 9.9g15%
Cholesterol 0mg0%
Carbohydrates 10.7g4%
Protein 5.9g12%
* Percent Daily Values are based on a 2000 calorie diet.