This simple Middle Eastern inspired eggplant and lentil salad is packed with protein and iron, and given a boost with a creamy tahini dressing.
Eggplant and lentils are both somewhere towards the top end of my favourite foods list. I don't think I've often eaten them at the same time though, and I'm glad to report that situation is now over.
2016 is officially the year of the pulse, as designated by the United Nations. This really makes me so happy. That sounds crazy doesn't it? But it's true. I've long ranted said that more people need lentils in their life because they're so cheap and healthy, packed with protein, fibre, iron and folate. And there is so much you can do with lentils to elevate them to a higher place. Cheap doesn't always mean humble.
Perhaps most importantly though, they're sustainable. Growing pulse crops like lentils enriches the soil where they grow, reducing the need for chemical fertilisers. They can grow in the most inhospitable of places and require very little water. As the world's population grows, water becomes more scarce and food security suffers, eating more lentils is one small but legit thing you can do to help. If you're agreeing with all I'm saying, find out more and take the Pulse Pledge at pulsepledge.com.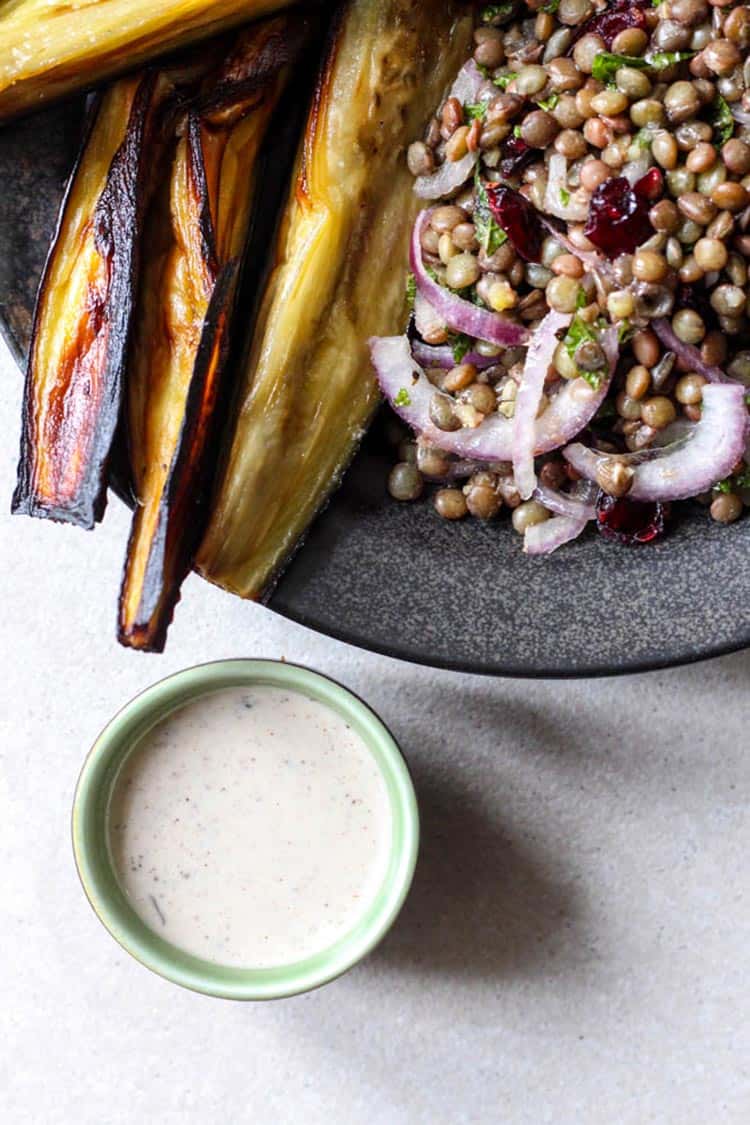 This salad was born from another 'the cupboard is bare' story. A patently untrue fairytale of a story, clearly. I cooked some lentils with a view to turning them into salad. Then realised I didn't really have anything green. Or orange, yellow or red. After the spending excesses of Christmas I'm determined to avoid mid-week grocery trips for extra bits and pieces so I had to get creative.
I'd really have liked to include pomengranate in this recipe. That would have been nice, huh? So pretty. Instead I included a handful of dried cranberries for a similar sweet and tart effect. They might not exactly be authentic in what is a pretty Middle Eastern inspired dish, but they really work! Keep them in mind as a potential substitution next time you're longing for pomengranate.
A big handful of fresh mint from the garden provided some fresh green flavours, and the flavours of za'atar inspired the dressing of tahini, lemon, sumac and thyme.
Overall it's a pretty winning salad combo that's vegan, gluten free, delicious, and also packs a respectable 18.3g of plant protein and nearly 50 per cent of your daily iron RDI. Boom.
Get the recipe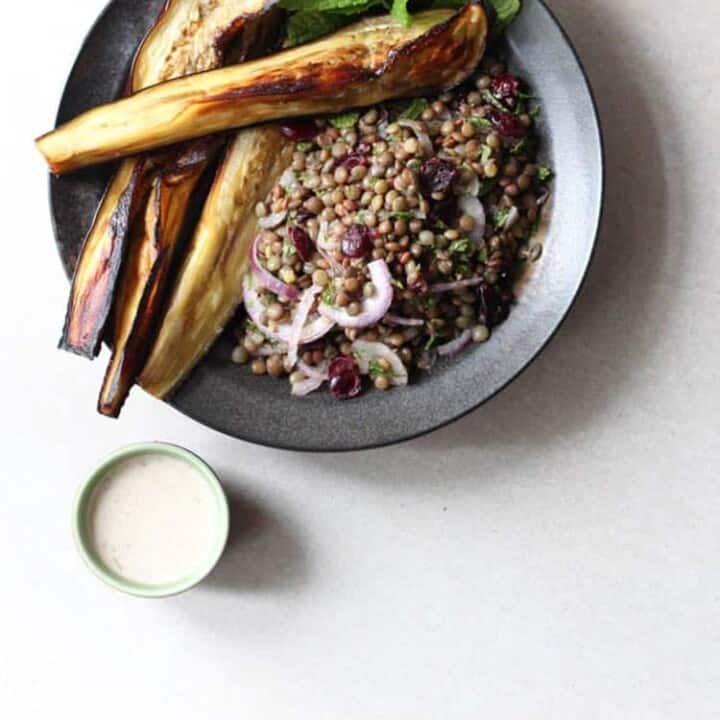 INGREDIENTS
For the salad:
½

cup

French green lentils

1

bay leaf

optional

1

teaspoon

olive oil

½

small red onion

finely sliced

½

cup

fresh mint leaves

finely sliced

¼

cup

dried cranberries
For the eggplant:
1

eggplant

2-3

tablespoon

olive oil
For the dressing:
2

tablespoon

tahini

2

tablespoon

lemon juice

2

tablespoon

water

1

clove

garlic

crushed or finely grated (optional)

1

teaspoon

sumac

¼

teaspoon

thyme

Pinch of salt
INSTRUCTIONS
For the salad:
Preheat oven to 200C (390F), fan bake.

To cook lentils, add them to a saucepan with plenty of water and one bay leaf (don't worry if you don't have any, but if you do that's awesome).

Bring to a low boil and cook for approximately 20 minutes, or until cooked but still with some resistance and holding their shape (you'll have to taste a few to check). I start checking from 15 minutes, and if they're still too firm or chalky, give them another 4-5 minutes at a time before checking again.

Once cooked, drain in a sieve and run briefly under cold water. Leave for 5-10 minutes to drain well and continue cooling.

Discard the bay leaf.

Combine lentils, 1 teaspoon olive oil, red onion, mint leaves and cranberries in a mixing bowl. Add a good grind of salt and pepper to season.
For the eggplant:
While the lentils are cooking, put the eggplant in the oven to roast. I like it cut into long wedges (cut in half lengthways, then quarters, then cut each quarter in half again). You can cut it however you choose though. Brush with olive oil and season well.

After 10-15 minutes, turn the eggplant pieces and brush with a little more oil. Roast for another 10-15 minutes or until soft, and darkly golden brown in places.
For the dressing:
Mix all dressing ingredients in a small dish or glass jar. Taste and adjust seasoning as necessary.
To serve:
Serve lentil salad and roasted eggplant with dressing on the side to pour as you like it.
NUTRITION INFORMATION
Calories:
487
kcal
|
Carbohydrates:
51.2
g
|
Protein:
18.3
g
|
Fat:
25.6
g
|
Saturated Fat:
3.7
g
|
Cholesterol:
0
mg
|
Fiber:
26.7
g
Nutrition Facts
Eggplant and lentil salad with sumac tahini dressing
Amount Per Serving
Calories 487
Calories from Fat 230
% Daily Value*
Fat 25.6g39%
Cholesterol 0mg0%
Carbohydrates 51.2g17%
Protein 18.3g37%
* Percent Daily Values are based on a 2000 calorie diet.