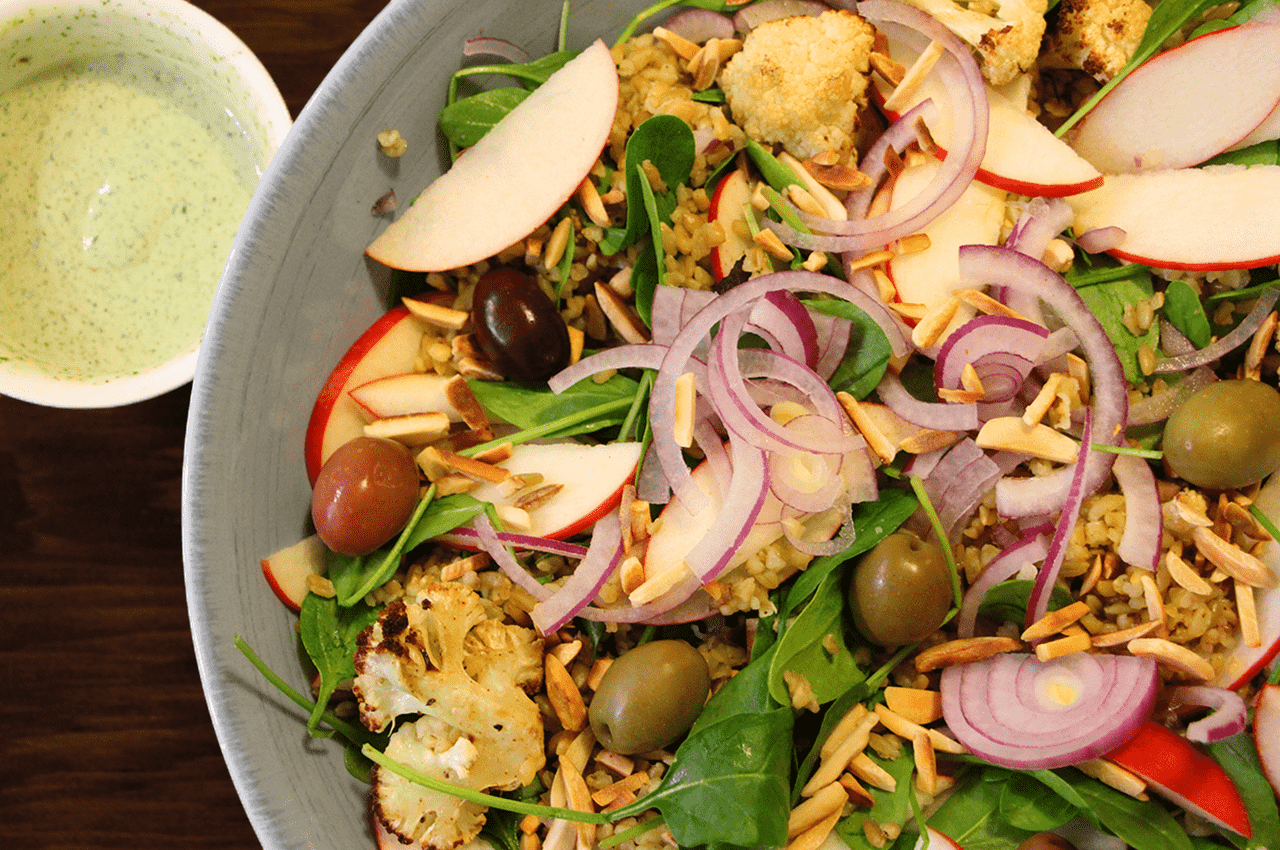 Roasty, toasty, savoury freekeh is delicious with roasted cauliflower, tart apples and a zesty tahini and parsley dressing. This is a great new salad to add to your repertoire.
I've been reading about freekeh for years, but have never seen it for sale in New Zealand before. Imagine my surprise when I came across it in the bulk bins at Pak n Save this week.
Freekeh is green wheat, which has been roasted over open fires then beaten to remove the husk. It looks a bit like bulghur wheat, but the grains are bigger and darker. The texture is also similar, though freekeh is denser and chewier. The flavour is earthy, nutty and slightly smoky, and deeply savoury and delicious. It's an ancient grain that's very popular in the Middle East , and I can see why.
Freekeh is clearly not a great option if you follow a gluten-free diet, but highly nutritious if you don't. It's high in protein, fibre, iron, calcium and zinc, low in fat and low GI. I can see it becoming a staple in my kitchen, that's for sure. I'm looking forward to trying freekeh in salads and soups, and think it would make an excellent vegetarian kofta too. Watch this space.
In this salad i've put freekeh with roasted cumin-spiced cauliflower and toasted almonds and found the earthy flavours to work really well together. Apple provides a bit of crisp sweet relief to a very savoury dish, and both the red onion and the tahini dressing balance it all out with a bit of tang.
I served this salad as a main meal in its own right. It would also be a great with grilled mushrooms, eggplant or zucchini, or as a bbq side dish.
Get the recipe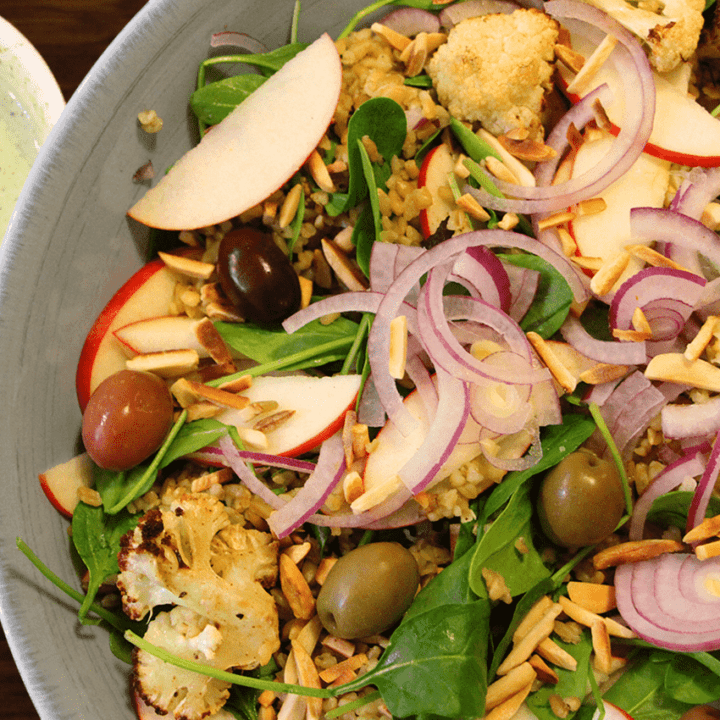 INGREDIENTS
For the salad:
1 ½

cups

freekeh

1

tablespoon

olive oil

2

teaspoon

vegetable stock powder

or 1 litre liquid stock

1

small cauliflower

cut into florets, or half a large one

2-3

teaspoon

ground cumin

cup

½ slivered almonds

2

cups

baby spinach

1

red onion

thinly sliced

1

red skinned apple

thinly sliced

Olives

optional
For the dressing:
3

tablespoon

tahini

Juice of 1 lemon

1

clove

garlic

Handful of parsley

¼

teaspoon

raw sugar

(optional)

Salt and pepper to taste
INSTRUCTIONS
For the salad:
Preheat your oven to 200°C fanbake.

To cook the freekeh, put the freekeh, oil, stock powder, a few pinches of salt and 4 cups of boiling water into a saucepan. Cover and boil for 30 minutes. If all of the liquid is absorbed after this time, turn off the heat and leave to sit, covered, for 10 minutes.

If all of the liquid is not absorbed in this time, drain the freekeh, return to the pan, cover and leave to steam over the lowest heat for 5 minutes.

Tip the freekeh into your salad bowl and allow to cool a bit. I served my salad warm, or you could make the whole thing ahead of time and pop it in the fridge until ready to serve.

While the freekeh is cooking, get your cauliflower roasting. Put your cauliflower on a roasting tray, spray with olive oil (or toss with 1-2 tablespoon liquid olive oil), liberally sprinkle with ground cumin, and season with salt and pepper. Roast for about 20 minutes, stirring once or twice, or until softened and golden around the edges. Remove from the oven and allow to cool a bit.

Heat a frypan over a medium heat and add your slivered almonds. Toss and keep them moving for about 5 minutes or until lightly golden. Set aside to cool.

Add all ingredients to your salad bowl and toss to combine. I reserved a few sliced onions, apples and almonds to garnish the top of the salad.

Serves 4 or more, depending on whether you serve this as a meal or a side dish.
For the dressing:
Put tahini, lemon juice, garlic and parsley into a blender or food processor. I used my stick blender in a small bowl. Blend until smooth, then add water gradually to thin the dressing to your desired consistency. I used about ¼ cup.

Taste and add sugar, salt and pepper to adjust seasoning. My lemons are only just ripe, so my dressing was very tart and improved a lot by a touch of sugar to round out the flavours.

Drizzle over salad to serve.

Makes about half a cup.