A beautifully creamy, mostly raw,  vegan cheesecake with grapefruit and a touch of black pepper. It's an unusual but stunning combination.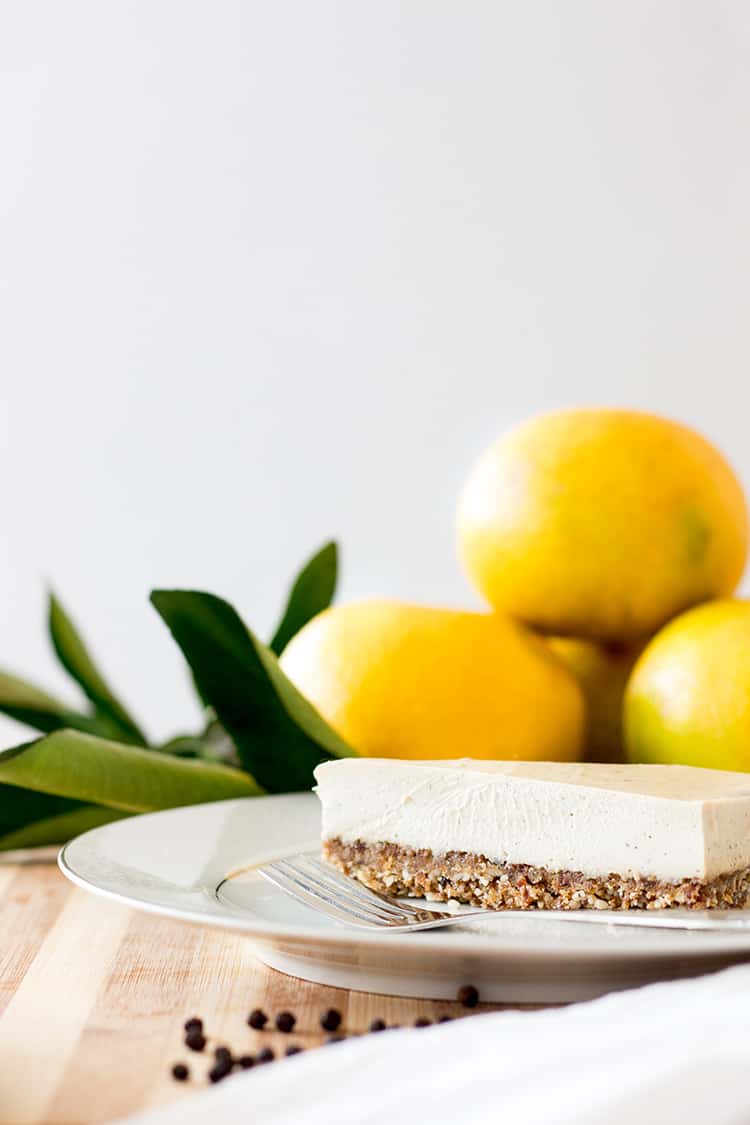 I have a huge grapefruit tree in my backyard. Truly, it's the biggest grapefruit tree I've ever seen. Each year it produces around 100 kg (220 lb) of fruit, which is equal parts wonderful and a total pain because that's obviously far more than we know what to do with!
Right now it's groaning under the weight of another huge crop of grapefruit, some branches are nearly touching the ground. We'll be eating them for breakfast, juicing them and giving them away by the bag full. I've also been thinking about how grapefruit would work so well in a vegan cheesecake.
You with me? So far so good?
Burnt grapefruit
I was not content to make just any old grapefruit vegan cheesecake (because that's just such a thing, right!? haha). So I thought, let's char the grapefruit, and add a touch of black pepper to make it more interesting.
You could be thinking I'm crazy. I mean, burnt grapefruit and black pepper, really?
Yes, really.
I've had great success before with charring citrus, in this Israeli couscous salad with burnt citrus dressing. Roasting and charring the fruit intensifies its flavour, makes it sweeter and adds a pleasingly bitter note. It also makes the fruit explosively juicy. I didn't go as far with the charring this time, so the resulting juice was full flavoured and bittersweet, with a touch of caramelisation to it.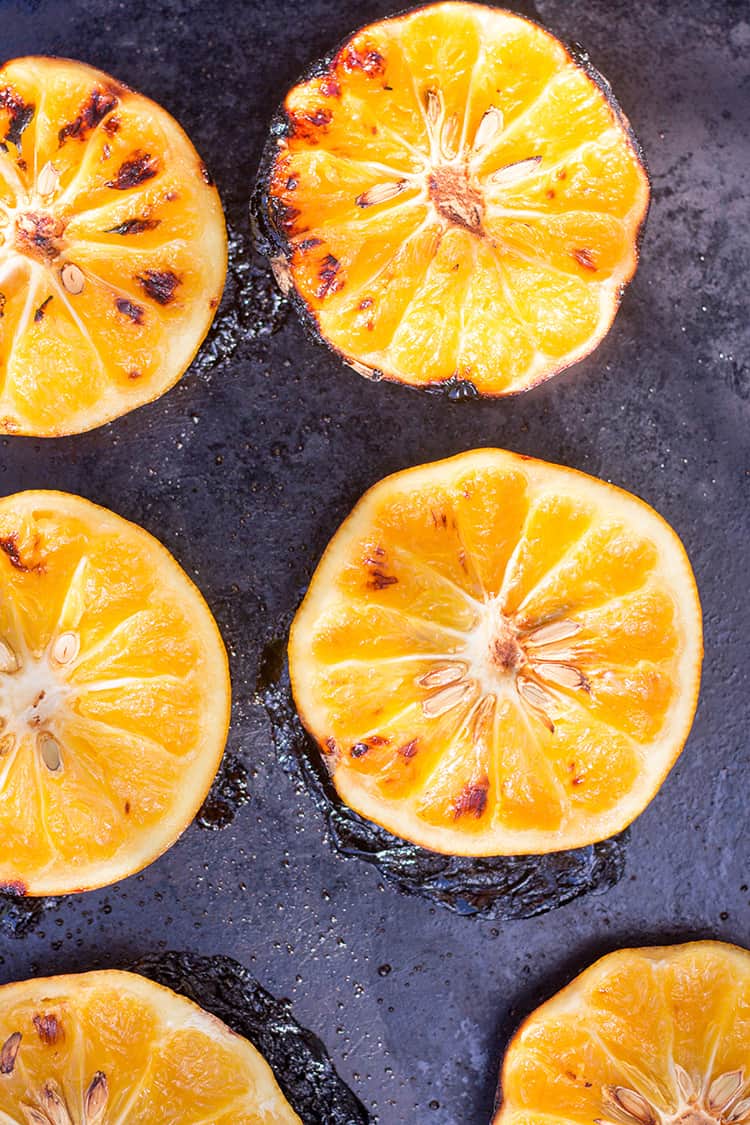 Once the grapefruit juice is blended with cashews and sweetened with maple syrup, it becomes surprisingly mellow and really rather lovely. I'd love to taste test this recipe with two versions side by side, one with fresh raw grapefruit juice, and one done this way. It'd be an intriguing comparison I think - with the light and bright on one hand, and the mellow and complex on the other.
If you want to keep this completely raw, then just skip the roasting step and use fresh grapefruit juice.
And black pepper, in a cheesecake?
Black pepper can work surprisingly well with sweet flavours. I've tried it before with these date, orange and rosemary balls, which are incredible. The pepper adds a little heat, but in a much milder way than you'd get from chilli. Remember black pepper is a key ingredient in chai spice blends, then maybe it won't seem so strange at all.
I've made lighter vegan cheesecakes before, here, here and here. I love all of them. But this time I decided to go with a more traditional vegan cheesecake blend and use cashews and coconut oil. The result is pleasingly rich and a wonderful balance to the grapefruit and black pepper flavours. I love it.
Think ahead
The cheesecake only has about 20 minutes of hands on time involved in making it, but you do need to think ahead to soak your cashews and allow chilling time for the cheesecake to set. It's best to set it in the freezer so that it's nice and firm and easy to remove from your tin. You can then let it sit at room temperature to soften for an hour or so before serving. If it's hot where you are, remember it will keep softening the longer it's sitting at room temperature - the only thing keeping it firm is the chilled coconut oil.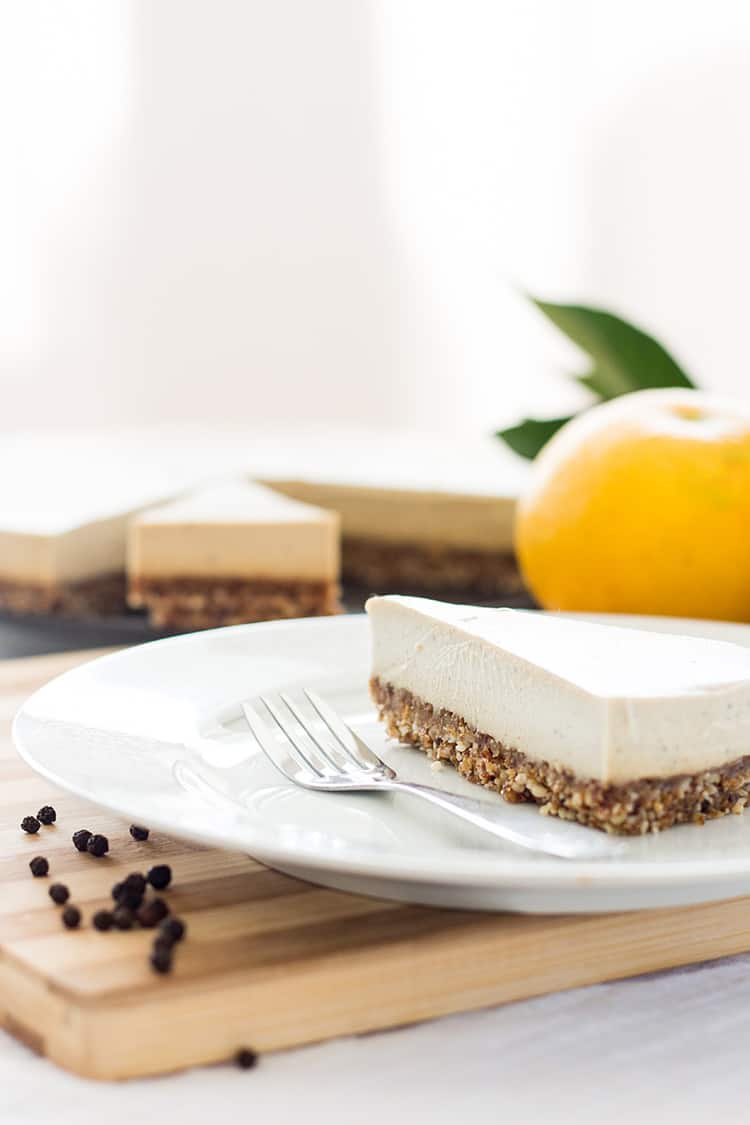 Get the recipe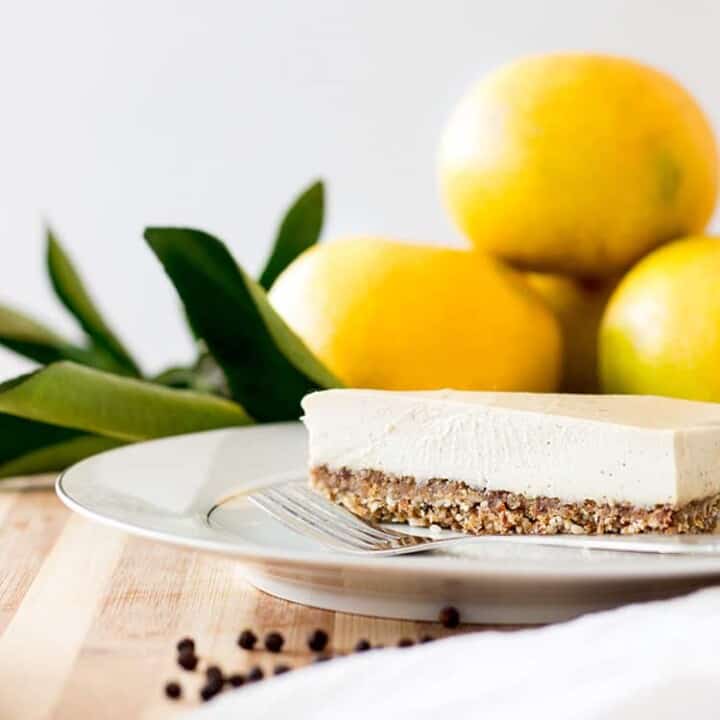 INGREDIENTS
For the base:
1

cup

raw almonds

½

cup

sunflower seeds

1 ½

cups

dates

2

tablespoon

coconut oil

melted if solid

Pinch of salt
For the filling:
3-4

grapefruit

3

cups

cashews

soaked in cold water overnight or for at least 4 hours, or cashews pieces

½

cup

maple syrup

½

cup

coconut oil

melted if solid

1

teaspoon

natural vanilla extract

1

teaspoon

black pepper corns

finely ground (I used a mortar and pestle)

Pinch of salt
INSTRUCTIONS
For the base:
Put all ingredients into the bowl of a food processor and whizz until the texture of biscuit crumbs. If your food processor isn't very powerful, it can help to roughly chop the dates first, and give your processor a break every few minutes to stop it over heating.

Tip mixture into a spring form tin and press down firmly, using the back of a spoon or a drinking glass. I used a 23cm (9 inch) tin, you could also use a smaller one - you'll just have a thicker base and topping layer. I didn't line my tin, but if you're nervous about it sticking then go ahead and do that first.

Put the base in the freezer to set until you're ready to pour in the filling.
For the filling:
Preheat oven to 220C (430F) fanbake.

Half your grapefruit and arrange them on a baking tray. Roast for about half an hour, or until softened and with char marks in places.

Remove from oven and set aside until cool enough to handle.

Squeeze grapefruit to obtain ¾ cup of juice. For me, this took three whole grapefruit (six halves). Depending on the size and ripeness of your fruit, you might need more or less.

Drain and rinse the cashews, and add to a high speed blender or food processor.

Add grapefruit juice, and all remaining filling ingredients.

Blend until well combined and completely smooth.

Pour into pre-prepared tin and spread mixture evenly.

Freeze until firm. Allow at least six hours, or better yet, freeze it overnight.

Remove from the freezer and allow to thaw for an hour or so before serving.
NUTRITION INFORMATION
Calories:
553
kcal
|
Carbohydrates:
52.5
g
|
Protein:
10.6
g
|
Fat:
37.3
g
|
Saturated Fat:
15.4
g
|
Fiber:
5
g
Nutrition Facts
Grapefruit and black pepper vegan cheesecake
Amount Per Serving
Calories 553
Calories from Fat 336
% Daily Value*
Fat 37.3g57%
Carbohydrates 52.5g18%
Protein 10.6g21%
* Percent Daily Values are based on a 2000 calorie diet.