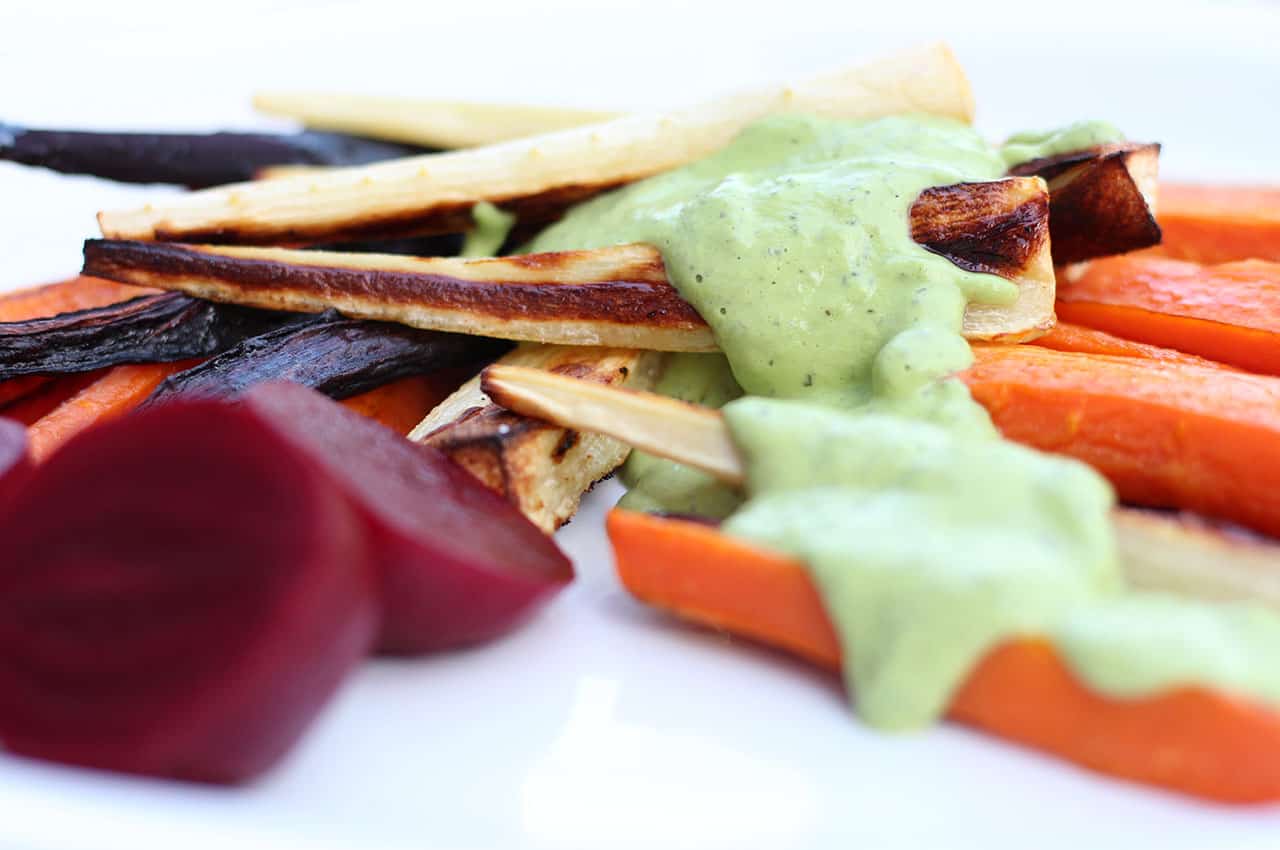 Creamy, vibrant and herby cashew sauce is amazing with roast vegetables, or with just about anything really.
If you're new to using cashews in sauces, this is the recipe to convince you it's a great idea. Soaked overnight, or for the day, creamy blended cashews can be used in a huge range of sweet and savoury dishes as a high protein dressing, sauce, cream or cheese replacement - depending on the flavours you add and the final consistency.
Cashew cream isn't news to long established vegans, but cashew cream is for everyone, EVERYONE, I say! This is a great crowd pleasing recipe to add to your vegetarian, vegan or omnivore repertoire. You won't look back.
Sure cashews are high in calories and fat, but they're also full of nutrients. With a plant-based meal that's naturally low in other fats, you really don't need to feel guilt about adding this in large dollops. Oh yep and then seconds. Go for it.
I've added basil and spinach for flavour and a pop of green, and some kelp flakes for a pretty broad spectrum burst of nutrition.
Kelp contains a huge range of vitamins, enzymes, minerals, trace elements and proteins. It contains vitamins B1, B12, B2, calcium, iron, potassium, magnesium and iodine. Awesome huh? I bought some Chantal Organics kelp pepper at The Food Show in the weekend and can see myself adding it to all sorts of things as it's pretty tasty, as well as healthy. Don't worry if you don't have kelp (or nutritional yeast) - the sauce is absolutely delicious without them too.
The Food Show was, yet again, a great day out and an amazing opportunity to learn about and taste a huge range of products. I didn't feel like there was a lot of knock your socks off new or exciting stuff this year, but there was still a lot to love - from Little Island coconut icecream (OMG! the mango! amazing!) to bargain extra virgin olive oils and some outstanding lime and saffron salad dressing. We came away happy. My prediction for the next big thing? Small batch, locally produced artisan jams. You heard it here first.
Hey and you know what, I would LOVE to know if you try this or any other recipes from Quite Good Food. Tag your snaps with #quitegoodfood on Instagram and i'll find them.
Get the recipe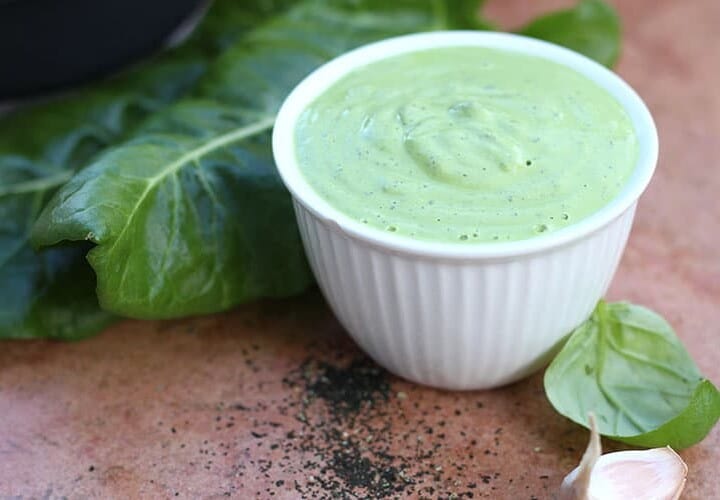 INGREDIENTS
½

cup

raw cashews

soaked overnight or for the day

½

cup

water

1

cup

fresh basil leaves

approximate

2

leaves

large spinach

3

tablespoon

apple cider vinegar

or lemon juice

1

tablespoon

olive oil

1

clove

garlic

1

tablespoon

nutritional yeast

optional

1-2

teaspoon

kelp flakes

optional

Salt

to taste
INSTRUCTIONS
Drain and rinse the soaked cashews, then add everything to a blender or food processor and whizz until smooth. If you have a high speed blender this will take 10-20 seconds. You can still achieve a smooth sauce with a food processor, you'll just need to spend a few more minutes on it and stop and scrape down the sides a few times.

Taste and adjust seasoning.

The sauce will thicken a bit on standing, and will keep refrigerated for a few days if you don't scoff it all immediately.

Serve with mixed roast vegetables and brown rice or quinoa for a satisfying and healthy meal.
RECIPE NOTES
Preparation time doesn't include soaking time for the nuts.