Easy home made cassata ice cream with Christmas fruits, pistachio nuts and chocolate can be made with home made dairy free ice cream or your favourite store bought ice cream.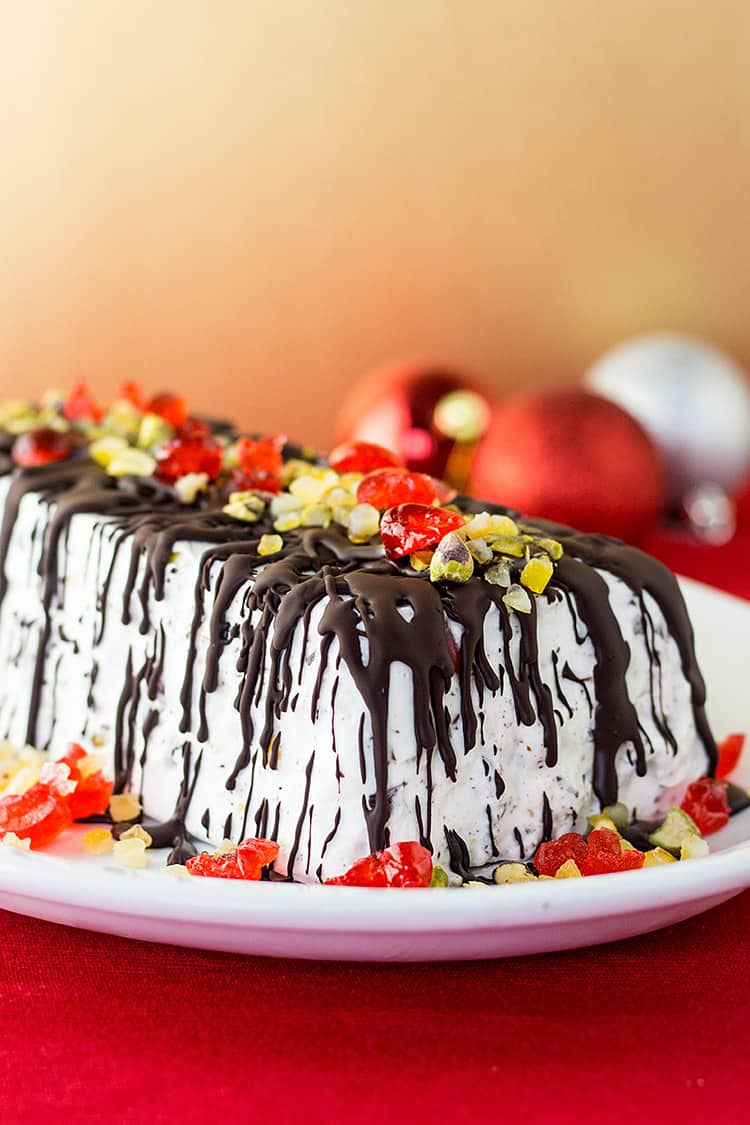 I'm not quite humming Christmas carols yet, but I've certainly been sucked into the vortex of shopping, planning and busy-ness. I'm so excited about getting together with extended family soon, and it will also be the first Christmas my nearly two year old will be excited about (last year she was a bit small to understand what was going on). It's going to be a good one, and I'm so looking forward to making new memories with my children.
Glace cherries are one of my childhood Christmas memories. I've always loved them and each year I'd be given a whole packet of them in my Santa stocking. I'd snip open the corner of the packet and enjoy squeezing them one by one straight into my mouth, eking them out over a week or so to get maximum enjoyment from that once a year special treat. As an adult I still love cherries but I've certainly moved on from wanting to eat them straight from the packet.
Easy cassata ice cream
Christmas desserts that include cherries would have to be some of my favourites, so I just adore this home made cassata ice cream. This impressive looking dessert is very easy to make and has all the flavours of Christmas.
Glace cherries, candied peel, pistachios, dark chocolate and rum soaked currants are stirred through soft ice cream then put into a loaf tin to freeze until firm. You can make your own dairy free ice cream as I did, or use a litre of your favourite regular or dairy free store bought vanilla ice cream. If you go with the store bought option, let the ice cream soften until it's just soft enough to stir the other ingredients through - but be careful not to let it melt otherwise it'll be icy once it re-freezes.
To serve, I turned the loaf of ice cream out onto a serving platter and drizzled it with good quality dark chocolate thinned with a little coconut oil, before scattering it with extra cherries, pistachios and candied peel.
Some years Christmas Day in New Zealand can hover around 30 degrees (Celsius, that's hot!). So desserts that are festive but cool are always welcome. If you're celebrating Christmas somewhere frostier, this home made cassata ice cream would also be wonderful alongside a steamed pudding or other hot dessert.
Totally inauthentic, but totally delicious
Cassata is a traditional dessert from Sicily, Italy. It's typically a cake moistened with liqueur, layered with ricotta cheese and chocolate chips, and topped with candied fruit. It can also refer to Neapolitan ice cream containing candied or dried fruit and nuts. This simple vegan version of home made cassata ice cream might make an Italian nonna shudder at its inauthenticity, but it's a delicious combination that's utterly perfect as a Christmas dessert.
Looking for more Christmas desserts?
Try my most popular recipe - lime and vanilla vegan cheesecake, or chocolate whisky truffles, mini chocolate and raspberry vegan cheesecakes, fruit and nut cacao cups or allergy-friendly raspberry, lime and coconut cheesecake.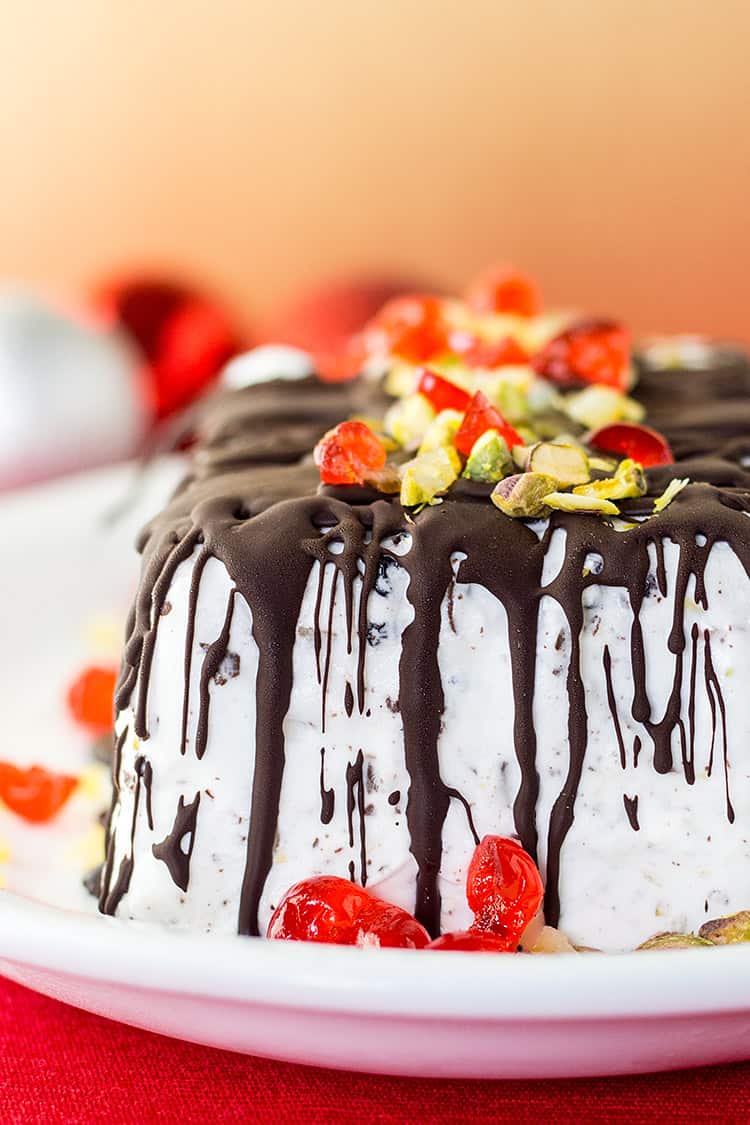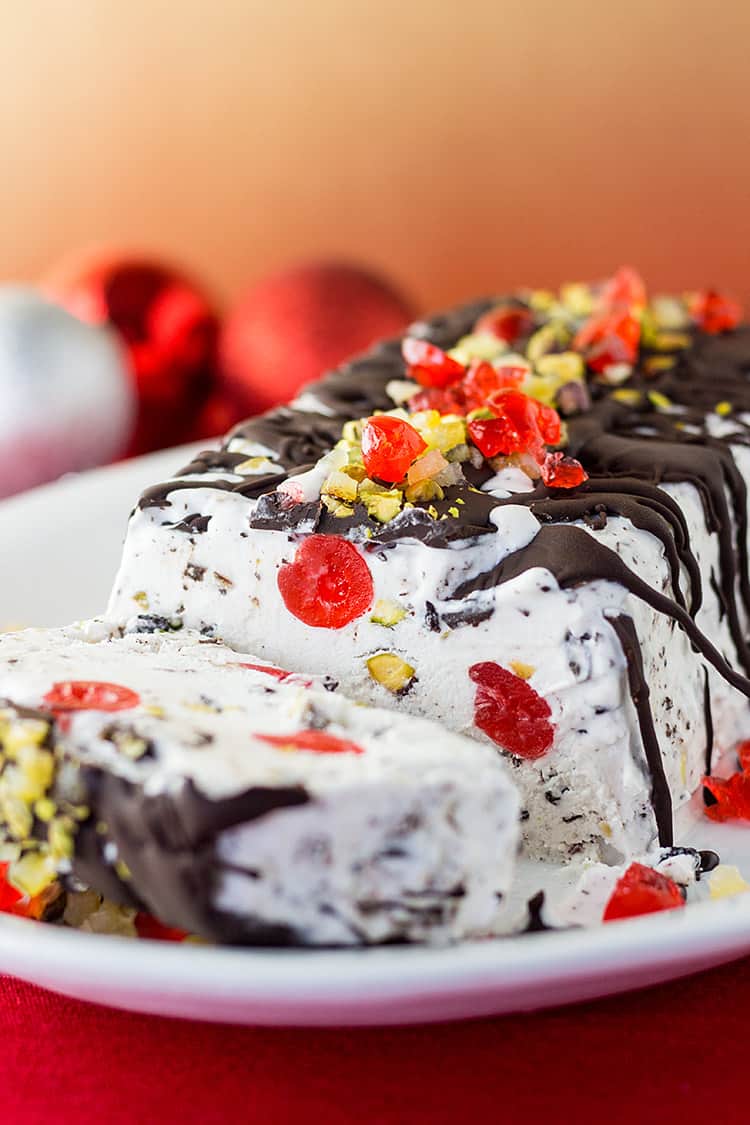 Get the recipe
INGREDIENTS
For the ice cream:
2

cans

coconut cream

(800ml)

2

teaspoon

vanilla paste

or natural vanilla extract

½

cup

sugar
For the stir through ingredients:
¼

cup

currants

2

tablespoon

rum

or substitute orange juice for an alcohol free version

¼

cup

pistachios

roughly chopped

¼

cup

candied peel

½

cup

glace cherries

roughly chopped

50

g

good quality dark chocolate

(1oz) I used Whittakers Dark Ghana 72%
For the drizzle:
100

g

good quality dark chocolate

(2oz)

1

tablespoon

coconut oil
For the garnish:
Additional cherries, pistachios and candied peel
INSTRUCTIONS
Start by stirring the currants and rum together in a small dish, set aside to let the currants soak up the rum.

Gently heat the ice cream ingredients together in a saucepan, stirring until the sugar has dissolved and any hard lumps of coconut cream have melted. Set aside to cool to room temperature.

Pour the ice cream mixture into the frozen bowl of an ice cream machine and set it to churn. Churn until it's the texture of soft serve ice cream. How long it takes will depend on your machine, mine took somewhere between 1 and 1 ½ hours.

Scrape the ice cream into a large mixing bowl, add rum soaked currants and other stir through ingredients. Fold together quickly and smoothly, until well mixed.

Scrape ice cream into a lined loaf tin, cover and freeze for at least 3-4 hours (or until firm).

When ready to serve, melt chocolate and coconut oil together until smooth. I did it in the microwave, otherwise you could do it in a saucepan over a very gentle heat, or in a glass bowl over boiling water. Let the melted chocolate cool for five minutes or so - just enough so that it's no longer hot (otherwise it'll melt the ice cream).

Carefully invert the loaf of ice cream onto a serving platter and remove the lining. You may need to briefly dip the tin into hot water to help it release.

Drizzle over the melted chocolate and garnish with extra cherries, pistachios and candied peel.
RECIPE NOTES
Preparation time does not include ice cream churning or chilling time. 
Skip the home made ice cream making step if you prefer, instead folding the stir through ingredients through your favourite store bought ice cream and then refreezing. 
NUTRITION INFORMATION
Calories:
433
kcal
|
Carbohydrates:
30.3
g
|
Protein:
4.5
g
|
Fat:
35.4
g
|
Saturated Fat:
29
g
|
Cholesterol:
0
mg
|
Sodium:
5.5
mg
|
Fiber:
3.6
g
|
Sugar:
21.8
g
|
Vitamin A:
0
IU
|
Vitamin C:
9.1
mg
|
Calcium:
20
mg
|
Iron:
2.7
mg
Nutrition Facts
Home made cassata ice cream
Amount Per Serving
Calories 433
Calories from Fat 319
% Daily Value*
Fat 35.4g54%
Cholesterol 0mg0%
Sodium 5.5mg0%
Carbohydrates 30.3g10%
Protein 4.5g9%
Vitamin A 0IU0%
Vitamin C 9.1mg11%
Calcium 20mg2%
Iron 2.7mg15%
* Percent Daily Values are based on a 2000 calorie diet.