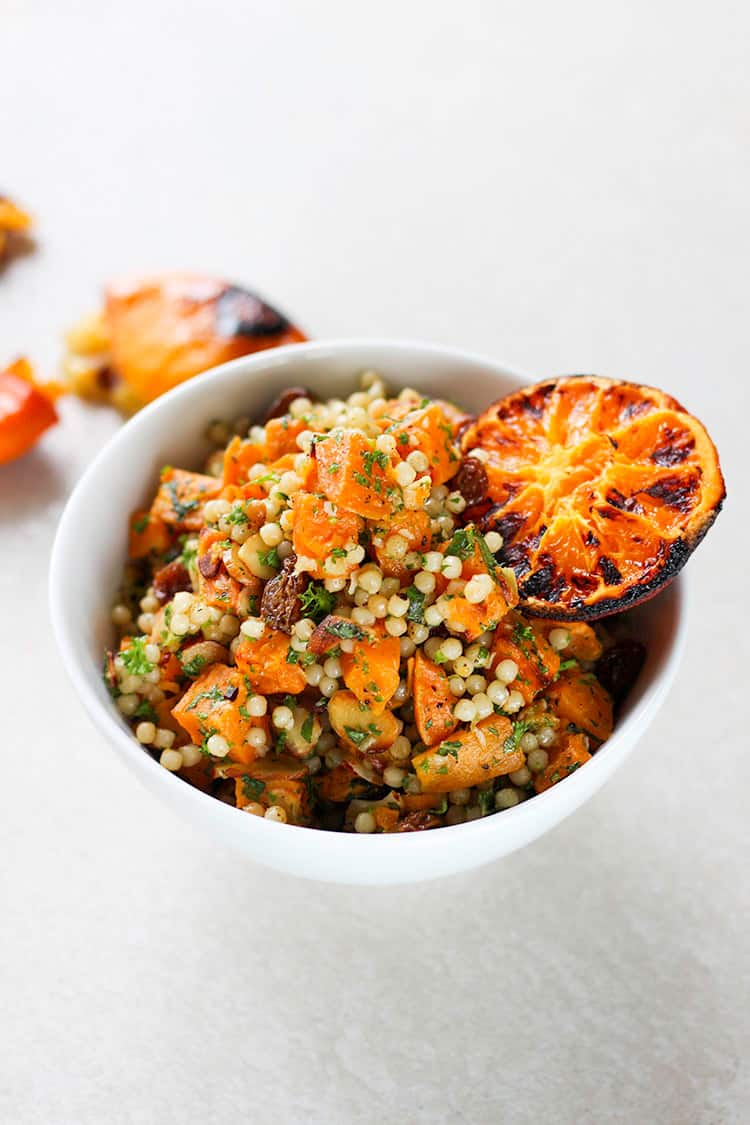 There are bittersweet and complex flavours going on here with toasted Israeli couscous and sweet kumara in a burnt citrus dressing.
This beauty of a dish is another day before grocery day stunner. Isn't it amazing what we can achieve under a bit of pressure? Or in this case, without a lot to work with.
With almost no fresh vegetables left in the house, just a stray half kumara (sweet potato) left over from making crispy kumara cakes, I was at a bit of a loss and really wanted to avoid yet another mid week trip to the supermarket for just a few things. Thank goodness for my garden. Citrus and herbs really saved the day.
Roasting and charring the oranges and lemons really takes this salad to another level. The citrus juices become both more plentiful and more concentrated in flavour (how does that work?!), a bit caramelised and pleasingly a little bitter. Parsley and mint freshen things up.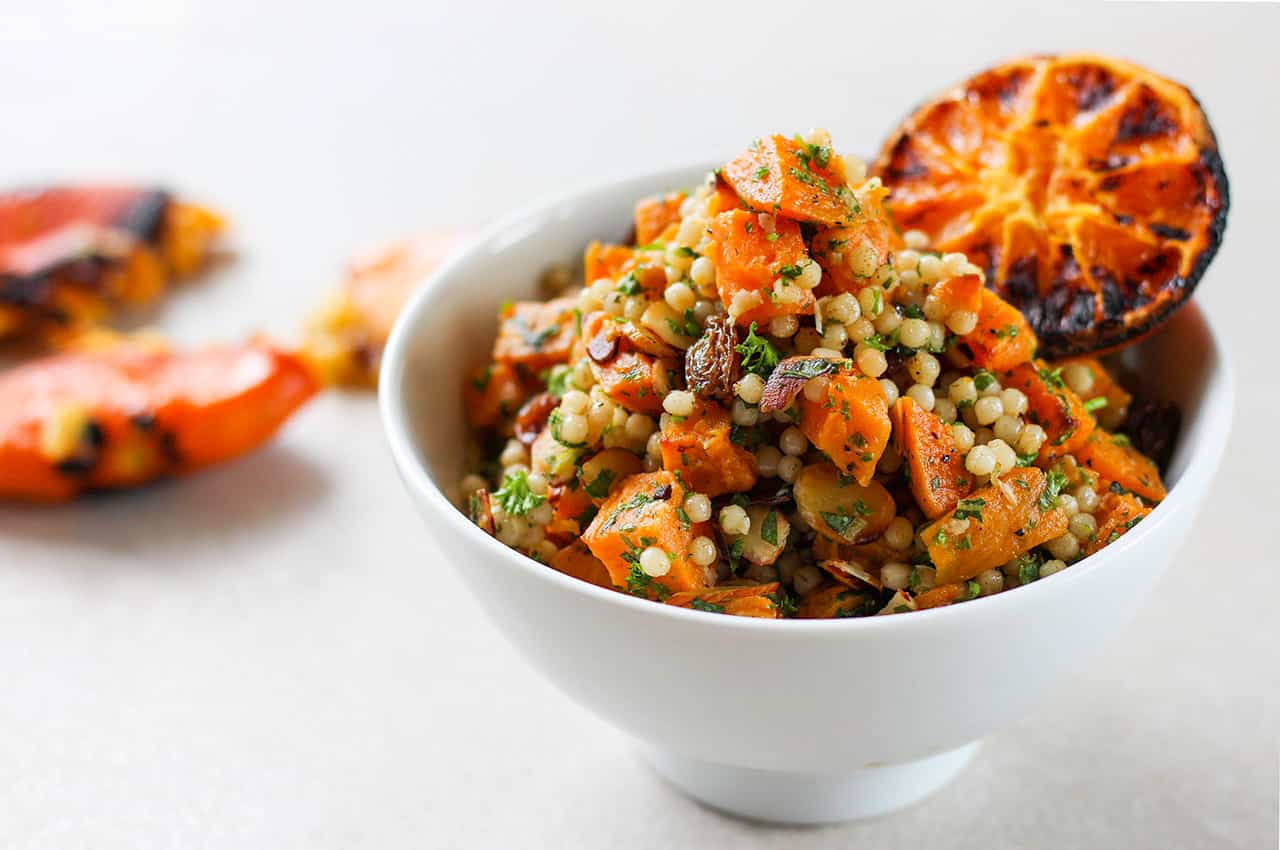 Israeli couscous, also called pearl couscous, is a toasted pasta in the shape of little balls. It's got a bit of bite and is excellent in salads. It's easily available from most supermarkets.
Remember that it is indeed pasta, so if you keep leftovers they'll dry out a bit in the fridge as the pasta sucks up all the dressing. No problem though, just add a fresh squeeze of lemon or orange the next day and you're golden.
There's a few things going on in the kitchen here, but get multi-tasking and this won't take long to pull together at all.
I'd love to know what you think! Leave a comment or tag your snaps #quitegoodfood on Instagram and i'll find them.
Get the recipe
INGREDIENTS
½

large orange kumara (sweet potato)

peeled and diced (or substitute with 2-3 carrots), approximately 300g

1

cup

Israeli couscous

2

oranges

well washed

2

lemons

well washed

2 ½

tablespoon

olive oil

(divided)

½

cup

flaked almonds

¼

cup

sultanas

1

clove

garlic

skin on

1

teaspoon

ground cumin

Pinch of nutmeg

½

cup

parsley

finely chopped (approximate)

½

cup

mint

finely chopped (approximate)
INSTRUCTIONS
Preheat oven to 190°C.

Toss chopped kumara with 1 tablespoon of olive oil and season with salt and pepper. Roast for 15-20 minutes or until soft and golden brown.

Cut the oranges and lemons in half and pop them in the oven to roast alongside the kumara. When you take the kumara out of the oven, crank up the heat and flick your oven to grill for a few minutes to finish off charring the tops of the oranges and lemons. Remove from the oven and set aside.

To cook the Israeli couscous heat ½ tablespoon of olive oil in a saucepan. Add couscous and stir for 1-2 minutes to toast it a little. Add 1¼ cups of water, ground cumin, nutmeg, garlic clove (skin on), salt and pepper to season. Cook over a low heat for 5-6 minutes, stirring occasionally. Take off the heat and leave to sit for another 5 minutes. All of the liquid will have been absorbed and the couscous will be perfectly al dente. Remove the garlic clove and keep it aside for your dressing.

While all of this is going on, toast your almonds in a dry frypan for a few minutes until golden. Set aside to cool.

To make the dressing, remove the skin from the garlic and crush the clove to a paste - I did this with the flat side of my knife, on the chopping board. Scrape it into a small bowl. Add 1 tablespoon of olive oil. Now you'll have to freestyle it a bit - the amount of lemon and orange juice you'll need will depend on the size and tartness of your fruit. I used three orange halves and two lemon halves. Squeeze them into your bowl or jar (you'll be amazed at how much juice comes out of these babies). Taste and add a bit more orange or lemon juice. Mix well and add salt and pepper to taste.

Now add your kumara, couscous, sultanas, almonds, parsley, mint and dressing to a big bowl and stir to combine.

Make a knockout meal of this and serve it with a spare roasted lemon or orange for squeezing, some home made hummus and pita bread, or some grilled zucchini or eggplant. Or all of the above.
RECIPE NOTES
Serves 2 as a meal in its own right, or 4 as a side dish.